BELLEGARDE, J.
B. Morvan de. Reflexions sur ce qui peut plaire ou deplaire dans le commerce du monde ... Seconde édition, revue & corrigée ...
Amsterdam, Héritiers d'Antoine Schelte, 1699.
Two vols bound in one, pp. [2], [xxii], 296, [16]; [2], [vi], 288, [16]; added engraved title to each vol.; occasional very faint marginal damp staining, but a very good copy in contemporary panelled calf, sides stamped in blind with a gilt rolled border, panelled spine profusely decorated and lettered in gilt; some worm work denting the surface of both sides (but not piercing through).
£200

Approximately:
US $268
€221
Added to your basket:
B. Morvan de. Reflexions sur ce qui peut plaire ou deplaire dans le commerce du monde ... Seconde édition, revue & corrigée ...
Second, corrected edition of this philosophical and moral treatise. Two printings of this second edition appeared in 1699, one in Paris and this one in Amsterdam.

See Kress 3150 (edn. La Haye, 1720; only part 2).
You may also be interested in...
[VIVANT DE MEZAGUES].
Bilan général et raisonné de l'Angleterre, depuis 1600 jusqu'à la fin de 1761; ou Lettre à M. L. C. D. sur le produit des terres & du commerce de l'Angleterre.
First edition, a nice copy. 'The object of the "letter" is to show that the wealth and trade of England were not greater than that of France. With this view the author examines into the balance of trade between England and other countries (including Ireland), the national income and debt, exchanges, imports and exports of bullion, war expenditure, etc. He concludes that England, after having been a gainer by her trade during the 17th century, was in 1761 a loser from a monetary point of view. He supports the argument by statistics from official and the best private estimates, and carefully considers objections. He calculates that the "territorial income" of England about 1760 was £20,000,000 sterling; also that from two-fifths to a third of the national debt was held by foreigners' (Palgrave).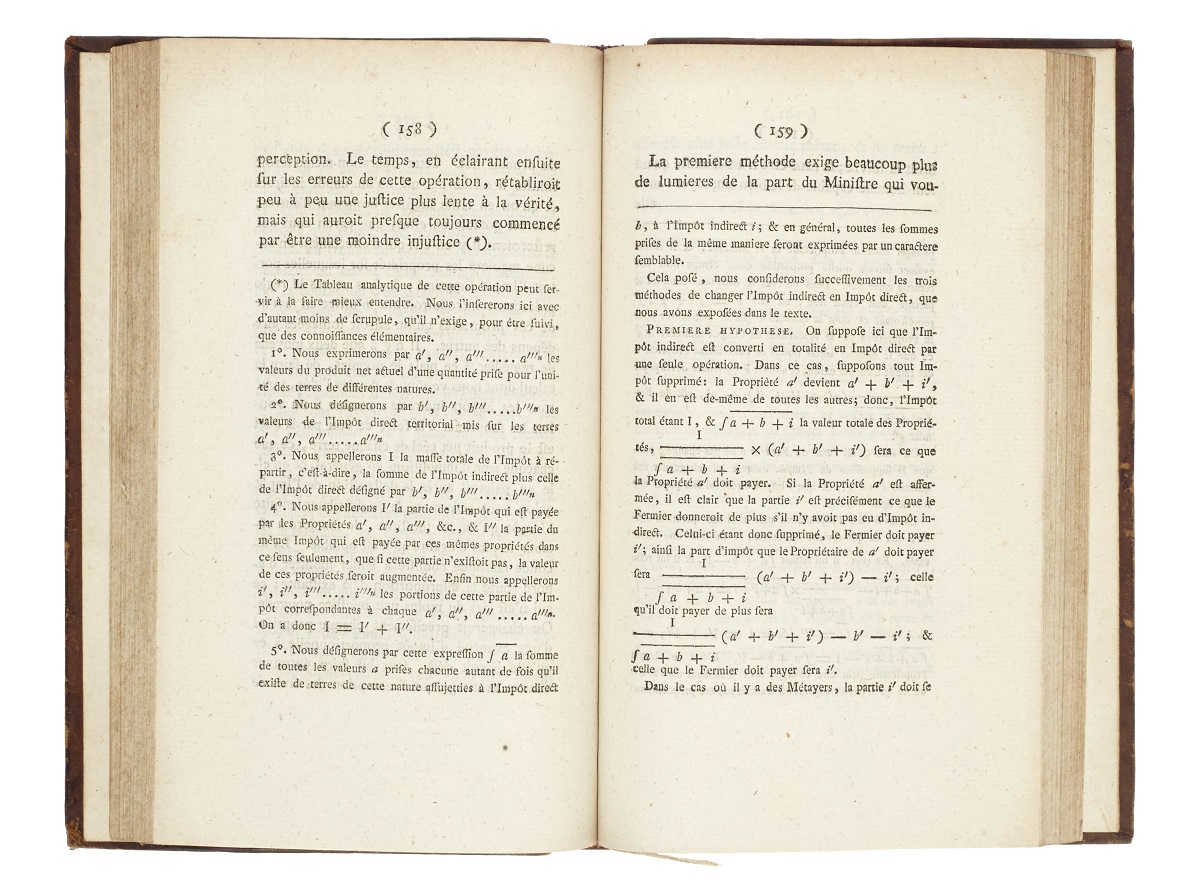 [CONDORCET, Marie-Jean-Antoine-Nicolas Caritat, Marquis de].
Vie de Monsieur Turgot.
First edition of the sole example of Condorcet's economic writings to employ mathematics. Condorcet's use of 'the sign ∫ as a sign of summation of finite quantities' is an 'innovation' in his ten-page footnoted discussion of the various ways 'in which indirect taxation could be replaced by direct taxation and the effects of such a change' (Theocharis, p. 65). This biography, together with that of Dupont, is the chief contemporary account of the renowned financial reformer and physiocratic sympathizer, Turgot.