BENTLEY ON PHALARIS: THE CLASSIC EXPOSURE OF A LITERARY FORGERY
BENTLEY, Richard.
A Dissertation upon the Epistles of Phalaris, Themistocles, Socrates, Euripides, and Others; and the Fables of Aesop.
London, Printed by J. Leake, for Peter Buck … 1697.
8vo, pp. 152, a few leaves near the end slightly browned, but a very good copy in near-contemporary polished calf, upper board neatly rejointed.
£750

Approximately:
US $920
€872
Added to your basket:
A Dissertation upon the Epistles of Phalaris, Themistocles, Socrates, Euripides, and Others; and the Fables of Aesop.
First edition, the separate issue, of what is arguably the greatest and most familiar exposure of a literary forgery, demolishing the attribution of celebrated 'ancient' texts on linguistic and historical grounds.

'Richard Bentley (1662–1742) was and remains the greatest of English classical scholars. His reputation was made by his Dissertation on Phalaris, the final crushing blow in the Battle of the Books' that began as an academic squabble and had escalated into a long and bitter controversy (PMM 178).

Bentley prepared his impeccably learned but highly readable Dissertation at the request of his friend William Wotton who in 1694 had attempted to refute Sir William Temple's thesis, in An Essay upon Ancient and Modern Learning, that the 'ancients' excelled the 'moderns' in nearly all branches of learning and literary performance. Unfortunately Sir William had chosen the Epistles of Phalaris and the Fables of Aesop as two of his leading cases. Bentley told Wotton at the time that these 'ancient' works were far more recent than Temple realized, and in 1696-7, preparing a second edition of his Reflections upon an Essay, Wotton asked him to supply the evidence. Bentley's seemingly effortless proof emerged unchallengeably victorious, and remains a model of historical and philological demonstration. Phalaris, for example, was the tyrant of Acragas in Sicily in the mid sixth century BC, but the Epistles are written in Attic, not Sicilian Doric Greek, and several towns mentioned were founded long after his time.

The Dissertation appeared in two forms in 1697, separately, as here, and appended to the second edition of Wotton's Reflections. The title-page and printed text of both issues are identical. It may be that the separate issue was called for to accommodate purchasers of the first edition of Reflections (1694).

Following the inevitable replies from Temple's adherents, Bentley revised and massively extended his treatment of Phalaris in 1699, but he reserved his arguments about the other 'ancient' epistles for a second volume which never appeared. Hence the 1697 edition is valuable not only as the first appearance of Bentley's treatment of Phalaris, it also preserves his exposures of the equally important classical forgeries of Themistocles, Socrates, Euripides, and Aesop.

Wing B 1928 (and as appended to Reflections W 3659).
You may also be interested in...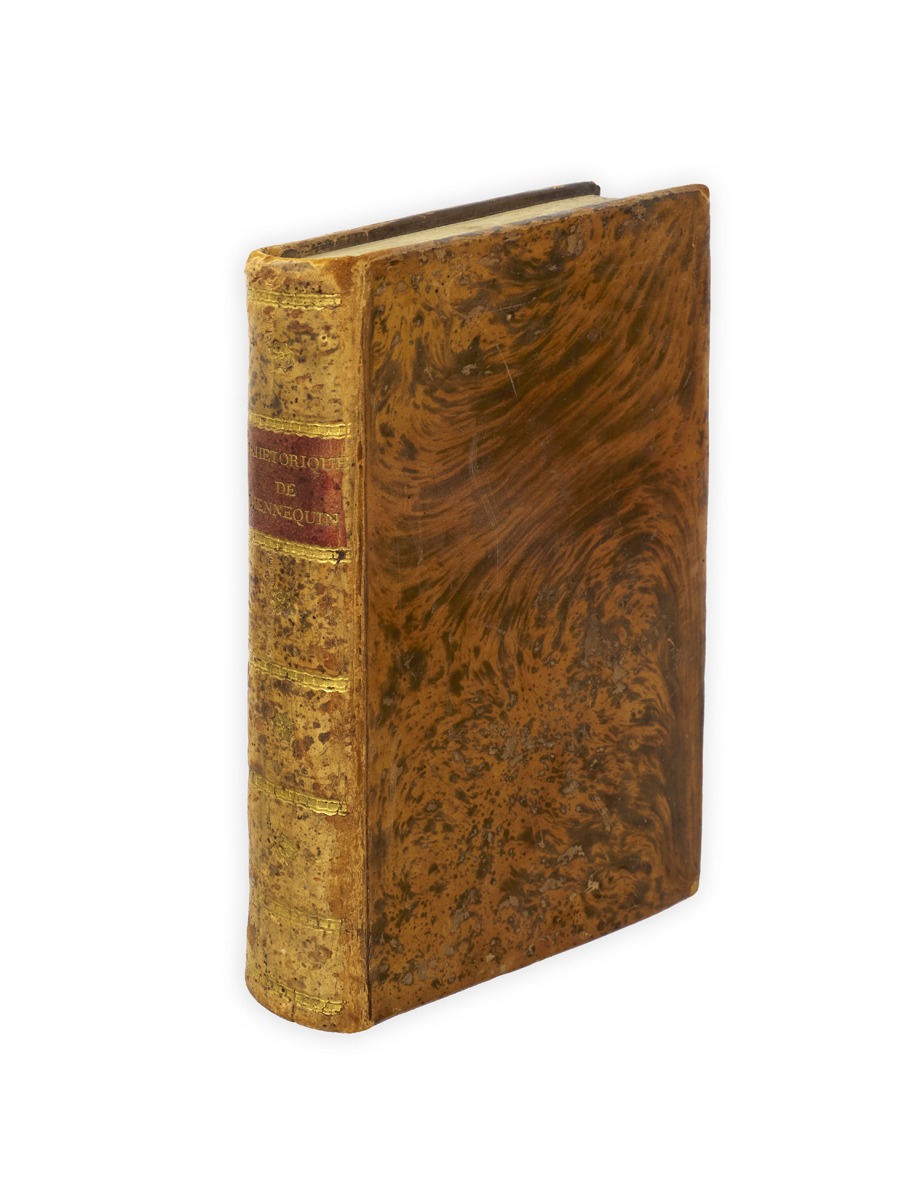 HENNEQUIN, Pierre.
Nouveau cours de rhétorique, à l'usage de la jeunesse des deux sexes; dédié à sa Majesté l'Impératrice mère.
Only edition, very uncommon, of this guide to rhetoric by the Moscow-based French grammarian Pierre Hennequin (1772–1849), explicitly designed for both sexes and dedicated to the Dowager Empress Maria Feodorovna (1759–1828).
MANUSCRIPT WITH JACOBITE CONNECTIONS LAFFREY.
'Abregé de l'histoire ancienne avec des reflexions philosophiques & politiques par Mr. Laffrey.'
A charming manuscript summary of ancient history, compiled for a young female member of the Bellew family, and once in the library of the eminent Scottish Jacobite Andrew Lumisden (1720–1801).