BERGIER, Nicolas.
Le dessein de l'histoire de Reims, avec diverses curieuses remarques touchant l'establissement des peuples, & la fondation des villes de France.
Reims, chez Nicholas Constant, 1635
4to, pp. [16], 18, [2], 468, with a fine engraved portrait of the author and 5 engraved plates (one folding) by and after Moreau, and engraved vignette on title-page; a very good copy in contemporary calf, richly gilt spine with red label, corners a little bumped. Armorial bookplate of the high ranking French royal administrator and collector, Nicolas Joseph Foucault (1643-1721) on inside front cover; 19th century armorial bookplate of the Earls of Macclesfield.
£950

Approximately:
US $1246
€1062
First edition of the earliest printed history of Reims, published posthomously after the author's death by his son, Jean Bergier. The antiquary Nicolas Bergier (1567-1623) is best known by his great work on the Roman roads in Europe, Histoire des grands chemins de l'empire Romain, published in 1622. His friend Pereisc gave him access to many unpublished documents. Bergier's other project, unfinished at the time of his death, was a comprehensive history and description of his native Reims. The work was supposed to be covered in sixteen book of which only the present two (Reims in Roman times) were ever published. A detailed outline of the proposed fourteen other books is given in the preliminary leaves.

The plates apart from the fine portrait of the author, show a folding view of Reims and several views of two Roman arches still standing.

Cicognara 3953 (''l'opera è estesa con infinita critica, e buon tatto').

A
You may also be interested in...
COLLUTHUS, of Lycopolis.
The Rape of Helen. Translated from the Greek ... And illustrated with the Notes of Michael Nicander. To which is prefix'd a Fragment of the Author's Life, from Suidas.
First and only edition, rare, of this translation of Collothus's Rape of Helen (Αρπαγη Ελενης), 'a short and charming miniature epic' (Cambridge Companion to the Epic) written in the late fifth century in Egypt in 392 hexameters.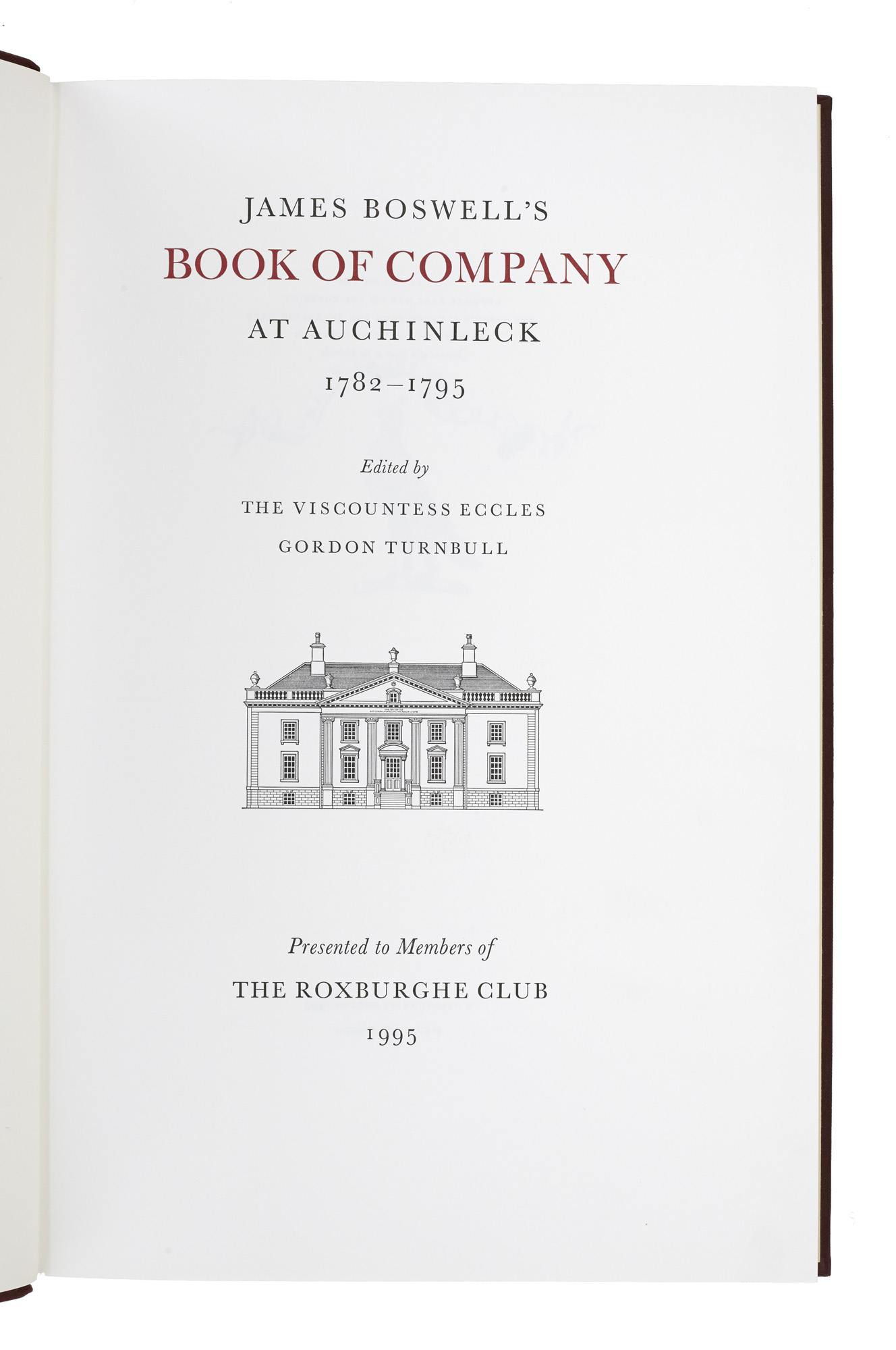 ECCLES, Mary, Viscountess, and Gordon TURNBULL, eds..
James Boswell's Book of Company at Auchinleck.
The Book of Company is much more than a visitor's book, since James Boswell comments on the men and women he met and entertained, and the occasions of his doing so, are all his own. It is therefore an important addition to his many-sided self-portrait. Beginning in 1782, two years before Samuel Johnson died, and ending five months before Boswell's own death in May 1795, it reflects Boswell's anguished uncertainties, as well as the everyday details of where he was, with whom he dined, whom he saw in the evening and – punctually recorded – how many bottles of wine and spirits were dispatched. The book is here reproduced in full facsimile, interleaved with a transcript on facing pages. At the foot of each page is a commentary, largely drawn from Boswell's correspondence and journals, which converts it into a comprehensive day by day diary of his thoughts and actions throughout the period.