'I HAD RATHER DIE, THEN TO KISSE A MAN IN HIS BED'
[BERLAIMONT, Noël de.] 
Colloquia et dictionariolum septem linguarum, Belgicae, Anglicae, Teutonicae, Latinicae, Italicae, Hispanicae, Gallicae.
Liège, Henricus Hovius, 1610.
Oblong 8vo (98 x 120 mm), pp. [400]; occasional slight worming to lower blank margins, some browning, leaf Aa3r with old repair at foot; overall good in contemporary stiff vellum, 'Booke of ye Languages' inked to fore-edge; boards loose from textblock, wanting ties, some marks to spine; manuscript note to front flyleaf 'this booke is for Frank sent by his sister[?] Anne' (last two words crossed through).
£1750

Approximately:
US $2115
€2018
Added to your basket:
Colloquia et dictionariolum septem linguarum, Belgicae, Anglicae, Teutonicae, Latinicae, Italicae, Hispanicae, Gallicae.
Scarce edition of an immensely popular multilingual phrasebook containing several amusing scenarios – from dinner parties gone awry to squabbles over the price of fabric – in seven languages, so that the reader might 'not neede ony interpretour, but shal be able to speake them your self'.

This charming volume presents a number of humorous dialogues with side-by-side translations in Dutch, German, Latin, French, Spanish, and Italian, creating vivid comedic vignettes which simultaneously incorporate useful words and phrases and retain their universal humour centuries later. Whilst stopping at an inn, for instance, a traveller feigns illness and suggests that he might feel better if the maid were to give him a kiss, to which she retorts 'you are not sieke seeing that you speake of kissying: I had rather die, then to kisse a man in his bed, or in any other place.'

The contents are based upon those of the Flemish-French phrasebook Vocabulaire, written by Noël de Berlaimont and published in Amsterdam in 1530; four Liège editions precede the present one of 1610 and there exist more than a dozen subsequent reprints and new editions, with an eight-language edition containing Portuguese from 1613.

A previous owner (perhaps the Frank to whom the book is addressed on the first blank?) likely used the phrasebook for French and English: French phrases from the dialogues about hosting parties and buying merchandise are underlined throughout. Among the annotated passages are preparations for a dinner party in which a mother scolds her young son for forgetting where the tablecloths are kept: 'Y have told you it more than twentie tymes; you learn nothing, yt is great shame.'

USTC 5040396. OCLC finds only one copy of this edition held in the UK, at the Bodleian Library, and in the US at the Houghton Library, Case Western, and Indiana State. Rare in comparison to other Hovius editions, particularly that of 1589. See Béatrice Charlet-Mesdjian and Jean-Louis Charlet, 'Une méthode Assimil pour apprendre le latin à l'époque humaniste: les Colloquia dérivés du Vocabulare de Noël de Berlaimont', Rursus, Feb. 2011.
You may also be interested in...
'A SUMPTUOUS RENDERING' LYDEKKER, Richard. 
The Great and Small Game of India, Burma, & Tibet … with contributions by sportsmen. 
Number 48 of a limited edition of 250 copies.  'A sumptuous rendering of south Asia's wild game species in art and text.  Lydekker describes more than seventy varieties of game with attendant notes on sport from the experiences of Demidoff, Darrah, Valentine, and others.  The hand-colored plates are especially striking.  Quite scarce as only 250 copies were printed and signed by Rowland Ward' (Czech).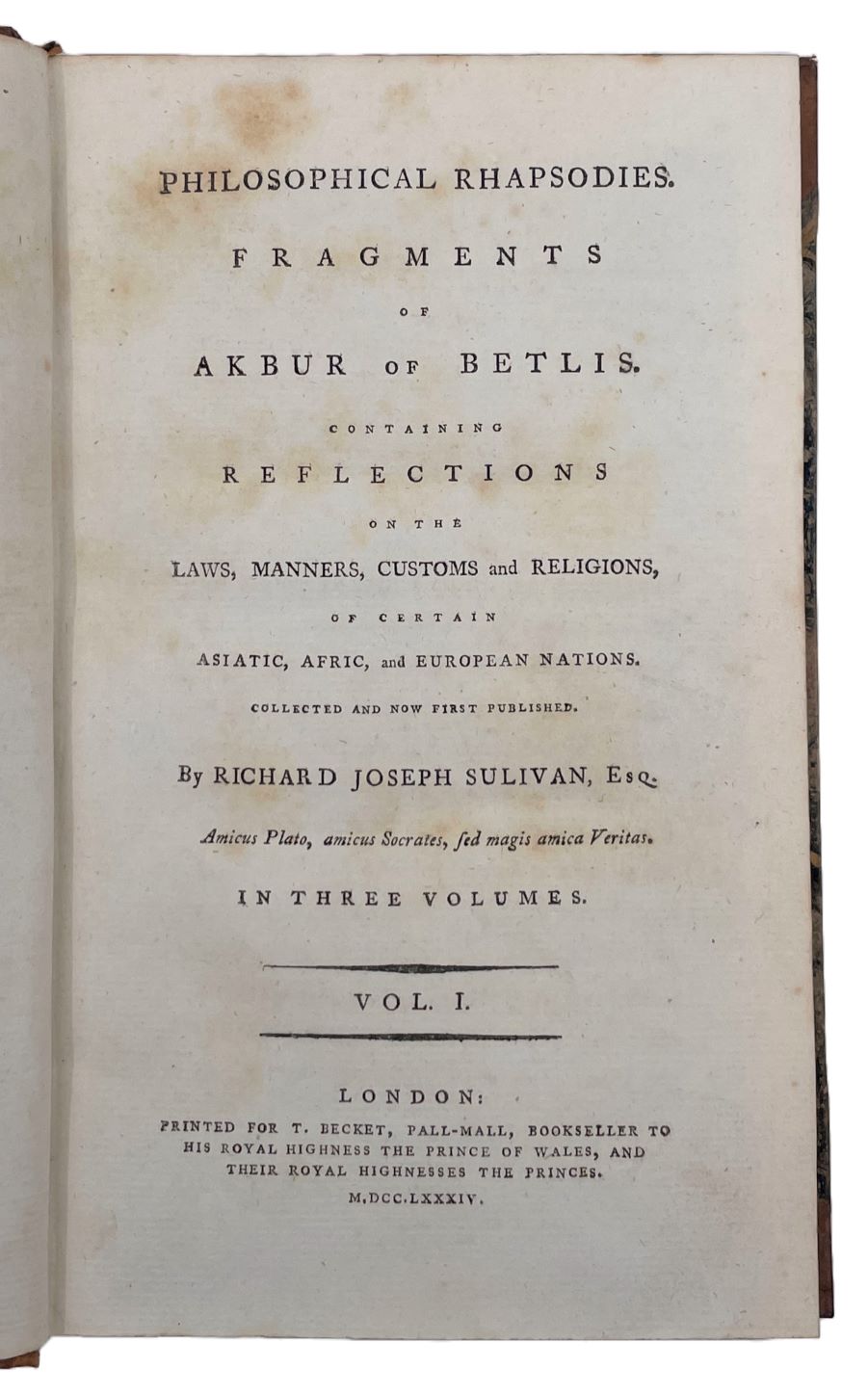 INDIAN TRAVEL SULIVAN, Richard Joseph.
Philosophical Rhapsodies. Fragments of Akbur of Betlis. Containing Reflections on the Laws, Manners, Customs and Religions, of certain Asiatic, Afric, and European Nations. Collected and now first published … In three Volumes …
First edition of this eccentric travel-inspired treatise drawing upon the author's experience in India and his travels in Europe. The prefatory 'advertisement' establishes the fiction that 'the following fragments were written by a native of Assyria [Akbur], who … was removed to the continent of Europe, and thence to England … he then travelled; and in various countries threw together the reflections which appear in the following sheets'. Compartmentalised into 'fragments' rather than chapters, the work is generically indistinct, and offers a compilation of fiction, philosophy, history and travel to reflections on foreign lands, notably China, Japan, Tartary, Hindostan, Greece and the Middle East. Sulivan cites widely in order to illustrate his points, emphasising Akbur's familiarity with Milton, Pope, Thomson, and Dryden, as well as law, the classical canon and contemporary scholarship.