HEAVILY ANNOTATED
[BIBLE – GREEK NEW TESTAMENT.]
Της Καινης Διαθηκης Απαντα. Novum Testamentum.
Londini, Ex Officina, Jacobi Tonson & Johannis Watts. 1730.
12mo, pp. [8], 378, with an engraved frontispiece; title-page printed and red and black; Greek text in two columns throughout; interleaved with blanks and consequently bound in three volumes, in contemporary reversed calf, tooled in blind, morocco labels; spines worn and dry, bookblock of the first volume split; internally a fine copy, extensively annotated in two(?) contemporary hands in English, Latin and Greek on the blanks in the first and second olumes, ownership signature of David Williams.
£1600

Approximately:
US $1957
€1854
Added to your basket:
Της Καινης Διαθηκης Απαντα. Novum Testamentum.
Interleaved and heavily annotated copy of the third Tonson & Watts edition of the Greek New Testament, the text as edited by Michael Maittaire (first published 1714). Thomas Jefferson owned a copy of this edition, sold to the Library of Congress in 1815.

This copy, bound with interleaved blanks for notes, has been heavily annotated in Matthew and Mark, the beginning of John, and Romans, with original biblical commentary both linguistic and theological, e.g. for the former (on John XX.17): 'αναβεβηκα. The aorist is often put for the present tense, as also the preterperfect. The sense is here I do not yet ascend, so that you may after have opportunities of conversing &c with me'; and for the latter (on John I.17): 'The Law was given by Moses, who was Gods Minister, by whom the Law wch reveal wrath was given to the Jews, but Grace & Truth by Jes. Christ. Grace in opposition to the Condemnatory Curse & Sentence of the Law, the Letter killeth but the Spirit giveth Life. Grace of pardon and Reconciliation & grace for the Remission of Sin. Truth in opposition to the Types, Shadows & Ceremonies of the Legal Administration'. Unusually, some of the interpolations are written as if from Christ's perspective: 'my young disciples taken not from the Schools or Academies, as perhaps those of John or the Pharisees might be, but from their fishing trades & suchlike must not presently be put to such severe tasks for which they are not yet strong enough, least they should be discouraged & fall from me.' Some, like this las, are signed 'W', presumably Williams; others 'C'.

The endpapers include more general material, including a short essay on moral laws, which 'have their foundation in the Reason and Nature of things, & therefore their Obligation will never cease', and an explanatory list of the 'offices & Conditions of men' in the Bible, from Judges and Publicans to Sadducees, who 'Denied the Resurrection of the Dead, the being of Angels, & the existence of the Spirits or Souls of men departed. They were a very ill-nature sort of men, churlish & morose … even to each other …'. Elsewhere we find that 'The Name of Publican, whose offic it was to gather the Tribute, was very grievious [sic] to the Greeks & Romans, for they made unlawful Exactions. He is a Publican, a Whirlpit, a Gulph of Rapine.'

Although the specific David Williams responsible for the annotations has not yet been identified, from their tenor he is possibly an Independent or involved in the Welsh Methodist revival, plausibly David Williams of Watford (1709–1784).
You may also be interested in...
FROM THE LIBRARY OF LOUIS XIV'S DOCTOR CELSUS, 'Aurelius' [Aulus] Cornelius.
Aurelii Cornelii Celsi de re medica libri octo. Accessere in primum eiusdem, Hieremiae Thriveri Brachelii commentarii doctissimi: in reliquos vero septem, Balduini Ronssei Gandensis ... enarrationes.
Important Plantin edition of the De medicina of the first-century Roman encyclopaedist Celsus, accompanied with humanist commentary, this copy with annotations and with the ownership inscription of Charles Seron, doctor to Louis XIV.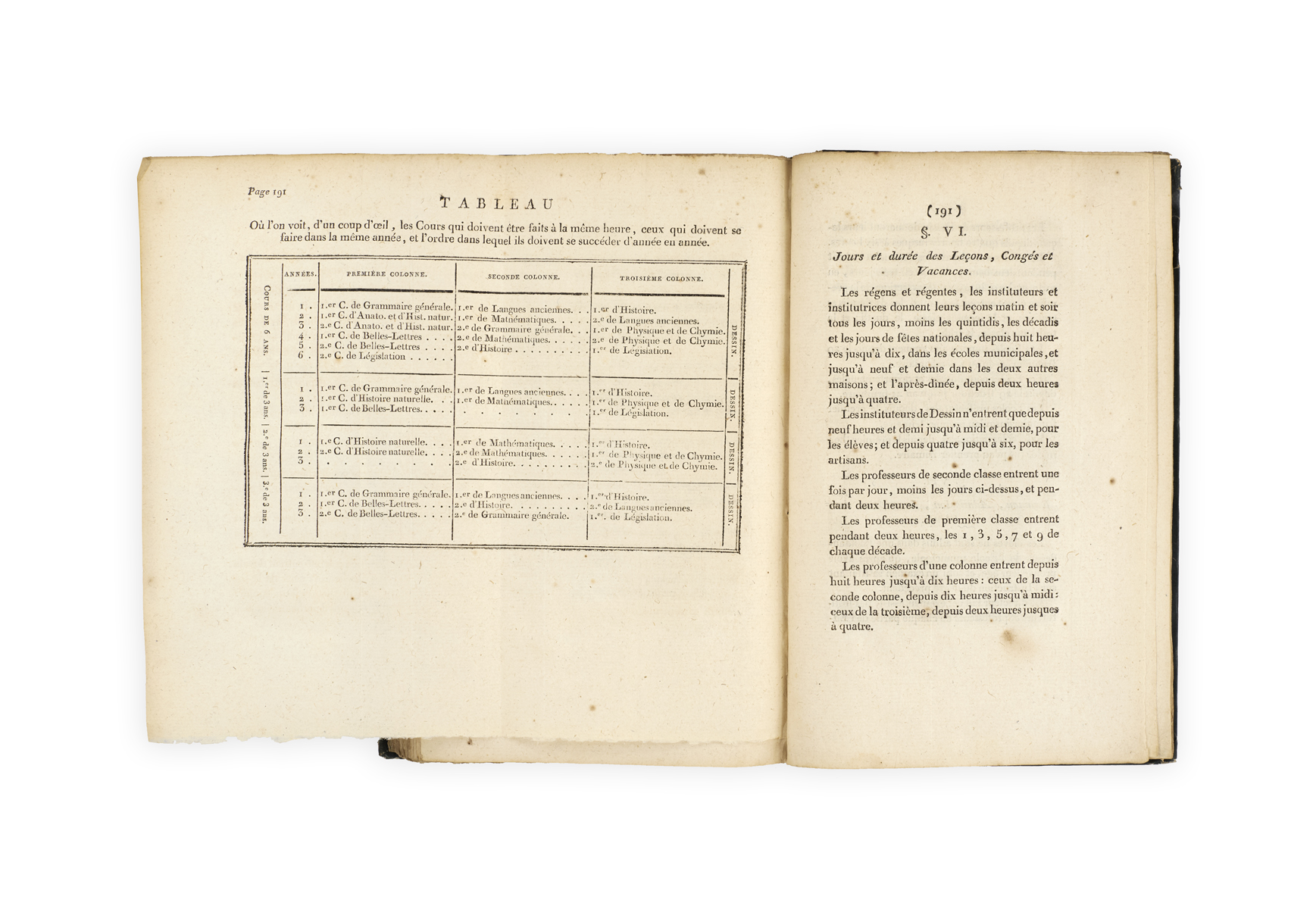 THREE TREATISES ON TEACHING GOSSELIN, Charles-Robert. 
Plan d'éducation, en réponse aux académies de Marseille et de Châlons, dont l'une a proposé pour sujet de prix, à distribuer dans le courant de cette année… 
A most interesting sammelband of three rare French works on education from the late eighteenth and early nineteenth centuries.