BEAUTIFULLY BOUND BIBLE
[BIBLE.] 
Biblia sacra vulgatae editionis Sixti V. Pont. Max. iussu recognita, et Clementis VIII. auctoritate edita. 
Cologne, Balthasar von Egmondt, 1659. 
8vo, pp. [24], 876, [50 (index)], [2 (blank)]; title-page copper-engraved, text in 2 columns within ruled frame, woodcut initials and tailpieces; a little marginal dampstaining to title, some browning, lower corner of K1 repaired without loss; a beautiful copy in early eighteenth-century red morocco, borders triple-filleted in gilt, spine richly gilt in compartments with gilt green morocco lettering-piece, board-edges and turn-ins roll-tooled in gilt, all edges gilt over marbling, marbled endpapers; a few minute wormholes at foot of spine; arms of Cardinal Annibale Albani blocked in gilt to upper board, Albani devices in gilt to spine, gilt lettering to lower cover 'Ad usum Annibalis S.R.E. Cardinalis S. Clementis.' within foliate lozenge, 'Nicolaus Pagliarinus' lettered in gilt to rear lower turn-in (see below), eighteenth-century shelfmarks in ink to front free endpaper.
£1950

Approximately:
US $2384
€2211
Added to your basket:
Biblia sacra vulgatae editionis Sixti V. Pont. Max. iussu recognita, et Clementis VIII. auctoritate edita. 
An attractive pocket size Vulgate Bible in a beautiful red morocco binding executed for Cardinal Annibale Albani (1682–1751) by the Roman printer and bookseller Niccolò Pagliarini (1717–1795). 

The engraved title incorporates scenes depicting the Creation, the Temptation of Adam and Eve, Moses, King David, the Nativity and Crucifixion, and the Four Evangelists sat together around a table busily writing.

Niccolò Pagliarini, whose name appears here in gilt to the rear turn-in, took over his father's printing and bookselling business in Rome in the early 1740s, working with his brother Marco.  Arrested in 1760 for printing anti-Jesuit material, he spent years in exile in Lisbon (serving as director of the Stamperia Reale) before eventually returning to Rome in 1778.  Pagliarini had this Bible bound for Annibale Albani, whose arms and name appear on the boards.  Nephew of Clement XI, Annibale became a Cardinal in 1711 and served as ambassador to Austria for the Holy See from 1720 to 1748.  He acquired a valuable library, in addition to paintings, sculptures, and coins. 

Provenance: later in the collection of the art critic and photographer Eugène Piot (1812–1890); see Catalogue des livres rares et curieux … provenant du cabinet de M. Eug. P… (Paris, 1862), p. 1 (lot 2). 

Darlow & Moule 6230. 
You may also be interested in...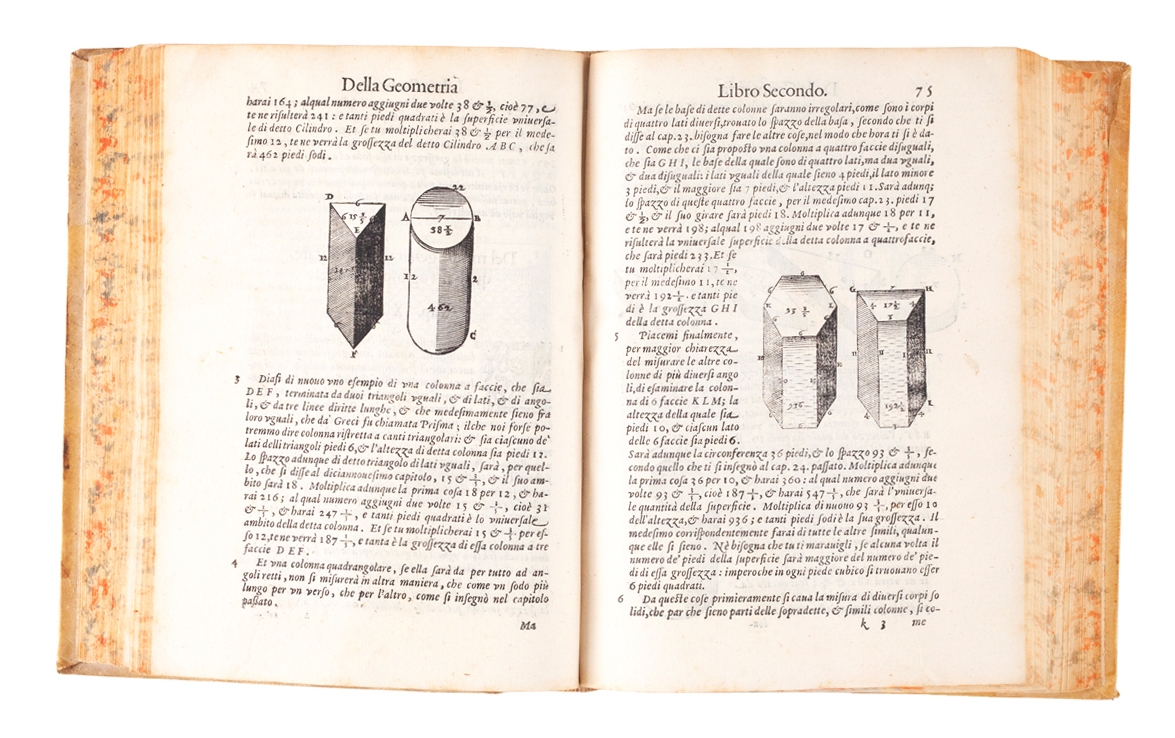 POLYMATHY FINÉ, Oronce. 
Opere di Orontio Fineo … divise in cinque parti, arimetica, geometria, cosmografia, e orivoli, tradotte da Cosimo Bartoli … et gli specchi, tradotti dal cavalier Ercole Bottrigaro … nuovamente poste in luce. 
First Italian edition of the works of Finé.  Among the most influential scientific scholars of the sixteenth century, over three decades at the Collège Royale Oronce Finé (1494–1555) made considerable contributions to various branches of mathematics, from geometry and arithmetic to astronomy and geography, including cartography.  The woodcuts are copied from those designed by Finé for Protomathesis (1532), the first collected edition of his works, and continued to be used until 1670. 
A HUSBAND AND A COACH FOR FORTY SHILLINGS [LOTTERY SATIRE.] 
A Scheme for a New Lottery: or, a Husband and Coach and Six for forty Shillings.  Being very advantageous to both Sexes; where a Man may have a Coach and Six, and a Wife for Nothing.  Here's a Whim Wham newly come over, and who will prick at my Lottery-Book?  With a Scheme to prevent the Downfal of the Ch[aritab]le Cor[poratio]n.  By an old Sportsman … To which is prefix'd the Author's Picture drawn to the Life; being fit to be hung in the Lodgings of all Ladies of Pleasure, as a Memento Mori.  With a recommendatory Poem in favour of the said Lottery, to encourage Maids, Widows, single Women, Batchelors and Widowers to put in.  Also a Scheme scored in Lines, with the several prizes, where Ladies may divert themselves by pricking Blindfold in the said Lottery before the Time of Drawing, to try their Fortunes.  And likewise a View of the Town by the Highgate Spy, taken thro' a Glass of the Projector's own making … in which you may see those who can't see themselves: with an Account of what Persons of both Sexes are excluded the Advantage of putting into the said Lottery. 
First edition of this facetious proposal to match, for the fee of forty shillings each, 50,000 'maids and widows' with a similar number of 'gentlemen and tradesmen', by lottery.  The 'gentlemen and tradesmen' include '500 Lawyers, 200 Petty-foggers … 2 Scotchmen, both Pedlars, 500 Broken Booksellers' and an astonishing '21,000 Publishers'.  Many of these professions appear on an inserted folding game sheet on which ladies may try their luck in advance (blindfolded, with a pin).  The text includes a ludicrous multiplicity of technical conditions pertaining to the scheme, some of which involve allusions to such contemporary figures as Colley Cibber, Alexander Pope, and the eccentric 'Orator' Henley.