[BIBLE.]
La Bibbia. Cioè, i libri del Vecchio, e del Nuovo Testamento. Nuouamente traslatati in lingua Italiana, da Giovanni Diodati, di nation Lucchese.
[Geneva, Jean de Tournes?], 1607.
4to, pp. [4], 847, [1 blank], 178, [2 blank], 314 (without final blank); engraved device to title, engraved initials, head- and tail-pieces, divisional titles to Apocrypha and New Testament with ornamental frames, text in double columns with marginal notes; light foxing and browning, light damp staining to sigs XX-III, old tape repair to inner margin of last two leaves; overall a very good copy in handsome contemporary calf, covers with gilt borders, panels and central lozenges, spine gilt in compartments, direct lettered 'La Bibbia' in one, two brass catches, one remaining brass clasp; small loss at head of spine, slightly marked and rubbed; notes by G.C.F. Calleri Damonte to rear pastedown, book labels of Jaco Calleri Damonte and Madeleine et René Junod to front free endpapers.
£4750

Approximately:
US $6526
€5566
Added to your basket:
La Bibbia. Cioè, i libri del Vecchio, e del Nuovo Testamento. Nuouamente traslatati in lingua Italiana, da Giovanni Diodati, di nation Lucchese.
First edition of the Protestant Bible in Italian, in a handsome contemporary binding.

'Diodati (1576–1649) was born at Geneva, to which city his father had migrated from Lucca. He rose so high in scholarship that at the age of 21 he was appointed by Beza professor of Hebrew at Geneva ... He translated direct from the Hebrew and Greek originals, but on the whole his version does not depart seriously from the Vulgate, except in the Psalter ... While Diodati's version reflects the theology of Geneva, its pure Italian style is not vitiated by French influence' (Darlow & Moule).

Darlow & Moule 5598.
You may also be interested in...
GRANDIOSE GARDENS FALDA, Giovanni Battista.
Li giardini di Roma con le loro piante, alzate e vedute in prospettiva, disegnate ed intagliate da Gio. Battista Falda. Nuovamente dati alle stampe ...
A later impression of these magnificent plates of nine Roman gardens by the influential engraver Giovanni Battista Falda (1643–1678). The plates offer perspectives and bird's-eye-views of the gardens of the Vatican and Quirinal, and of the villas Medici, Farnese, Ludovisi, Montalto Peretti, Borghese, Celimontana, and Pamphili. Populated with labouring gardeners, well-dressed visitors, barking dogs, and ornate carriages, Falda's etchings 'are distinguished by deeply bitten line and shadow in the manner of Jacques Callot and Israël Silvestre, and by accuracy in topographical and genre details' (Grove Art Online). The magnificent dedication plate, depicting the Garden of the Hesperides, is by Arnold van Westerhout (1651–1725).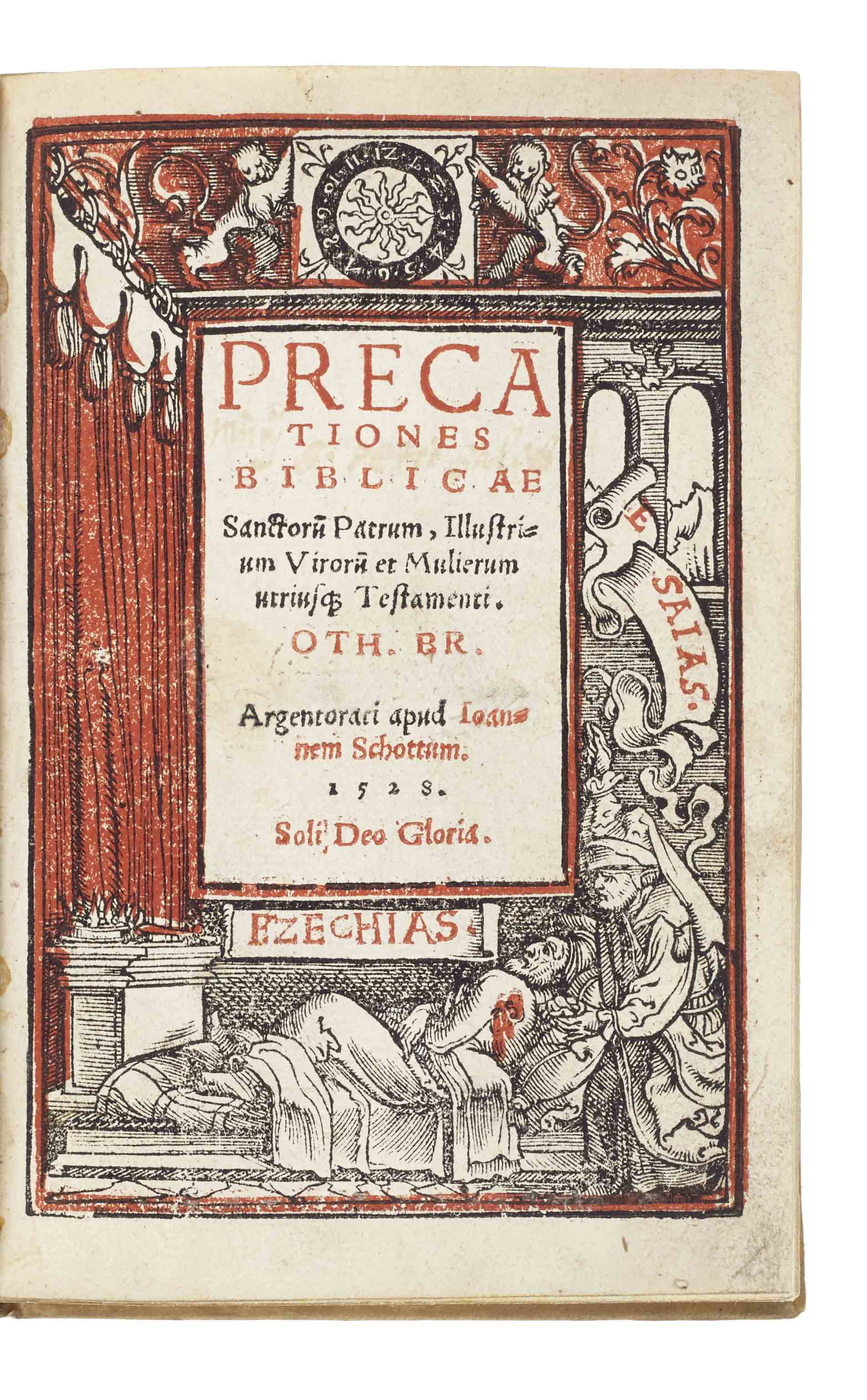 EARLY PROTESTANT PRAYER-BOOK BRUNFELS, Otto.
Precationes Biblicae sanctoru[m] patrum, illustrium viroru[m] et mulierum utriusq[ue] Testamenti.
First edition, rare. The earliest Protestant prayer-books, of which this is perhaps the most notable example, often comprised prayers taken directly from (or adapted from) the Bible. Brunfels's Precationes Biblicae appeared in the same year in German translation (Biblisch Bettbüchlein der Altvätter und herrlichen Weibern, beyd Alts und Newes Testaments) and was translated into several other languages including English (Prayers of the Byble, published by Robert Redman in 1535).