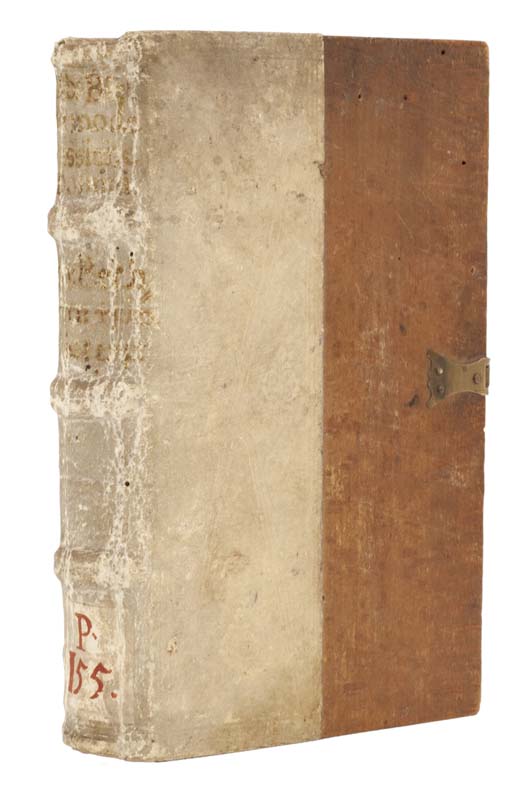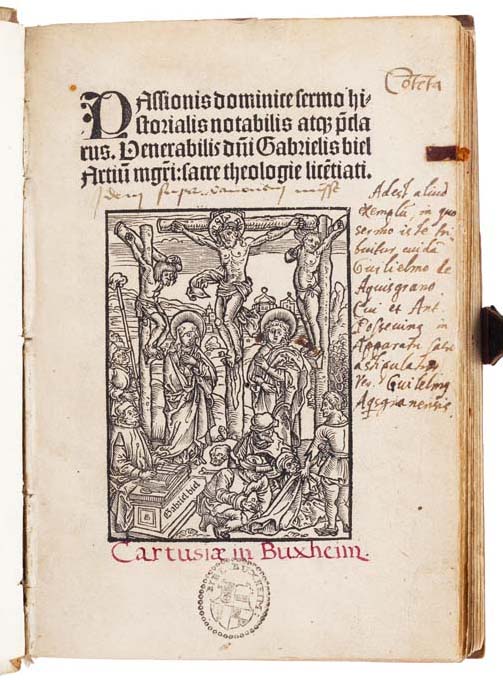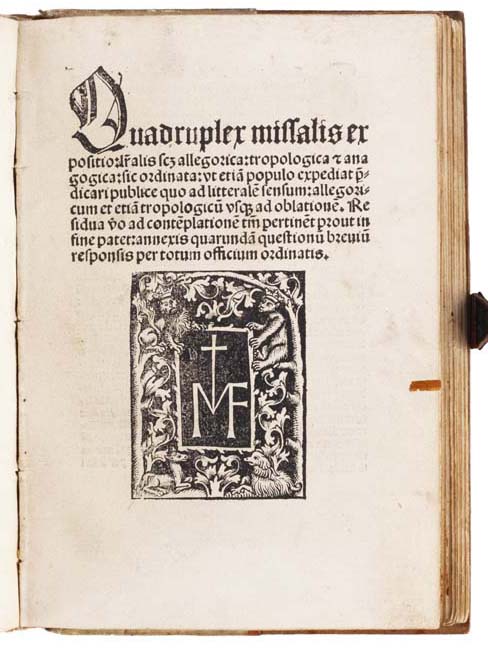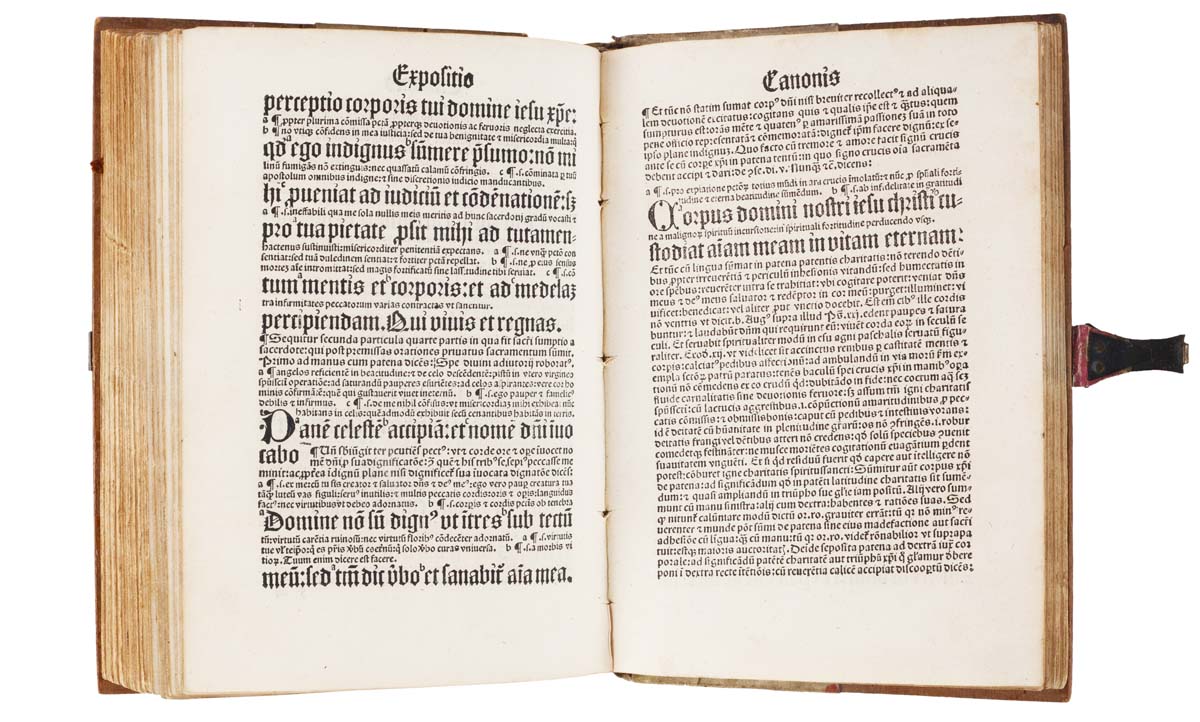 PRINTED WITH GUTENBERG'S TYPE
BIEL, Gabriel, and Florentius DIEL (editor).

Passionis dominice sermo historialis notabilis atque praeclarus.
[(Colophon:) Mainz, Friedrich Heumann, 29 August 1509.]
[bound with:]

BECHHOFEN, Johannes de. Quadruplex missalis expositio: l[itte]ralis sc[ilicet] allegorica, tropologica, et anagogica…. [(Colophon:) Basel, Michael Furter, 1 September 1505.]

I: 4to, ff. [98]: a-h8/4, i-q4/8/4, r6 (all signatures preceded by an anchor); printed in blackletter; woodcut to title depicting the crucifixion; paper-flaw to b4 affecting two words; contemporary note mentioning the subject of the second work and near contemporary note mentioning Guglielmo of Aquisgrana to title. II: 4to, ff. [84]: A-B8, C-H6, J8, R8, Z8, M8 (as called for); printed in blackletter; woodcut printer's device to title; contemporary manuscript annotations and numbering in red ink to first few leaves; the odd spot, light stain to last leaf; overall a beautiful set, in contemporary pigskin-backed oak boards, sewn on 3 double cords laced in and secured with pegs; spine with contemporary ink lettering in first two compartments and shelf label printed in red in last one; ownership inscription and stamp of Buxheim Charterhouse to title of first work.
£5500

Approximately:
US $7372
€6613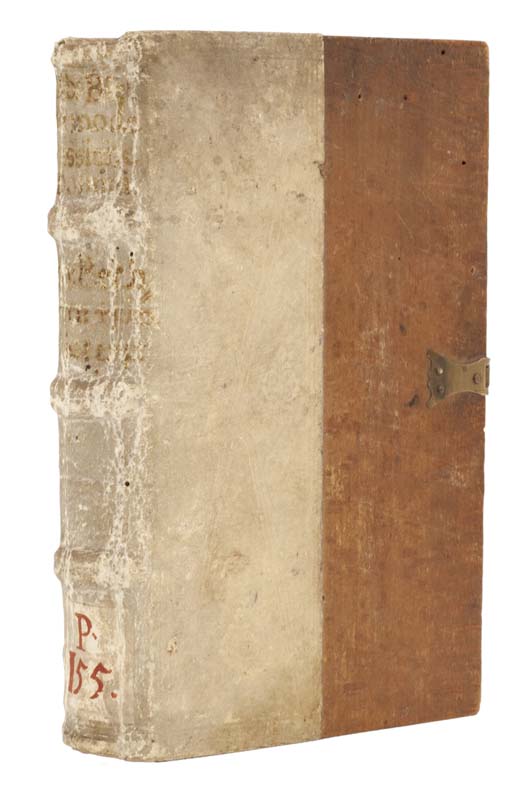 Added to your basket:
Passionis dominice sermo historialis notabilis atque praeclarus.
Revised edition of Biel's sermon on the Passion, thought to be partially printed with Gutenberg's type, and the first book printed by Friedrich Heumann, bound with the first edition of an important work on the four different interpretations of the Catholic mass, a beautiful copy from the celebrated library of Buxheim Charterhouse.

A work of the first professor of theology at Tübingen, the Passionis dominicae sermo was first printed in 1489 at Reutlingen by Johann Otmar, though the strikingly strident colophon here dismisses the previous edition as 'printed carelessly from a faulty copy and under a wrong title' and praises Florentius Diel's extensive corrections ('sermo … qui olim negligenter et ex mendoso exemplari et sub falso titulo impressus … anno 1489, nunc per prememoratum Florentium Diel diligenter revisus in laudem altissimi innovates, clariusque interstinctus atque emendates non modo in sententiarum quarundam defectibus, verum etiam in orthographia...' r4, trans.).

The title is illustrated with a well executed woodcut Crucifixion (depicting Biel at the foot of the Cross, sitting at a desk with an open book) beneath four lines of large type, identified in 1855 by the Mainzer bibliographer Henri Helbig (1813–1890) as that used by Gutenberg for several of his earliest works, including the Bamberg Bible. 'The title, running title, and headings of each page and each chapter are printed with Gutenberg's old type, known under the name of "Pfister", including several initials larger than the others. Some other initials are replaced, having no doubt been lost. The type is by no means worn, rather it is very fine. The text is printed in smaller gothic type, typical of most German printers of the late fifteenth century'. (Helbig, trans.). Helbig's discovery was, however, called into question by the Dutch scholar Jan Hendrick Hessels (1836–1926): 'I have been able to examine the very book which Helbig had before him, namely Biel's Passionis dominicae sermo, printed by Heumann in 1509… I have also examined five other books, printed by the same Heumann, in the same type… At first glance at the type, used for the headings or rubrics in these books, every one accustomed to a minute examination of type must see that it is a type indeed, in some respect, very much like that of the 36-line Bible, but yet materially smaller, and consequently totally different' (Hessels).

Bound after Biel's sermon, is the first edition of Quadruplex missalis expositio, the only work by the otherwise apparently unknown Augustinian hermit Johannes de Bechhofen. In his popular work, Bechhofen discusses the liturgy of the Catholic mass, explaining its literary, allegorical, moral, and spiritual interpretations. The date of this work has been misread in the past as 1500; according to the Gesamtkatalog der Wiegendrucke, the date of the colophon 'Anno salutifere incarnationis millesimo quingentesimo quinto Kl. Septembris' is to be interpreted as 1.IX.1505, since the type and printer's mark point to the sixteenth century.

I: USTC 683198; VD16 B5375; Adams B2012; cf. Helbig, Une découverte pour l'histoire de l'imprimerie: les plus anciens caractères de Gutenberge et ce qui en est advenue (1855), pp. 4 & 14-15; Hessels, Gutenberg: Was he the inventor of printing? (Quaritch, 1882), pp. 129-130. II: USTC 688985; VD 16 M 5527; Hain 2728 (= 6801); ISTC ib00291830; GW III Sp.587a.

You may also be interested in...
TAVERNIER, Jean Baptiste.
Recüeil de plusieurs relations et traitez singuliers et curieux . . . qui n'ont point esté mis dans ses six premiers voyages. Divisé en cinq paties [sic]. I. Une relation du Japon, et de la cause de la persecution des Chrestiens dans ses isles: avec la carte du païs. II. Relation de ce qui s'est passé dans la negociation des deputez qui ont esté en Perse et aux Indes, tant de la part du roy, que de la Compagnie Françoise, pour l'establissement du commerce. III. Observations sur le commerce des Indes Orientales, et sur les frauds qui s'y peuvent commetre. IV. Relation nouvelle et singuliere du royaume de Tunquin: avec plusieurs figures et la carte du païs. V. Histoire de la conduite des Hollandois en Asie.
First edition, separately published, of the third part of Tavernier's celebrated collection of voyages. The first two parts, Les six voyages, had appeared in 1676 and were also reissued in 1679.
BIBLE FOR HUGUENOTS IN ENGLANDIN SPLENDID CONTEMPORARY MOROCCO [BIBLE.]
La Bible, qui est toute la Sainte Escriture du Vieil et du Nouveau Testament. Autrement, l'ancienne et la nouvelle alliance. Le tout reveu et conferé sur les textes hebreux et grecs. Avec les Pseaumes de David, mis en rime françoise par Cl. Marot et Theod. de Beze.
First complete edition of the Bible in French to be printed in England, in a fine Restoration binding. This Bible, in the French Geneva version, was published less than two years after the Revocation of the Edict of Nantes (22 October 1685) which saw about fifty thousand French Protestant refugees move to England (the word 'refugee' entered the English language at this time). The present copy is without the Apocrypha sometimes found at the end of the Old Testament (as is the Bible Society copy; see Darlow & Moule).