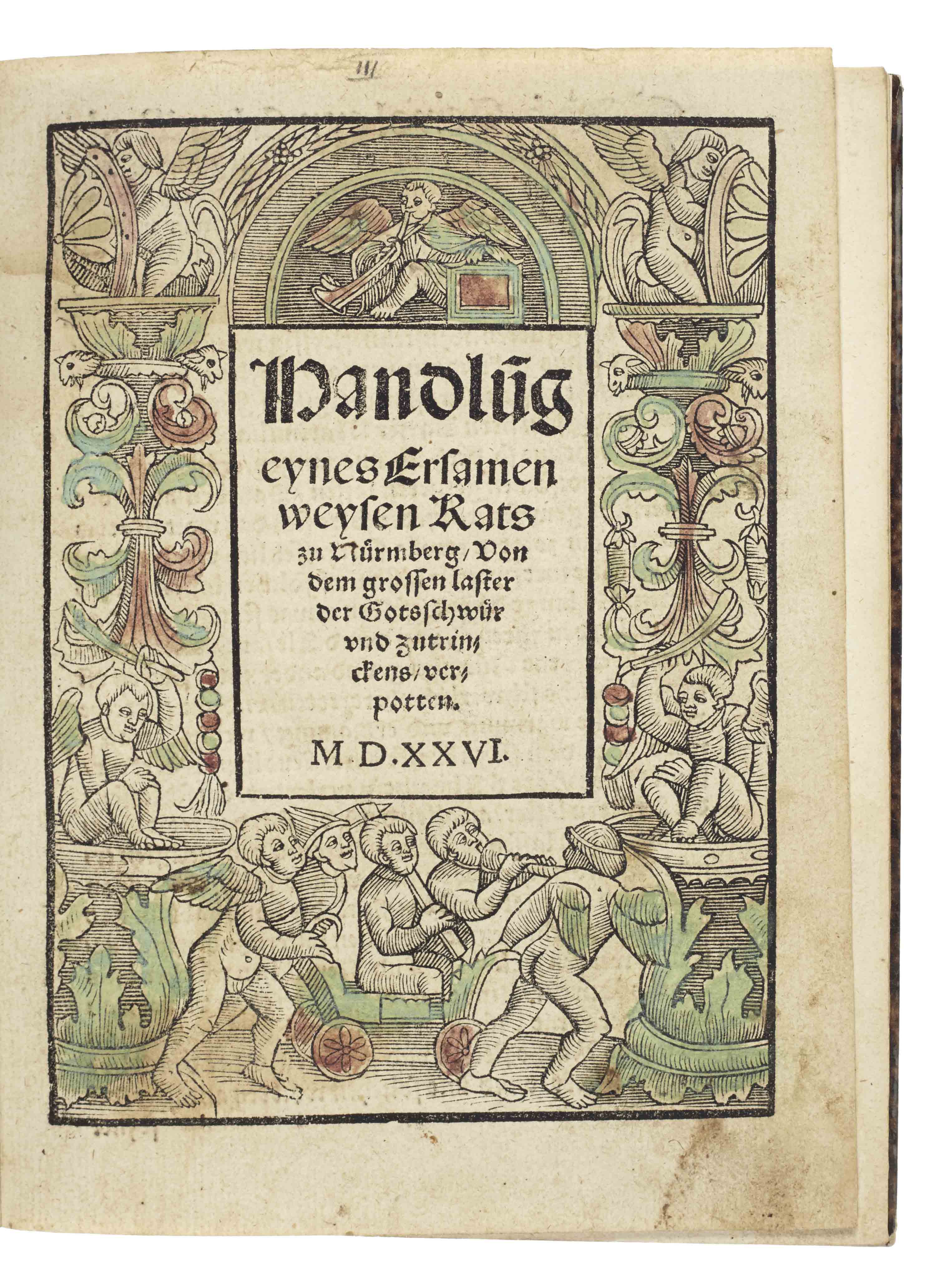 DRINKING AND BLASPHEMY CENSURED
[BLASPHEMY.] 
Handlu[n]g eynes Ersamen weysen Rats zu Nürmberg, von dem grossen laster der Gotsschwür und zutrinckens, verpotten. 
[Altenburg, Gabriel Kantz,] 1526.
4to (181 x 136mm), ff. [4], gothic type, title within woodcut border (partly hand-coloured) incorporating a depiction of putti pulling a small cart; light dampstain at head throughout, some minor soiling; late nineteenth-century cloth-backed boards, paper labels on upper cover and spine.
£1500

Approximately:
US $1888
€1749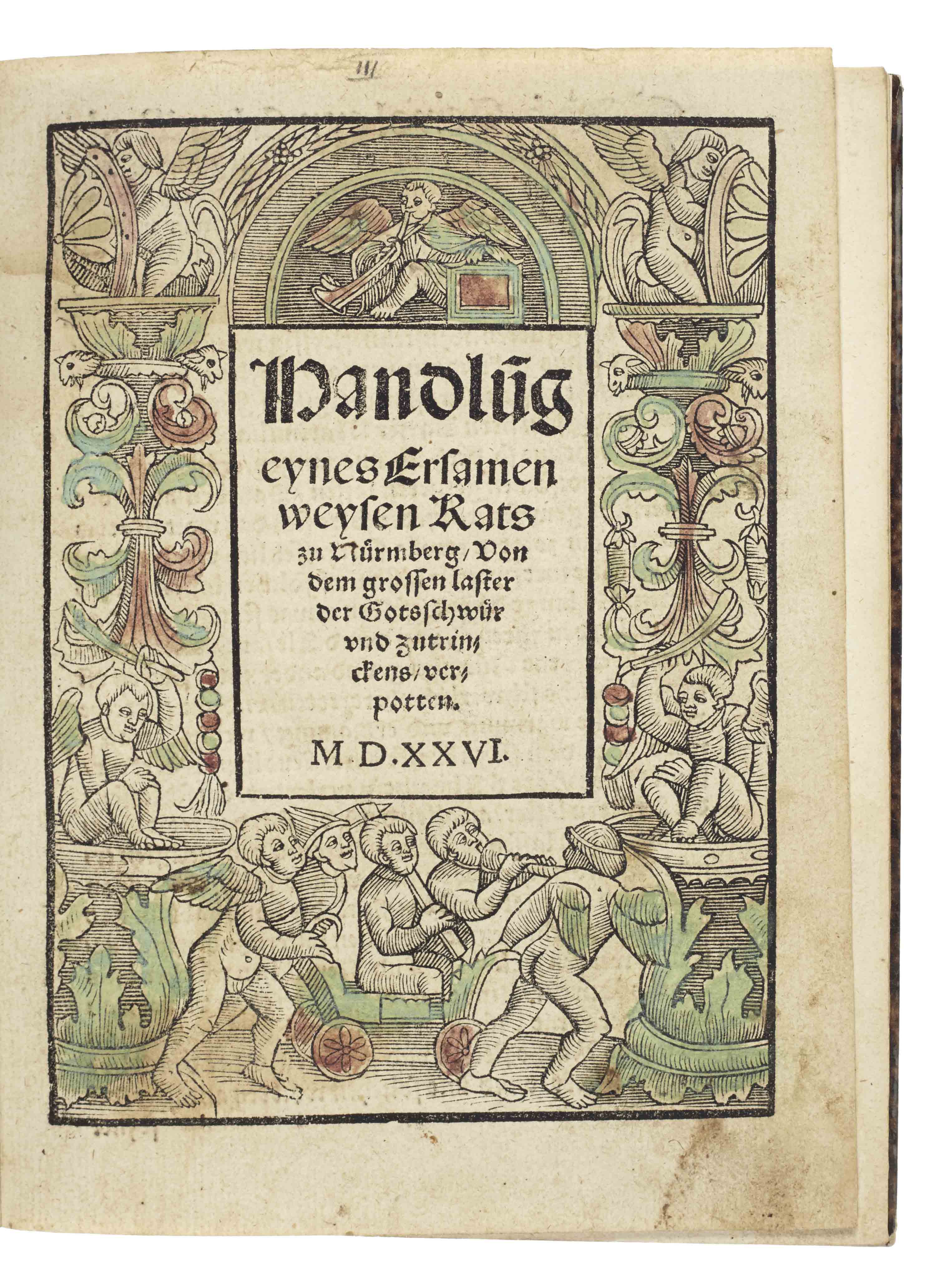 Added to your basket:
Handlu[n]g eynes Ersamen weysen Rats zu Nürmberg, von dem grossen laster der Gotsschwür und zutrinckens, verpotten. 
First edition, very rare, of a short pamphlet against blasphemy and drunkenness printed at a small press in Germany at the beginning of the Reformation.

Addressed to the citizens of Nuremberg, the pamphlet lists types of blasphemy (against God, the Virgin Mary and Christ, for instance, and intentional, habitual or accidental), their punishment (corporal, financial), and details sentences for unruly singing in the streets at day or night (beating with rods for juveniles, confinement to a hole for adults).  The final pages attend to drunkenness, the punishment of which is commensurate with the extent of inebriation and entails incarceration 'mit wasser und brot' and potential additional fines.

This pamphlet is one of fifty-nine works printed between 1524 and early 1527 at the Kleinpresse of Gabriel Kantz in Altenburg, one of the workshops founded in the early Reformation in response to the increasing demand for publications relating to Martin Luther's doctrine.  Kantz, who appears to have been active previously as a bookseller, received permission to set up his workshop in Altenburg in 1524 at the request of pastor (Prediger) Wenzeslaus Linck.  Linck had long-standing and strong connections with Luther, and Kantz published Luther's sermon of 23 October 1524.  Nevertheless, the press struggled to generate sufficient business.  Luther, whom Linck asked for more materials for publication, dismissed the request with the comment that even the Wittenberg printers were underutilised.  Kantz, who avoided the lucrative but politically difficult publication of treatises relating to the Peasants' War, realigned his programme to the publication of reprints, and (after Linck was offered and accepted a position as Prediger in Nuremberg) investigated the possibility of a relocation to Zwickau.  Notably, Kantz did not include the place of printing on the title of any of his publications in 1526, including the current one, probably in anticipation of his move to Zwickau, where he would be active until his death in 1529.  The present pamphlet's pertinence to Nuremberg seems to suggest that Kantz produced it for Linck after their geographical separation; the second edition of 1537 was printed in Nuremberg by Jobst Gutknecht.

The title woodcut, by an unknown artist, is one of several versions of a 1521 original by the 'Monogrammist H' which shows the strong artistic influence of Albrecht Dürer's pupil Hans Springinklee (b. c. 1490-5); these versions were popular in Germany between 1525 and 1544 and adapted to various publications.  Thus, although not specifically designed for the present pamphlet, the depiction of a procession of men (or boys) with a cart and musical instruments and surrounded by putti with flails and shields, takes on a pertinent new meaning in the context of blasphemy and drink.  The similarly rare second edition does not contain the woodcut title.

VD16 N-1987; Pegg A catalogue of German Reformation pamphlets (1516–1550) 3246; H. Claus, 'Sächsische Kleinpressen im Dienste der Reformation: Gabriel Kantz in Altenburg' in G. Vogler, ed., Martin Luther.  Leben, Werk, Wirkung (Berlin, 1986), pp. 347–365, no. 42; Weller, Repertorium Typographicum 3804.

OCLC records six copies only (Edinburgh, Halle, Erfurt, Wolfenbüttel, Würzburg and Zwickau).
You may also be interested in...