'THE BODY AS A MACHINE': BORELLI'S FOUNDATION WORK OF BIOMECHANICS
BORELLI, Giovanni Alfonso.
De motu animalium. Edited by Carlo Giovanni di Gesù.
Rome: Angelo Bernabò, 1680-1681.
2 volumes, 4to (220 x 163mm), pp. I: [12 (title, imprimatur on verso, dedication, editor's address to the reader, proem)], 376, [377-387], [1 (blank)]; II: [4 (title, imprimatur on verso, editor's address to the reader)], 520; Greek and Latin types; 18 folding engraved plates, one signed by Francesco Donia, bound to throw clear, wood-engraved title vignettes and initials, letterpress tables in the text; scattered light spotting and marking, light marginal damp-marking in some quires of I, a few quires in II browned, very unobtrusive marginal worming in quires II, 2Y-3M, a few plates trimmed over platemark, touching caption on pl. 16; near-uniform 20th-century half chestnut morocco for the Royal Institution (volume I by the Wigmore Bindery, dated 8 May 1959), spines in compartments, gilt morocco lettering-pieces in one, directly lettered in gilt in 2 others, lower compartments with Royal Institution crest and date in gilt, both volumes uniformly stained black on the top edges and red-speckled on the others; extremities very lightly rubbed, some cracking on hinges, otherwise a very good, crisp set; provenance: The Royal Institution (acquired from Richardson on 4 February 1805 for 2s 6d, according to the RI's records; gilt crests on spines; booklabels on lower pastedowns recording deaccession in 2015).
£2750

Approximately:
US $3480
€3057
Added to your basket:
De motu animalium. Edited by Carlo Giovanni di Gesù.
First Edition. The mathematician and physicist Borelli (1608-1679) was, 'after Descartes, [...] the principal founder of the iatrophysical school, one of the two opposing seventeenth-century medical philosophies (the other being the school of iatrochemistry) that grew out of an increasing concern with the function as well as the structure of human anatomy. Inspired by Harvey's mathematical demonstration of the circulation of the blood, Borelli [...] conceived of the body as a machine whose laws could be explained entirely by the laws of physics. Borelli was the first to recognise that bones were levers powered by the action of muscle, and devoted the first volume of his work to the external motions produced by this interaction, with extensive calculations on the motor forces of the muscles. The second volume treats of internal motions, such as the movements of the muscles themselves, circulation, respiration, secretion and nervous activity. Borelli was the first to explain heartbeat as a simple muscular contraction, and to ascribe its action to nervous stimulation; he was also the first to describe circulation as a simple hydraulic system' (Norman).

Borelli's 'great work' (Osler) is generally considered the foundation text of biomechanics and its author the father of the discipline. De motu animalium was researched and written over a long period of time, but only published after the author's death, due to the difficulties of acquiring a patron for the book. In late 1679, Borelli had secured Queen Christina of Sweden's agreement to fund the costs of printing, and dedicated the work to her; however, Borelli died in December 1679 and the volume was seen through the presses by his benefactor, Carlo Giovanni di Gesù. One of the engravings is signed by the engraver Francesco Donia, who engraved both maps and plates, and illustrated a number of Italian works in the second half of the seventeenth century. Apart from the one he signed, it seems likely that Donia was responsible for the most (if not all) of the others plates in this volume.

Eimas Heirs 496; Garrison-Morton 762; Krivatsy 1578; Nissen ZBI 465; Norman 270; Osler 2087; Trent and Roberts pp. 42-43.
You may also be interested in...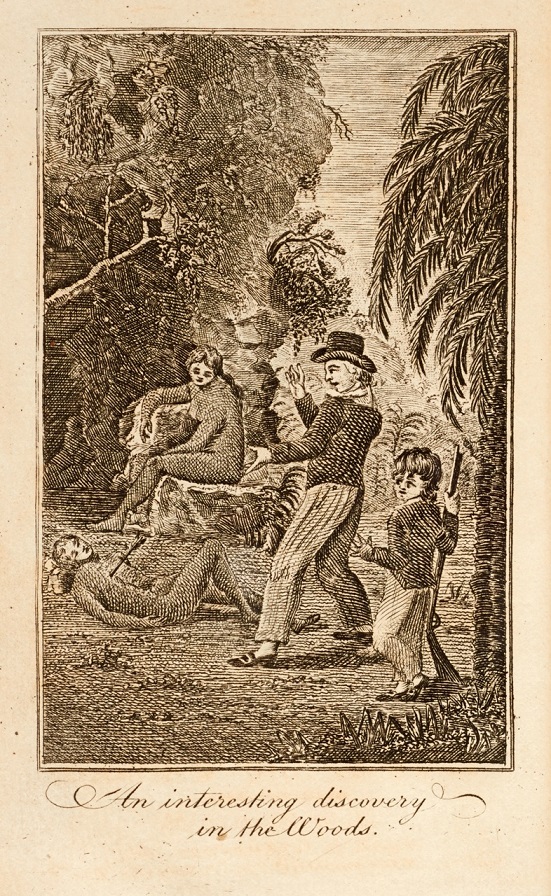 'A WELL-WRITTEN ACCOUNT OF THIS VERY SINGULAR COLONY' OR 'A SERIES OF ACTS OF FABRICATION, INT BARRINGTON, George.
A Voyage to Botany Bay with a Description of the Country, Manners, Customs, Religion, &c. of the Natives by the Celebrated George Barrington. To which is Added his Life and Trial.
First and only combined edition, second issue. George Barrington was a 'genteel young Irishman known for his sartorial elegance, his command of the etiquette of romantic sensibility, and for his prowess at picking pockets' (Garvey p. 2). Born George Waldron in 1758 in County Kildare, Ireland, he left school 'following a violent quarrel in 1771 [when] he stabbed a schoolmate with a penknife and then absconded after a severe flogging, having stolen money and his headmaster's gold hunter watch' (ODNB). The young Waldron then joined a troupe of travelling players under the management of one John Price, who coached him as both an actor and a thief. It was at this point that the name 'Barrington' was chosen to connote an aristocratic and theatrical heritage. Shortly, the fascinating contrast between Barrington's charming demeanour and criminal activities drew the attention of the press and the public and, under the sobriquet the 'Prince of Pickpockets', he became a household name in Ireland and England. Numerous attempts were made to arrest and convict him but Barrington continually evaded punishment, safeguarded by his charisma and convincing protestations of innocence, and his exploits became legendary. However, in 1790 Barrington was finally arrested for the attempted theft of one Henry Hare Townsend's gold watch and chain, and sentenced to seven years' transportation.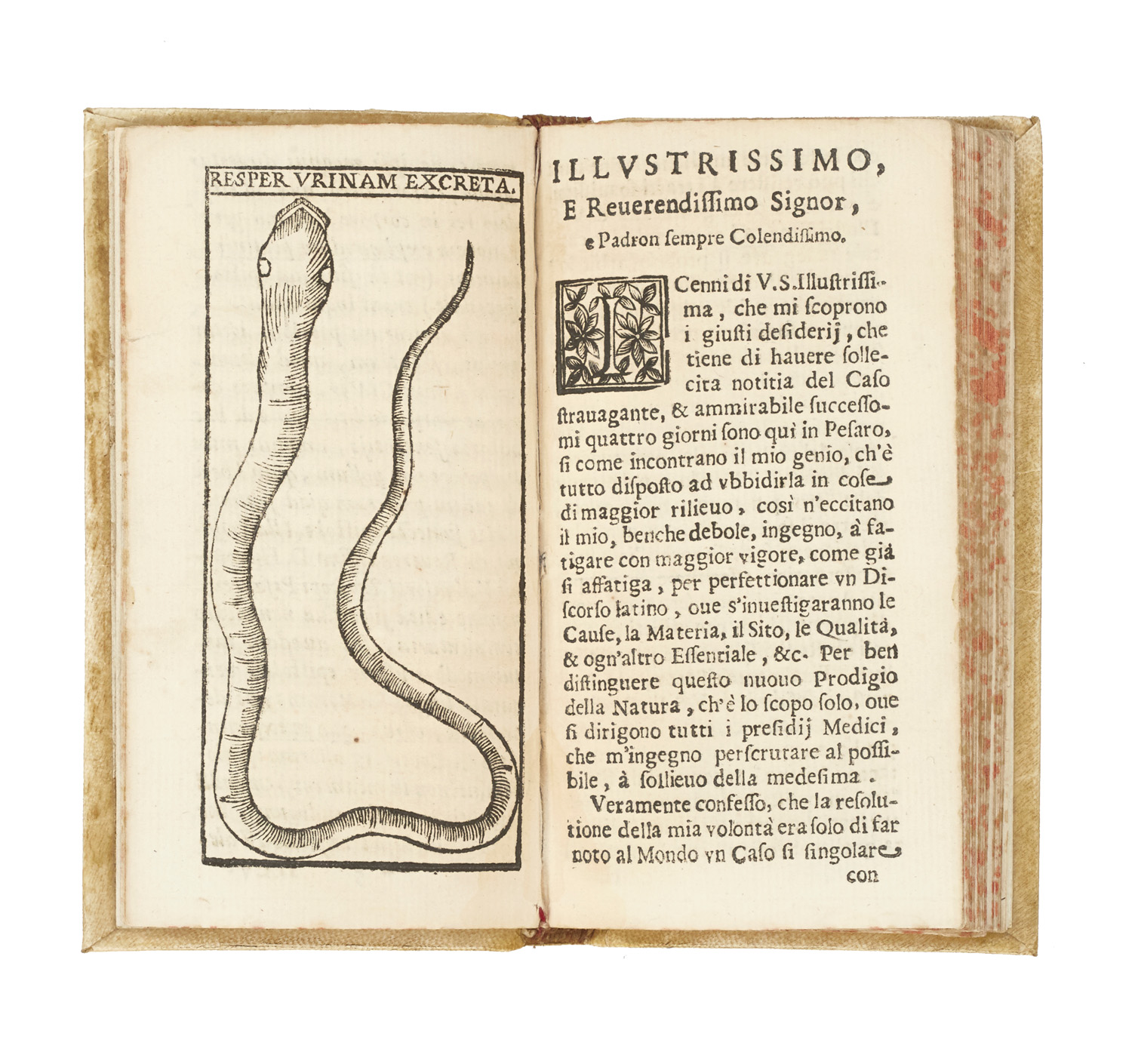 A WONDER WORM MARINIS, Dominico de.
Dissertatio philosophico-medica de re monstrosa à Capuccino Pisauri per urinam excreta. Plura de sanguinis grumis, polypis, serpentibus, ac praecipuè de vermibus in corpore humano procreatis non iniucunda complectens ...
First edition of this scarce dissertation on worms focussing on the extraordinary case of a capuchin preacher from Pesaro who in 1677 passed an enormous worm in his urine, which upon subsequent examination was declared to be a serpent. The Dissertatio begins with a prefatory letter in Italian by Alessandro Cocci discussing the case of the capuchin friar Stefano da Cammerino who for 13 months had suffered from kidney pains and bloody and lumpy urine. Following treatment by Cocci and Cesare Cesareo, Cammerino passed, with excruciating pain, a long thin worm through his urinary meatus, initially trying to pull it out, only to break it in two, and then passing the remainder, to his subsequent great relief. The worm caused much local interest and Cocci describes how it was initially put on display to satisfy the curious, before being examined under a microscope. The conclusion of this examination was that the 'prodigio della natura' passed by Cammerino was in fact a serpent.