ROMAN BUSTS. WITH ROYAL PROVENANCE
BOTTARI, Giovanni Gaetano.
Del Museo Capitolino tomo I contenente immagini d'uomini illustri [- tomo secondo contenente i busti imperiali].
Rome, si vende alla calcografia camerale; nella stamperia di Antonio De'Rossi, 1741-48.
2 vols, folio, pp. [2], 48, with engraved title-page and 97 engraved plates (plates 1-V, V bis, VI, 1-90); [2], 83, [3], with engraved frontispiece and 89 engraved plates (I, II.1, II.2, III-V, 1-83); engraved initials, additional engraved illustrations within letterpress text; occasional light foxing, water stain to lower corners at end of vol. 1, light marginal water stain at end of vol. 2; very good in contemporary red morocco, covers richly decorated with gilt border, panel and centre-piece, spines gilt in compartments with lettering-pieces, gilt edges, marbled pastedowns; rebacked with some loss to spines, corners worn; armorial bookplate to front pastedowns of William IV as Duke of Clarence, and to rear pastedowns of William Frederick, Duke of Gloucester; shelfmarks 'BVII No. 3' and 'No. 4' inked to front flyleaves.
£1250

Approximately:
US $1763
€1456
Added to your basket:
Del Museo Capitolino tomo I contenente immagini d'uomini illustri [- tomo secondo contenente i busti imperiali].
First edition of the first two volumes of this handsome publication, showcasing classical busts preserved at the Museo Capitolino in Rome, this copy formerly in the possession of William IV.

Tracing its origins to 1471, the Museo Capitolino was opened to the public in 1734 by Pope Clement XII, and is considered the first public museum in the world. Del Museo Capitolino was edited by the Florentine polymath and Vatican librarian Giovanni Gaetano Bottari (1689–1775), who wrote several works devoted to art, and acted as Clement XII's counsellor. The two volumes here contain 186 beautiful engraved plates after drawings by Giovanni Domenico Campiglia (1692–1768), mostly executed by Carlo Gregori, Pietro Antonio Pazzi, Silvio Pomarede, Girolamo Rossi, and Gennaro Gutierrez.

The first volume is devoted to busts of 'illustrious personages', including Virgil, Aristotle, Socrates, Plato, Pythagoras, Terence, Homer, Cleopatra, Sappho, Euripides, Herodotus, Cicero, and Archimedes. The second volume is dedicated to busts of Roman emperors and their consorts, featuring, for example, Julius Caesar, Augustus, Caligula, Agrippina, Nero, Trajan, Plotina, Hadrian, Faustina, Marcus Aurelius, Lucilla, Septimius Severus, Caracalla, Gallienus, and Julian.

Two further volumes were published later: one devoted to the museum's statues, which appeared in 1755, and another to its bas reliefs, issued, after Bottari's death, in 1782.
You may also be interested in...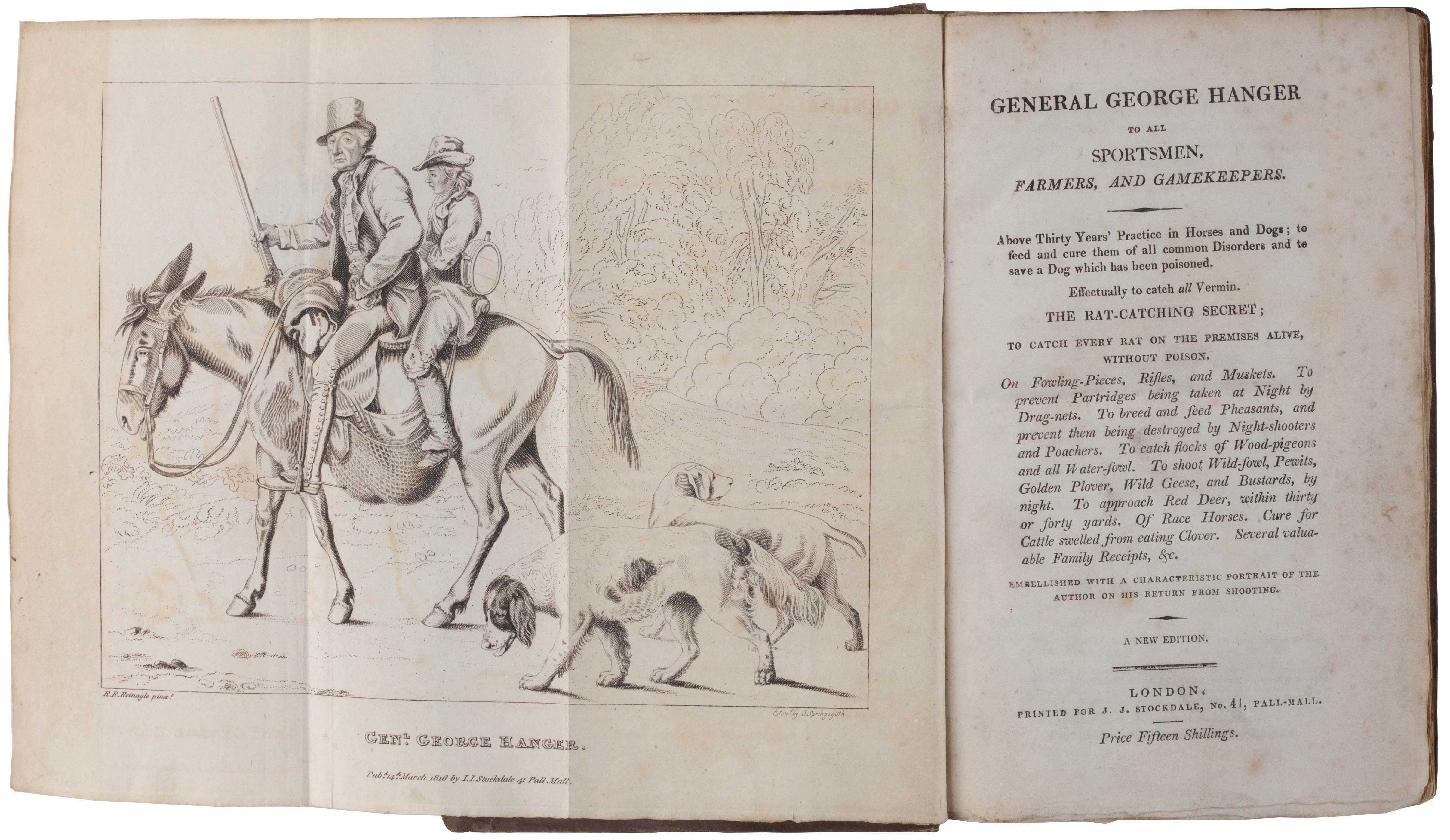 HANGER, George.
General George Hanger to all Sportsmen, Farmers, and Gamekeepers: Above thirty Years' Practice in Horses and Dogs, to feed and cure them of all common Disorders and to save a Dog which has been poisoned, effectually to catch all Vermin; the Rat-Catching Secret, to catch every Rat on the Premises alive, without Poison; on Fowling-Pieces, Rifles, and Muskets; to prevent Partridges being taken at Night by Drag-Nets; to breed and feed Pheasants, and prevent them being destroyed by Night-Shooters and Poachers; to catch Flocks of Wood-Pigeons and all Water-Fowl; to shoot Wild-Fowl, Pewits, Golden Plover, wild Geese, and Bustards, by Night; to approach Red Deer, within thirty or forty Yards; of Race Horses; Cure for Cattle swelled from Eating Clover; several valuable Family Receipts, &c.; embellished with a characteristic Portrait of the Author on his Return from Shooting; a new Edition.
Second edition, the first with the etched frontispiece, of Hanger's best known work. The almost reputable product of a controversial career, the text was written by George Hanger (1751–1824), fourth Baron Coleraine, a 'macaroni' and 'one of the dissipated companions of the prince of Wales' (ODNB), whose life consisted of purchased positions in the military and extravagant spending he could ill afford. He served in the British, Prussian, and Hessian armies, transferring allegiance when promotion was more easily obtained elsewhere, and, despite his upbringing among the Gloucestershire gentry and his education at Eton College, he 'deliberately set out to conform to the popular caricature of an Irish gentleman' (ODNB) while also affecting the manners of the French court.
GUILLET de Saint-Georges, Georges.
The Gentleman's Dictionary, in three Parts, viz.: I. the Art of Riding the great Horse, containing the Terms and Phrases us'd in the Manage, and the Diseases and Accidents of Horses; II. the military Art, explaining the Terms and Phrases us'd in Field or Garison, the Terms relating to Artillery, the Works and Motions of Attack and Defence, and the Post and Duty of all the Officers of the Army, illustrated with historical Instances, taken from the Actions of our Armies; III. the Art of Navigation, explaining the Terms of naval Affairs, as Building, Rigging, Working, and Fighting of Ships, the Post and Duty of Sea-Officers, &c., with historical Examples taken from the Actions of our Fleet; each Part done alphabetically, from the sixteenth Edition of the original French … with large Additions, Alterations and Improvements, adapted to the Customs and Actions of the English, and above forty curious Cuts, that were not in the Original.
First edition in English of Les arts de l'homme d'epée, an encyclopedic manual in three distinct alphabets for the instruction of those who are 'bred to the sword'. The English version, of which this is the sole edition, is no 'bare translation' but has been revised 'by Persons thoroughly vers'd in the respective Arts [to] suit the Customs and History of England', with references to military 'Actions of the French' exchanged for 'Famous Instances of English Bravery and Conduct'. The text is strikingly illustrated with three folding plates, serving as frontispieces to each part and showing 'The True and perfect Seat upon Horse-back' (illustrated in Mellon), 'A Plan of all manner of works used in Fortification with the method of an Attack', and 'A Description of a Ship' and all her rigging.