ROMAN BUSTS. WITH ROYAL PROVENANCE
BOTTARI, Giovanni Gaetano.
Del Museo Capitolino tomo I contenente immagini d'uomini illustri [- tomo secondo contenente i busti imperiali].
Rome, si vende alla calcografia camerale; nella stamperia di Antonio De'Rossi, 1741-48.
2 vols, folio, pp. [2], 48, with engraved title-page and 97 engraved plates (plates 1-V, V bis, VI, 1-90); [2], 83, [3], with engraved frontispiece and 89 engraved plates (I, II.1, II.2, III-V, 1-83); engraved initials, additional engraved illustrations within letterpress text; occasional light foxing, water stain to lower corners at end of vol. 1, light marginal water stain at end of vol. 2; very good in contemporary red morocco, covers richly decorated with gilt border, panel and centre-piece, spines gilt in compartments with lettering-pieces, gilt edges, marbled pastedowns; rebacked with some loss to spines, corners worn; armorial bookplate to front pastedowns of William IV as Duke of Clarence, and to rear pastedowns of William Frederick, Duke of Gloucester; shelfmarks 'BVII No. 3' and 'No. 4' inked to front flyleaves.
£1250

Approximately:
US $1694
€1493
Added to your basket:
Del Museo Capitolino tomo I contenente immagini d'uomini illustri [- tomo secondo contenente i busti imperiali].
First edition of the first two volumes of this handsome publication, showcasing classical busts preserved at the Museo Capitolino in Rome, this copy formerly in the possession of William IV.

Tracing its origins to 1471, the Museo Capitolino was opened to the public in 1734 by Pope Clement XII, and is considered the first public museum in the world. Del Museo Capitolino was edited by the Florentine polymath and Vatican librarian Giovanni Gaetano Bottari (1689–1775), who wrote several works devoted to art, and acted as Clement XII's counsellor. The two volumes here contain 186 beautiful engraved plates after drawings by Giovanni Domenico Campiglia (1692–1768), mostly executed by Carlo Gregori, Pietro Antonio Pazzi, Silvio Pomarede, Girolamo Rossi, and Gennaro Gutierrez.

The first volume is devoted to busts of 'illustrious personages', including Virgil, Aristotle, Socrates, Plato, Pythagoras, Terence, Homer, Cleopatra, Sappho, Euripides, Herodotus, Cicero, and Archimedes. The second volume is dedicated to busts of Roman emperors and their consorts, featuring, for example, Julius Caesar, Augustus, Caligula, Agrippina, Nero, Trajan, Plotina, Hadrian, Faustina, Marcus Aurelius, Lucilla, Septimius Severus, Caracalla, Gallienus, and Julian.

Two further volumes were published later: one devoted to the museum's statues, which appeared in 1755, and another to its bas reliefs, issued, after Bottari's death, in 1782.
You may also be interested in...
SAVOYARD PHARMACOPOEIA – WITH THE FIRST RECIPE FOR VERMOUTH [PHARMACOPOEIA.]
Pharmacopoea Taurinensis nunc primum edita jussu Augustissimi Regis.
First edition of this Turin pharmacopoeia, prepared by doctors at the city's medical college at the order of Charles Emmanuel III, Duke of Savoy. Its first section comprises a list of all substances generally used in the preparation of medicines, with synonyms and notes to aid the user in distinguishing between plants which look similar, which the authors 'deemed extremely useful for younger apothecaries'.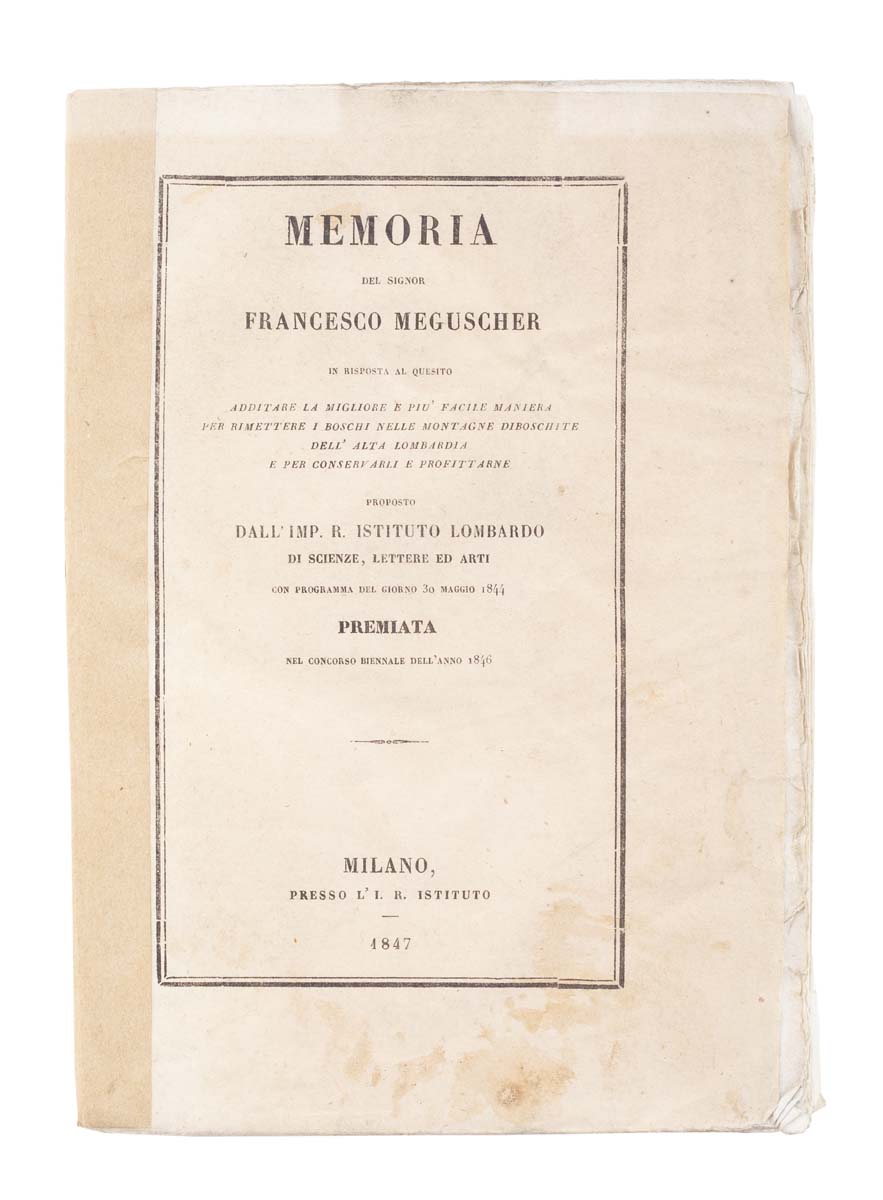 ECONOMICS AND ENVIRONMENTALISM MEGUSCHER, Francesco.
Memoria … in risposta al quesito additare la migliore e più facile maniera per rimittere i boschi nelle montagne diboschite dell'alta Lombardia e per conservarli e profittarne. Proposto dall'Imp. R. Istituto Lombardo di Scienze, Lettere ed Arti con programma del giorno 30 maggio 1844. Premiata nel concorso biennale dell'anno 1846.
First edition of this comprehensive report on the best means to reverse the deforestation of the mountains of Lombardy, in a way that could be both environmentally sustainable and economically profitable.