BIRTH CONTROL
[BRADLAUGH, Charles, and Annie BESANT.]
In the High Court of Justice, Queen's Bench Division, June 18th, 1877: The Queen v. Charles Bradlaugh and Annie Besant, specially reported.
London, Charles Bradlaugh and Annie Besant for the Freethought Publishing Company, [1877].
8vo, pp. [2], ii, [3]-324, 8 (advertisements); 2 photographic portraits mounted to preliminary leaves with lithographic signatures; occasional spots; a good copy in publisher's red cloth gilt; dust-stained with a few marks; front free endpaper inscribed by H. Berger.
£200

Approximately:
US $242
€236
Added to your basket:
In the High Court of Justice, Queen's Bench Division, June 18th, 1877: The Queen v. Charles Bradlaugh and Annie Besant, specially reported.
First edition of a trial for obscenity over birth control. Having established the Freethought Publishing Company in January of the same year, the freethinkers Charles Bradlaugh and Annie Besant in March 1877 reissued Knowlton's Fruits of Philosophy, a treatise on birth control published in America in 1832.
Though both were found guilty of obscenity, after a trial in which Besant conducted her own defence, the verdict was subsequently quashed on a technicality.
You may also be interested in...
THE DECLARATION OF INDULGENCE [JAMES II.] 
His Majesties gracious Declaration to all his loving Subjects for Liberty of Conscience. 
A major document in the history of free speech and the first step towards religious freedom in Britain, the 1687 Declaration of Indulgence granted liberty of conscience for all religions, and the freedom 'to meet and serve God after their own way and manner, be it in private houses, or places purposely fired or built for that use'.  It also suspended all penal laws against nonconformism as well as the oath of supremacy required for civil and military office.  It was promulgated (though not accepted) in Scotland on 12 February and in England and Wales on 4 April.  Though it seemed to promise toleration for Dissenters, it was largely intended to pave the way to the appointment of Catholics to prominent positions, and effectively kicked off the train of events that would lead to the Glorious Revolution the following year.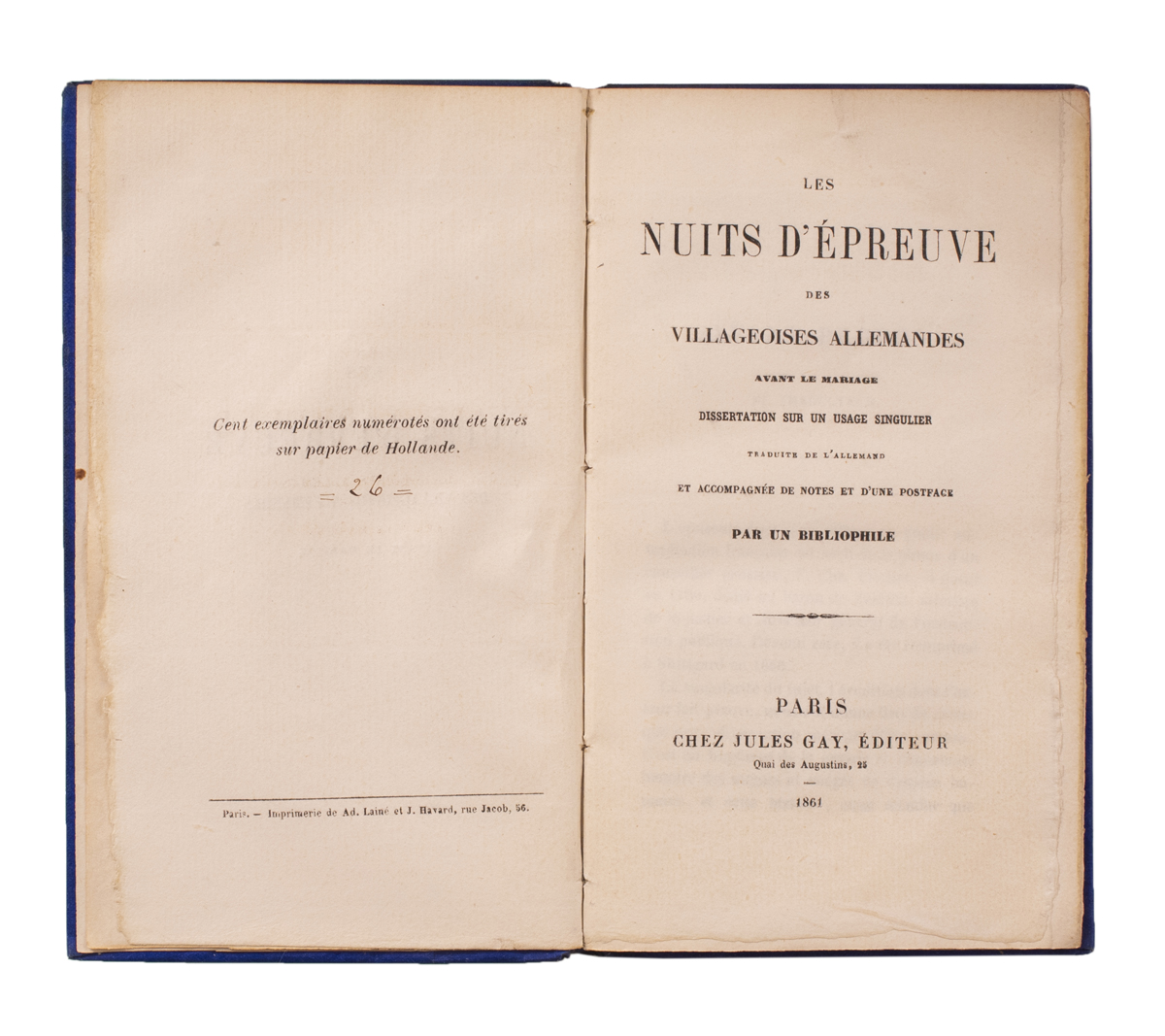 PRE-MARITAL SEX AROUND THE WORLD [FISCHER, Friedrich Christoph Jonathan, and Pierre-Gustave BRUNET (translator)].
Les nuits d'érpeuve des villageoises allemandes avant la marriage, dissertation sur un usage singulier traduite de l'Allemand et accompagnée de notes d'une postface. Par un Bibliophile.
First edition in French, numbered 26 of 100 copies, of this obscure study, first published in 1780 as Über die Probenächte der teutschen Bauernmädchen ('On the Rehearsal Nights of Teutonic Peasant Women'). Brunet's 'postface' builds on the comparisons made in Fischer's original essay between the Congolese practice of pre-marital, conjugal co-habitation and those of medieval German peasants, adding case studies of various cultures: 'Oriental' prostitutes of the modern era; the indigenous peoples of the Tierra del Fuego; and Balearic and Polynesian Islanders.