BRAND-HOLLIS, Thomas [and John DISNEY (editor)].

Memoirs of Thomas Hollis…
London, Gillet, 1808.
Large 4to, pp. [8], 60; stipple-engraved frontispiece portrait, nine further engraved plates, one folding, illustrating the Hyde at Inglatestone, Essex, its grounds and its antiquities; plates lightly foxed with some inkstains and marks to margins, but a good copy in recent half morocco and marbled boards, spine gilt.
£450

Approximately:
US $610
€537
Added to your basket:
Memoirs of Thomas Hollis…
First edition of a privately printed memoir of Thomas Brand of the Hyde, who assumed the name Brand-Hollis on inheriting the Dorset estates (and library and collection of sculpture) of his friend the 'Republican' Thomas Hollis, the Whig bibliophile. The author, John Disney, a close friend of Thomas Brand, inherited both estates on Brand's death and unhesitatingly retired to a life of literary leisure, of which this was an early and grateful product, as was the monument to Brand-Hollis erected by Disney in the chancel of Ingatestone Church, illustrated here.

An interesting feature is the series of letters to Brand-Hollis from John Adams, future President of the United States. Adams and Brand-Hollis became friends after Adams was appointed ambassador to London when peace with England was re-established. He visited the Hyde in the summers of 1786 and 1787. There are also letters from Mrs Adams.
You may also be interested in...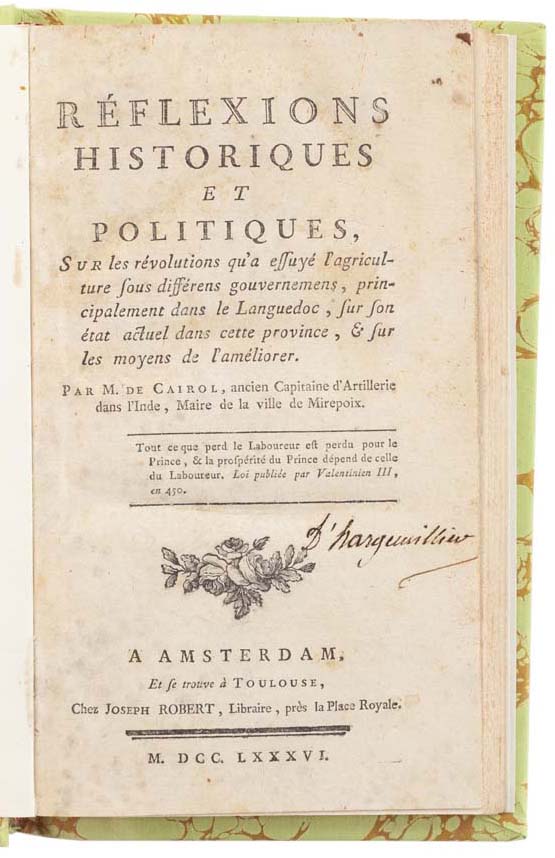 FARMERS AND RULERS CAIROL, M. de.
Réflexions historiques et politiques, sur les revolutions qu'a essuyé l'agriculture sous différens gouvernemens, principalement dans le Languedoc, sur son état actuel dans cette province, & sur les moyens de l'améliorer.
Very rare essay on the state of agriculture in France, and in particular in the Languedoc, examining the ways in which the policies of various governments (from the Romans and Visigoths onwards) have affected agricultural production, the current situation, and the ways in which matters could be improved. Throughout, the author's concerns, although concentrated on agricultural production, are broader: he constantly reminds the reader of the extent to which the rural people of the Languedoc, although blessed with a clement climate and fertile land, are nonetheless at the mercy of the whims of their rulers, whether through the imposition of taxation or arbitrary and ill-informed decisions made de haut en bas about the crops to be produced and the methods to be employed. A lengthy set of notes, taking up the second half of the book, quote Montesquieu and Hume, describe agricultural practice in England, and present a number of statistical tables. We have found no information about the author, but it would be reasonable to assume that he was not unsympathetic to the events of the end of the decade.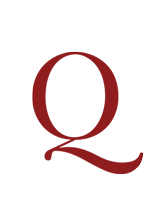 [HERBERT, Henry John George, third earl of Carnarvon.]
Portugal and Gallicia, with a review of the social and political state of the Basque Provinces; and a few remarks on recent events in Spain. To which is now subjoined, a reply to the 'Policy of England towards Spain' . . . Second edition.
Second, expanded, edition; first published the previous year. Carnarvon (or, as he then was, Viscount Porchester) visited Spain and Portugal in July 1827. 'His companion on the voyage out to Lisbon had been Sir Arthur de Capell Brooke, who was on his way to Cádiz en route to North Africa . . . . After three weeks in Lisbon, Porchester rode north to Oporto and crossed the Miño at Tuy. From Vigo, with its ría sparkling in the sun, he entered Pontevedra in drenching rain. Hence – although the landlord's daughter was pretty and not disinclined to a little flirtation – he pressed on to Santiago' (Robertson). After taking in La Coruña, where he visited the battlefield of 1809, Porchester crossed to El Ferrol and then 'rode inland to Lugo, where he was arrested in the middle of the night on obscure "political grounds", and to his great personal inconvenience and irritation was sent back under escort to Santiago. Instead of visiting Orense as had been his plan, all he saw was the interior of a number of horrid ventas, which he had always tried to avoid' (ibid.). The Secretary of Police at Santiago set Porchester at liberty, but the following morning he was arrested again and subjected to a farcical cross-examination during which he had to refute allegations that he was a Spanish Liberal agent acting in concert with Spanish Constitutional refugees in Portugal. He returned to Portugal shortly afterwards.