BRITISH ASSOCIATION FOR THE ADVANCEMENT OF SCIENCE.
Report of the First [-Eighth] Meetings.
London, John Murray, 1833-39.
Eight vols. 8vo and one vol. (with lithographed signatures) 4to, with a magnificent, long (c. 170 mm), two-section hand-coloured folding engraved plate 'Section across Europe from the North of Scotland to the Adriatic' as frontispiece to Vol. I, numerous engraved plates, maps, etc., in succeeding vols.; occasional foxing, but a fine set in contemporary half calf for the Geological Society of Cornwall (lettering piece at foot of spines), atlas vol. in a modern binding to match.
£1200

Approximately:
US $1638
€1347
Added to your basket:
Report of the First [-Eighth] Meetings.
'The principal effort in the initial organisation of the British Association came from Edinburgh and the provincial scientific societies. Babbage himself was prevented from attending the first meeting in York by pressing work ... However his central position was acknowledges when he was appointed one of the three trustees, the only permanent officials of the Association' (Hyman, Charles Babbage p. 150). The Association funded some research, albeit in a small way, and made representations to government on matters of scientific interest, and 'such functions were useful in the 1830s when the Royal Society was at a low ebb' (ibid., p. 151).

'In a direct and literal sense, The British Association made science visible' (Morrell and Thackray, Gentlemen of Science, 1981, p. 96).

There are papers by Babbage, Brewster, Airy, Lubbock, Whewell, etc., etc.
You may also be interested in...
THORNTON, Robert John, HENDERSON (illustrator), and Thomas BEWICK (engraver).
A new Family Herbal, or a popular Account of the Natures and Properties of the various Plantes used in Medicine, Diet, and the Arts … the Plants drawn from Nature … and engraved on Wood.
First edition of Thornton's educational herbal, illustrated by Bewick. Though principally famous for his 'visually magnificent failure' the Temple of Flora (ODNB), Robert John Thornton (1768 – 1837) wrote on botany for all audiences, from treatises on Linnaeus's system to the New Family Herbal, offering illustrated descriptions of plants and their medicinal uses.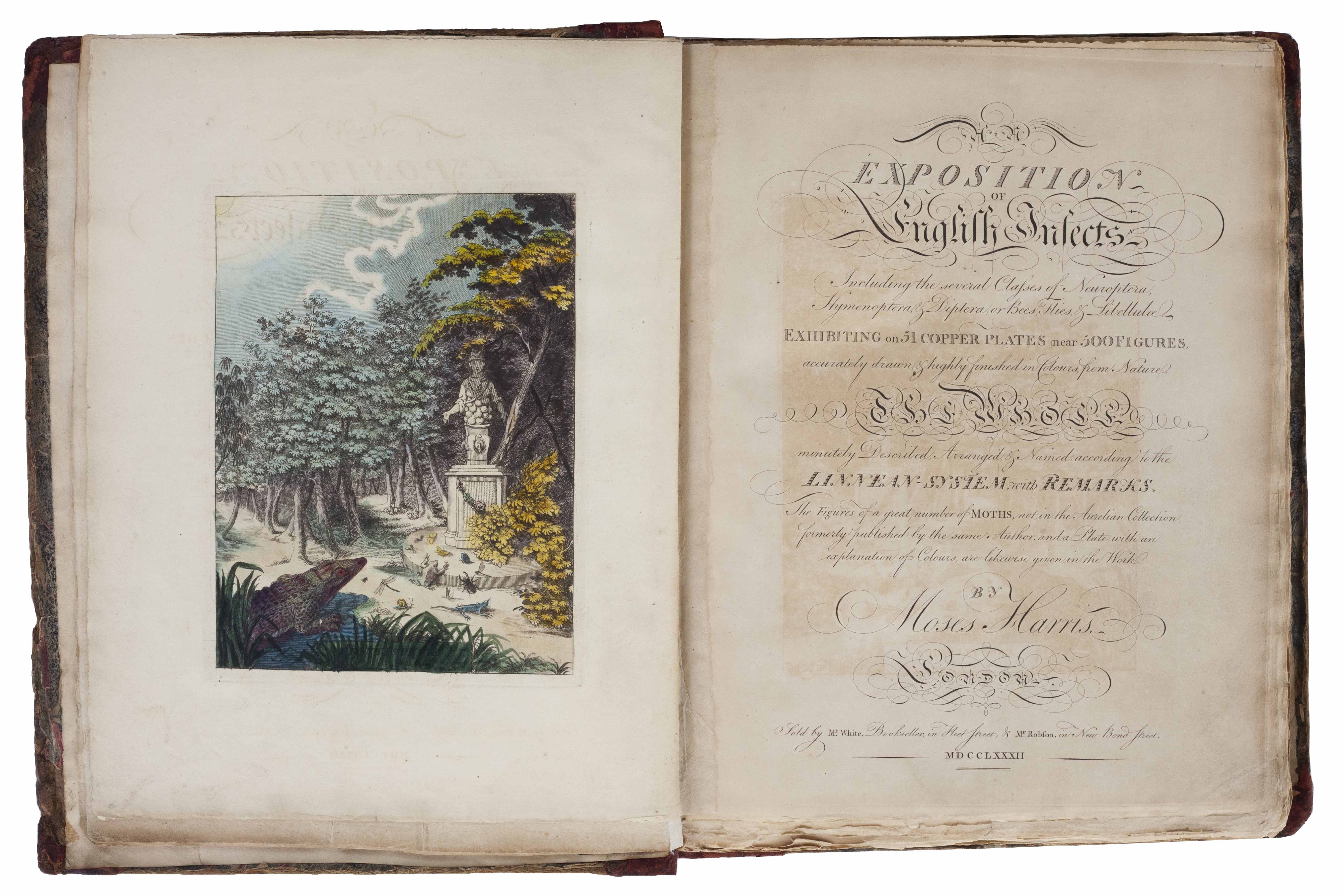 HARRIS, Moses.
An Exposition of English Insects, including the several Classes of Neuroptera, Hymenoptera, & Diptera, or Bees, Flies, & Libellulae, exhibiting on 51 Copper Plates near 500 Figures, accurately drawn, & highly finished in Colours, from Nature, the whole minutely described, arranged, & named according to the Linnean System, with Remarks; the Figures of a great Number of Moths, not in the Aurelian Collection, formerly published by the same Author, and a Plate with an Explanation of Colours, are likewise given in the Work.
Second edition of Harris's 'principal scientific work' (ODNB), incorporating his important treatise establishing the classification of insects by wing venation. 'I have kept so far as this method was agreeable to, and did not interfere with the plan, which I have adopted, of a strict adherence to a Natural System, separating the classes by such nice though strong distinctions, that the observer at first sight of an insect (if it be of the Diptera or Hymenoptera) shall be capable of not only knowing the class it refers to, but at the same time to what order and section of that class, and this by the wings only' (preface).