BRITISH ASSOCIATION FOR THE ADVANCEMENT OF SCIENCE.
Report of the First [-Eighth] Meetings.
London, John Murray, 1833-39.
Eight vols. 8vo and one vol. (with lithographed signatures) 4to, with a magnificent, long (c. 170 mm), two-section hand-coloured folding engraved plate 'Section across Europe from the North of Scotland to the Adriatic' as frontispiece to Vol. I, numerous engraved plates, maps, etc., in succeeding vols.; occasional foxing, but a fine set in contemporary half calf for the Geological Society of Cornwall (lettering piece at foot of spines), atlas vol. in a modern binding to match.
£1200

Approximately:
US $1507
€1327
'The principal effort in the initial organisation of the British Association came from Edinburgh and the provincial scientific societies. Babbage himself was prevented from attending the first meeting in York by pressing work ... However his central position was acknowledges when he was appointed one of the three trustees, the only permanent officials of the Association' (Hyman, Charles Babbage p. 150). The Association funded some research, albeit in a small way, and made representations to government on matters of scientific interest, and 'such functions were useful in the 1830s when the Royal Society was at a low ebb' (ibid., p. 151).

'In a direct and literal sense, The British Association made science visible' (Morrell and Thackray, Gentlemen of Science, 1981, p. 96).

There are papers by Babbage, Brewster, Airy, Lubbock, Whewell, etc., etc.
You may also be interested in...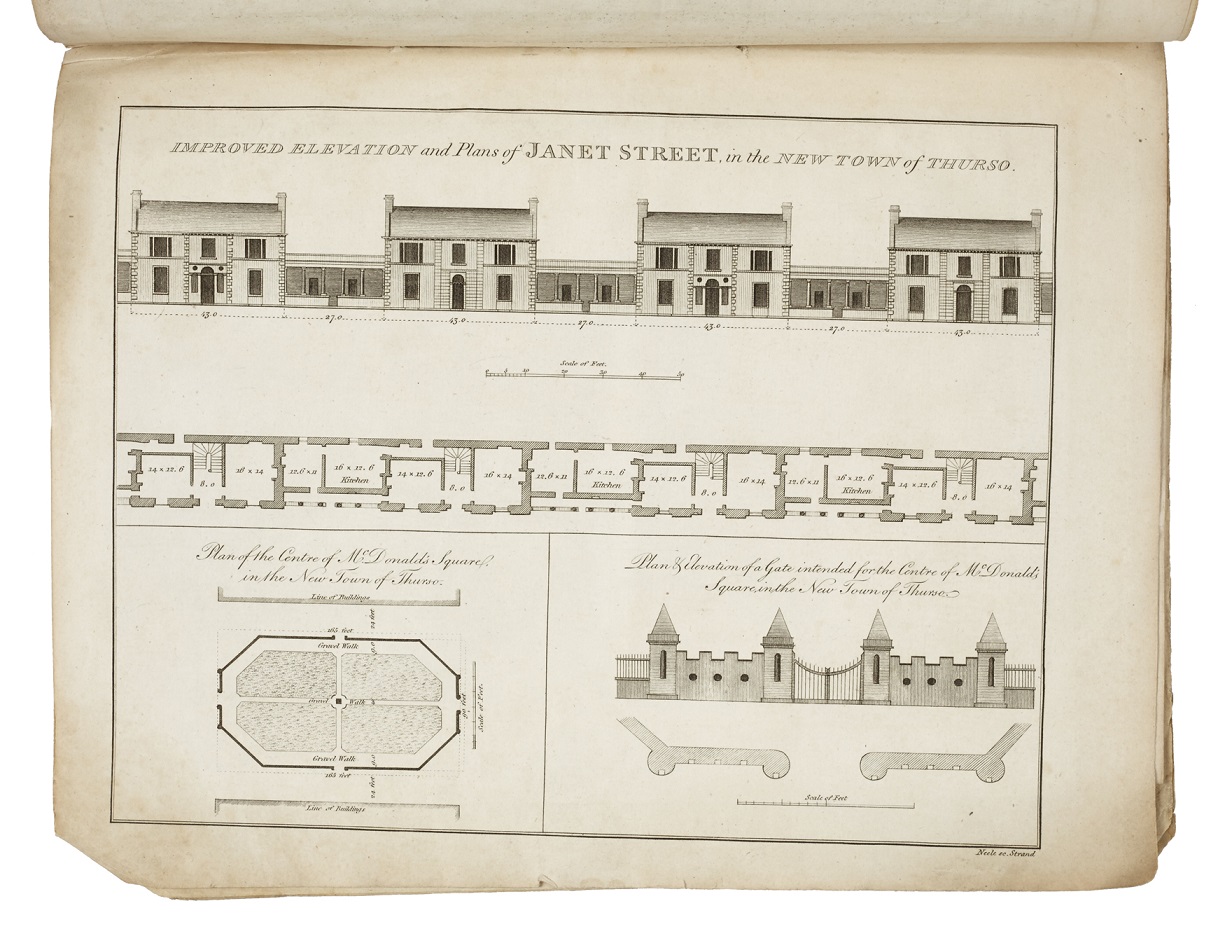 AGRICULTURAL IMPROVER SINCLAIR, John, Sir, first baronet.
A sketch of the improvements, now carrying on by Sir John Sinclair, Bart. M.P. in the county of Caithness, North Britain.
First edition, presentation copy, with attractive engravings showing a 'Plan of the new town of Thurso', an 'Improved elevation and plans of Janet Street in the new town of Thurso', a 'Plan of certain farms on the river Thurso ... intended partly to be let in small lots on improving leases to new settlers', and 'Sketch of the fishing village of Brodiestown intended to be created at Sarilet'.
CHERTABLON, M. de.
La maniere de se bien preparer a la mort. Par des considerations sur la Cene, la Passion, et la Mort de Jesus-Christ, avec de très-belles estampes emblematiques.
First edition with the present text. Romeyn de Hooghe's fine series of engravings were first printed for David de la Vigne's Miroir de la bonne mort (Amsterdam or Antwerp, 1673). The artist was still working in 1700, but because the plates in this work are unsigned and several are reversed from the earlier versions or have other minor differences, they were most likely copied by another artist.