BRITISH ASSOCIATION FOR THE ADVANCEMENT OF SCIENCE.
Report of the First [-Eighth] Meetings.
London, John Murray, 1833-39.
Eight vols. 8vo and one vol. (with lithographed signatures) 4to, with a magnificent, long (c. 170 mm), two-section hand-coloured folding engraved plate 'Section across Europe from the North of Scotland to the Adriatic' as frontispiece to Vol. I, numerous engraved plates, maps, etc., in succeeding vols.; occasional foxing, but a fine set in contemporary half calf for the Geological Society of Cornwall (lettering piece at foot of spines), atlas vol. in a modern binding to match.
£1200

Approximately:
US $1552
€1323
Added to your basket:
Report of the First [-Eighth] Meetings.
'The principal effort in the initial organisation of the British Association came from Edinburgh and the provincial scientific societies. Babbage himself was prevented from attending the first meeting in York by pressing work ... However his central position was acknowledges when he was appointed one of the three trustees, the only permanent officials of the Association' (Hyman, Charles Babbage p. 150). The Association funded some research, albeit in a small way, and made representations to government on matters of scientific interest, and 'such functions were useful in the 1830s when the Royal Society was at a low ebb' (ibid., p. 151).

'In a direct and literal sense, The British Association made science visible' (Morrell and Thackray, Gentlemen of Science, 1981, p. 96).

There are papers by Babbage, Brewster, Airy, Lubbock, Whewell, etc., etc.
You may also be interested in...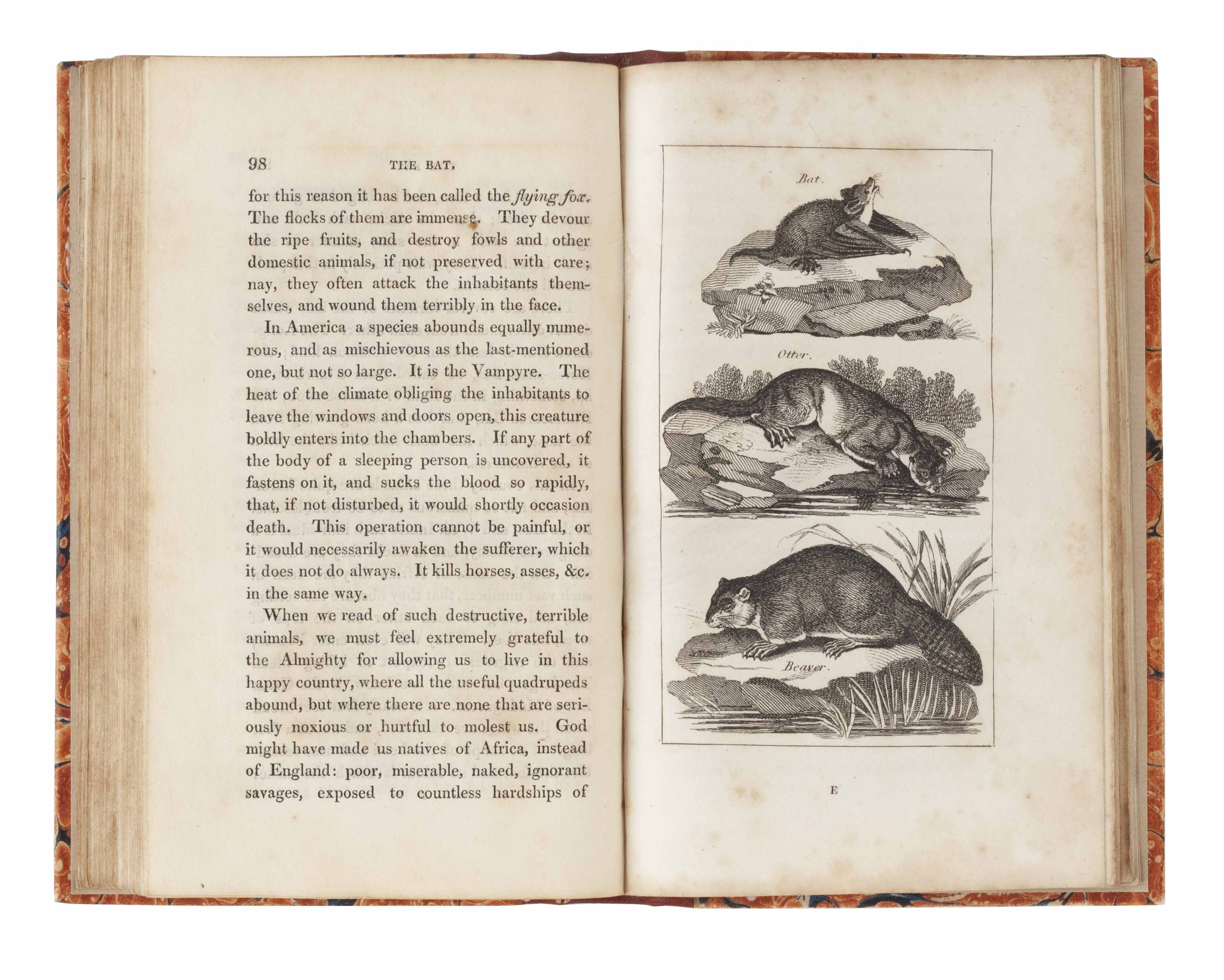 [BALLANTINE, E.]
Natural History of Quadrupeds, for Children, combined with an Attempt to engraft on the youthful Mind the Principles of Tenderness and Compassion for the animal Creation, by a Lady; second Edition.
A scarce work, second edition, the first edition to be attributed to 'a lady'. An attractive natural history for children, the work was first published in 1813 'by the Author of The Decoy', an educational work on English grammar; this second edition is the first to credit 'a lady' with its authorship. The author of several works for children, she is likely the 'E. Ballantine' recorded in the Darton and Harvey copyright receipt book for 'Natural History for Children' and 'the Lamb'.
[WARING, Sarah.]
The Minstrelsy of the Woods, or Sketches and Songs connected with the natural History of some of the most interesting British and foreign Birds, by the Author of "The Wild Garland," &c.
First edition, inscribed by the author, of a charming ornithology with exquisite hand-coloured lithographic illustrations.