POETRY AGAINST WARREN HASTINGS
[BROOME, Ralph.]
The Letters of Simpkin the Second, poetic recorder, of all the proceedings, upon the trial, of Warren Hastings, Esq. in Westminster Hall.
London, Stockdale, 1789.
8vo, pp. viii, 224; preliminaries dusty and browned, tear to I4 with ugly tape repair, otherwise a good copy in recent quarter cloth and boards, morocco lettering-pieces to spine, gilt, stamps and bookplate of the Law Library of Los Angeles; contemporary ownership inscription of Elizabeth Bonds.
£100

Approximately:
US $121
€118
Added to your basket:
The Letters of Simpkin the Second, poetic recorder, of all the proceedings, upon the trial, of Warren Hastings, Esq. in Westminster Hall.
Third edition, first published 1788, of this satirical commentary of the trial of Warren Hastings (1732–1818), the former governor of British Bengal who was impeached and tried for corruption. Massively anti-Hastings, Broome begins with a poetic tribute to the managers of the impeachment, and continues with a series of letters in poetic couplets mocking Hastings and Pitt. The book ends with notes for future 'examinations', mocking the failure of the jury to secure the conviction of so obviously guilty a prisoner.

Ralph Broome (1752–1805) had been in India under Hastings as a captain in the Bengal Army, presumably giving him a personal interest in the case. In 1798 he married Charlotte, niece of Frances Burney, causing her and the Burneys great consternation. He eventually went insane and died a 'howling death'.
You may also be interested in...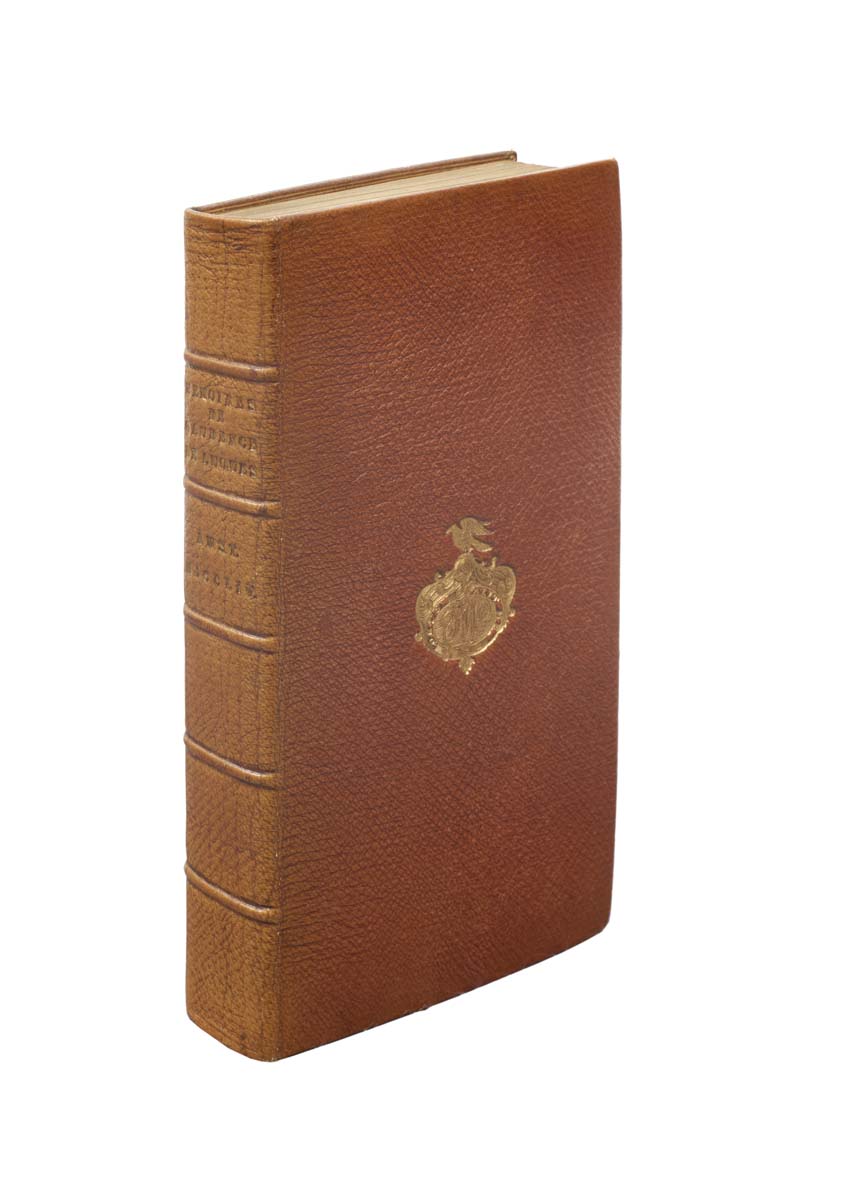 THEODORE WILLIAM'S COPY [BERINGTON, Simon, adapted by Jean-Baptiste DUPUY-DEMPORTES.]
Memoires de Gaudence de Luques, prisonnier de l'Inquisition … Première [– quatrième] partie.
Second edition of this much expanded and altered translation of Berington's celebrated utopian novel, Memoirs of Sigr Gaudentio di Lucca (1737). The Memoirs enjoyed immense popularity, undergoing at least twelve eighteenth-century editions in English and contemporary translations into French, German and Dutch. With the author thought to be George Berkeley, the great Christian idealist, 'it attained to a rank and dignity comparable to that of the Republic of Plato, the Utopia of Sir Thomas More, and the New Atlantis of Lord Bacon' (Lee M. Ellison, 'Gaudentio Di Lucca: a Forgotten Utopia', PMLA, L [1935], 494-509).
[DRESS – SUMPTUARY LAW.]
Ordonnance du Roy pour le reglement & reformation de la dissolution & superfluité qui est és habillemens, & ornamens d'iceux: & de la punition de ceux qui contreviendront à ladicte ordo[n]nance. Publié en Parlement de vingtneufiesme jour de Mars, l'an mil cinq cens quantre vingts trois.
A rare example of one of the early attempts by the French authorities at sumptuary law relating to clothing, prohibiting the wearing of certain types of adornment and dress by the vast majority of the population. Similar prohibitions had been made by Henri III's predecessors, and one of his first acts was to enforce these before proposing more, firstly in 1577 and finally the present ones in 1583; more were issued under Louis XIII in 1629 and 1633, although in all cases (as might be imagined from the repeated attempts) they were barely enforced and hardly observed.