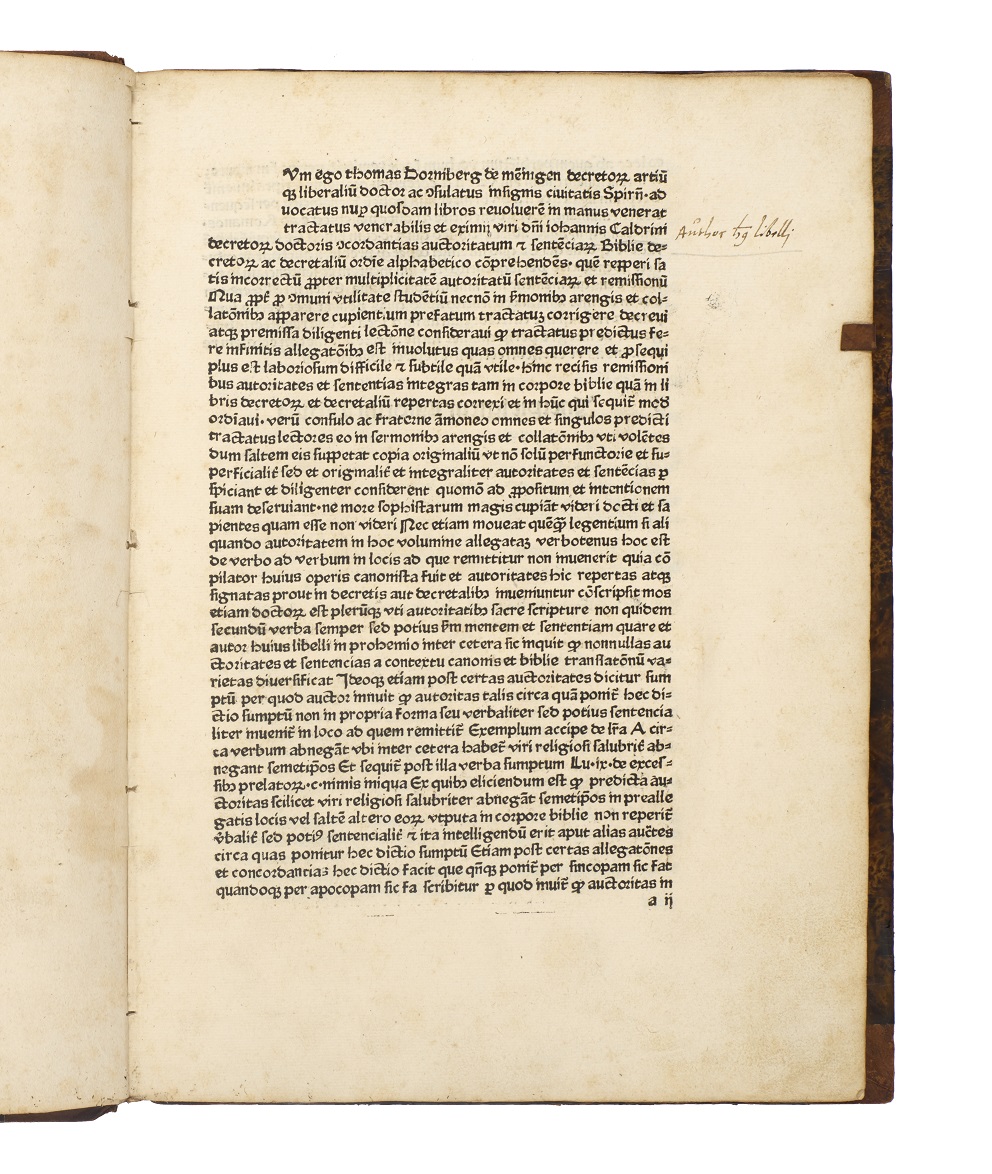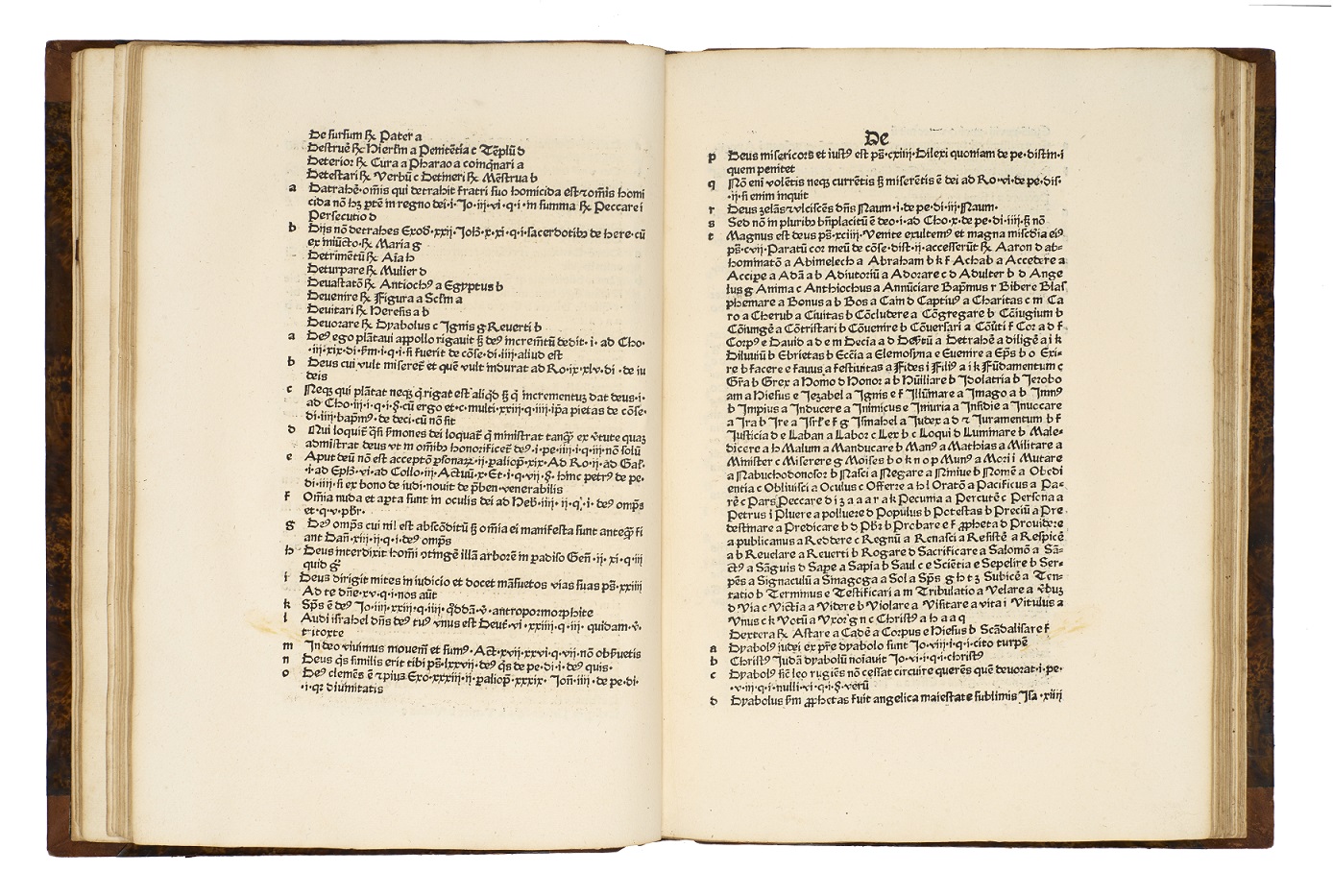 CALDERINUS, Johannes (Thomas Dorniberg, editor).
Concordantia, sive Ambidexterium.
Speyer, Peter Drach, 1481.
Folio, ff. [78], with first and last blanks; printer's device to last page, spaces for initials; a little light waterstaining to a few leaves, slight cockling; a very good, clean copy in late 19th-century half sheep over marbled boards, spine in compartments, gilt lettering-pieces to second and fourth compartment, patterned endpapers; spine and edges rubbed; bibliographic note to front pastedown.
£2500

Approximately:
US $3487
€2897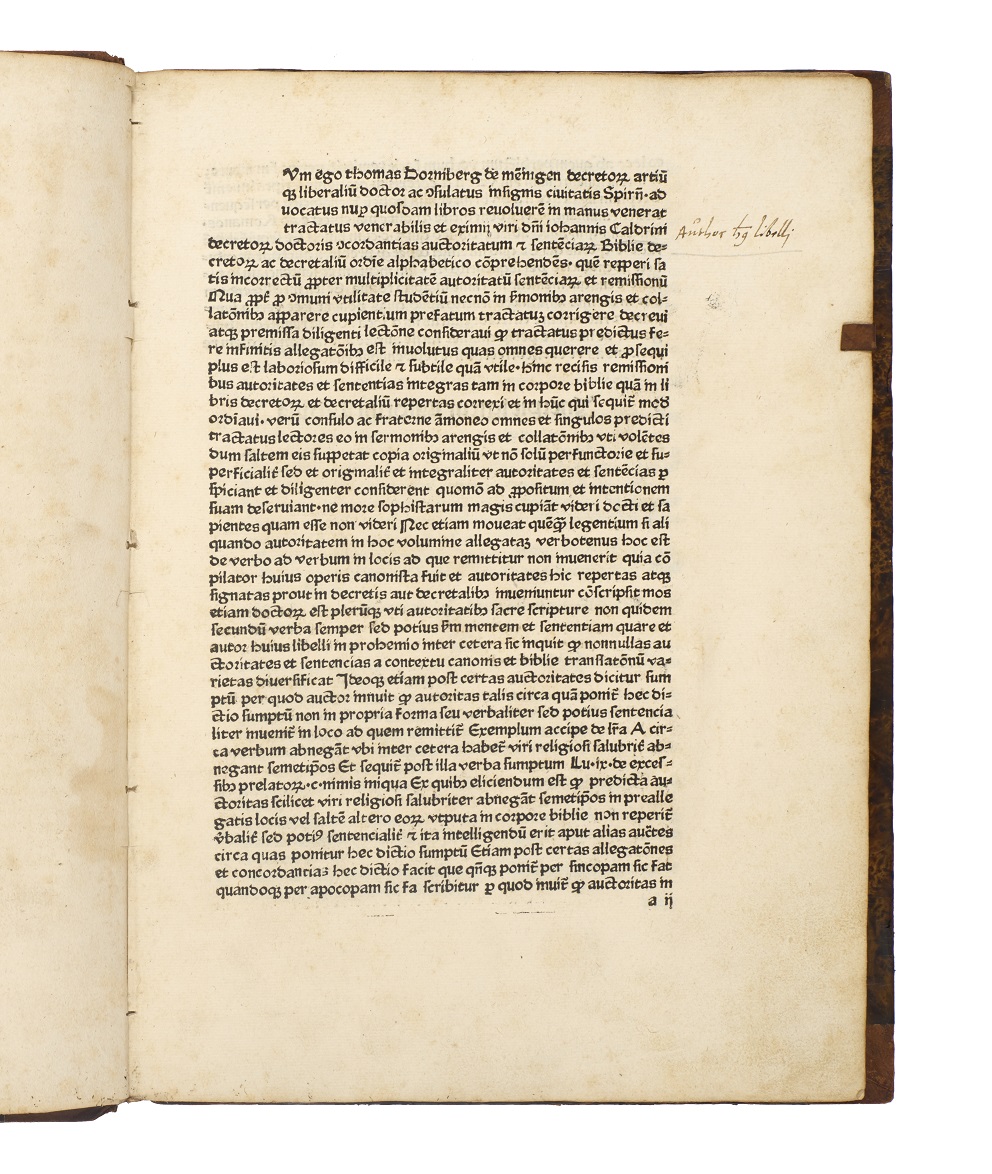 Added to your basket:
Concordantia, sive Ambidexterium.
First(?) edition of Calderinus's Concordantia, also know under the title Tabula auctoritatum et sententiarum Bibliae. Calderinus (d. 1365) studied canon law at the university of Bologna under Johannes Andreae, the most important canonist of the 14th century, who adopted him as his son. After receiving his doctoral degree in 1326, Calderinus became ordinarius for the Decretum Gratiani, retaining this position until 1359. Admired as a teacher, his writings remained influential throughout the 14th and 15th centuries.

The Concordantia 'consists of an alphabetically arranged list of keywords ... Each keyword is followed by one or more excerpts from the corpus of canon law, which in their turn are connected to corresponding biblical references (book and chapter) and to additional abbreviated references to the corpus of canon law. In addition, an ingenious system for infra-textual reference is appended ...' (D. Claes, 'Biblical repertoria in fourteenth century canon law', in Aspects of genre and type in pre-modern literary cultures, 1999, p. 5).

Thomas Dorniberg (c. 1440-97) studied and taught at the University of Heidelberg before working as a lawyer in Speyer. In addition to this collaboration with Peter Drach, Dorniberg also worked with the so-called Printer of the 'Gesta Christi'. Another edition of the Concordantia is recorded on ISTC with the imprint '[Lübeck: Printer of Calderinus (Johann Snel or Lucas Brandis?), not before 1481]'.

BMC II 492; Bod-inc C-027; Goff C45; ISTC ic00045000.
You may also be interested in...
MERCURIALE, Girolamo.
De arte gymnastica libri sex, in quibus exercitationum omnium vetustarum genera, loca, modi, facultates, & quidquid denique ad corporis humani exercitationes pertinet.
Third edition of 'the first illustrated book on gymnastics' (Morton). A physician occupying senior posts in the medical faculties of Padua, Bologna, Rome, and Pisa, Girolamo Mercuriale (1530–1606) draws heavily on accounts of ancient exercise to argue for its medical benefits, being the first to study the effects of specific physical activities on different ailments, prescribing the correct methods, frequencies, and durations of exercises.
HANWAY, Jonas.
An historical account of the British trade over the Caspian Sea, with a journal of travels from London through Russia into Persia, and back again through Russia, Germany and Holland, to which are added, the revolutions of Persia during the present century, with the particular history of the great usurper Nadir Kouli ...
First edition of Hanway's narrative of his trade mission to Russia, Persia, and the Caspian Sea. Having joined the Russia Company in 1743, Jonas Hanway (1712–1786) sailed for Riga in April that year, before travelling on to St Petersburg, Moscow, and Astrakhan in an attempt to re-establish the fragile trade route to Persia via the Caspian Sea. His mission proved unsuccessful: he was robbed by Khyars and later concluded 'that the trade held no great promise, for Persia was too poor and Russia was wholly disinclined to see the expansion of Persian power on its southern frontier' (ODNB). Published after his return to London in 1750, his Account is notable as one of the first European reports of the Caspian region, for its considerable information on the Russian court, where he spent several years, and the German cities visited on his return journey, and for its extensive contemporary history of Persia.