A CALL TO ARMS AGAINST THE OTTOMAN TURKS
CAMPANO, Giovanni Antonio.
Oratio ... in [con]ventu Ratispo. ad exhortandas principes Germano[rum] contra Turcos et de laudibus eorum ... M.cccc.lxxi.
[Rome, Stephan Plannck, c. 1487].
4to, ff. [12]; gutter of ff. [1], [8], [9], and [12] reinforced, a little light marginal waterstaining, ff. [9]r and [12]v somewhat foxed, first and last leaf a little toned and stained, overall a good and clean copy; bound in nineteenth-century marbled brown paper over boards; 'legi' to lower margin of f. [1]r.
£7000

Approximately:
US $8433
€7788
Added to your basket:
Oratio ... in [con]ventu Ratispo. ad exhortandas principes Germano[rum] contra Turcos et de laudibus eorum ... M.cccc.lxxi.
First edition of this speech by Campano intended to incite the belligerency of the Germans against the Turks, in the wake of Turkish raids into Friuli, in northeast Italy, which had begun in 1469. Famous for his Latin epigrams, verses, orations, and biographical and historical works, Campano (1429–1477) won the favour of Pope Pius II in 1459, soon becoming a member of the pope's literary circle. In 1465 he joined the household of Cardinal Francesco Todeschini Piccolomini (later Pius III), and it was in his service that he participated at the Diet of Regensburg in 1471. Convened by the Holy Roman Emperor Frederick III, the Diet was intended to address both Germany's internal problems and the Turkish question. Composed for the occasion, Campano's Oratio planned to stir the Germans into action against the Turks, but a considerable delay in opening the Diet and its focus on Germanic issues meant that while the speech was widely diffused, it was never delivered. Campano was bitterly disappointed, expressing his aversion to the Germans in his letters to Italy.

In 1469-70 Campano acted as proofreader and editor of classical works for the printing press of Ulrich Han in Rome. On Han's death in 1479, his equipment and premises were acquired by Stephan Plannck: a clue to how Plannck came to print this work of Campano's. He printed another edition c. 1488-90.

BMC IV 89; Bod-Inc C-038; Goff C75; ISTC ic00075000. No copy traced at auction in the last twenty years.
You may also be interested in...
MOTHER GOOSE PERRAULT, [Charles].
Tales of passed Times by Mother Goose. With Morals. Written in French … and Englished by R. S. Gent. To which is added a new one, viz. the discreet Princess. The six [sic] Edition, corrected. And adorned with Cuts. // Contes du tems passé de ma mere l'oye … [etc.]
First parallel-text edition of Perrault's famous fairy tales, in English and French, with fine illustrations after Hendrik Immink. Perrault has long been eclipsed in fame by that of his stories – 'Little Red Riding-Hood', 'Blue Beard', 'Sleeping Beauty', 'Puss in Boots', 'Cinderilla', 'Tom Thumb' – which have become archetypes of the fairy tale. They first appeared in French in 1697 and then in a translation of 1729 by Robert Samber, Histories, or Tales of past times, which also added 'The discreet princess' a novella by Perrault's niece, Marie-Jeanne l'Héritier de Villaudon.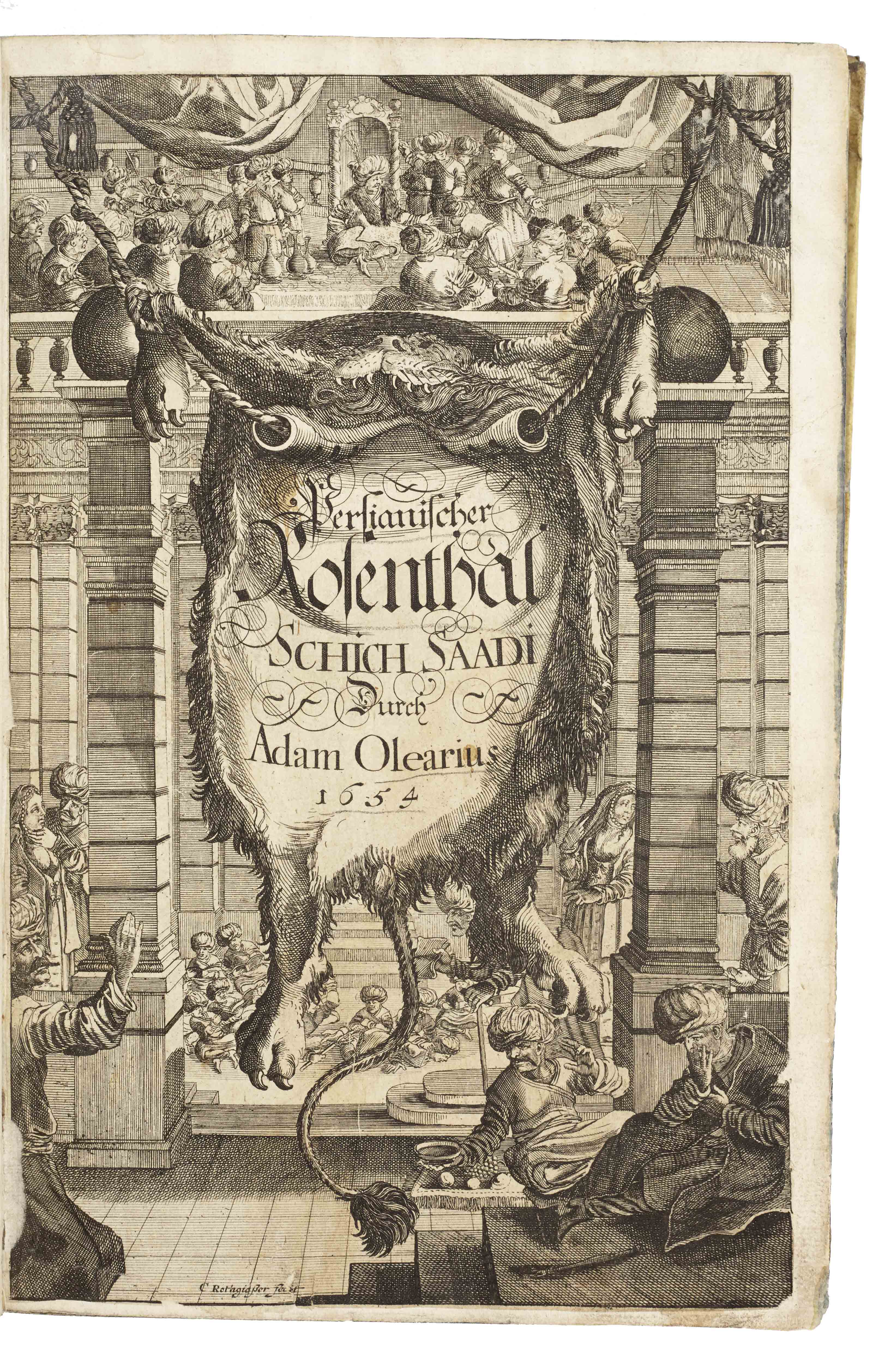 SA'DI, Abu 'Abd Allah Musharrif al-Din (Adam OLEARIUS, translator).
Persianischer Rosenthal. In welchen viel lustige Historien scharffsinige Reden und nützliche Regeln. Vor 400. Jahren von einem Sinnreichen Poeten Schich Saadi in Persischer Sprach beschrieben.
Rare first edition of Olearius's translation of Sa'di's Gulistān or 'Rose-garden', richly and engagingly illustrated.