A CALL TO ARMS AGAINST THE OTTOMAN TURKS
CAMPANO, Giovanni Antonio.
Oratio ... in [con]ventu Ratispo. ad exhortandas principes Germano[rum] contra Turcos et de laudibus eorum ... M.cccc.lxxi.
[Rome, Stephan Plannck, c. 1487].
4to, ff. [12]; gutter of ff. [1], [8], [9], and [12] reinforced, a little light marginal waterstaining, ff. [9]r and [12]v somewhat foxed, first and last leaf a little toned and stained, overall a good and clean copy; bound in nineteenth-century marbled brown paper over boards; 'legi' to lower margin of f. [1]r.
£7000

Approximately:
US $8586
€8133
Added to your basket:
Oratio ... in [con]ventu Ratispo. ad exhortandas principes Germano[rum] contra Turcos et de laudibus eorum ... M.cccc.lxxi.
First edition of this speech by Campano intended to incite the belligerency of the Germans against the Turks, in the wake of Turkish raids into Friuli, in northeast Italy, which had begun in 1469. Famous for his Latin epigrams, verses, orations, and biographical and historical works, Campano (1429–1477) won the favour of Pope Pius II in 1459, soon becoming a member of the pope's literary circle. In 1465 he joined the household of Cardinal Francesco Todeschini Piccolomini (later Pius III), and it was in his service that he participated at the Diet of Regensburg in 1471. Convened by the Holy Roman Emperor Frederick III, the Diet was intended to address both Germany's internal problems and the Turkish question. Composed for the occasion, Campano's Oratio planned to stir the Germans into action against the Turks, but a considerable delay in opening the Diet and its focus on Germanic issues meant that while the speech was widely diffused, it was never delivered. Campano was bitterly disappointed, expressing his aversion to the Germans in his letters to Italy.

In 1469-70 Campano acted as proofreader and editor of classical works for the printing press of Ulrich Han in Rome. On Han's death in 1479, his equipment and premises were acquired by Stephan Plannck: a clue to how Plannck came to print this work of Campano's. He printed another edition c. 1488-90.

BMC IV 89; Bod-Inc C-038; Goff C75; ISTC ic00075000. No copy traced at auction in the last twenty years.
You may also be interested in...
TAVERNIER, Jean Baptiste.
Recüeil de plusieurs relations et traitez singuliers et curieux . . . qui n'ont point esté mis dans ses six premiers voyages. Divisé en cinq paties [sic]. I. Une relation du Japon, et de la cause de la persecution des Chrestiens dans ses isles: avec la carte du païs. II. Relation de ce qui s'est passé dans la negociation des deputez qui ont esté en Perse et aux Indes, tant de la part du roy, que de la Compagnie Françoise, pour l'establissement du commerce. III. Observations sur le commerce des Indes Orientales, et sur les frauds qui s'y peuvent commetre. IV. Relation nouvelle et singuliere du royaume de Tunquin: avec plusieurs figures et la carte du païs. V. Histoire de la conduite des Hollandois en Asie.
First edition, separately published, of the third part of Tavernier's celebrated collection of voyages. The first two parts, Les six voyages, had appeared in 1676 and were also reissued in 1679.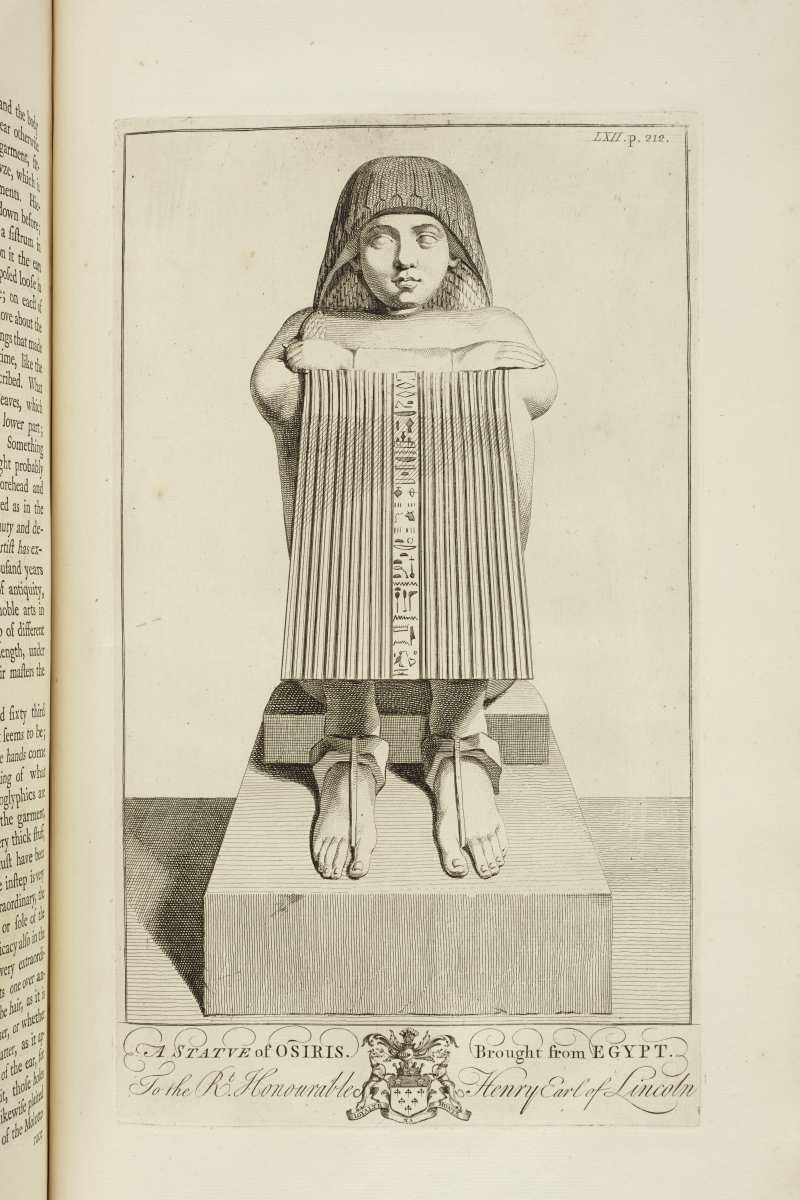 POCOCKE'S CELEBRATED ACCOUNT FROM THE LIBRARY OF A MEMBER OF THE SOCIETY OF DILETTANTI POCOCKE, Richard.
A Description of the East, and some other Countries.
First edition, demy folio issue. The traveller and cleric Pococke (1704-1765), was educated at Corpus Christi College, Oxford, and graduated BA in 1725, BCL in 1731, and DCL in 1733. His family's ecclesiastical connexions and his facility at navigating the complexities of clerical patronage enabled him to progress quickly through the established church, and in 1725 Pococke was appointed Precentor of Lismore Cathedral by his uncle Thomas Milles, the Bishop of Waterford and Lismore, and he became the Vicar-General of these dioceses in 1734; proceeding through the church hierarchy, he was appointed Archdeacon of Dublin in 1745 by Lord Chesterfield (the dedicatee of the second volume of A Description of the East), and was then Bishop of Ossory in 1756 by the Duke of Devonshire (Chesterfield's successor). In June 1765 Pococke was translated to the bishopric of Elphin, and then translated again in July 1765 to that of Meath, before his sudden death of apoplexy in September 1765.