HOW TO SURVIVE PRISON AS A CONSCIENTIOUS OBJECTOR
CANTINE, Holley, and Dachine RAINER (editors), and Lowell NAEVE (illustrator). 

Prison Etiquette: The Convict's Compendium of useful Information [(cover:) by the Inmates] … with a Preface by Christopher Isherwood. 
Bearsville (NY), Retort Press, 1950. 
8vo, pp. [2 (blank)], [18], 138, [2 (blank)]; illustrated throughout; uncut, stapled in printed paper wrappers, spine backed with black cloth as issued, with printed dustjacket; small chip to head of spine of jacket, neat adhesive tape repairs verso, upper wrapper lightly creased, otherwise an excellent copy; 4 pp. printed prospectus loosely inserted.
£275

Approximately:
US $0
€0
Added to your basket:
Prison Etiquette: The Convict's Compendium of useful Information [(cover:) by the Inmates] … with a Preface by Christopher Isherwood. 
First edition of this anthology of conscientious objectors incarcerated during the Second World War, 'entirely hand-set, hand-bound, and printed on a footpedal press by the editors' (jacket flap) in an edition of two thousand copies. 

'Prison Etiquette is "the convicts' compendium of useful information".  We are publishing it neither because we want to reform the Prison System, nor merely to honor the valor and integrity of its contributors who, because of their convictions, spent up to three years in the Federal Penitentiaries of this country… Prison etiquette is a learned art for the radical.  Its technique varies with country, time, and political set-up.  These young men deal with a prison system that is unknown to us.  We must be equipped to evade it, to survive in it if caught, to resist it in the psychologically most economical, and politically effective way.  That is, we must learn to remain sane, to survive physically, and at the same to continue resisting' (Introduction). 

The contributions, comprising recollections, essays, letters, journal extracts, and poems, are divided into three sections – 'Resistance in Prison', 'The Prison Community', and 'Arts and Letters' – and accompanied by an introduction, a preface by Christopher Isherwood, and a blurb by Aldous Huxley. 
You may also be interested in...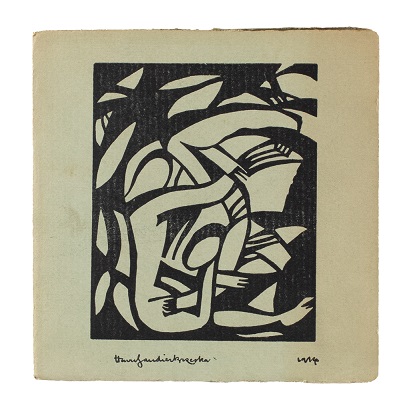 POUND, Erza.
Henri Gaudier-Brzeska, con un manifesto vorticista.
First edition thus, no. 123 of 500 copies, a translation by Pound's daughter Mary de Rachewiltz of extracts from 'Gaudier: a Postscript' and 'Vortex' on the occasion of an exhibition at the Galleria Apollinaire in December 1957.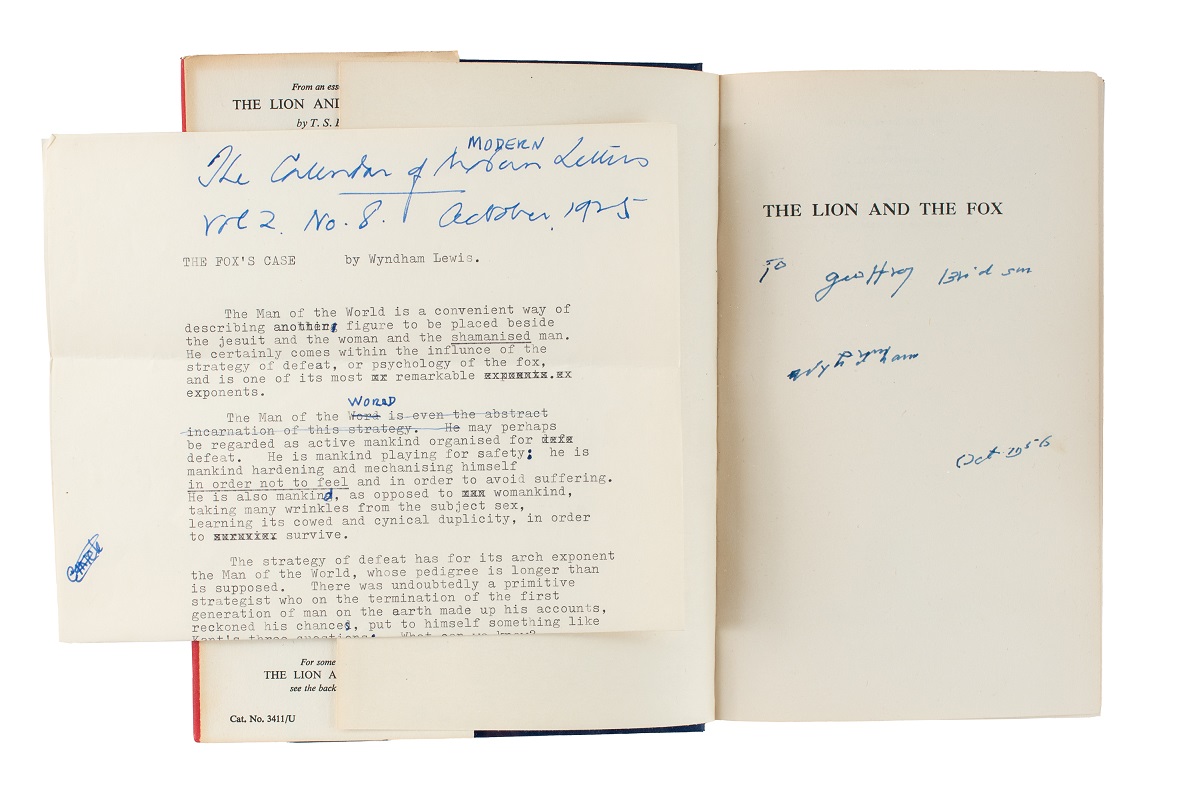 INSCRIBED LEWIS, Wyndham.
The Lion and the Fox. The Role of the Hero in the Plays of Shakespeare …
Reprint of the second edition of Lewis's 'first political book', a collection of essays engaging with Shakespeare and Machiavelli first published in 1927 and then reissued by Methuen in 1951; inscribed in a very shaky hand 'To Geoffrey Bridson from Wyndham / Oct 1956'.
'The Lion and the Fox is shot through with original thinking on every subject that it takes up … The tone of the book is distinctly liberal, and its attitude towards the concept of despotic rule is one of suspicion and antipathy' (Bridson, The Filibuster).
Laid in loose is a 1-leaf typescript of two sections from pp. 83-4 and 89-90 of 'The Foxes' Case' by Lewis, published in The Calendar of Modern Letters 2:8 (October 1925), with a few corrections in pen and the note 'original copy checked with DGB' at the foot. The article included several passages subsequently incorporated into The Lion and the Fox.
See Bridson, 'That Notorious Machiavel', The Filibuster, pp. 1-18. Pound & Grover A6c note; Morrow & Lafourcade A7c note.