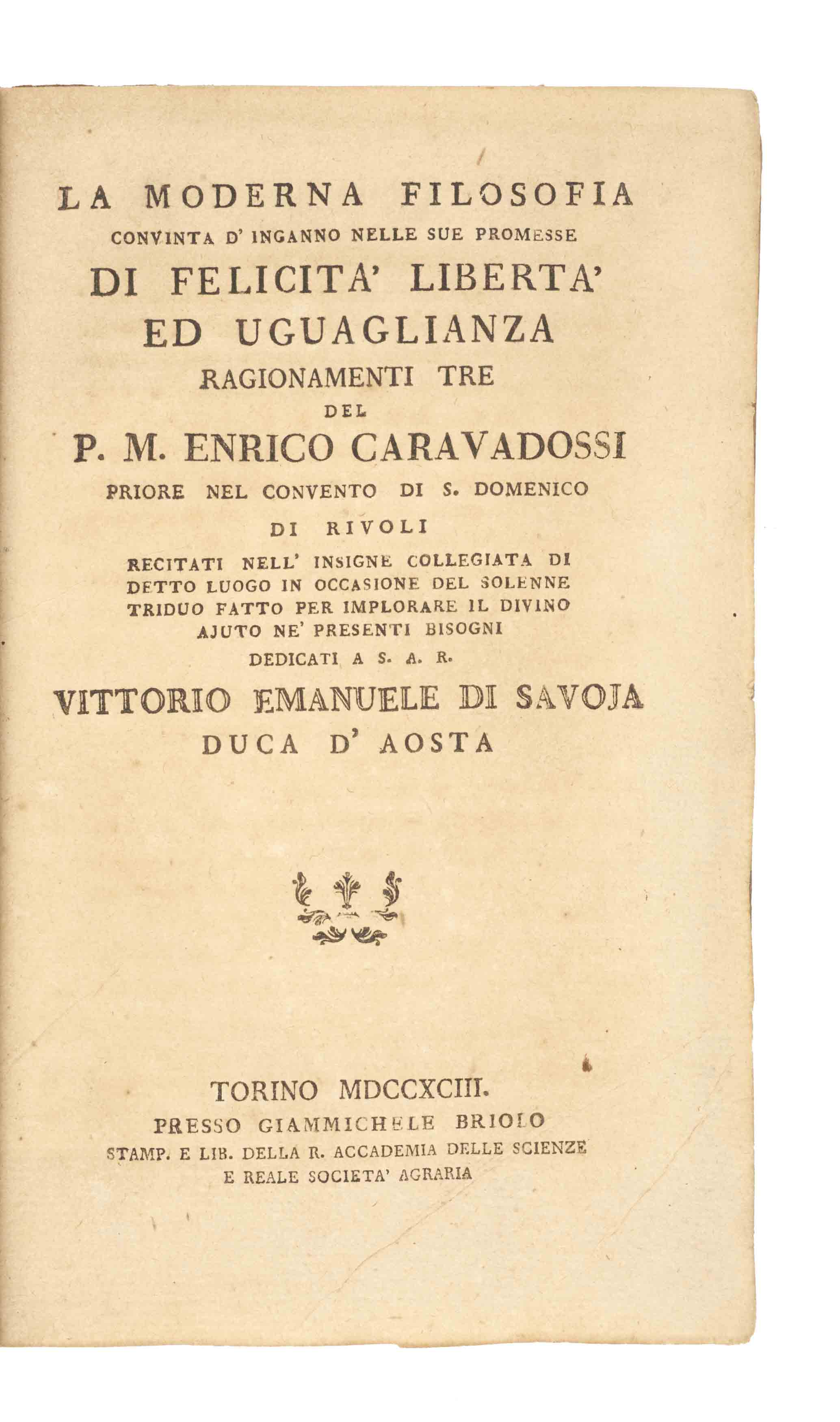 CARAVADOSSI, Enrico.
La moderna filosofia convinta d'inganno nelle sue promesse di felicità libertà ed uguaglianza ragionamenti tre ...
Turin, Giammichele Brioio, 1793.
8vo, pp. ix, [i] blank, 70; some browning due to paper quality throughout, but otherwise clean; in later plain wrappers; indents to foredge (from being tied in bundle?), still a good copy.
£395

Approximately:
US $489
€440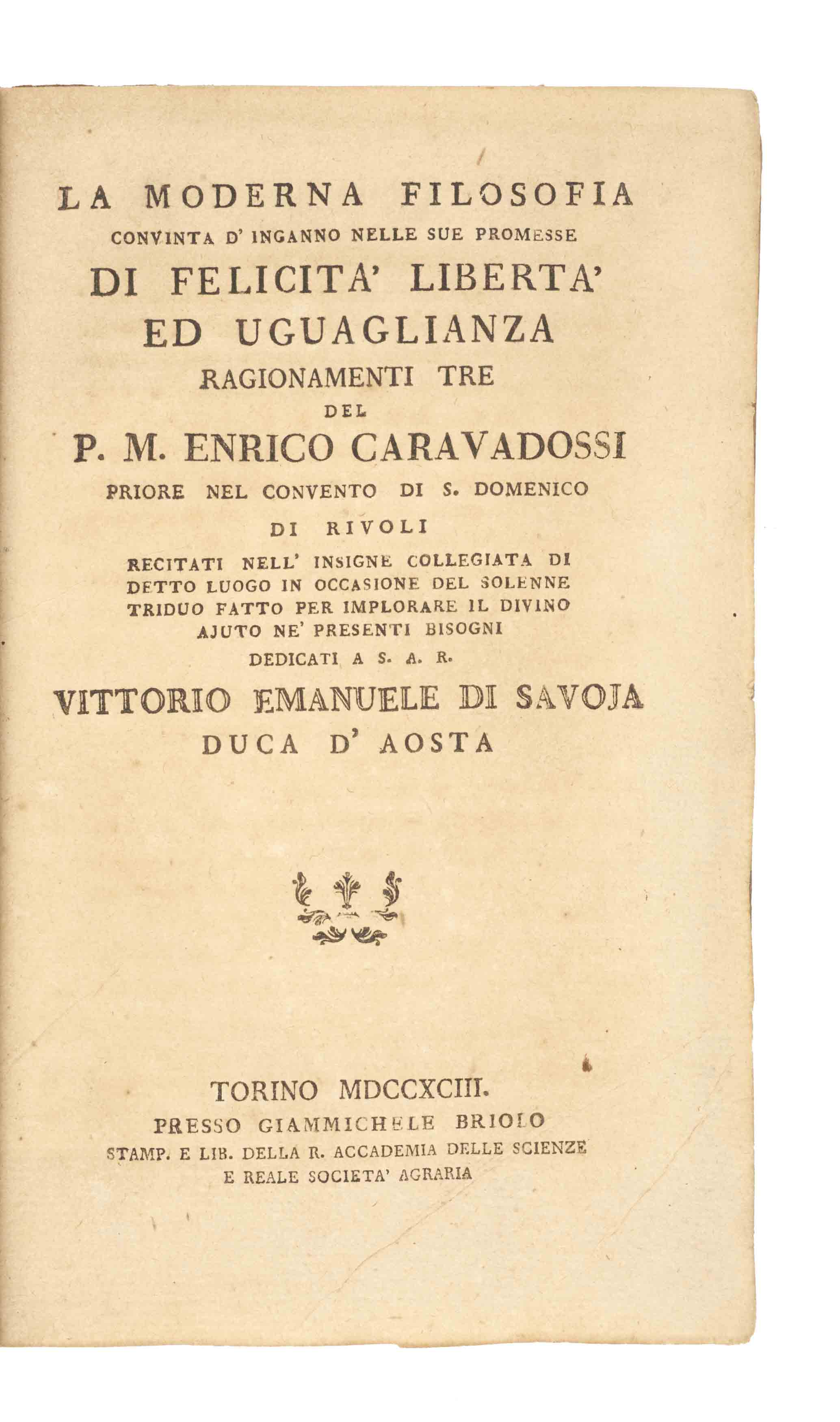 Added to your basket:
La moderna filosofia convinta d'inganno nelle sue promesse di felicità libertà ed uguaglianza ragionamenti tre ...
First and seemingly only edition of this attack on the false promises of the philosophes, by the Torinese Dominican friar Enrico Caravadossi.

Repeating as a mantra the warning Videte, ne quis vos decipiat per Philosophiam, Caravadossi divides his polemic into three sections, drawing on sources both biblical and patristic to arm the reader against the seductions of the philosophers, with their suggestions that they have the key to happiness, freedom, and equalty. He is careful not to offer too much of a taste of philosophical temptation, citing the names of Rousseau, Hobbes, Montesquieu and Volter, but never going so far as to quote them.

Caravadossi appears to have published little beyond this book; by 1809, he was professor of dogmatic theology at Parma, a position he seems to have held into the 1820s.

OCLC records two copies, at the Biblioteca comunale di Trento and the British Library.
You may also be interested in...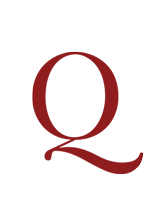 CARLILE, Richard.
The Life of Thomas Paine, written purposely to bind with his writings.
First edition, written by Carlile (1790-1843) during his incarceration in Dorchester prison. 'His greatest contribution to the radical cause, and the most momentous, was his republishing of the writings of Tom Paine, which he did serially in the Weekly, individually as cheap pamphlets, and also as bound volumes. Carlile rapidly became the most successful popularizer of Paine since the 1790s, and followed this later with a biography, The Life of Thomas Paine (1820)' (ODNB).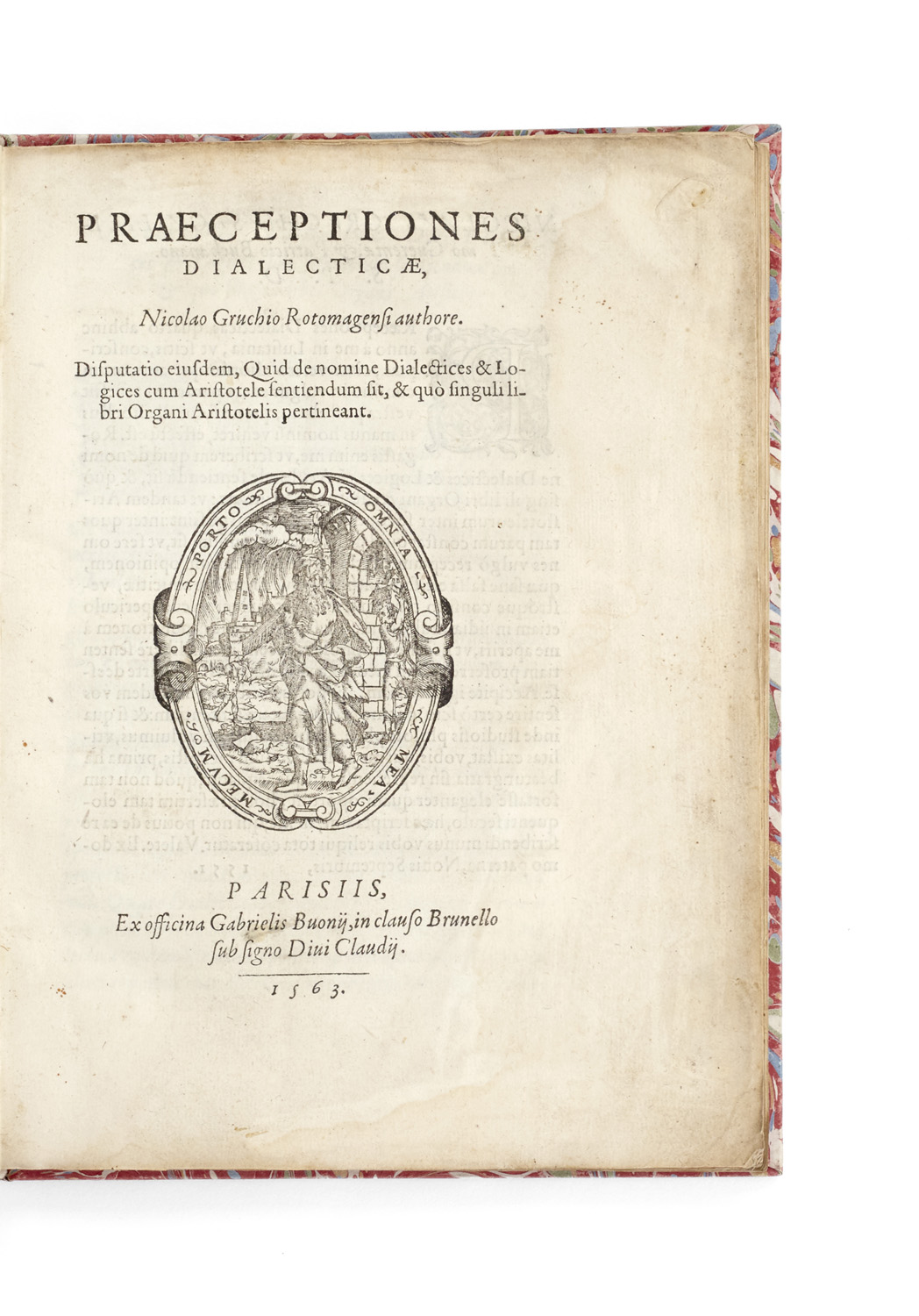 LOGIC FOR PhD STUDENTS GROUCHY, Nicolas de.
Praeceptiones dialecticae, Nicolao Gruchio Rotomagensi authore. Disputatio eiusdem, quid de nomine dialectices & logices cum Aristotele sentiendum sit, & quò singuli libri Organi Aristotelis pertineant.
Grouchy's abstract of his lectures on logic and Aristotelian dialectic. Grouchy spent 12 years in Bordeaux (1535-47) as professor of rhetoric at the Collège de Guyenne (the top class was called "Classe de Rhétorique"), and his book became part of the Collège's published syllabus for the two-year course for philosophiae doctores. He also published Aristotle's works in Joachim Perion's Latin version and took a serious interest in jurisprudence. He was an important friend of George Buchanan whom (in 1547) he accompanied to Portugal as part of the scheme that John III had in mind for the reform of the College of Arts in Coimbra.