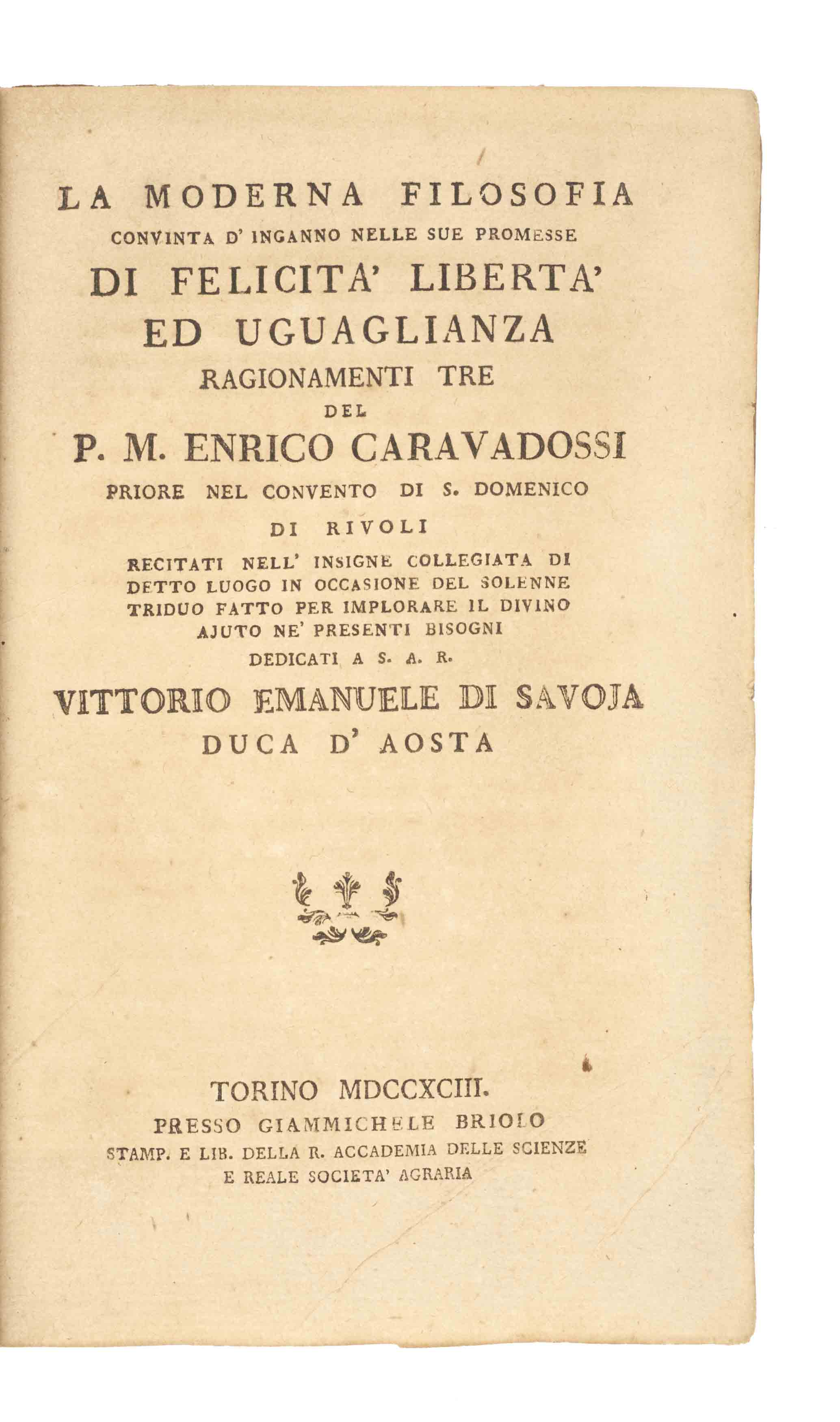 CARAVADOSSI, Enrico.
La moderna filosofia convinta d'inganno nelle sue promesse di felicità libertà ed uguaglianza ragionamenti tre ...
Turin, Giammichele Brioio, 1793.
8vo, pp. ix, [i] blank, 70; some browning due to paper quality throughout, but otherwise clean; in later plain wrappers; indents to foredge (from being tied in bundle?), still a good copy.
£395

Approximately:
US $481
€455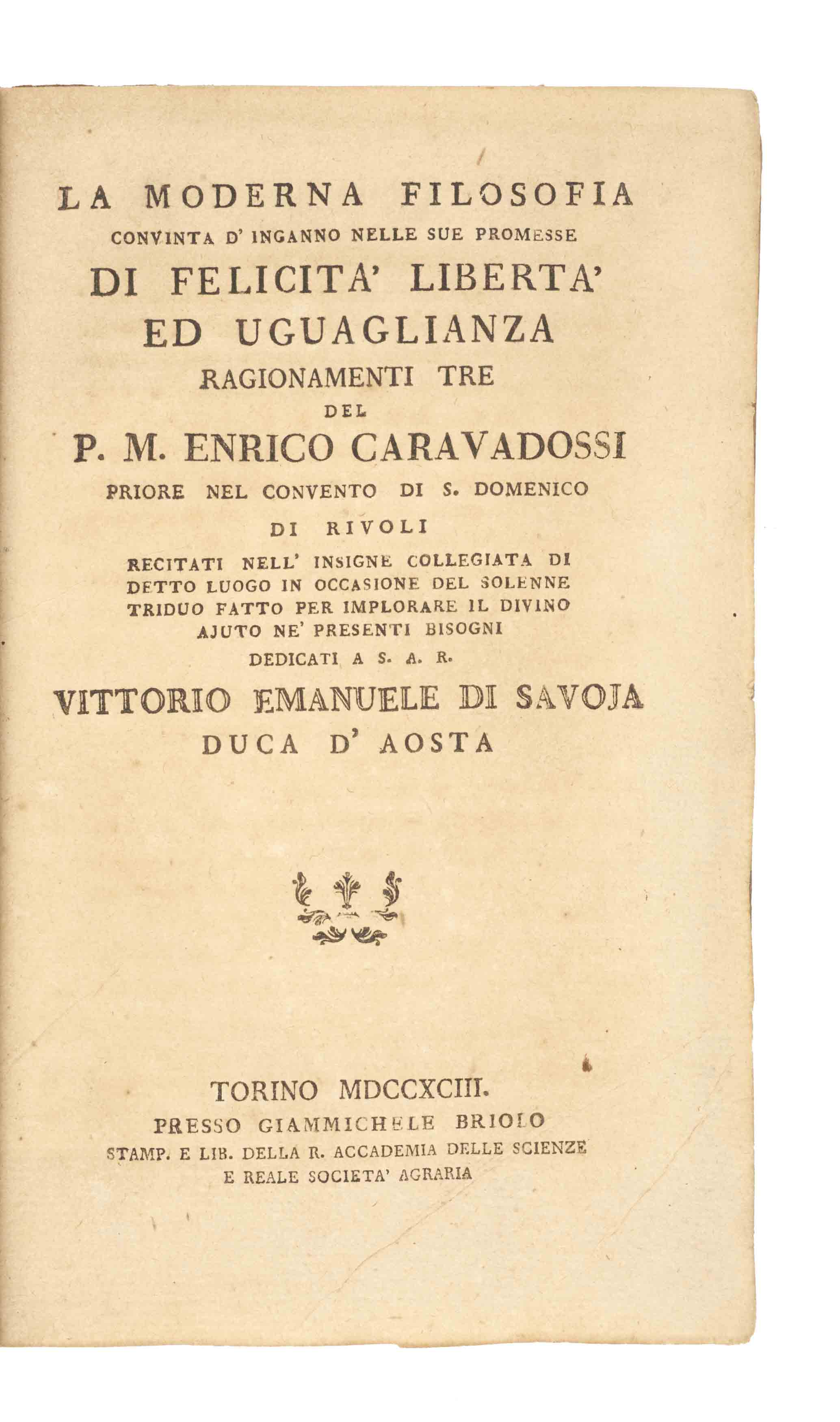 Added to your basket:
La moderna filosofia convinta d'inganno nelle sue promesse di felicità libertà ed uguaglianza ragionamenti tre ...
First and seemingly only edition of this attack on the false promises of the philosophes, by the Torinese Dominican friar Enrico Caravadossi.

Repeating as a mantra the warning Videte, ne quis vos decipiat per Philosophiam, Caravadossi divides his polemic into three sections, drawing on sources both biblical and patristic to arm the reader against the seductions of the philosophers, with their suggestions that they have the key to happiness, freedom, and equalty. He is careful not to offer too much of a taste of philosophical temptation, citing the names of Rousseau, Hobbes, Montesquieu and Volter, but never going so far as to quote them.

Caravadossi appears to have published little beyond this book; by 1809, he was professor of dogmatic theology at Parma, a position he seems to have held into the 1820s.

OCLC records two copies, at the Biblioteca comunale di Trento and the British Library.
You may also be interested in...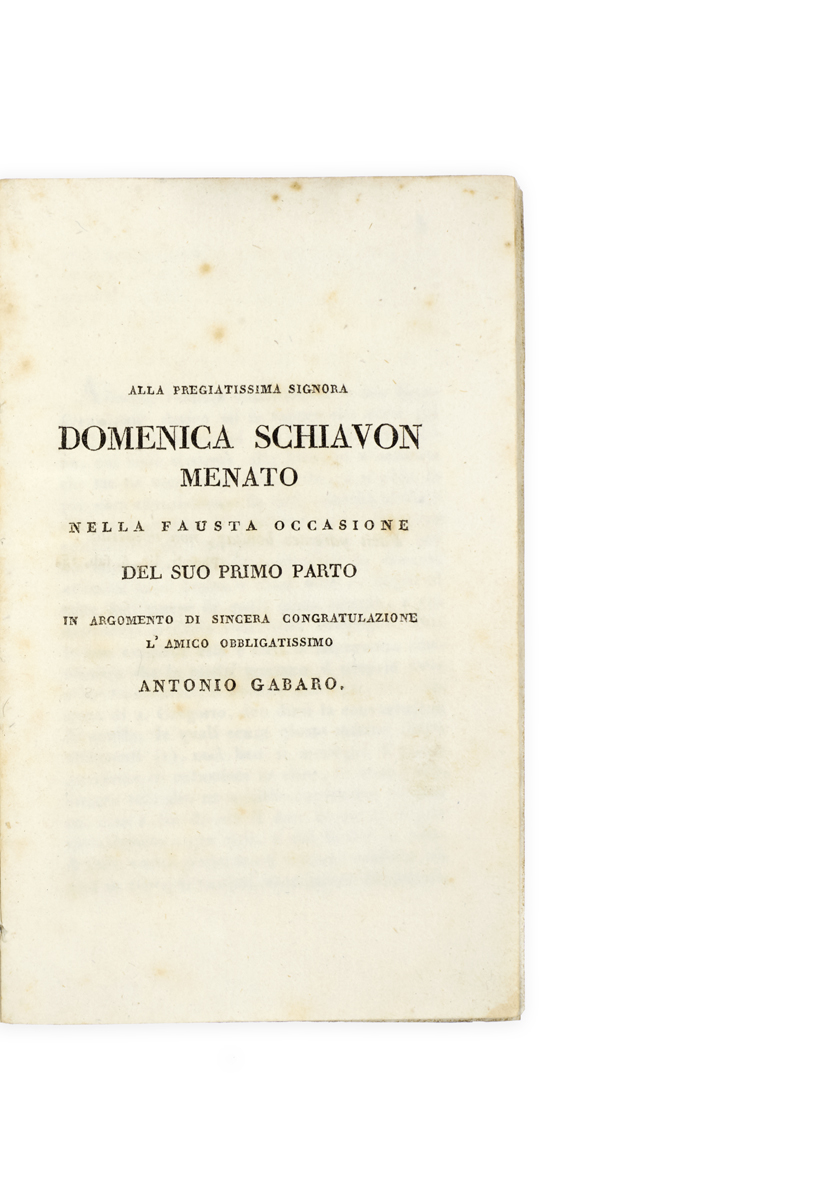 BREAST PRACTICE GABARO, Antonio. 
Alla pregiatissima Signora Domenica Schiavon Menato nella fausta occasione del suo primo parto, in argomento di sincera congratulazione l'amico obbligatissmo Antonio Gabaro. 
First and only edition, very rare, of a scathing and sexist condemnation of 'inhuman' women who do not breastfeed their own children, dedicated to Domenica Schiavon Menato, 'an example to all women', on the occasion of the birth of her first child.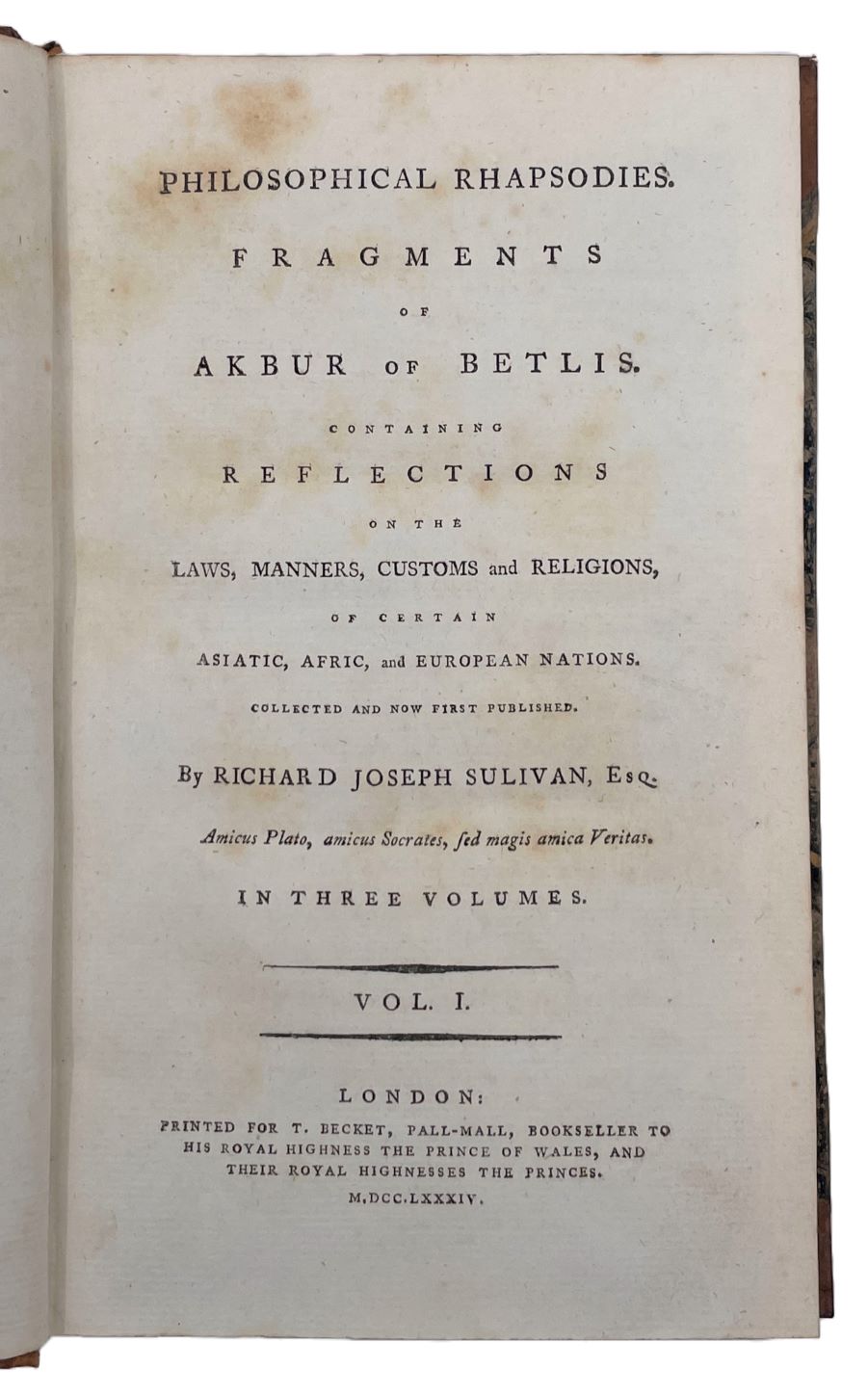 INDIAN TRAVEL SULIVAN, Richard Joseph.
Philosophical Rhapsodies. Fragments of Akbur of Betlis. Containing Reflections on the Laws, Manners, Customs and Religions, of certain Asiatic, Afric, and European Nations. Collected and now first published … In three Volumes …
First edition of this eccentric travel-inspired treatise drawing upon the author's experience in India and his travels in Europe. The prefatory 'advertisement' establishes the fiction that 'the following fragments were written by a native of Assyria [Akbur], who … was removed to the continent of Europe, and thence to England … he then travelled; and in various countries threw together the reflections which appear in the following sheets'. Compartmentalised into 'fragments' rather than chapters, the work is generically indistinct, and offers a compilation of fiction, philosophy, history and travel to reflections on foreign lands, notably China, Japan, Tartary, Hindostan, Greece and the Middle East. Sulivan cites widely in order to illustrate his points, emphasising Akbur's familiarity with Milton, Pope, Thomson, and Dryden, as well as law, the classical canon and contemporary scholarship.