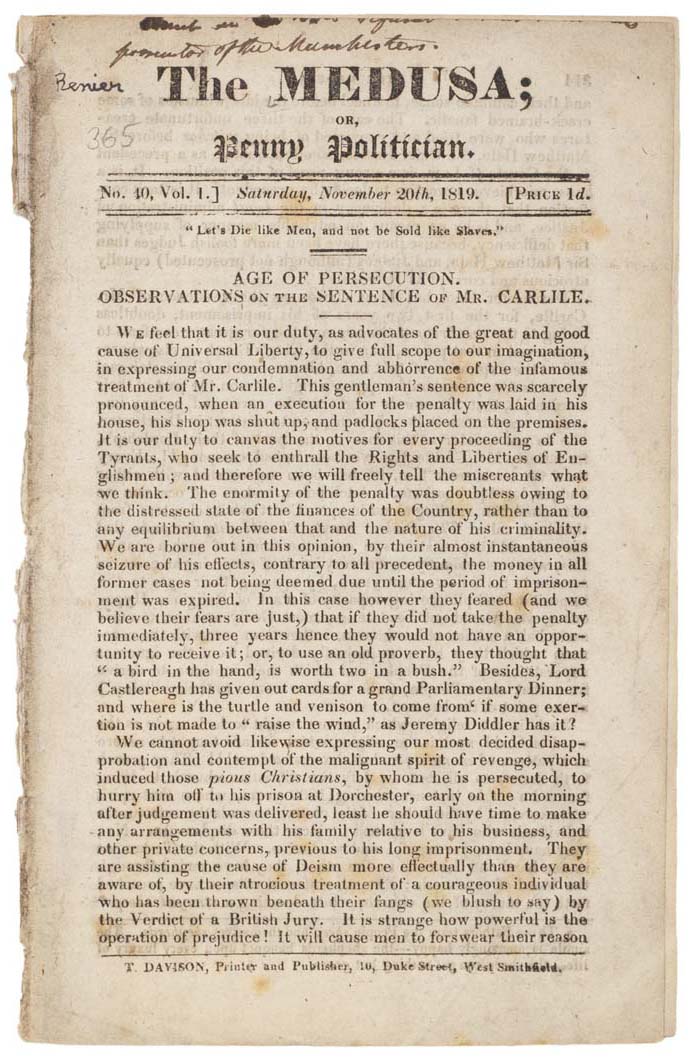 [CARLILE.]
The Medusa; or penny politician. No. 40, Vol 1.
London, Davison, 20 November 1819.
8vo, pp. [313]-320; disbound.
£50

Approximately:
US $66
€59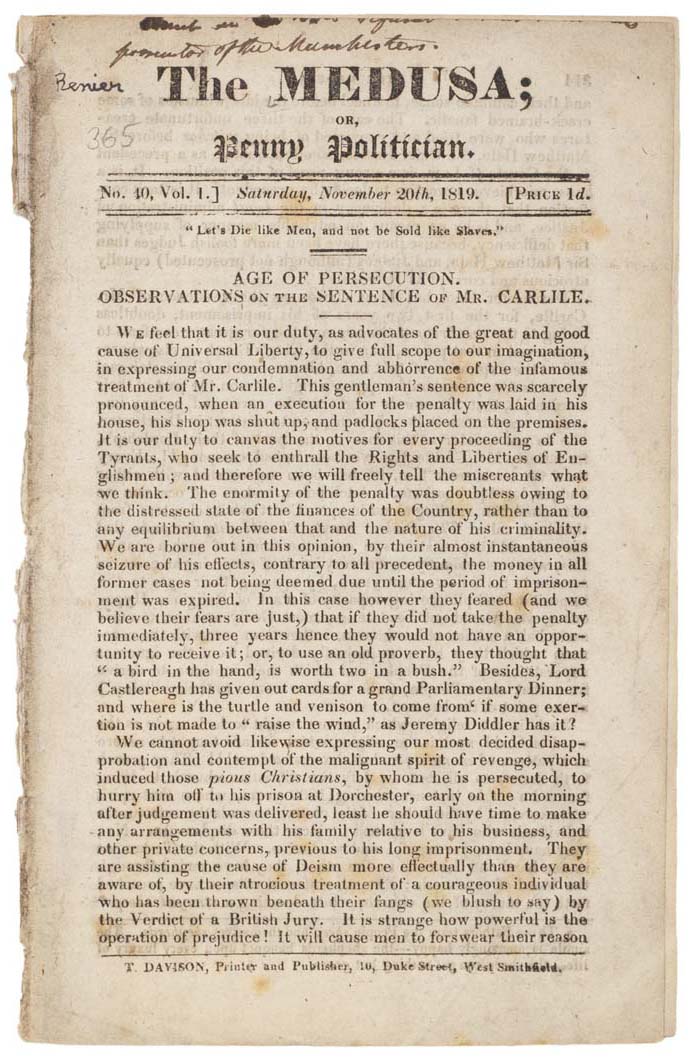 Added to your basket:
The Medusa; or penny politician. No. 40, Vol 1.
Single issue of a very rare radical periodical, containing articles objecting to the imprisonment of Richard Carlile, and a letter by Henry Hunt on the Peterloo Massacre.
You may also be interested in...
[PETERLOO.]
In the King's Bench. Between Thomas Redford, plaintiff; and Hugh Hornby Birley, Alexander Oliver, Richard Withington, and Edward Meagher, defendants, for an assault on the 16th of August. Report on the proceedings on the trial of this cause at Lancaster … and the judgement of the Court of the King's Bench in Easter Term following … Taken from the short-hand notes of Mr. Farquharson.
First edition of this report of the private prosecution brought by Thomas Redford, a hatter from Middleton and a flag-carrier at the St. Peters Field meeting , against members of the Yeomanry, including Hugh Hornby Birley who led the charge. It contains numerous eyewitness reports of the Peterloo massacre. The suit failed, representing the final exoneration of Birley.
AFTER PETERLOO [HUNT, Henry.]
Mr. Hunt's triumphant entry in Manchester, from Lancaster Gaol.
Unrecorded handbill reporting on Hunt's arrival in Manchester on 31 August 1819.

After the Peterloo Massacre on 16 August 1819, Hunt was arrested, charged with seditious conspiracy and transferred to Lancaster Gaol. 'Bailed, he challenged the competence of the Lancashire grand jury and its foreman Lord Stanley, and mustered popular support in the North-West and London' (History of Parliament online), passing through Bolton on his way back to Machester – 'the populace at every place he came to did the utmost to display their voluntary homage'. The present handbill praises Hunt as a 'tough and faithful instrument' for reform but warns that 'discipline is necessary to Reformers', and in-fighting should be avoided.