BLUFFER'S GUIDE TO PHILOSOPHY
CARON, Jean-Charles-Félix.
Compendium institutionum philosophiae, in quo de rhetorica et philosophia, tractatur. Ad usum candidatorum baccalureatus artiumque magisterii. Tomus primus [-secundus].
Paris, N. M. Tilliard, 1770.
Two volumes, 8vo, pp. viii, 5-482; 361, [4] approbatio and privilege, [1] blank; with four folding plates after p. 352; woodcut headpieces; some spotting and marking, especially to start of volume one, but otherwise, aside from some light browning, clean and fresh; paper reinforcement to the fold in the plate depicting the system of Tycho Brahe, after old tear, with a loss of c. 1mm; in contemporary sheep, spine with raised bands tooled in gilt with morocco lettering-pieces; some wear, and slight loss to corner of upper board of volume one (possibly rodent-induced).
£875

Approximately:
US $975
€995
Added to your basket:
Compendium institutionum philosophiae, in quo de rhetorica et philosophia, tractatur. Ad usum candidatorum baccalureatus artiumque magisterii. Tomus primus [-secundus].
Very uncommon guide, by the Parisian surgeon Jean-Charles-Félix Caron, to the philosophy student in the University of Paris needs to know in order to graduate first as bachelor and then as master of arts in the university. The work is essentially a kind of bluffer's guide: "there are people who, obliged to do their philosophy to pass their MA, can only devote themselves imperfectly to its study, as they are often distracted by other occupations, and who are, .by the end of their course, scarcely further advanced than they were at the start, no matter how good their tutor". As a medic, Caron knew this all too well; having spent his university time too much engaged with patients, he was granted remedial classes with the Abbé Lettrier, and it is his précis of these classes that he presents here.

In fact, Caron's work draws heavily on Guillaume Guillier's Candidatus atrium, which had appeared in 1732, but the points of difference say much about the slow evolution of the syllabus into a recognisably modern one. The basic division of the subject (logic, metaphysics, ethics, and physics) remains intact, but the section on physics is vastly more expanded than that in Guillier's work, reflecting the increased interest in the subject through the eighteenth century; Newtonian physics, completely absent from the earlier work, also makes an appearance. The four folding plates at the end of the second volume show an astrolabe and the cosmological systems of Copernicus, Ptolemy, and Tycho Brahe.

Caron (1739-1824), was the author of numerous medical works on subjects ranging from medical education to croup.

Despite the slightly odd pagination of the prelims of volume 1, this copy appears complete, matching that in the BnF and consistent with the catchwords; outside Continental Europe, OCLC records copies at the National Library of Chile and the Catholic Institute of Sydney.
You may also be interested in...
[MONTAGU, Mary Wortley (attr.), and PUISSIEUX, Madeline de (translator).]
La femme n'est pas inferieure a l'homme, traduit de l'anglois.
First French translation, uncommon, of Woman not inferior to Man: or, a short and modest Vindication of the natural Right of the fair-Sex to a perfect Equality of Power, Dignity, and Esteem, with the Men, first published in 1739 under the name 'Sophia, a person of quality' and sometimes attributed to Mary Wortley Montagu (1689–1762; see Quaritch, Women (2019) 36). Drawing on De l'égalité des deux sexes of Poulain de la Barre, the work examines the justness of the esteem (or lack thereof) in which men hold women, the relative intellectual capacities of the two sexes, whether men are fitter to govern and hold public office than women, and whether women are capable of teaching the sciences and serving in the military. The author concludes: 'let us show [men], by what little we do without aid of education, the much we might do if they did us justice; that we may force a blush from them, if possible, and compel them to confess their own baseness to us, and that the worst of us deserve much better treatment than the best of us receive'.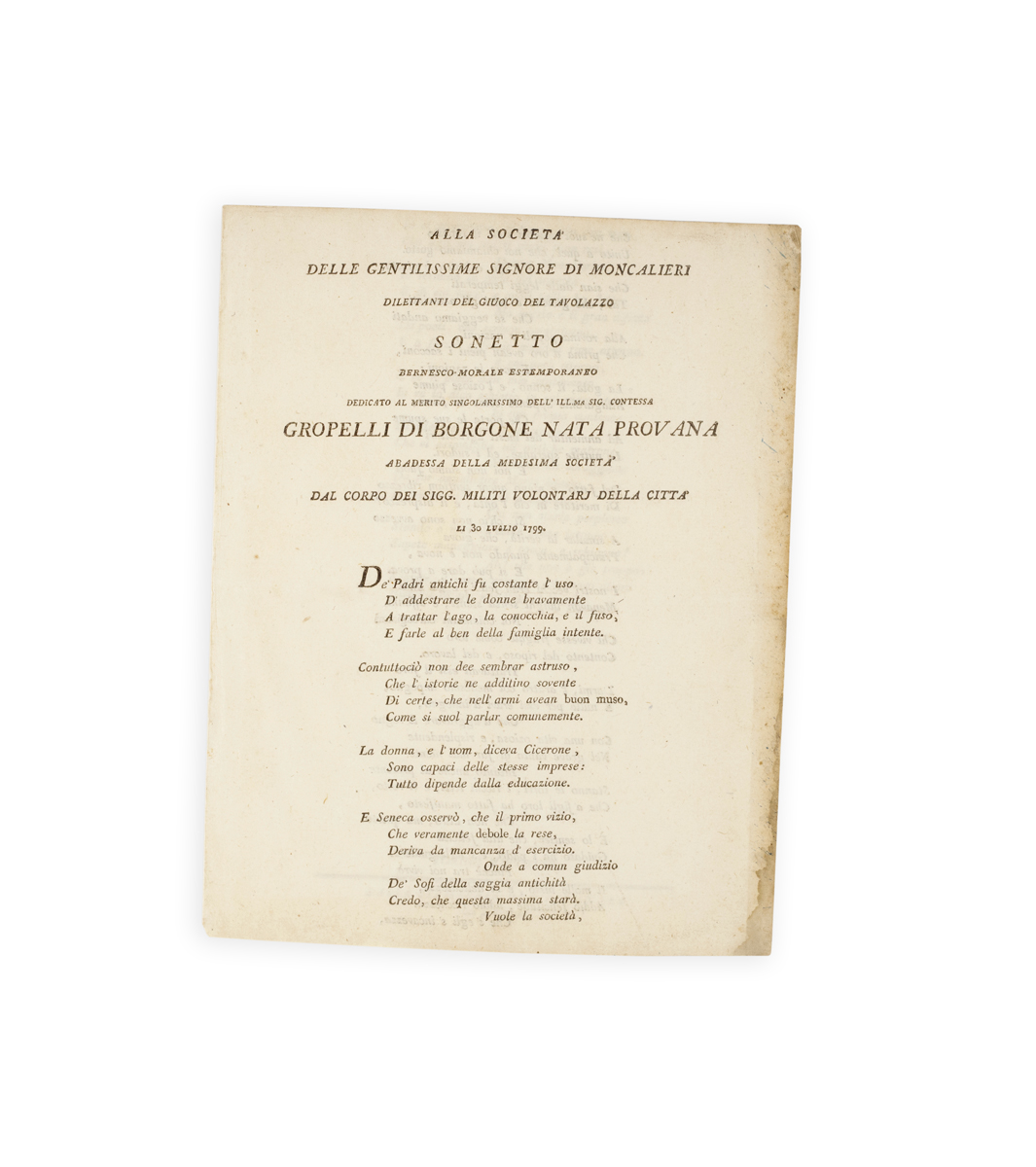 UNRECORDED SONNET TO SHARPSHOOTING WOMEN [NAPOLEONIC ITALY.] 
Alla società delle gentilissime signore di Moncalieri dilettanti del giuoco del tavolazzo. Sonetto bernesco-morale estemporaneo dedicato al merito singolarissimo dell' ill.ma sig. Contessa Gropelli di Borgone nata Provana abadessa della medesima società dal corpo dei sigg. militi volontari della citta. Li 30 luglio 1799.
An unrecorded sonnet addressed to the Society of the Gentlewomen of Moncalieri, a town just south of Turin whose castle is one of the Savoy Residences, and in particular to the 'Abbess' of the society, by the corps of soldiers stationed in the town shortly after the Battle of Marengo.