CARROLL, Lewis [i.e. Charles Lutwidge Dodgson].
A tangle tale ... with six illustrations by Arthur B. Frost.
London, Macmillan and Co., 1885.
8vo, pp. [10], 152, [2], with half-title and frontispiece; occasional light spotting but a good copy in original red cloth with gilt designs to covers, gilt edges; armorial bookplate of Cyril Frampton and inscription to Lionel Frampton from Aunt Bess (1899) to front pastedown.
£200

Approximately:
US $248
€224
Added to your basket:
A tangle tale ... with six illustrations by Arthur B. Frost.
First edition. A collection of ten amusing stories, known by Carroll as 'Knots', each concealing a mathematical problem, the answers to which are given in the appendix. The charming illustrations are by the American illustrator Arthur Burdett Frost (1851-1928), who also illustrated works by Charles Dickens, Sir Walter Scott, and Mark Twain.
You may also be interested in...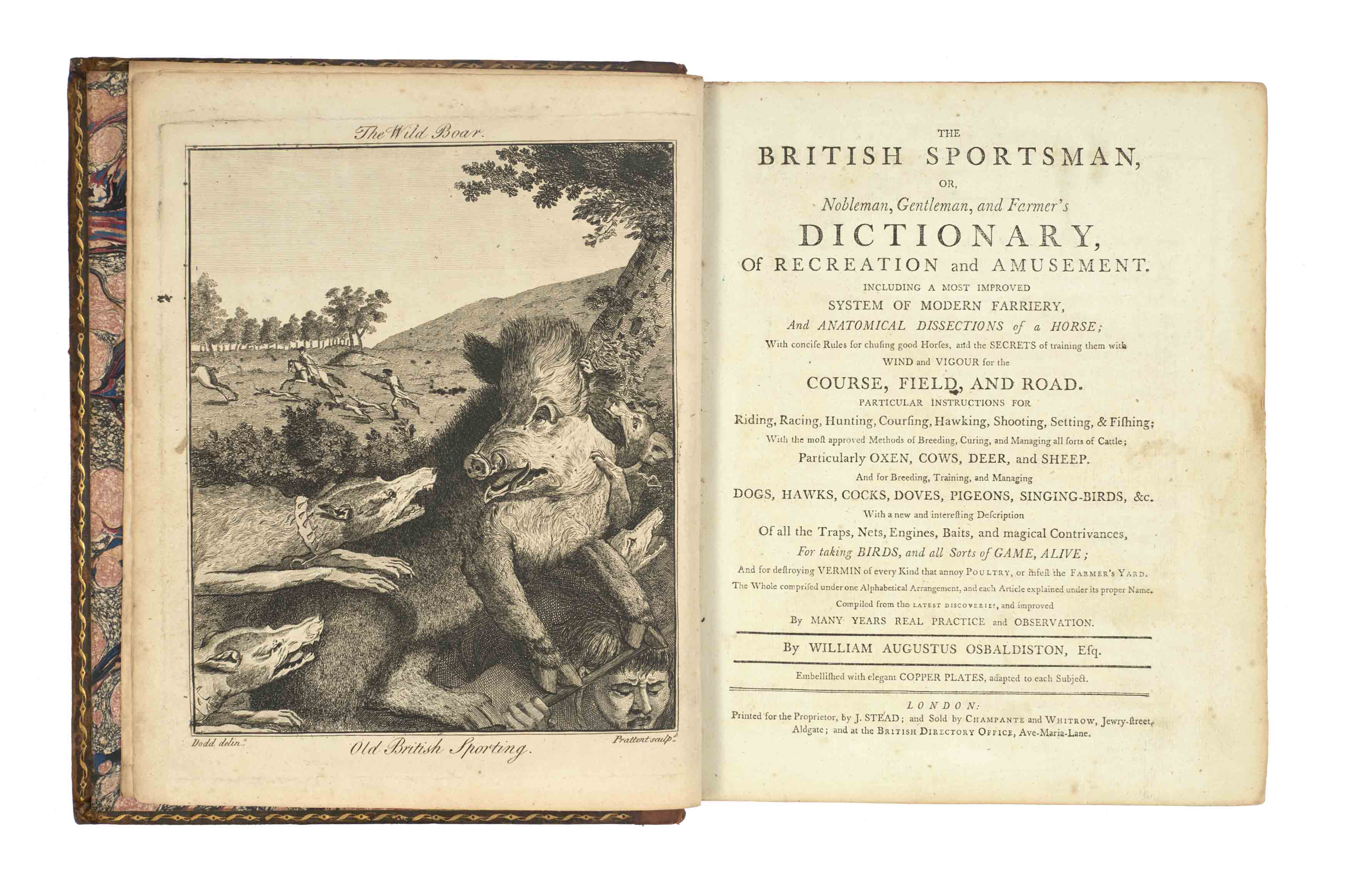 OSBALDISTON, William Augustus.
The British Sportsman, or Nobleman, Gentleman, and Farmer's Dictionary of Recreation and Amusement, including a most improved System of modern Farriery, and anatomical Dissections of a Horse, with concise Rules for Chusing good Horses, and the Secrets of Training them with Wind and Vigour for the Course, Field, and Road, particular Instructions for Riding, Racing, Hunting, Coursing, Hawking, Shooting, Setting, & Fishing, with the most approved Methods of Breeding, Curing, and Managing all Sorts of Cattle, particularly Oxen, Cows, Deer, and Sheep, and for Breeding, Training, and Managing Dogs, Hawks, Cocks, Doves, Pigeons, Singing-Birds, &c., with a new and interesting Description of all the Traps, Nets, Engines, Baits, and magical Contrivances for Taking Birds, and all Sorts of Game, alive, and for Destroying Vermin of every Kind that annoy Poultry, or infest the Farmer's Yard, the whole comprised under one alphabetical Arrangement, and each Article explained under its proper Name, compiled from the latest Discoveries, and improved by many Years real Practice and Observation … embellished with elegant Copper Plates, adapted to each Subject.
First edition, issued in forty-two parts, of one of the first sporting dictionaries. 'The pleasure and convenience of being well informed in the Recreations and Amusements of a Country Life, are objects of themselves sufficiently interesting, to justify the Author in presenting this Work to the Public. But when we add to such a situation, the advantage of being master, not only of the tricks and artifices played off upon the turf, and guarded against this growing species of fashionable fraud; but instructed likewise in the art of breeding, training, managing, and curing the various diseases of that noble and generous animal the Horse, as well as of Cattle in general, it is presumed this Treatise will be found of the utmost importance to Country Gentlemen. […] The intention of this Work is therefore to blend information with amusement, and profit with sport.'
COUR, Pieter Almanus van.
Toevlucht ofte heylsaeme Remedien voor alderhande Siektens en Accidenten, die de Peerden zouden konnen over-komen, by een Vergaderd in den Tyd van 40. Jaren … mitsgaders een kleyn Tractaetjen van Medecynen voor de Koe-Beesten, tweeden Druk, van veel Fouten verbeterd.
'Second edition' (third) of a Dutch farriery manual, first printed in Bruges in 1722. OCLC finds only two copies worldwide (Amsterdam and the Flemish Heritage Library).