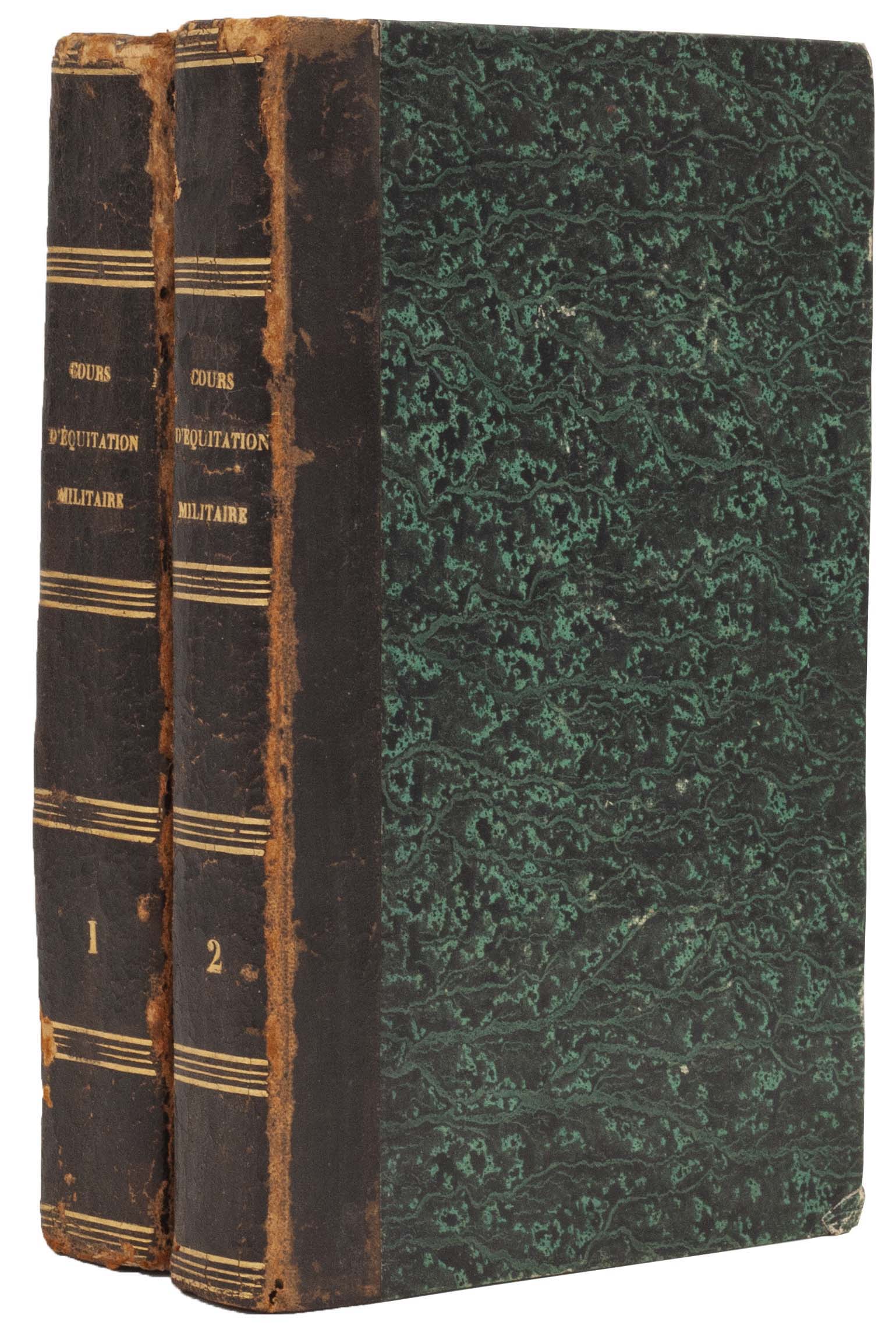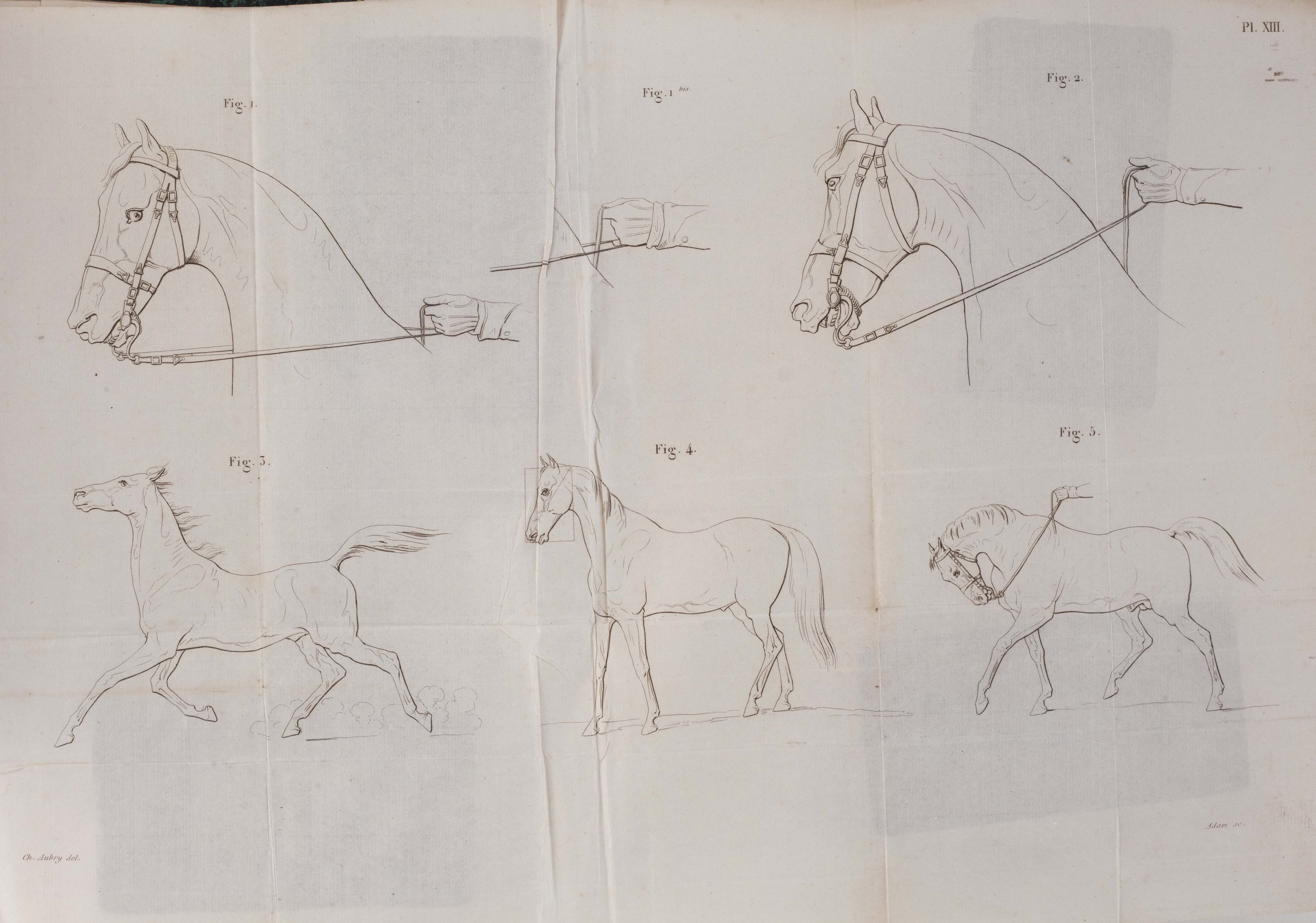 [CAVALRY.]
Cours d'équitation militaire, a l'usage des corps de troupes a cheval, approuvé par s. exc. le ministre de la guerre.
Saumur, H. Fournier for A. Degouy and Névo-Degouy, and Paris, Anselin, 1830.
2 vols, 8vo, pp. I: viii, 408, II: [4], 356; with 18 large folding copper-engraved plates (numbered I-XVI, XIV bis and XVI bis) bound with vol. I, without the 4 plates to vol. II; very slight spotting, plates creased with dust-staining, a few marginal stains, and chipping at edges (pl. XI torn along one fold), indentations to vol. I gutter with a few short tears; a good set in contemporary French sheep-backed boards with marbled sides, spines gilt-ruled in compartments and lettered directly in gilt; rubbed, corners bumped, lower board of vol. I warped and pushed from shoulder by folded plates.
£225

Approximately:
US $307
€262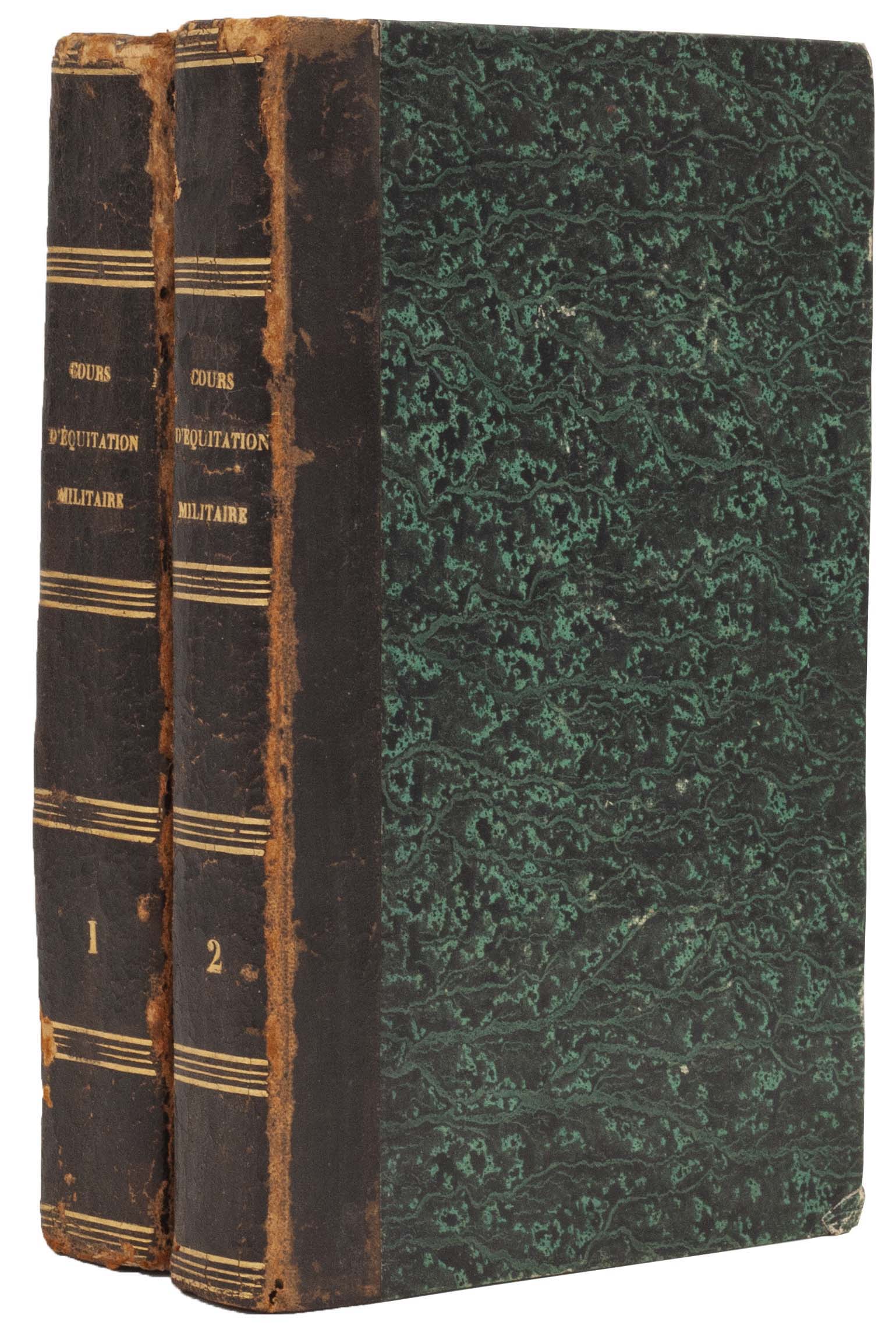 Added to your basket:
Cours d'équitation militaire, a l'usage des corps de troupes a cheval, approuvé par s. exc. le ministre de la guerre.
First edition of an encyclopædic work on horsemanship for the use of the French cavalry, with the suite of plates. 'L'ouvrage est en effet une veritable encyclopédie hippique : hippologie, extérieur, emploi à la selle, au trait et au bat, alimentation, hygiène, maladies et accidens, haras et remontes. Dans les ouvrages postérieurs, cette confusion a disparu et on a séparé avec raison l'Equitation de l'Hippologie et de l'Elevage du cheval.' (Mennessier de la Lance).

Though here bound at the rear of the first volume, the large copper-engraved plates by Aubry and Adam are more often found separately as an 'atlas', absent from most sets.

Mennessier de la Lance I, p. 320 (as two volumes with separate Atlas); not in Dejager; not in Dingley; not in Mellon.
You may also be interested in...
A PRELUDE TO L'ESPRIT DES LOIS MONTESQUIEU, Charles de Secondat.
Histoire véritable publiée d'après un nouveau manuscrit avec une introduction et des notes par L. de Bordes de Fortage.
Second edition of Montesquieu's philosophical, quasi-oriental tale, a prelude to his great work L'Esprit des lois. Written in the 1730s and again in 1754, and influenced by Lucian and the 18th-century vogue for oriental fiction, the Histoire véritable remained unpublished until 1892. This 1902 second edition is based on a manuscript written prior to that used for the first. The Histoire is a fabulous account of the numerous animal and human incarnations experienced by its narrator: as a little dog he is persecuted by his mistress, while as an ox he is worshipped by the Egyptians; as a human his soul occupies the bodies of a hangman, a cuckolded husband, an underfed poet, a courtier, a fop, a virtuous woman, a eunuch, an African chief, a king's fool, among many others. 'The different reincarnations are so many opportunities to expose human turpitude from the inside and to underscore, from the vantage point of a single conscience, retrospectively enlightened, the corruption and wickedness of men ... Montesquieu's originality is to create, based on conventional processes of narrative fiction at the time, a philosophical tale inducing meditation about the conditions of virtue and happiness ... The Histoire véritable would also raise, in the story's framework, questions to which L'Esprit des lois would try to respond: how to reconcile relativism and norms of universal justice, articulate uniformity and diversity, find constancy in change? To this degree, the work would be, as Alberto Postigliola put it, an "epistemological prelude" to its author's major work' (Carole Dornier in Dictionnaire Montesquieu).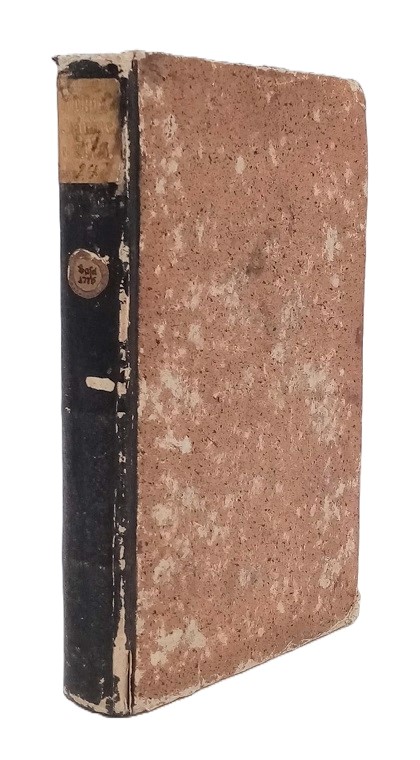 'THE DREAMS OF A FRIEND OF MANKIND' [ISELIN, ISAAK].
Träume eines Menschenfreundes. Erster Theil.
First edition, part one only (very rarely to be found complete with both parts), of the most mature expression of Iselin's anti-Rousseau republicanism, a social 'dream' of great articulation and -arguably- applicability, residing confidently on the borderline between utopia and reformism, and the author's principal work on physiocracy.