CECI, Carlo.
Piccoli Bronzi del Real Museo Borbonico … descritti e disegnati da Carlo Ceci.
Naples, stamperia di Salvatore Piscopo, 1858.
Oblong folio, pp. [2, dedication], 10 leaves of descriptive letterpress, with coloured frontispiece and 13 coloured lithos; bound in original printed wrappers, front cover with printed title acting as title-page, some minor dust-soiling and light marginal stains, some short marginal tears repaired; sewn as issued, cloth portfolio.
£650

Approximately:
US $906
€740
Second edition (with three extra plates) of this exhibition catalogue of ancient artefacts excavated from Pompeii and Herculaneum on display at the Real Museo Borbonico (today Museo Nazionale) in Naples, and here illustrated and described by its curator, Carlo Ceci. The plates display a mixture of decorative bronzes, ornamental armour and weaponry, votive offerings, as well as more mundane items such as tools. Ceci was particularly interested in everyday objects used by Roman women, such as kitchen utensils, cosmetics, and toiletries.

The illustrations are very fine. The first litho shows the excavations in progress; all have colours added by a contemporary hand. The first edition was published in 1854.

Borroni 1870; Murray, Museums, II, p. 46.
You may also be interested in...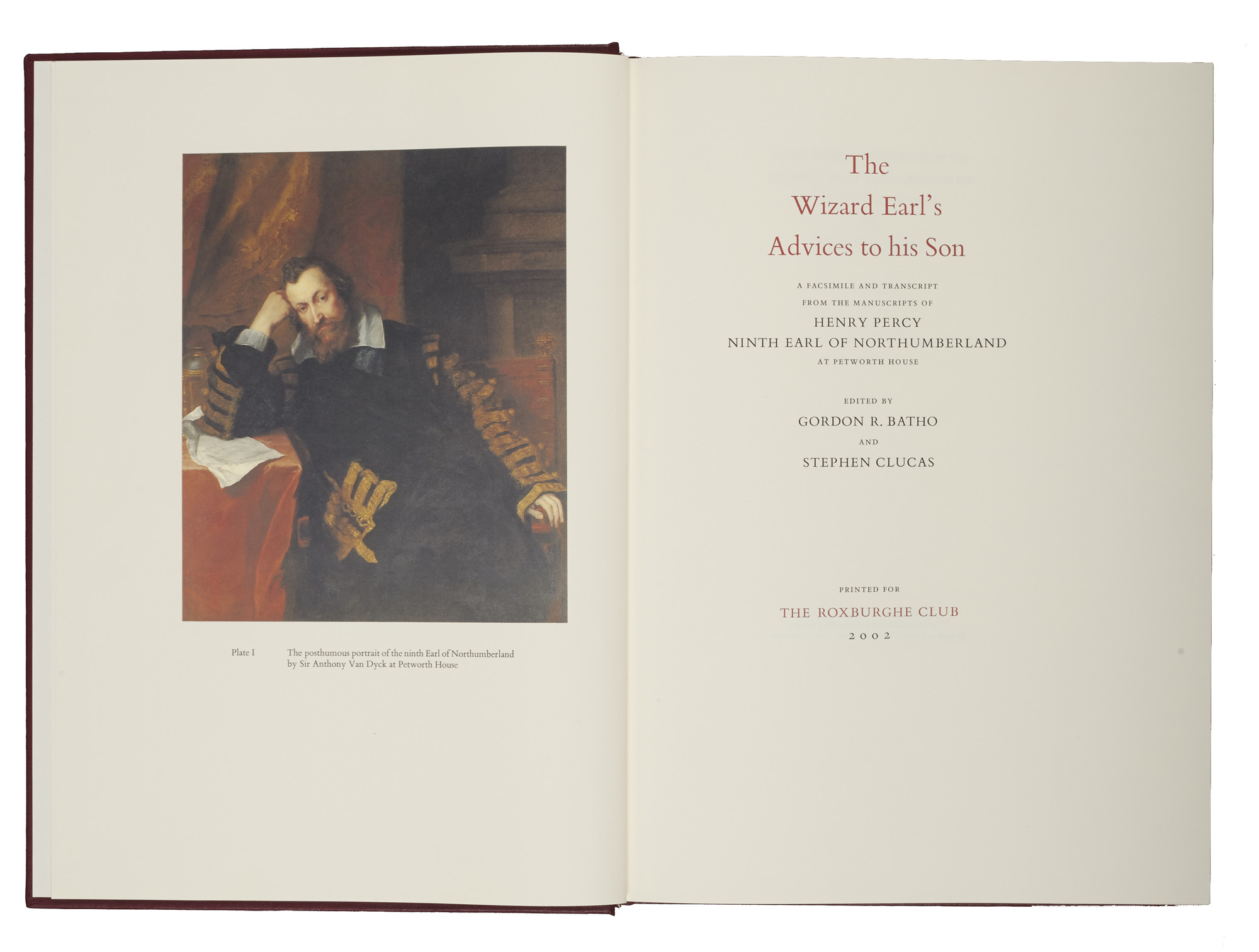 BATHO, Gordon R., and Stephen Clucas, eds.
The Wizard Earl's Advices to his Son. A Facsimile and Transcript from the Manuscript of Henry Percy, 9th Earl of Northumberland, at Petworth House.
The 'Wizard Earl', Henry, Ninth Earl of Northumberland, spent much of his life under suspicion. He was, first of all, suspected of being a member of the 'School of Night', the butt of Shakespeare's Love's Labours Lost. Secondly, and more gravely, he was suspected of involvement in the Gunpowder Plot and imprisoned in the Tower for almost sixteen years. It was during his incarceration that he compiled advice to his son and heir, Algernon. This work is a full facsimile, with a diplomatic transcript, of the 'Advices to his Son'. The texts are prefaced with an extended introduction by Professor G. R. Batho and Dr Stephen Clucas, who together provide a full and up-to-date account of the Earl's life, the writing of the 'Advices', and his intellectual tastes and development.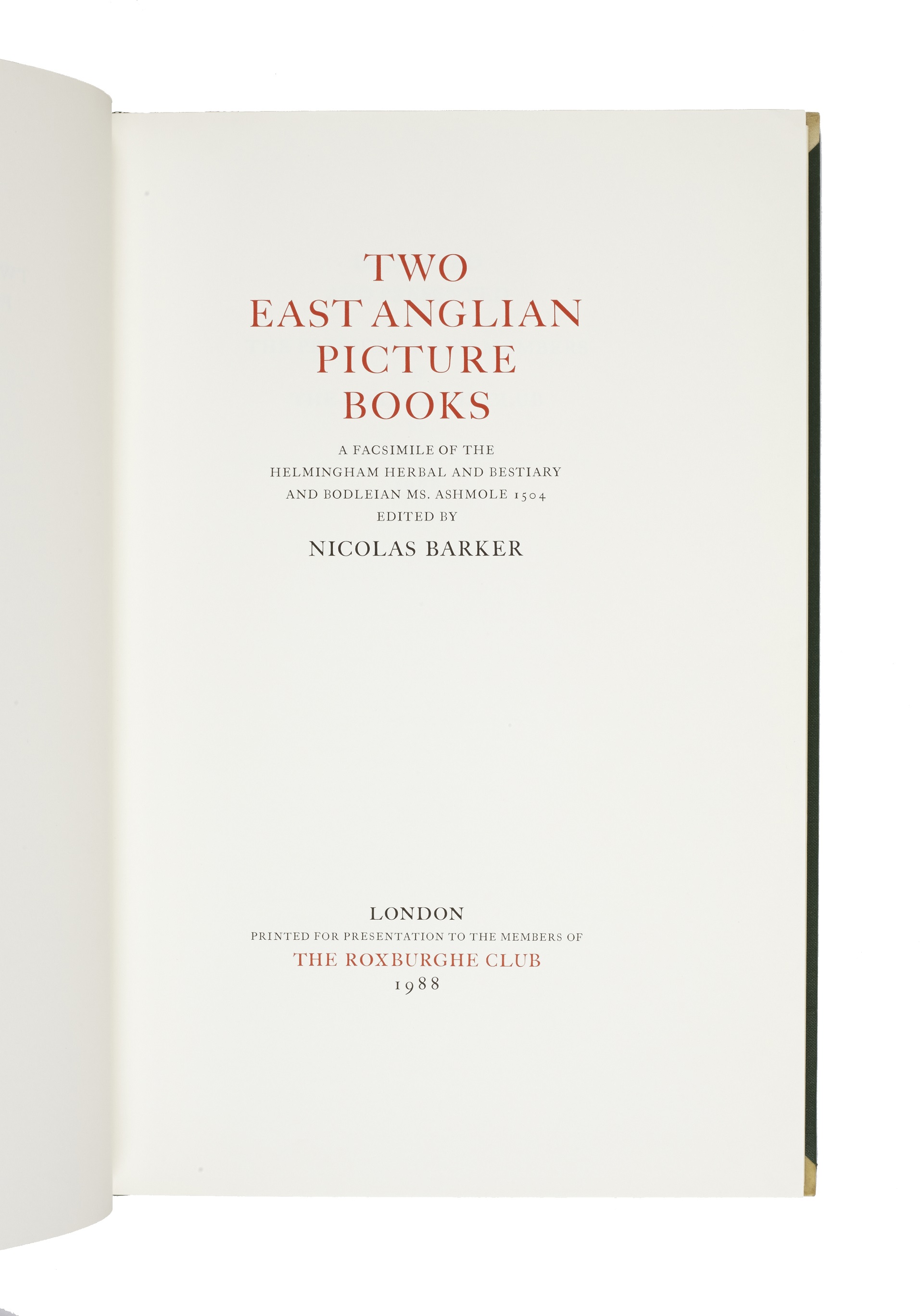 BARKER, Nicolas, ed.
Two East Anglian Picture Books. A facsimile of the Helmingham Herbal and Bestiary and Bodleian MS. Ashmole 1504.
Full-size colour facsimiles of two extraordinary, and almost identical, medieval picture books containing a total of 98 pictures of flowers and trees and 58 of birds and animals together with a variety of other material (ornamental alphabets, drawings of coats of arms, household gear, embroidery patterns, landscapes and grotesques) representing the full range of medieval ornament.