CECI, Carlo.
Piccoli Bronzi del Real Museo Borbonico … descritti e disegnati da Carlo Ceci.
Naples, stamperia di Salvatore Piscopo, 1858.
Oblong folio, pp. [2, dedication], 10 leaves of descriptive letterpress, with coloured frontispiece and 13 coloured lithos; bound in original printed wrappers, front cover with printed title acting as title-page, some minor dust-soiling and light marginal stains, some short marginal tears repaired; sewn as issued, cloth portfolio.
£650

Approximately:
US $904
€752
Added to your basket:
Piccoli Bronzi del Real Museo Borbonico … descritti e disegnati da Carlo Ceci.
Second edition (with three extra plates) of this exhibition catalogue of ancient artefacts excavated from Pompeii and Herculaneum on display at the Real Museo Borbonico (today Museo Nazionale) in Naples, and here illustrated and described by its curator, Carlo Ceci. The plates display a mixture of decorative bronzes, ornamental armour and weaponry, votive offerings, as well as more mundane items such as tools. Ceci was particularly interested in everyday objects used by Roman women, such as kitchen utensils, cosmetics, and toiletries.

The illustrations are very fine. The first litho shows the excavations in progress; all have colours added by a contemporary hand. The first edition was published in 1854.

Borroni 1870; Murray, Museums, II, p. 46.
You may also be interested in...
[CHINESE ARTS DEALER.] ISKANDRIAN-HUPEDEN, A.
[Cover title:] 'My Treasure Box' [Title-page:] 'Some selected objects of Chinese Arts at present on Sale. We solicit enquiries…'.
A charming and insightful trade catalogue compiled by a female Chinese arts dealer, covering porcelains, cast bronzes and irons, stone and wood sculpture, lacquered figures, furniture and screens, pottery and embroidery. The colours and dimensions are often described in the text, and the final page lists the dates of Chinese dynasties from 1122 BC and the reigns within the final Ching (Qing) dynasty.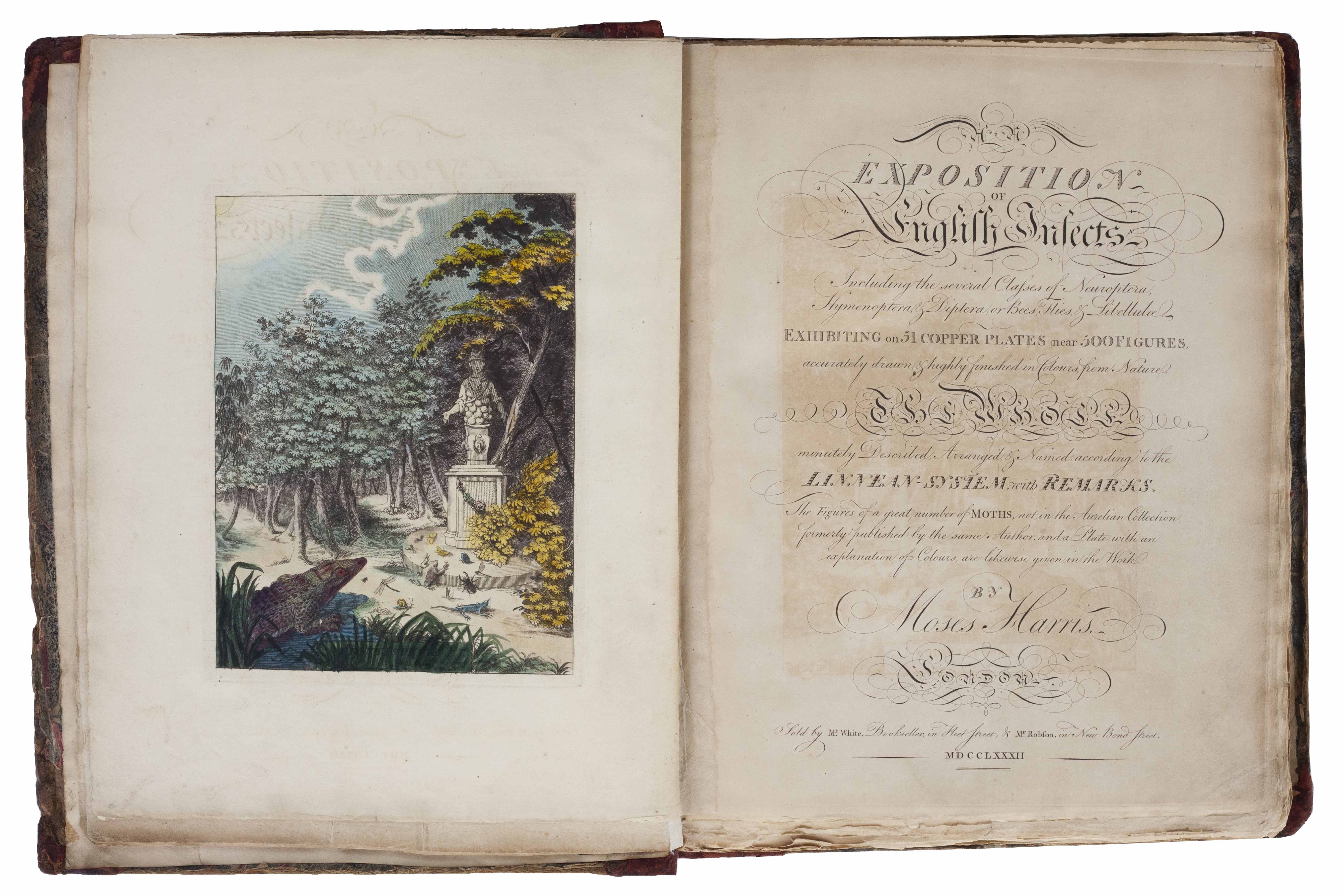 HARRIS, Moses.
An Exposition of English Insects, including the several Classes of Neuroptera, Hymenoptera, & Diptera, or Bees, Flies, & Libellulae, exhibiting on 51 Copper Plates near 500 Figures, accurately drawn, & highly finished in Colours, from Nature, the whole minutely described, arranged, & named according to the Linnean System, with Remarks; the Figures of a great Number of Moths, not in the Aurelian Collection, formerly published by the same Author, and a Plate with an Explanation of Colours, are likewise given in the Work.
Second edition of Harris's 'principal scientific work' (ODNB), incorporating his important treatise establishing the classification of insects by wing venation. 'I have kept so far as this method was agreeable to, and did not interfere with the plan, which I have adopted, of a strict adherence to a Natural System, separating the classes by such nice though strong distinctions, that the observer at first sight of an insect (if it be of the Diptera or Hymenoptera) shall be capable of not only knowing the class it refers to, but at the same time to what order and section of that class, and this by the wings only' (preface).