CECI, Carlo.
Piccoli Bronzi del Real Museo Borbonico … descritti e disegnati da Carlo Ceci.
Naples, stamperia di Salvatore Piscopo, 1858.
Oblong folio, pp. [2, dedication], 10 leaves of descriptive letterpress, with coloured frontispiece and 13 coloured lithos; bound in original printed wrappers, front cover with printed title acting as title-page, some minor dust-soiling and light marginal stains, some short marginal tears repaired; sewn as issued, cloth portfolio.
£650

Approximately:
US $842
€711
Added to your basket:
Piccoli Bronzi del Real Museo Borbonico … descritti e disegnati da Carlo Ceci.
Second edition (with three extra plates) of this exhibition catalogue of ancient artefacts excavated from Pompeii and Herculaneum on display at the Real Museo Borbonico (today Museo Nazionale) in Naples, and here illustrated and described by its curator, Carlo Ceci. The plates display a mixture of decorative bronzes, ornamental armour and weaponry, votive offerings, as well as more mundane items such as tools. Ceci was particularly interested in everyday objects used by Roman women, such as kitchen utensils, cosmetics, and toiletries.

The illustrations are very fine. The first litho shows the excavations in progress; all have colours added by a contemporary hand. The first edition was published in 1854.

Borroni 1870; Murray, Museums, II, p. 46.
You may also be interested in...
ROME'S WATER SUPPLY AND FLOODING OF THE TIBER MODIO, Giovanni Battista.
Il Tevere ... doue si raggiona in generale della natura di tutte le acque, et in particolare di quella del fiume di Roma. Rome, Vincenzo Luchini, 1556.

[bound with:]
CASTIGLIONE, Giacomo. Trattato dell'inondatione del Tevere ... dove si discorre delle caggioni, e rimedij suoi, e si dichiarano alcune antichità, e luoghi di autori vecchi. Con una relatione del diluuio di Roma del 1598 ... E con un modo stupendo col quale si saluarono molte famiglie in Castel Sa[n]t'Angelo. Novamente posto in luce.
Rare first editions of two works on the river Tiber and the health implications of the quality of its water and of its regular flooding. A physician and follower of Filippo Neri, Modio (d. 1560) was moved to write Il Tevere by the regular flooding of the Tiber and subsequent sanitary crises in Rome (during which he fell gravely ill and was lucky to survive). Arguing against the findings of Alessandro Petronio in his De aqua Tiberina (1552), Modio demonstrates that the water of the Tiber was far from healthy and should not be drunk. Hippocrates had early established the importance of water-supply to health, and one of the chief glories of ancient Rome had been its water, and Modio here appeals to cardinal Ranuccio Farnese to push for the restoration of the city's ancient aqueducts.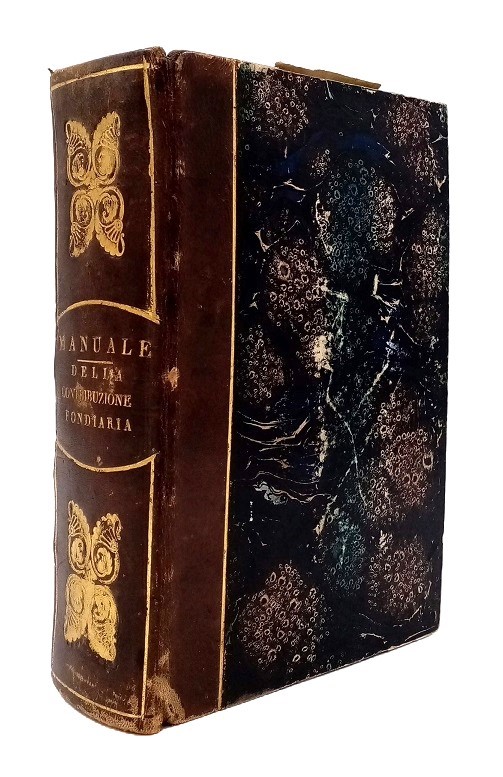 [NAPLES.]
Manuale della contribuzione fondiaria compilato per disposizione di S. E. il ministro segretario di stato delle finanze. Sola edizione autentica [– Parte seconda. Percezione della contribuzione fondiaria].
First edition. In two parts, the first of which sets out the basis of property taxation, while the second treats the collection and transmission of sums owing, this manual prints the legislation in force in the nearer Neapolitan part (always described as 'This side of the Lighthouse', whereas Sicily itself and parts of the Southern mainland were 'The other side of the Lighthouse') of the Kingdom of Naples and the Two Sicilies as of 1835.
 
In the law of 8 August 1806, a large number of old taxes, many with a restricted local ambit, were abolished in favour of a new contribuzione fondiaria, a property tax based on net annual revenue from the property. Subsequent regulation, in the form of the Royal Decree of 10 June 1817, letters, and other instruments, amplified the extent and conditions of imposition of this new tax. The manual prints this material, pp. 5–256, where it is followed by a 60-page alphabetical index organized under topic and referring the reader to relevant passages of the regulations. The second part of the manual, dealing with the mechanics of collection, with the various agencies and officials involved and with the treatment of late payment etc., is organized on the same basis. The regulations are printed pp. 1–417, and from pp. 419 to 570 there follows an index of topics; pp. 571–84 give new regulations introduced while the manual was at the printers; p. 585 gives errata. At the end of the second part come examples of 35 different official forms to be used in connection with the contribuzione fondiaria. Each form has printed on it the page of the manual which refers to it.