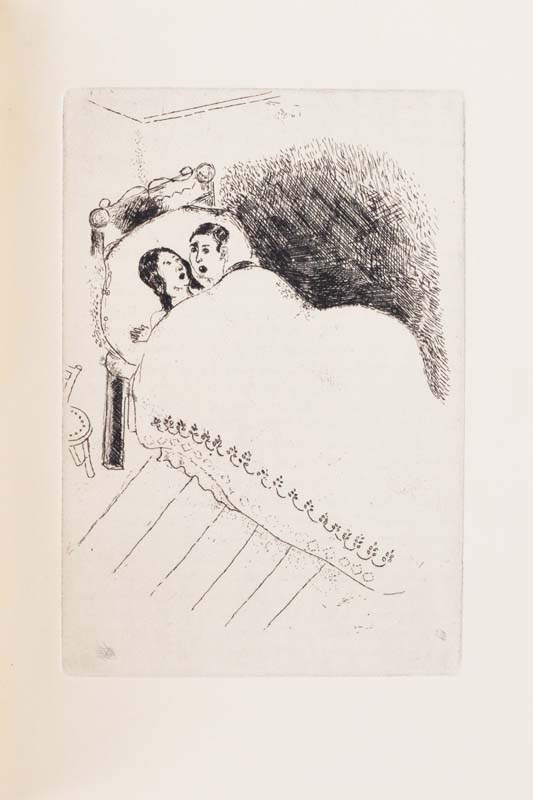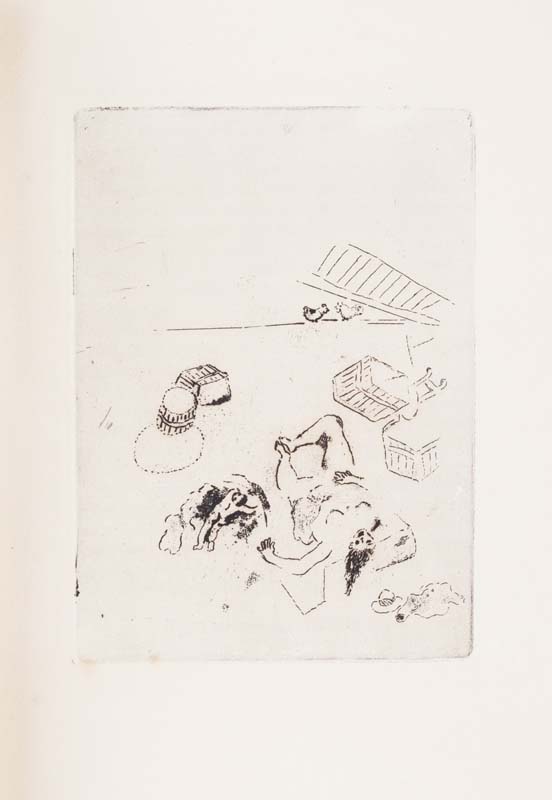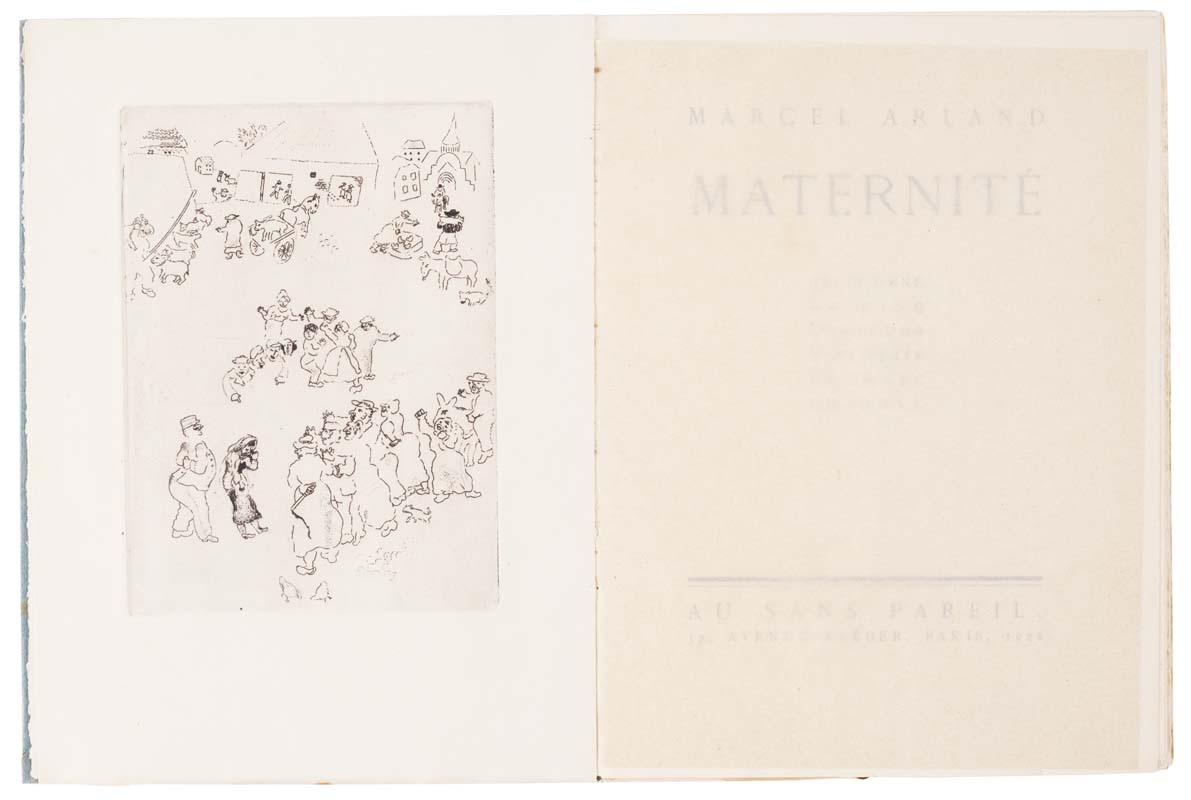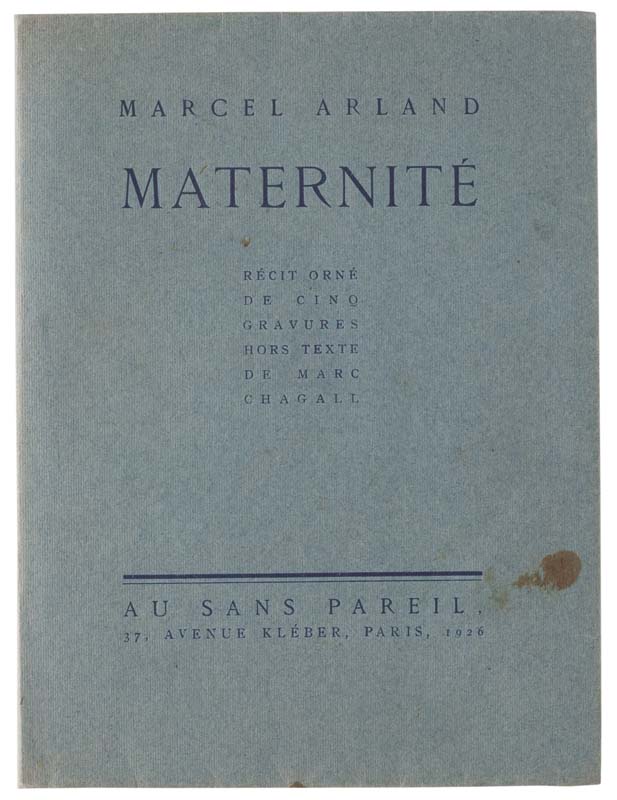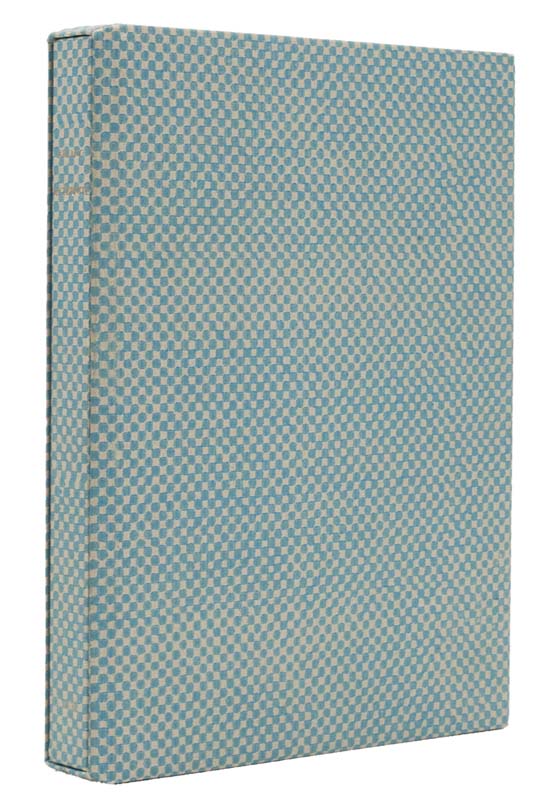 CHAGALL'S POIGNANT STORY OF MANY YOUNG WOMEN'S MISERY
CHAGALL, Marc, and Marcel ARLAND.

Maternité. Récit orné de cinq gravures hors texte de Marc Chagall.
Paris, Au Sans Pareil, 1926.
Small 4to; half-title, with the extra suite of 5 etched plates by Chagall including frontispiece; insignificant stain to the lower edge of the text block, but a fine copy, unopened and uncut in the original publisher's blue wrappers; small marginal stain on upper wrapper, extremities lightly rubbed; preserved in custom-made blue chequered portfolio boards, lettered in silver on spine, within matching slipcase.
£2000

Approximately:
US $2451
€2324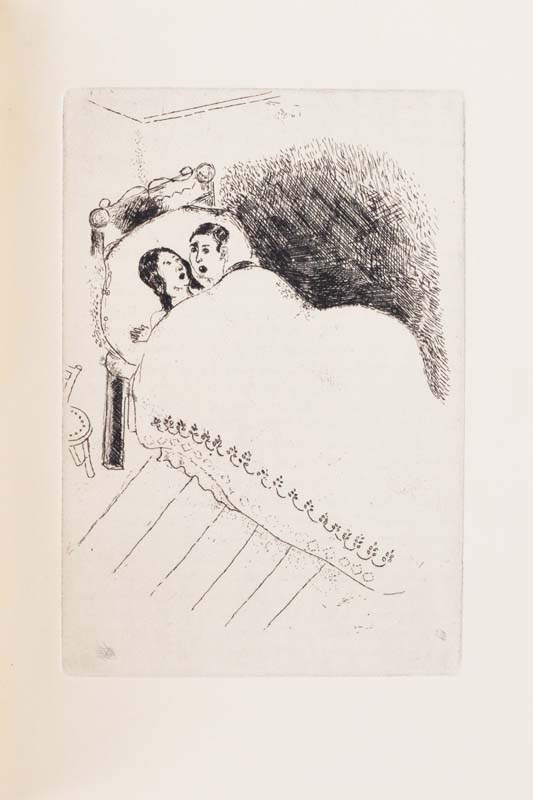 Added to your basket:
Maternité. Récit orné de cinq gravures hors texte de Marc Chagall.
An exceptionally fine hors commerce copy of the first book published with a series of original images by Chagall. His early, fine etchings interpreting 'La Honte', 'La Naissance', 'La Rixe', 'Couple au lit' and 'La Visite par la fenêtre' transform the artifact: they constitute 'more a complement to the text than illustrations' (Sorlier). The edition run was 960 copies, of which 765 were printed on Lafuma de Voiron paper.

Arland's story was one of the first commissions for visual narrative received by Chagall upon his move to Paris in 1923. The narrative develops in reverse chronology, starkly beginning with the death of the illegitimate baby of a young girl and the shame and criminalisation of the young mother by the authorities and by a shouting mob, trailing backwards through the lonely and squalid scene of the birth up to the first night which the girl had spent together with her lover. This complete copy has survived, intact and beautiful, decades in which Chagall's enormously popular etchings were taken out of sets and sold individually. Sorlier p.12.
You may also be interested in...
[WALL, Thomas].
A Second Christian Warning-Piece; wherein is shewed the first and chief Cause of Englands present Misery … Humbly presented to the Parliament. [London, c. 1681?] [Bound after:]

HOLWELL, John. Catastrophe Mundi: or, Europe's many Mutations until the Year, 1701. Being an astrological Treatise of the Effects of the Triple Conjunction of Saturn and Jupiter 1682 and 2683, and of the Comets 1680 and 1682, and other Configurations concomitant … Whereunto is annexed the Hieroglyphicks of Nostradamus (published by Mr. Lilly, in the Year 1651.) Rightly placed and in order, (formerly misplaced) with the Addition of many more …. London, Printed for the Author … 1682.
First edition, very rare, of a vehement anti-Catholic tract published in the context of the Exclusion Crisis; bound with the principal astrological work of John Holwell (a slightly imperfect copy).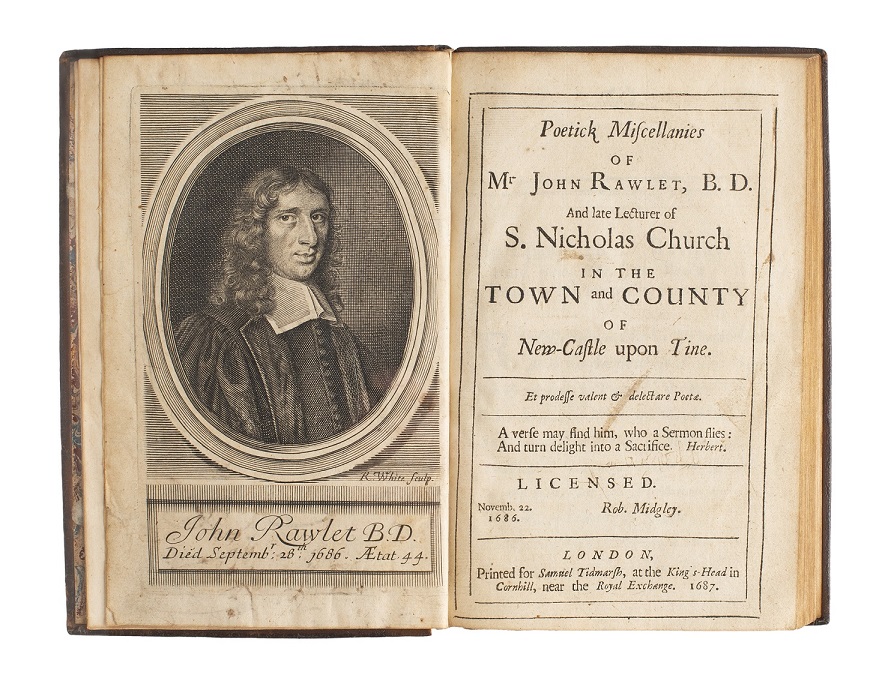 RAWLET, John.
Poetick Miscellanies …
First edition. Writing from the isolation of Newcastle, then a rural parish in fell country, Rawlet developed a mode of religious and descriptive poetry distinctly out of step with his own age, as is acknowledged by the editor in a verse preface: 'Reader, expect not here, the filth of th' Stage, / Poems that please, but more debauch the Age.' Rawlet's poems, such as 'On a great Thunder and Storm', 'On a Cross with a Crown upon it, in Burton, betwixt Lancashire and Kendale', and 'On the sight of Furness Fells', while looking back to Herbert in their weaving of the spiritual and the physical, please more by their anticipation of the topographical and sentimental concerns of the succeeding century.