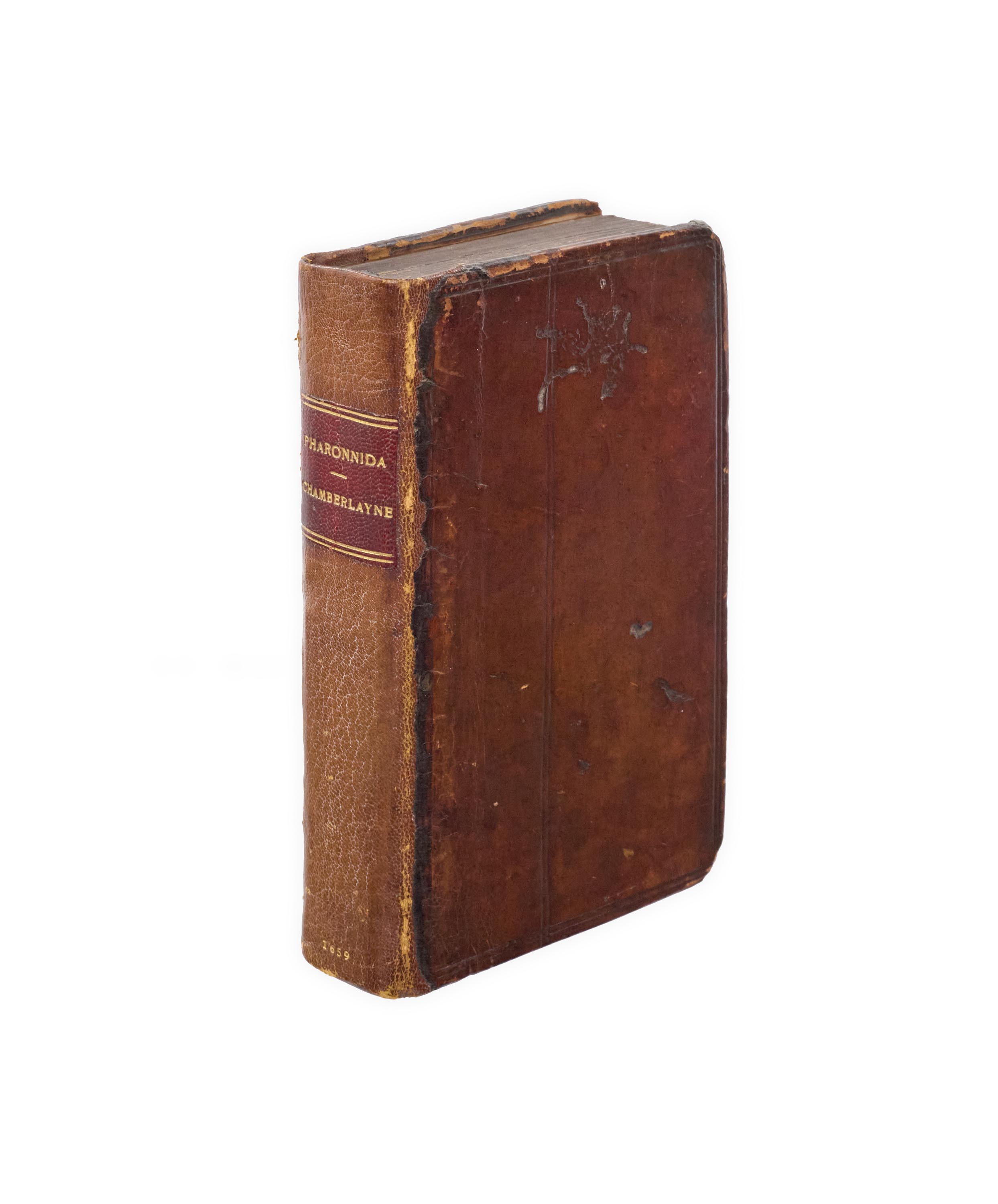 A POET ON THE BATTLEFIELD
CHAMBERLAYNE, William.
Phraronnida: a heroick Poem …
London, Printed for Robert Clavell … 1659.
8vo., pp. [16], 258, 113 [i.e. 215], with an engraved frontispiece portrait; slightly browned, but a good copy in contemporary calf, ruled in blind, rebacked, corners worn; unidentified nineteenth-century armorial bookplate; the Bradley Martin copy.
£2500

Approximately:
US $3502
€2822
First edition of the physician-poet William Chamberlayne's best-known work, a long poem (14,000 lines) in heroic couplets blending Ariosto, Tasso and Greek romances. It deals with the tale of Argalia, a sort of knight errant rescued from the Turks and threatened with execution, and his love for Pharonnida, the king's daughter; a triangle is provided by the seductive and voluptuous Jhonusa and her overwhelming passion for Argalia.

Chamberlayne fought for Charles I at the second battle of Newbury – his 'embryonic epic "Pharonnida" accompanied him in manuscript, and several descriptive scenes within the poem are based on the campaigns in the south and west of England' (Oxford DNB). Indeed the Civil War may have interrupted his composition, as he writes at the end of Book II:

I must
Let my Pen rest awhile, and see the rust
Scour'd from my own Sword …
If in
This rising storm of blood, which doth begin
To drop already, I'me not washt into
The Grave, my next safe Quarter shall renew
Acquaintance with Pharonnida, till then,
I leave the Muses to converse with men.

Chamberlayne evokes 'the mood of the battlefield with chilling precision … [The] scenes directly drawn from civil war engagements … are perhaps the best that Chamberlayne's limited talents produced, and it is these that offer the most to the modern reader' (Oxford DNB). He was little noticed as a poet until the Romantic period, when Pharonnida was praised by Southey and reprinted (in 1820) – 'according to Gosse, [it] was known to Keats when he was engaged on Endymion', to which it bears some comparison (A. E. Parsons, 'A Forgotten Poet: William Chamberlayne and 'Pharonnida', MLR 45:3, 1950).

Chamberlayne also published one play, Loves Victory (1658), and a poem in celebration of the Restoration, Englands Jubilee (1660). His very rare novel, Eromena (1683), was a prose romance based on Pharonnida.

Wing C 1866; Hayward 110.
You may also be interested in...
WITHER, George.
Juvenilia. A Collection of those Poemes which were heretofore imprinted, and written by George Wither.
Second collected edition, very scarce, much expanded from the first edition of 1622, adding Wither's Motto and Faire Virtue or the Maid of Philarete.
ELIZABETHAN SONNETS GREVILLE, Fulke, Baron Brooke.
Certaine Learned and Elegant Workes of the Right Honorable Fulke, Lord Brooke, written in his Youth, and familiar Exercise with Sir Philip Sidney ...
First edition. This is the definitive printing of the poems and plays of an attractive minor Elizabethan – the 'Servant to Queen Elizabeth, Councillor to King James, Friend to Sir Philip Sidney' (to quote his epitaph). Like Sidney, Greville never published his poetry in his lifetime; and, apart from a few anthologized poems and a pirated edition of Mustapha, these Workes, though written mainly in the 1570s-1590s, are printed here for the first time.