CHERTABLON, M. de.
La maniere de se bien preparer a la mort. Par des considerations sur la Cene, la Passion, et la Mort de Jesus-Christ, avec de très-belles estampes emblematiques.
Antwerp, George Gallet, 1700.
Large 4to, pp. 63, [1], title printed in red and black, with 42 engraved plates (comprising three plates lettered A–C and 39 numbered plates) after Romeyn de Hooghe; an excellent copy, large and fresh, in nineteenth-century black morocco-backed boards, top edges gilt, by Bruyère; spine and extremities a little rubbed; from the library of Samuel Ashton Thompson Yates (1842–1903), with bookplate.
£1800

Approximately:
US $2352
€2116
Added to your basket:
La maniere de se bien preparer a la mort. Par des considerations sur la Cene, la Passion, et la Mort de Jesus-Christ, avec de très-belles estampes emblematiques.
First edition with the present text. Romeyn de Hooghe's fine series of engravings were first printed for David de la Vigne's Miroir de la bonne mort (Amsterdam or Antwerp, 1673). The artist was still working in 1700, but because the plates in this work are unsigned and several are reversed from the earlier versions or have other minor differences, they were most likely copied by another artist.

Each of the 39 numbered plates depicts a man contemplating a religious image. The text provides a commentary and an appropriate verse of scripture for each plate; meditation on the Last Supper, the Passion and the death of Christ is advocated as the means by which to achieve a good death.

It is bound with the text (ff. [10]) of the Dutch translation of David de La Vigne's Miroir, (Spiegel om wel te sterven, Amsterdam, J. Stigter), which was published to accompany several undated (but all probably 1694) editions of de Hooghe's plates. The text comprises a short Biblical quotation and an explanatory note for each plate. Other copies are known with both Chertablon's French text and the Spiegel om wel te sterven, as here.

Cohen-De Ricci 232; Graesse II 130; Landwehr, Romeyn de Hooghe as book illustrator 84.
You may also be interested in...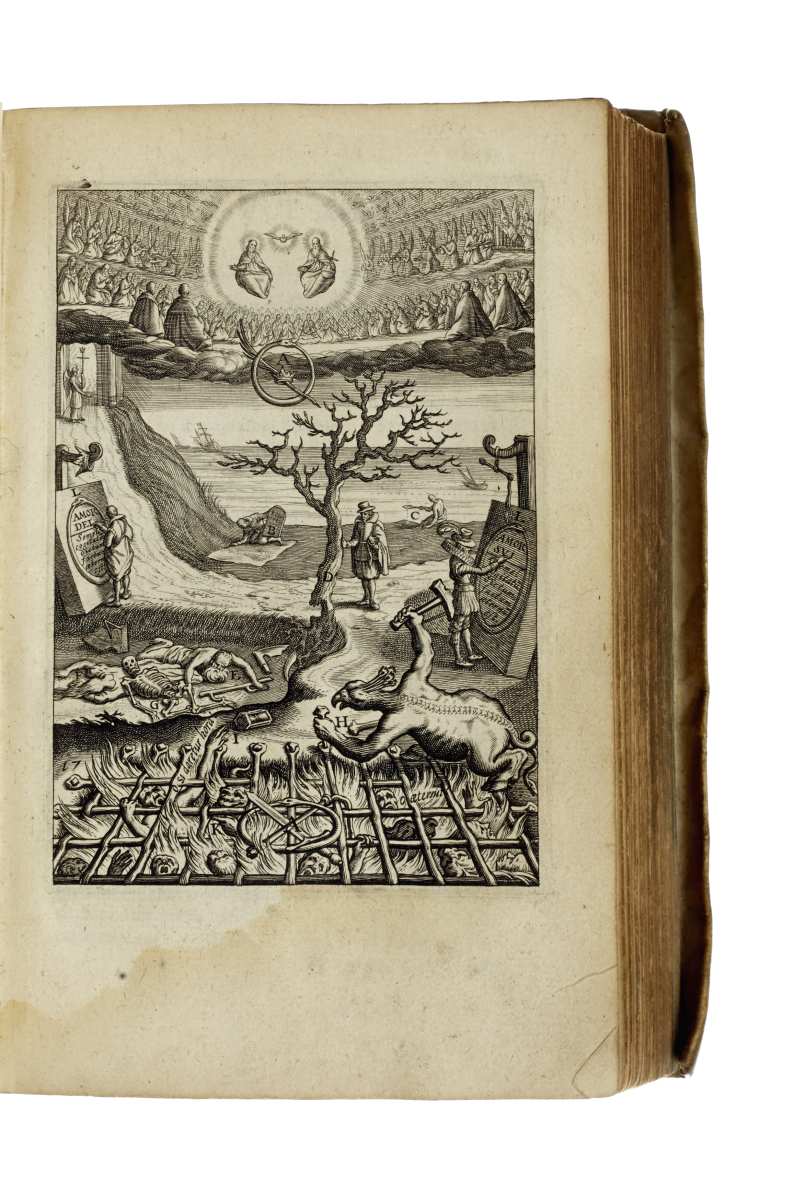 HEAVEN AND HELL GLIMPSED BY RUBENS' ENGRAVER SUCQUET, Antoine.
Via vitae aeternae iconibus illustrata per Boetium a Bolswert.
First edition, a very clean, attractive copy, of an emblem book which unites the spiritual meditations and practices of the Belgian Jesuit Antoine Sucquet with fine emblematic illustrations devised by the great baroque engraver Boetius a Bolswert (c. 1580-1633), called by Praz 'the illustrator of the sentimental and ecstatic states of the soul'. Boetius a Bolswert's exquisite refinement gives here, again in Praz' words, views of Hell and glimpses of Heaven. Man's worse drives are iconized in satyrs, ghouls, harpies, werewolves, semi-human lizards, his progress towards eternal life ever hindered by the multifarious and rapacious beast within. With his brother Schilte, Boetius was among the most sensitive and felicitous engravers to render Rubens' drawings. Sucquet's emblem book was extremely successful, with 177 editions in Latin within a decade, and many vernacular translations.
CARDONNEL, Adam de.
Picturesque Antiquities of Scotland [I–II] …
First edition, the very rare issue with the plates in sepia, printed directly onto thick wove paper.