CHERTABLON, M. de.
La maniere de se bien preparer a la mort. Par des considerations sur la Cene, la Passion, et la Mort de Jesus-Christ, avec de très-belles estampes emblematiques.
Antwerp, George Gallet, 1700.
Large 4to, pp. 63, [1], title printed in red and black, with 42 engraved plates (comprising three plates lettered A–C and 39 numbered plates) after Romeyn de Hooghe; an excellent copy, large and fresh, in nineteenth-century black morocco-backed boards, top edges gilt, by Bruyère; spine and extremities a little rubbed; from the library of Samuel Ashton Thompson Yates (1842–1903), with bookplate.
£1800

Approximately:
US $2275
€2002
Added to your basket:
La maniere de se bien preparer a la mort. Par des considerations sur la Cene, la Passion, et la Mort de Jesus-Christ, avec de très-belles estampes emblematiques.
First edition with the present text. Romeyn de Hooghe's fine series of engravings were first printed for David de la Vigne's Miroir de la bonne mort (Amsterdam or Antwerp, 1673). The artist was still working in 1700, but because the plates in this work are unsigned and several are reversed from the earlier versions or have other minor differences, they were most likely copied by another artist.

Each of the 39 numbered plates depicts a man contemplating a religious image. The text provides a commentary and an appropriate verse of scripture for each plate; meditation on the Last Supper, the Passion and the death of Christ is advocated as the means by which to achieve a good death.

It is bound with the text (ff. [10]) of the Dutch translation of David de La Vigne's Miroir, (Spiegel om wel te sterven, Amsterdam, J. Stigter), which was published to accompany several undated (but all probably 1694) editions of de Hooghe's plates. The text comprises a short Biblical quotation and an explanatory note for each plate. Other copies are known with both Chertablon's French text and the Spiegel om wel te sterven, as here.

Cohen-De Ricci 232; Graesse II 130; Landwehr, Romeyn de Hooghe as book illustrator 84.
You may also be interested in...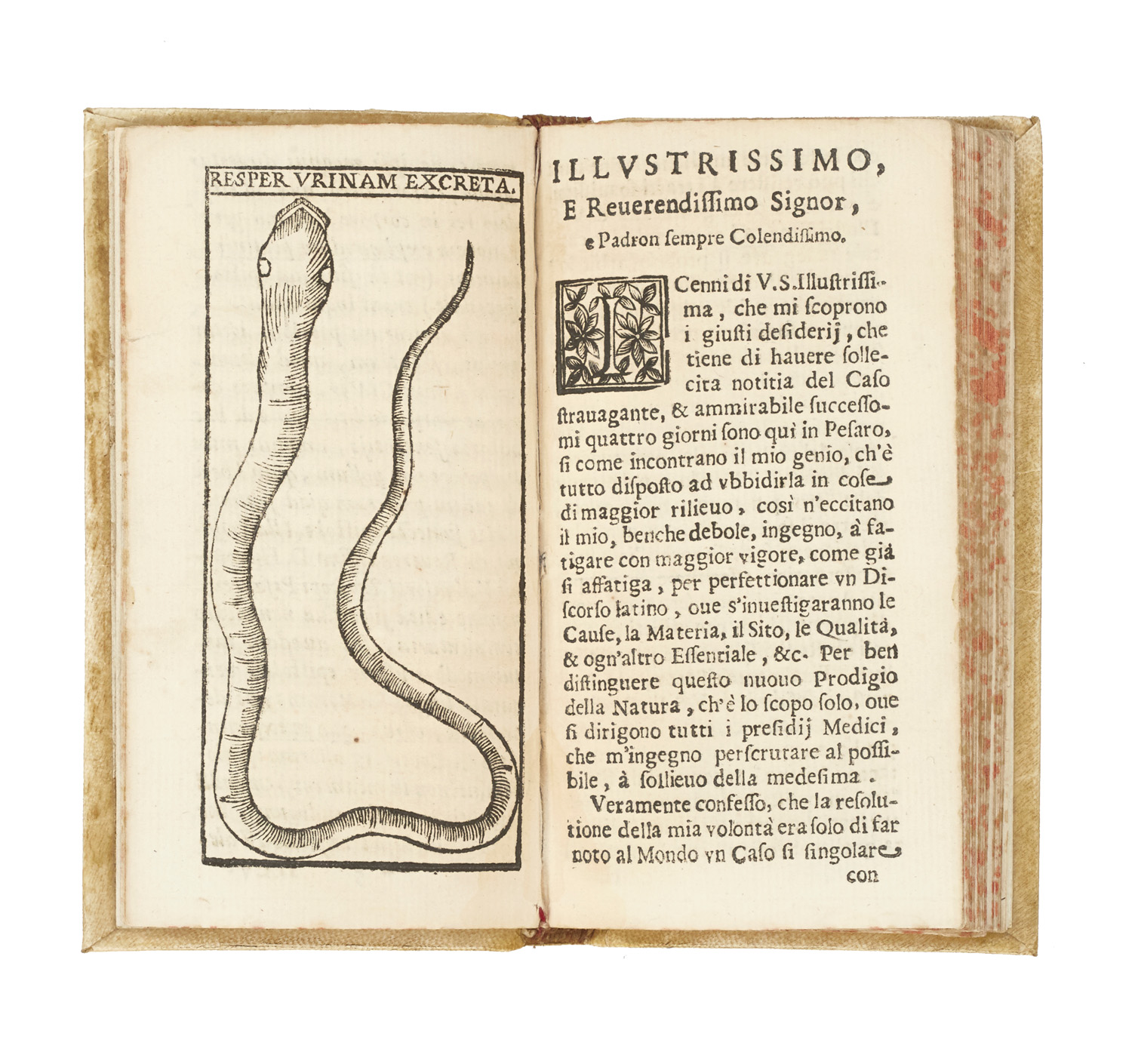 A WONDER WORM MARINIS, Dominico de.
Dissertatio philosophico-medica de re monstrosa à Capuccino Pisauri per urinam excreta. Plura de sanguinis grumis, polypis, serpentibus, ac praecipuè de vermibus in corpore humano procreatis non iniucunda complectens ...
First edition of this scarce dissertation on worms focussing on the extraordinary case of a capuchin preacher from Pesaro who in 1677 passed an enormous worm in his urine, which upon subsequent examination was declared to be a serpent. The Dissertatio begins with a prefatory letter in Italian by Alessandro Cocci discussing the case of the capuchin friar Stefano da Cammerino who for 13 months had suffered from kidney pains and bloody and lumpy urine. Following treatment by Cocci and Cesare Cesareo, Cammerino passed, with excruciating pain, a long thin worm through his urinary meatus, initially trying to pull it out, only to break it in two, and then passing the remainder, to his subsequent great relief. The worm caused much local interest and Cocci describes how it was initially put on display to satisfy the curious, before being examined under a microscope. The conclusion of this examination was that the 'prodigio della natura' passed by Cammerino was in fact a serpent.
CHRISTENING (The).
A satirical Poem. In which are contain'd the humorous Transactions, Speeches, and Behaviour of the Guests who were present at the Ceremony and Entertainment …
First edition of an amusing verse satire on a famous court scandal. In 1732 Anne Vane, mistress of Frederick, Prince of Wales, gave birth to a son. The child, Cornwall Fitz-Frederick, was acknowledged as his, perhaps only as an assertion of his independence from his parents, and paternity was contested by Lords Hervey and Harrington, both of whom had apparently shared Vane's bed. Ridicule from the press followed, with comic prints and several verse and prose satires – including several depicted on the bookshelf in the frontispiece.