CHIESA, Sebastiano.
Capitolo fratesco.
[Italy, probably Emilia, seventeenth century.]
Manuscript on paper, 4to, ff. [276]; written in brown ink in a fine Italian seventeenth-century cursive hand, running titles, very ample margins often filled with extensive annotations in a contemporary hand; in very good, fresh condition, bound in contemporary stiff vellum; soiled, paper label on spine partly perished.
£1750

Approximately:
US $2439
€2056
Added to your basket:
Capitolo fratesco.
Unpublished seventeenth-century Italian poem in sixteen cantos in ottava rima. Sebastiano Chiesa's Capitolo fratesco, or dei frati according to other sources, was apparently entrusted by the dying author to a friend, and enjoyed wide circulation and acclaim in manuscript form in the seventeenth and eighteenth centuries.

The Capitolo is an irresistible Boccaccio-esque narrative which portrays the monastic life, rendering the everyday vicissitudes of friars with lively satirical anecdotes and producing a less-than-flattering portrayal of the author's own habit. Another, shorter version of fourteen cantos is also known. Our copy contains the longer, complete version in sixteen cantos, complemented by additional octaves and annotations that were meant as keys to the understanding of names and locations veiled by the author under pseudonyms. The author is known to have produced a manuscript with such additions himself (Pezzana, Vita di Fr. Ireneo Affò, pp. 356 ff.). Little is known about Sebastiano Chiesa (1602–1666). He describes himself as from Reggio, and authored verse in the vernacular under the name of 'Accademico Occulto' or 'Academico Lepido'. It was the Capitolo, though, which drew the most praise for over a century: for the novelty of the idea, for the fun and variety of the stories, and for the ease of the style.

Melzi III, p. 150; Piantanida III, 2907 ff.; Quadrio, Storia della poesia II, p. 328.
You may also be interested in...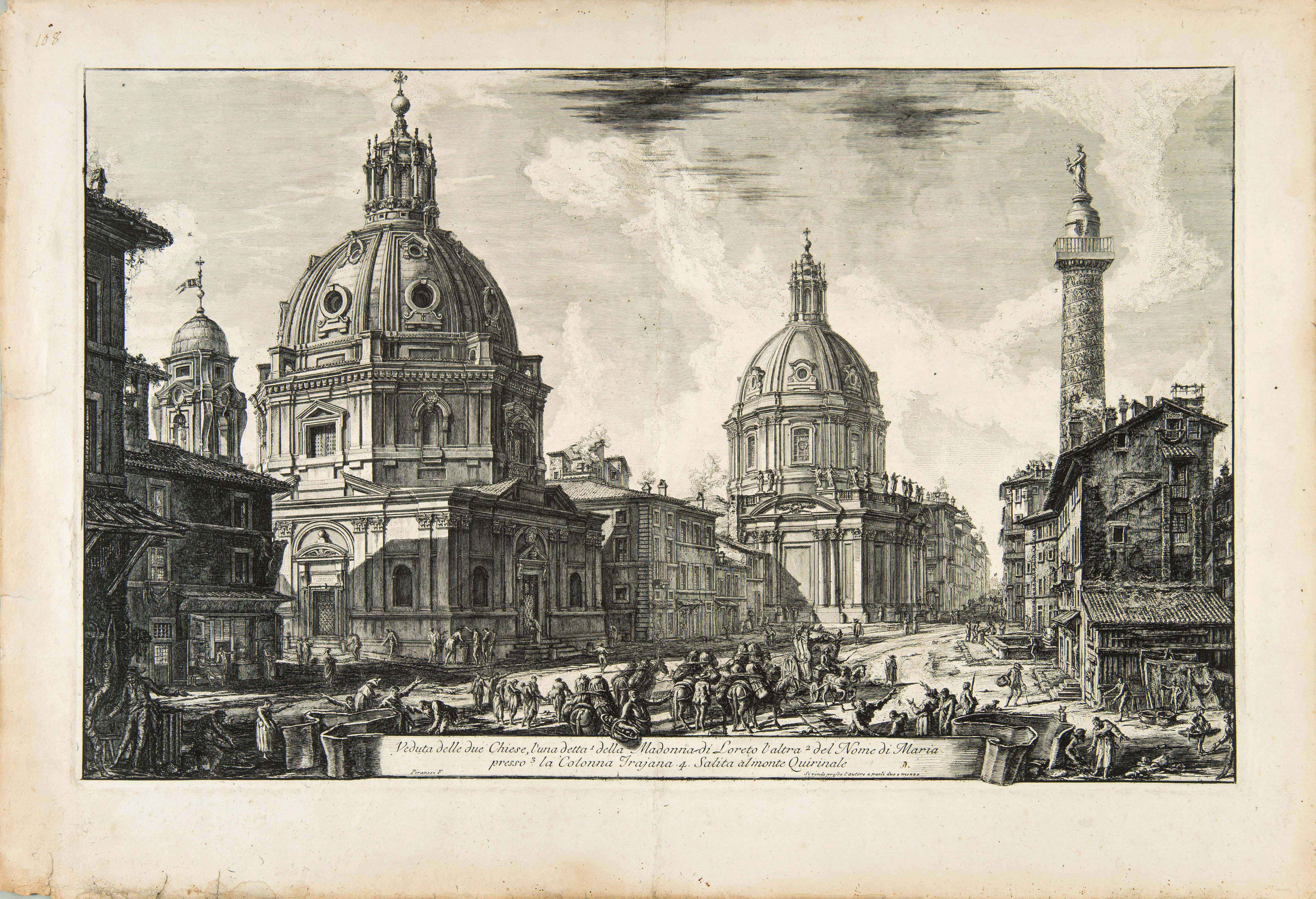 PIRANESI, Giovanni Battista.
Veduta delle due Chiese, l'una detta della Madonna di Loreto l'altra del Nome di Maria presso la Colonna Trajana. Salita al monte Quirinale.
A marvellous view of Rome by Piranesi, from an original edition printed in Rome, bearing the price ('a paoli due e mezzo'), with wide margins and the 'double encircled fleur-de-lys' watermark.
ADMIRABLE ANTIQUITIES BARTOLI, Pietro Santi.
Admiranda Romanarum antiquitatum ac veteris sculpturae vestigia anaglyphico opere elaborata ex marmoreis exemplaribus quae Romae adhuc extant in capitolio aedibus hortisque virorum principum ad antiquam elegantiam a Petro Sancti Bartolo delineata incisa ... notis Io. Petri Bellorii illustrata ...
Revised edition (first c. 1685, with 81 plates) of this stunning record of ancient Roman sculpture by the engraver and painter Pietro Santi Bartoli (1615–1700), pupil of Poussin, antiquary to Christina, Queen of Sweden, and 'indefatigable engraver of Roman monuments' (Grove Art Online), with text supplied by the biographer and critic Giovanni Pietro Bellori (1613–1696). This edition differs considerably from the first, with thirty-three new plates replacing thirty-one from the original issue. The work was extremely popular, selling in large numbers well into the eighteenth century.