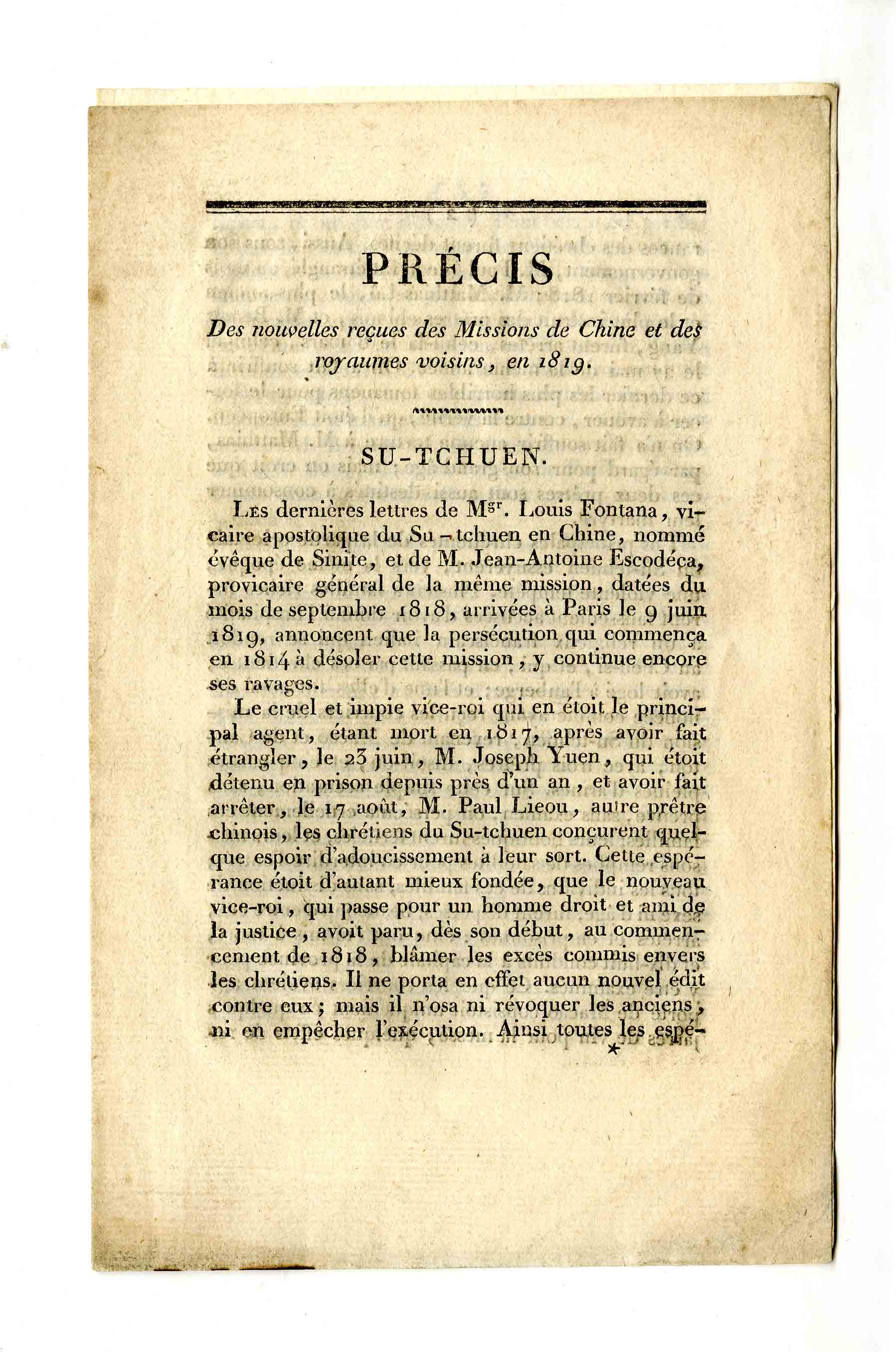 ON FRENCH MISSIONS IN CHINA - UNRECORDED
[CHINA.]
Précis des nouvelles reçues des missions de Chine et des royaumes voisins, en 1819.
[Paris, Adrien Le Clere, 1819?].
8vo, pp. 8; dropped-head title; a very good crisp copy, unbound.
£180

Approximately:
US $245
€202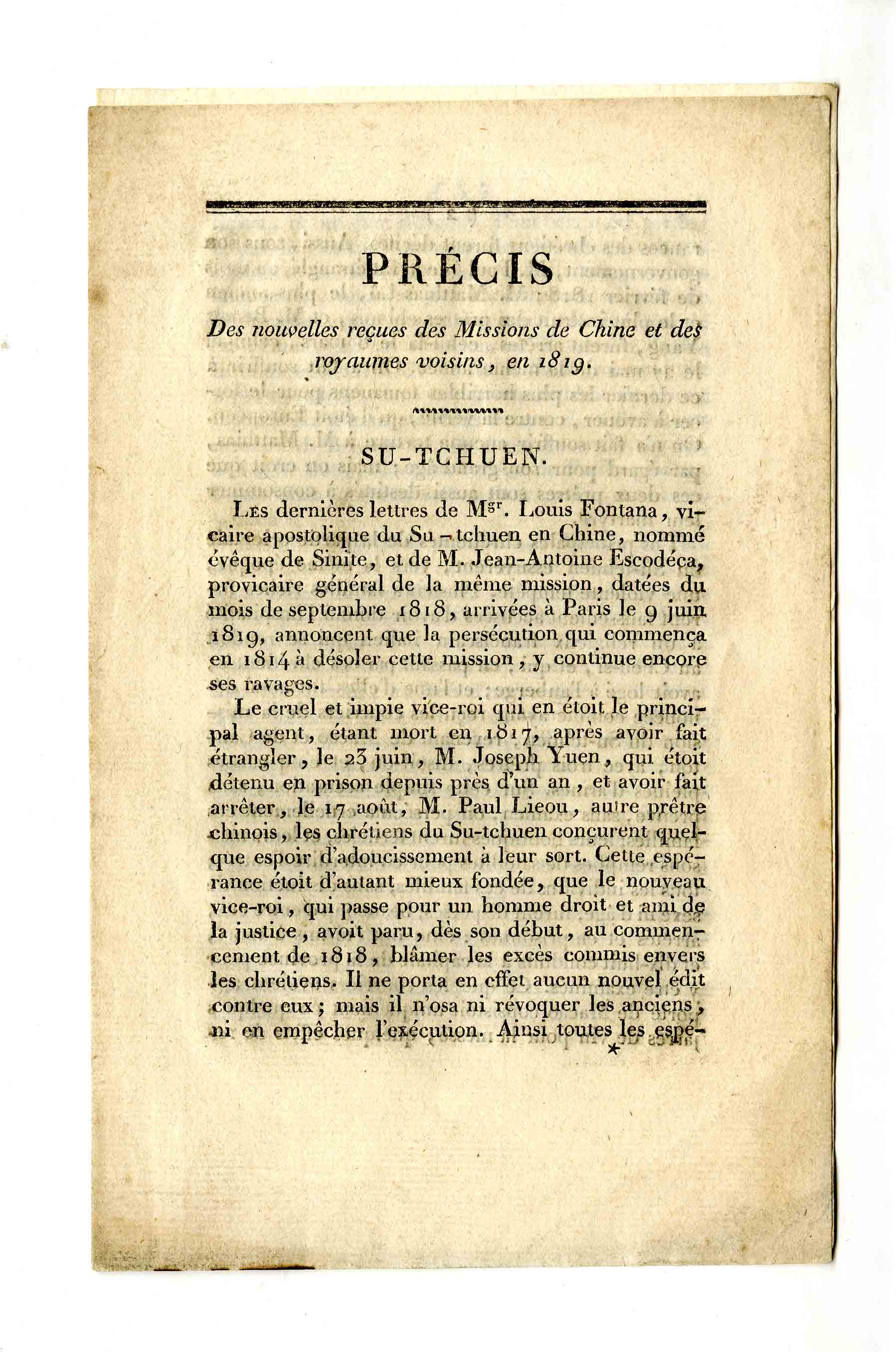 Added to your basket:
Précis des nouvelles reçues des missions de Chine et des royaumes voisins, en 1819.
An extremely rare summary of the state of French Christian missions in Su-Tchuen (China), Tong-King (Vietnam), Cochinchine (Vietnam), Siam (Thailand), and Pondichery (India) in 1819.

Starting with Su-Tchuen, the writer records that persecution has continued under the new viceroy, Paul Lieou being strangled, Benoît Yang tortured, wealthy Christian families persecuted on false charges (including arms smuggling), and breviaries near impossible to come by. In spite of this, neophytes continue to profess their Christian faith in public. While no persecution is reported in Tong-King and Cochinchine, there is fear of the new regime, the threat of civil war, plague and famine, and brigands causing havoc. In such circumstances the writer expresses his concern for the paucity, old age, ill health, and poverty of the French missionaries. Remarking that an epidemic had prompted a number of the inhabitants of Pondicherry to be baptised, the writer concludes with a plea for support for France's far eastern missions: for more missionaries, for alms, and for prayers.

We have been unable to trace any copies on COPAC or Worldcat, which only record later Précis of the 1820s.
You may also be interested in...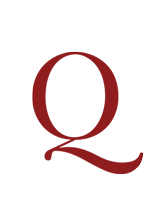 WILKS, Mark.
Athaliah; or the tocsin sounded by modern alarmists: two collection sermons, towards defraying the expense of the defendants in the late trials for high treason: preached on the nineteenth of April, 1795, in St Paul's Church, Norwich.
Only edition of these two sermons preached by the Norwich Methodist-turned-Baptist Mark Wilks (1748-1819) to raise money for the three radical publishers and writers newly acquitted of high treason. The climate as it now is, Wilks says, is one where even to use a French phrase is to invite suspicion, 'but the word that has inspired the most dread in the British senate, and the adoption of which appears most criminal, is that of Citizen – Citizen!! How terrific! how inauspicious!'. But the men accused of treason, rather than being deserving of punishment, deserve the 'praise, thanks, and admiration of a whole nation'.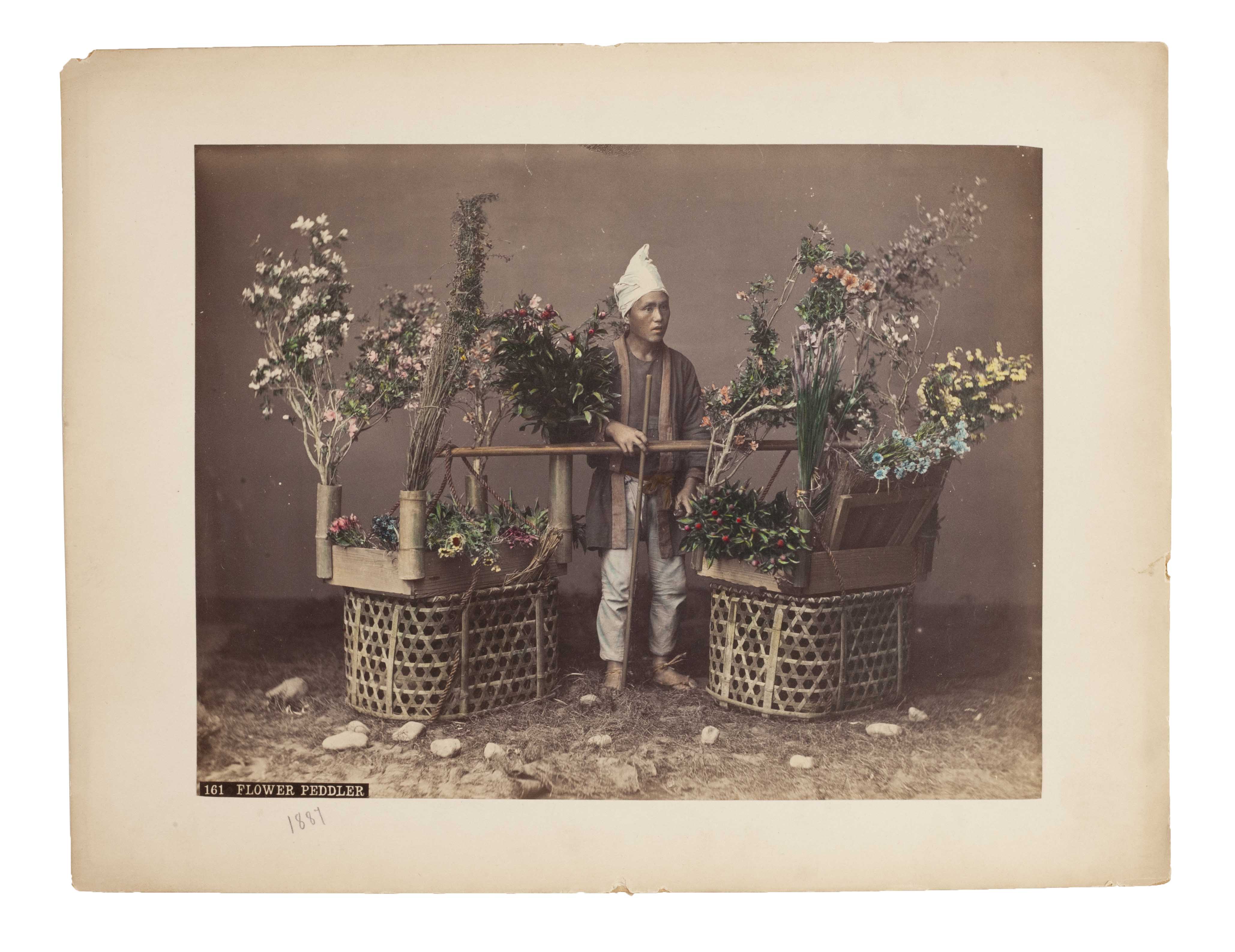 [FARSARI, Adolfo, Studio of.]
Japanese flower seller.
A striking image of a Japanese flower vendor, with delicate contemporary hand colouring, most notably to the flowers. After time spent in America, where he fought in the Civil War, Adolfo Farsari (1841 - 1898) moved to Japan in 1873, establishing himself in Yokohama. In 1885 he opened his own photographic studio, subsequently touring Japan to create a portfolio of over 1000 images. The quality of his work and innovative approach to hand colouring brought him commercial success. His firm was the last important Western photography studio in Japan.