CHOYSELAT, Prudent le.
Discours oeconomique, non moins utile que récréatif, monstrant comme de cinq cens livres pour une foys employées, l'on peult tirer par an quatre mil cinq cens livres de proffict honneste, qui est le moyen de faire profiter son argent.
Rouen, Martin le Menestrier 1612 [but ca. 1745].
16mo, pp. [ii], 45, [3]; a very good, crisp copy in contemporary calf-backed boards, spine stamped in gilt, gilt morocco lettering-piece; a few surface scuffs.
£550

Approximately:
US $733
€649
Added to your basket:
Discours oeconomique, non moins utile que récréatif, monstrant comme de cinq cens livres pour une foys employées, l'on peult tirer par an quatre mil cinq cens livres de proffict honneste, qui est le moyen de faire profiter son argent.
Early edition of an interesting 'way to wealth', in fact a guide to the management of poultry, first published 1569. An English translation was published in 1580 under the title A Discourse of housebandrie, described by Mary Aslin (Rothansted) as 'the first book on poultry'. Brunet, Quérard and Musset suggest the present edition is an 18th-century piracy; 'L'édition dont je parle est, selon M. Debure, une contrefaçon, ce qui n'empêche pas qu'elle ne soit fort belle...' (Musset).

Brunet I, col. 1852; Kress 319; Musset 468; Quérard VII, pp. 362-3; Goldsmiths' 8141 lists this edition as a facsimile; see Aslin, Catalogue of the printed books on agriculture published between 1471 and 1840 [in the library of Rothamsted Experimental Station], p. 27.
You may also be interested in...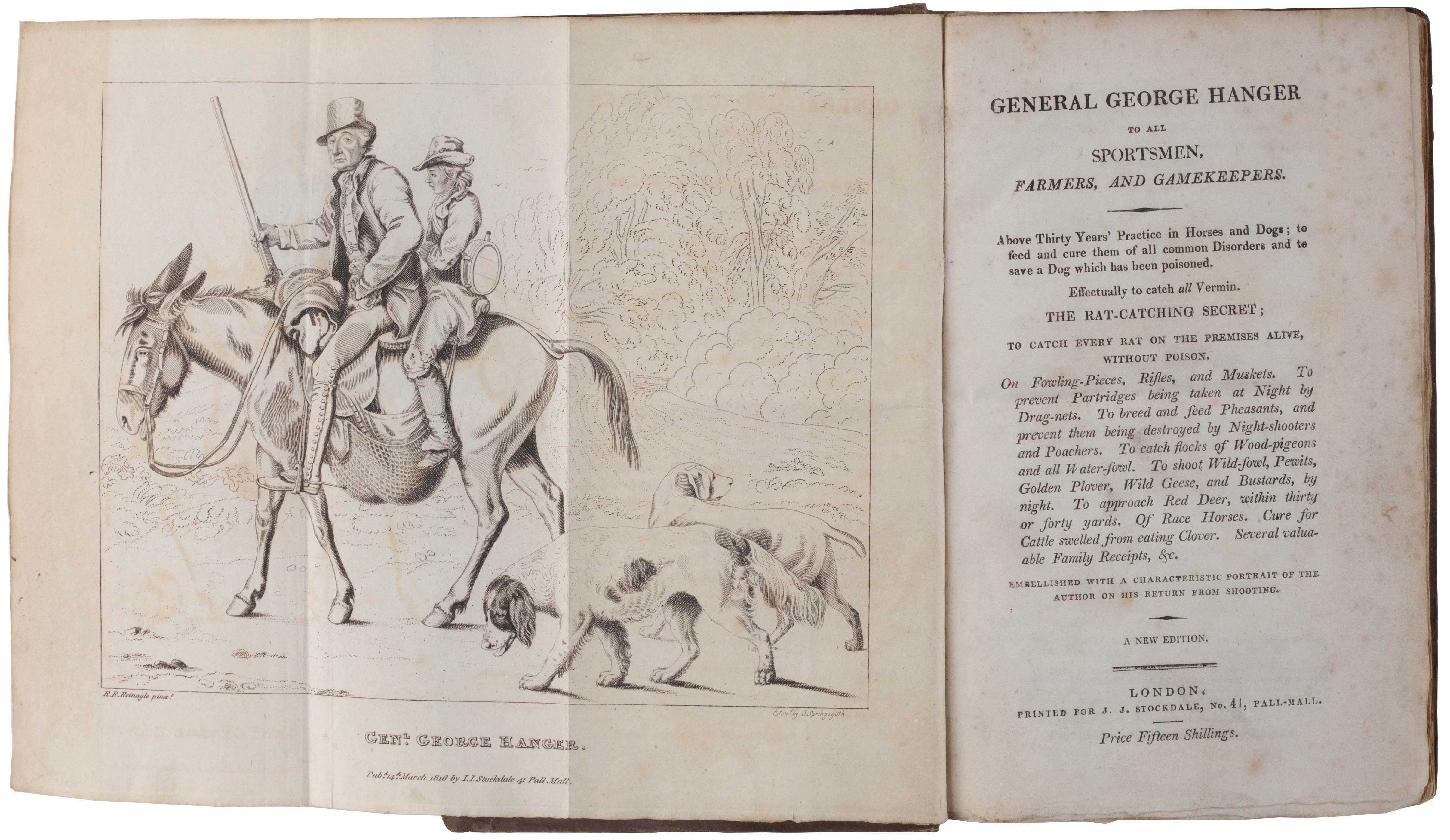 HANGER, George.
General George Hanger to all Sportsmen, Farmers, and Gamekeepers: Above thirty Years' Practice in Horses and Dogs, to feed and cure them of all common Disorders and to save a Dog which has been poisoned, effectually to catch all Vermin; the Rat-Catching Secret, to catch every Rat on the Premises alive, without Poison; on Fowling-Pieces, Rifles, and Muskets; to prevent Partridges being taken at Night by Drag-Nets; to breed and feed Pheasants, and prevent them being destroyed by Night-Shooters and Poachers; to catch Flocks of Wood-Pigeons and all Water-Fowl; to shoot Wild-Fowl, Pewits, Golden Plover, wild Geese, and Bustards, by Night; to approach Red Deer, within thirty or forty Yards; of Race Horses; Cure for Cattle swelled from Eating Clover; several valuable Family Receipts, &c.; embellished with a characteristic Portrait of the Author on his Return from Shooting; a new Edition.
Second edition, the first with the etched frontispiece, of Hanger's best known work. The almost reputable product of a controversial career, the text was written by George Hanger (1751–1824), fourth Baron Coleraine, a 'macaroni' and 'one of the dissipated companions of the prince of Wales' (ODNB), whose life consisted of purchased positions in the military and extravagant spending he could ill afford. He served in the British, Prussian, and Hessian armies, transferring allegiance when promotion was more easily obtained elsewhere, and, despite his upbringing among the Gloucestershire gentry and his education at Eton College, he 'deliberately set out to conform to the popular caricature of an Irish gentleman' (ODNB) while also affecting the manners of the French court.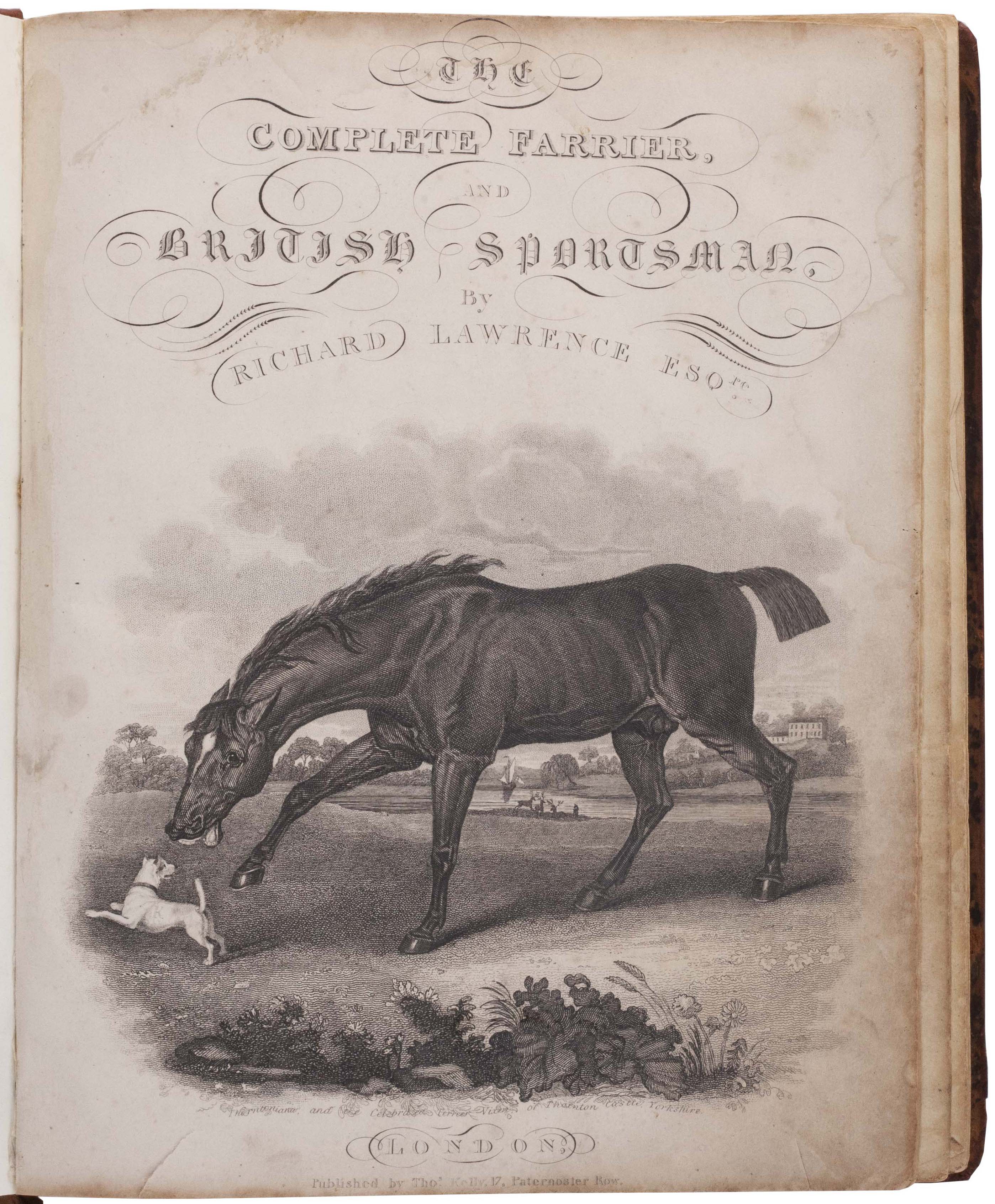 LAWRENCE, Richard.
The complete Farrier and British Sportsman, containing a systematic Enquiry into the Structure and animal Economy of the Horse, the Causes, Symptoms, and most-approved Methods of Prevention and Cure of all the Diseases to which he is liable, a Detection and Exposure of the erroneous and dangerous Methods of Treatment too generally adopted, with some select and approved original Recipes for various Diseases, the whole rendered easy and familiar, with a View to general Utility, and founded on the latest Discoveries and experimental Facts, to which the Progress of Improvement for the last twenty Years in the veterinary Art has led, including a faithful Delineation of the various Dogs used in the Sports of the Field, with canine Pathology, interspersed with sporting Anecdotes, and an Account of the most celebrated Horses, Dogs, &c. &c. &c., equally important and interesting to the British Sportsman, as to Inn-Keepers, Coach-Masters, licensed Horse-Dealers, Farmers, Owners of Stage-Waggons, &c., embellished with a Series of Engravings executed by eminent Artists, from original Drawings in the Possession of Noblemen and Gentlemen of the Turf … with an Appendix, containing a minute anatomical Description of the bony Structure, or Skeleton of the Horse, the moving Powers or Muscles of that noble Animal, and the different Viscera or internal Parts scientifically explained and illustrated, together with an Abstract of the Game Act of 1831, &c. &c.
Likely first edition, dedicated 'to the noblemen and gentlemen of the Quorn Hunt'. Much unlike his earlier scholarly work on veterinary science, Lawrence's Complete Farrier and British Sportsman is written for gentlemen and noblemen with an interest not in farriery but in fox-hunting, discussing both horses and hounds. The text is illustrated by plates, the majority decorative rather than diagrammatic, and accompanied by amusing anecdotes, including those relating to Philip Astley. Having begun his career a well educated advocate of the academic approach to the veterinary art, it is not known what drove Lawrence to write a work of popular farriery for huntsmen.