'THE INTERPRETER DIFFICULTY IS ONE OF THE MOST FRUITFUL SOURCES OF TROUBLE IN A CARAVAN'
CHURCH, Percy William Palmer.
Chinese Turkestan with Caravan and Rifle.
London: Rivingtons, 1901.
8vo (225 x 140mm), pp. xi, [1 (illustrations)], 207, [1 (blank)]; photogravure frontispiece by the Swan Electric Engraving Co., retaining tissue guard, 15 half-tone photographic plates after H.H.P. Deasy, I. Morse, et al., and one folding lithographic map by Stanford's with route printed in in red, bound to throw clear; occasional light spotting and foxing; original grey cloth, upper board blocked with design in brown, spine lettered and ruled in gilt; offsetting onto free endpapers, extremities very lightly rubbed and bumped, lower cover lightly marked, nonetheless a very good copy in the original cloth; provenance: Walter Harold Shoolbred-Wilkin (1876-1950, engraved armorial bookplate on upper pastedown) – small German inkstamp on front free endpaper.
£550

Approximately:
US $769
€627
First edition. 'Church and his shooting companion J.V. Phelps journeyed from Shrinagar to Leh, through Yarkand and into the Tekkes Valley with the goal of collecting Altai wapiti. While in the Tekkes, they bagged trophy wapiti and ibex. They crossed the Koksu River, bagging more wapiti and ibex, as well as Siberian roe deer. Passing through Kuldja, they hoped to pursue Ovis ammon, but their venture failed. The author also provides excellent descriptions of the terrain and of the indigenous peoples' (Czech).

Church (b. 1867) was educated at Eton College and Magdalen College Oxford, and subsequently elected a fellow of both the Royal Geographical Society and the Zoological Society. Chinese Turkestan records much information on the land and natural history of the areas Church visited, and also provides advice directed at fellow sportsmen and travellers. Church and his travelling companion J.V. Phelps were both familiar with Central Asia, could speak Hindostani fluently, and also a little Turki, which enabled them to communicate their instructions directly to their servants, without the 'assistance' of an interpreter. As Church notes, '[t]he interpreter difficulty is one of the most fruitful sources of trouble in a caravan. A sportsman fresh from England and unfamiliar with the East is, from the nature of things, at the mercy of his interpreter, who in ninety-nine cases out of a hundred will have but a limited English vocabulary and a vast conceit. He will frequently misunderstand what is said to him, but his own high opinion of his linguistic talents will prevent his acknowledging this, and he will put his own interpretation on what he hears rather than confess his ignorance. The result of course in camp is generally worrying and at times disastrous' (p. vi).

This copy was previously in the library of the soldier and author W.H. Wilkin (later Shoolbred-Wilkin), who was educated at Haileybury and Pembroke College, Cambridge. Wilkins pursued a military career, and served in the Second Boer War and World War I, before retiring in 1920 with the rank of Major. He was the author of The Life of Sir David Baird (London: 1912), Some British Soldiers in America (London: 1914), and other works.

Cordier, Sinica, 2863; Czech, Asian, p. 47; Yakushi C264.
You may also be interested in...
A LARGE-PAPER COPY IN A CONTEMPORARY MOROCCO BINDING RERESBY, Sir John, Bt.
The Travels and Memoirs of Sir John Reresby ... The Former (now First Published) Exhibiting a View of the Governments and Society in the Principal States and Courts of Europe, during the Time of Cromwell's Usurpation; the Latter Containing Anecdotes, and Secret History of the Courts of Charles II. and James II.
First illustrated edition of the memoirs and first publication of 'The Travels', large-paper copy. The politician, traveller and writer Reresby (1634-1689) was the son of the royalist Sir John Reresby, Bt (c. 1611-1646), who had been created a baronet by Charles I, and, like his father, the younger Reresby 'remained loyal to the Stuarts throughout his political career. He was to rise from relative obscurity to become a prominent local politician and a point of contact between local and national affairs' (ODNB).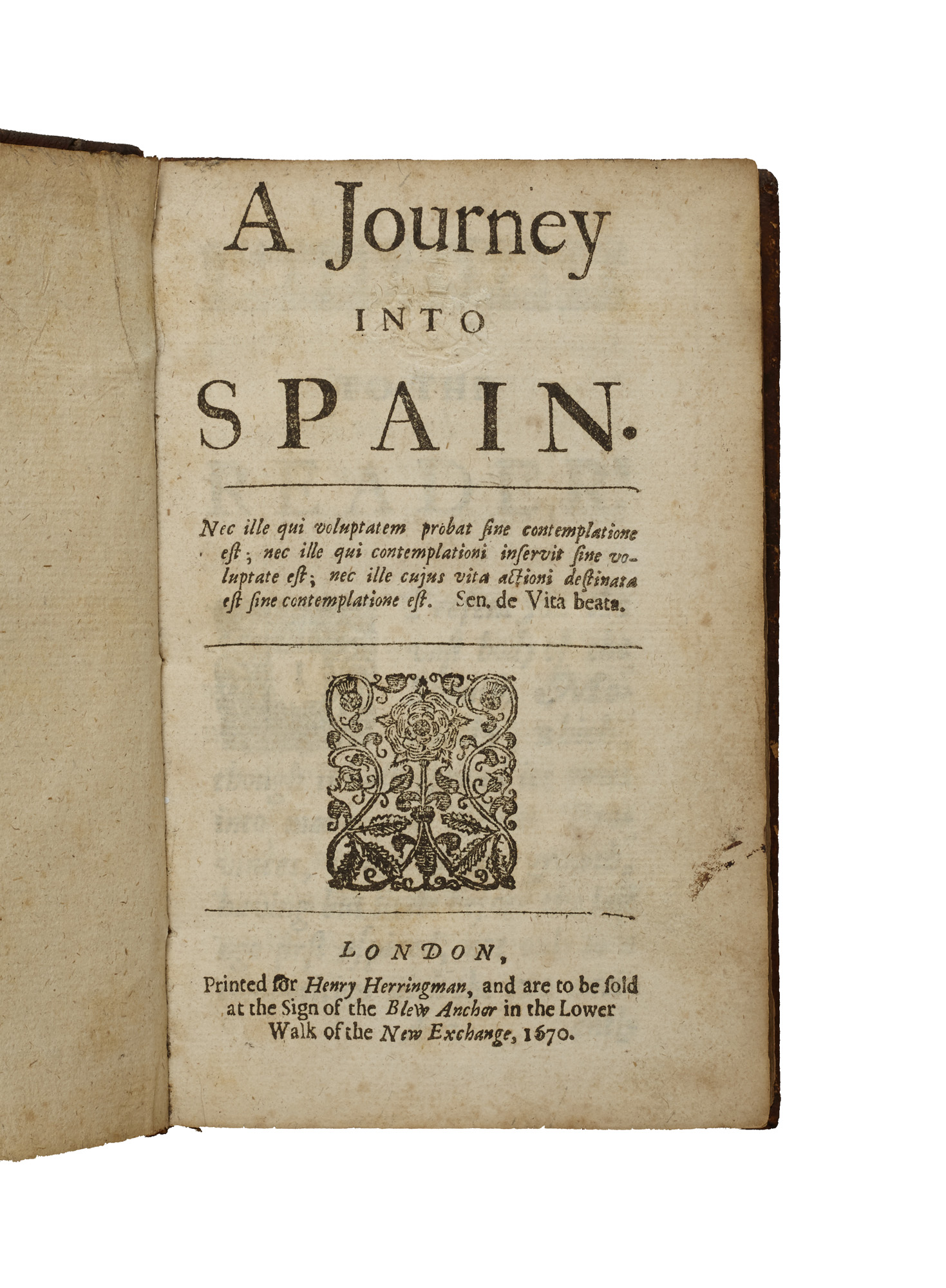 [BRUNEL, Antoine de.]
A journey into Spain.
First edition in English. A free and abridged translation of Voyage d'Espagne curieux, historique et politique, first published anonymously in 1665. Setting out from the Netherlands in 1651 in the company of François van Aerssen, Brunel toured France, Germany and Italy before travelling to Spain in March 1655. The party made its way to Madrid via San Sebastián, Vitoria and Burgos, returning to France at the end of June via Zaragoza, Tudela and Pamplona. Aranjuez and Alcalá de Henares are also described. Brunel compiled this account of his travels around 1657 using his own notes and those of Van Aerssen (who drowned on his return to the Netherlands and to whom the work is sometimes attributed).