[CIVIL LAW.]
COMMENTARY, in Latin; a complete paper leaf, double columns of 61 lines, the words commented on written in a large formal gothic script, the extensive commentary written in a small rapid gothic script, brown ink, ruled lightly with plummet, two spaces for decorative initials left blank, in excellent condition. 332 x 201 (261 x 165 mm)
£250

Approximately:
US $349
€293
Added to your basket:
COMMENTARY, in Latin; a complete paper leaf, double columns of 61 lines, the words commented on written in a large formal gothic script, the extensive commentary written in a small rapid gothic script, brown ink, ruled lightly with plummet, two spaces for decorative initials left blank, in excellent condition. 332 x 201 (261 x 165 mm)
Much of the commentary is concerned with legal transactions and gives instructions about how to produce a valid legal document, such as putting the name of the reigning emperor at the start of the text. The commentary also discusses the different professions and occupations such as head of state, judge, advocate, soldier/knight, pugilist, archer, slave/servant, wife, farmer, philosopher, and logician; and there is a discussion about the properties of a saphire. Among the sources cited are the Digests of Justinian, Jerome, Isidore, Ambrose, and Lactantius. From the collection of E. H. and E. M. Dring.
You may also be interested in...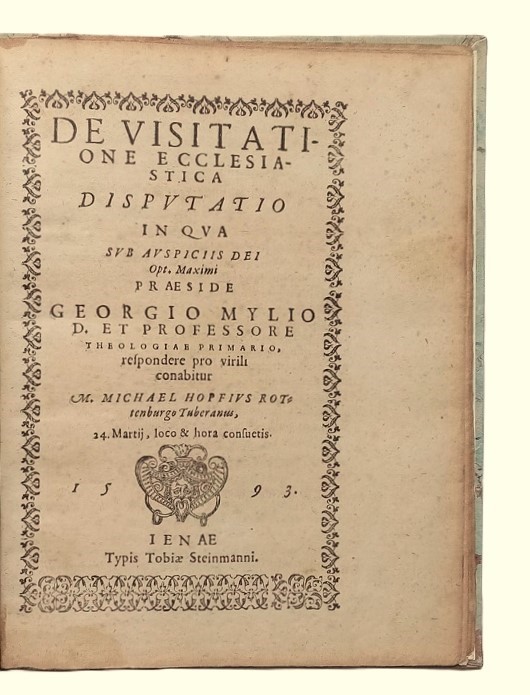 MYLIUS, Georg, and Michael HOPF.
De visitatione ecclesiastica.
First edition, rare, of an early work on the nature, scope, limits and jurisdiction of canonical visitations, the visitationes ecclesiasticae, a key element in the outline of jurisdiction, responsibility and control established by the Catholic Reformation in the last decades of the sixteenth century.
INSCRIBED BY BARTHOLOMEW BEALE [LAW.]
The Law of Commons and Commoners, or a Treatise shewing the Original and Nature of Common, and several Kinds thereof ...
First edition of an unattributed popular treatise on the law of common land. The text discusses, with reference to and explanations of previous cases, 'the daily Controversies that arise about the Rights and Titles of Commoning, the Torts and Damages done to Commoners, and the various Prescriptions and Claims which are made to it, and the nicety of Pleading them', being 'particular in the matter of Apportionement and Extinguishment of Common, the want of a due Knowledge whereof, has occasioned the loss of many Commons', so that 'a Man may know when he fails in his Prescription, or not, upon the Evidence; the Ignorance of such Directions having oftentimes proved fatal to such who might have good Cause of Action' (Preface).