[CIVIL LAW.]
COMMENTARY, in Latin; a complete paper leaf, double columns of 61 lines, the words commented on written in a large formal gothic script, the extensive commentary written in a small rapid gothic script, brown ink, ruled lightly with plummet, two spaces for decorative initials left blank, in excellent condition. 332 x 201 (261 x 165 mm)
£250

Approximately:
US $305
€289
Added to your basket:
COMMENTARY, in Latin; a complete paper leaf, double columns of 61 lines, the words commented on written in a large formal gothic script, the extensive commentary written in a small rapid gothic script, brown ink, ruled lightly with plummet, two spaces for decorative initials left blank, in excellent condition. 332 x 201 (261 x 165 mm)
Much of the commentary is concerned with legal transactions and gives instructions about how to produce a valid legal document, such as putting the name of the reigning emperor at the start of the text. The commentary also discusses the different professions and occupations such as head of state, judge, advocate, soldier/knight, pugilist, archer, slave/servant, wife, farmer, philosopher, and logician; and there is a discussion about the properties of a saphire. Among the sources cited are the Digests of Justinian, Jerome, Isidore, Ambrose, and Lactantius. From the collection of E. H. and E. M. Dring.
You may also be interested in...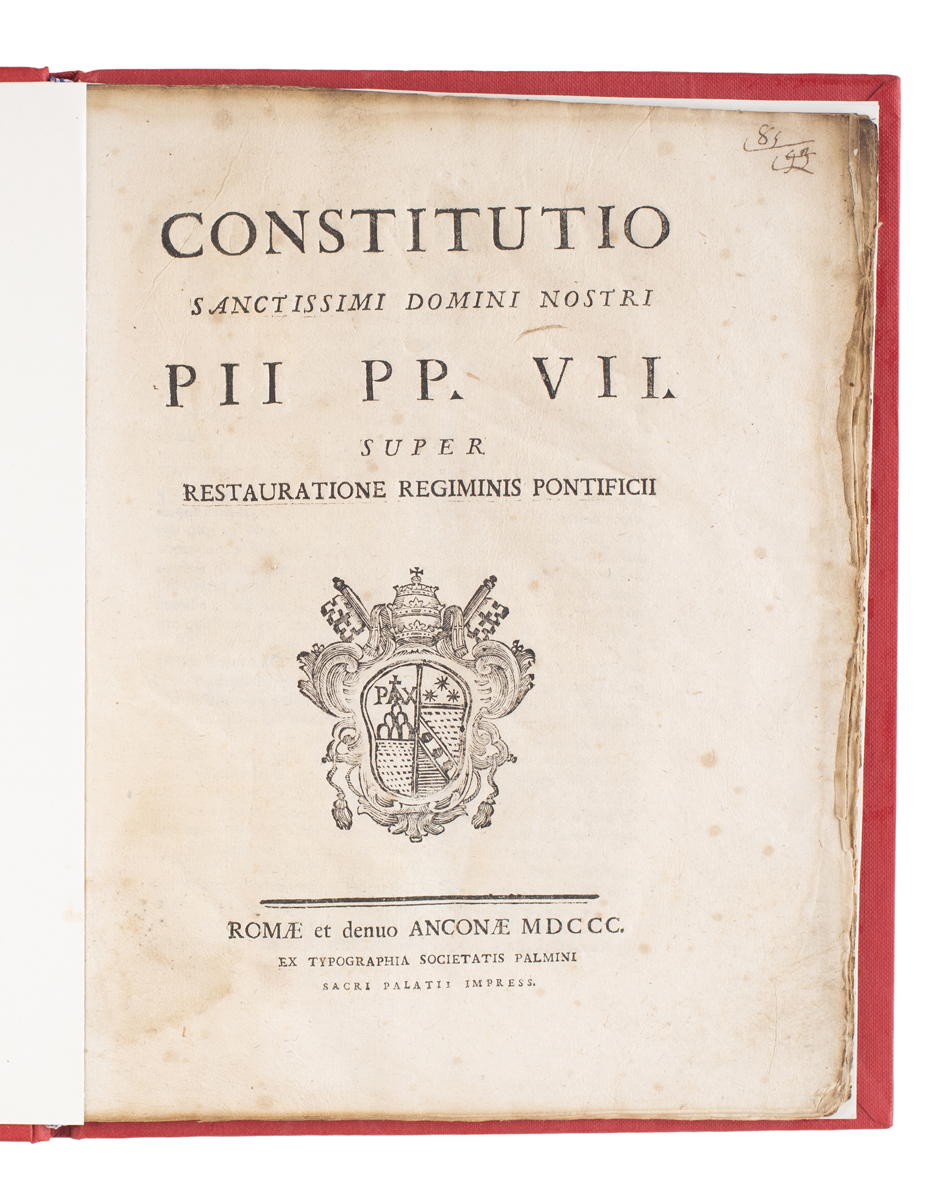 POST-NAPOLEONIC PAPAL CONSTITUTION [PAPAL STATES.]
Constitutio Sanctissimi Domini Nostri Pii PP. VII. super restauratione regiminis pontificii.
Very rare Ancona printing, in the same year as the original Rome issue, of this Papal decree issued the day after the restoration of the Papal States after two years of the Napoleonic Roman Republic. The fall of the Republic was triggered by the arrival in October 1799 of Neapolitan troops, but it was not until June 1800 that the Papal States were restored, and this constitution is a fully worked-out statement of the ways in which the economy and legal system of the States was to be organised. The volume sets out the organisation of public administration and the roles of officials, the structure and competences of courts and tribunals, both civil and criminal, and the procedures for the election of magistrates. Two circulars tipped in at the end, both dated November 8, 1800, relate to the operation of the Sacra Congregazione del Buon Governo and its role in restoring the form of governance active before the French occupation, an occupation which was to be renewed later in the decade.
[PRICE, Richard.]
Remarks on Dr. Price's observations on the nature of civil liberty, &c.
First edition, one of two issues published in the same year. A reply to and critical commentary on Richard Price's discussion of American independence, reaffirming the English claim to sovereignty over America. Possibly penned by a member of Hume's circle, the pamphlet was judged to be 'written with less invective, and more decency, candour and moderation, than have lately appeared in the productions on that side of the American dispute' (Sabin).