CLARKSON, Thomas.
Memoirs of the private and public Life of William Penn.
London, Richard Taylor & Co. for Longman, Hurst, Rees, Orme, & Brown, 1813.
2 vols in one, 8vo, pp. I: xii, 520, II: [4], 500; minor spotting, old repair to vol. II title, short marginal tears to I, 2A1, and II, B1-2; a very good set, together in recent calf-backed boards with non-pareil marbled sides, spine lettered directly in gilt; minimal rubbing at extremities; contemporary annotations to I, p. 324, early ink stamps partially erased.
£125

Approximately:
US $170
€145
Added to your basket:
Memoirs of the private and public Life of William Penn.
First edition, an early biography of the founder and namesake of Pennsylvania. Penned by the abolitionist Thomas Clarkson (1760-1846), the account records highly favourably the life of the Quaker leader, 'a Statesman, who acted upon Christian principle in direct opposition to the usual policy of the world' (p. viii).
You may also be interested in...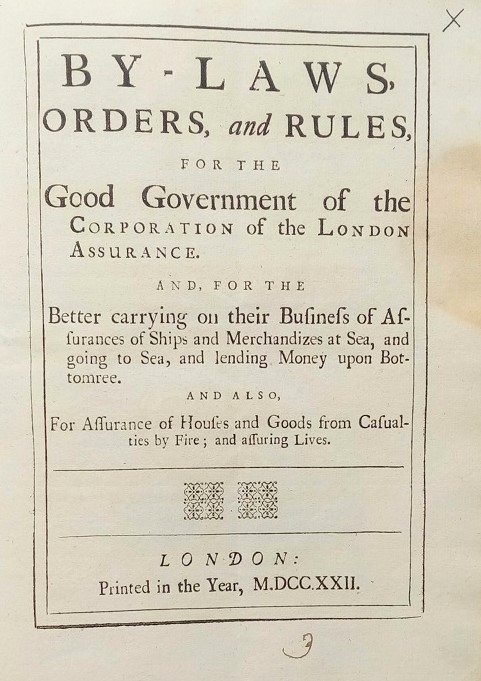 [LONDON ASSURANCE CORPORATION.]
By-laws, orders, and rules, for the good government of the corporation of the London assurance. And, for the better carrying on their business of assurances of ships and merchandizes at sea, and going to sea, and lending money upon bottomree. And also, for assurance of houses and goods from casualties by fire; and assuring lives.
First edition of the by-laws of the London Assurance Corporation, which, along with The Royal Exchange Assurance Corporation, was constituted and granted sole rights, excepting private individuals, to the granting of assurance and bottomry by 'The Bubble Act' of 1720. The right to self-govern, reflected in the pamphlet offered here, was also granted in 'The Bubble Act' of 1720 which specified that after three years of control by Crown-appointed governors and directors, the members of the corporation would be free to set their own by-laws and elect their own leadership. The by-laws cover use of the company seals, company cash, the price of share transfers, registering probates of wills, making receipts and payments, company elections, absentee directors, directors taking 'presents, fees, or rewards', officers or servants taking 'unwarrantable fees', procedure for questions asked in general courts, procedure for addressing questions, the penalty for breaking the by-laws, and the yearly salary of governors and directors.
MENDELSSOHN, Moses.
Jerusalem oder über religiöse Macht und Judenthum.
First posthumous edition, originally published in 1783 by Friedrich Maurer in Berlin, of this later work by Mendelssohn (1729–1786), in which he supports religious and political toleration, and advocates separation of church and state and civil equality for Jews. The work was reprinted as recently as 2001.