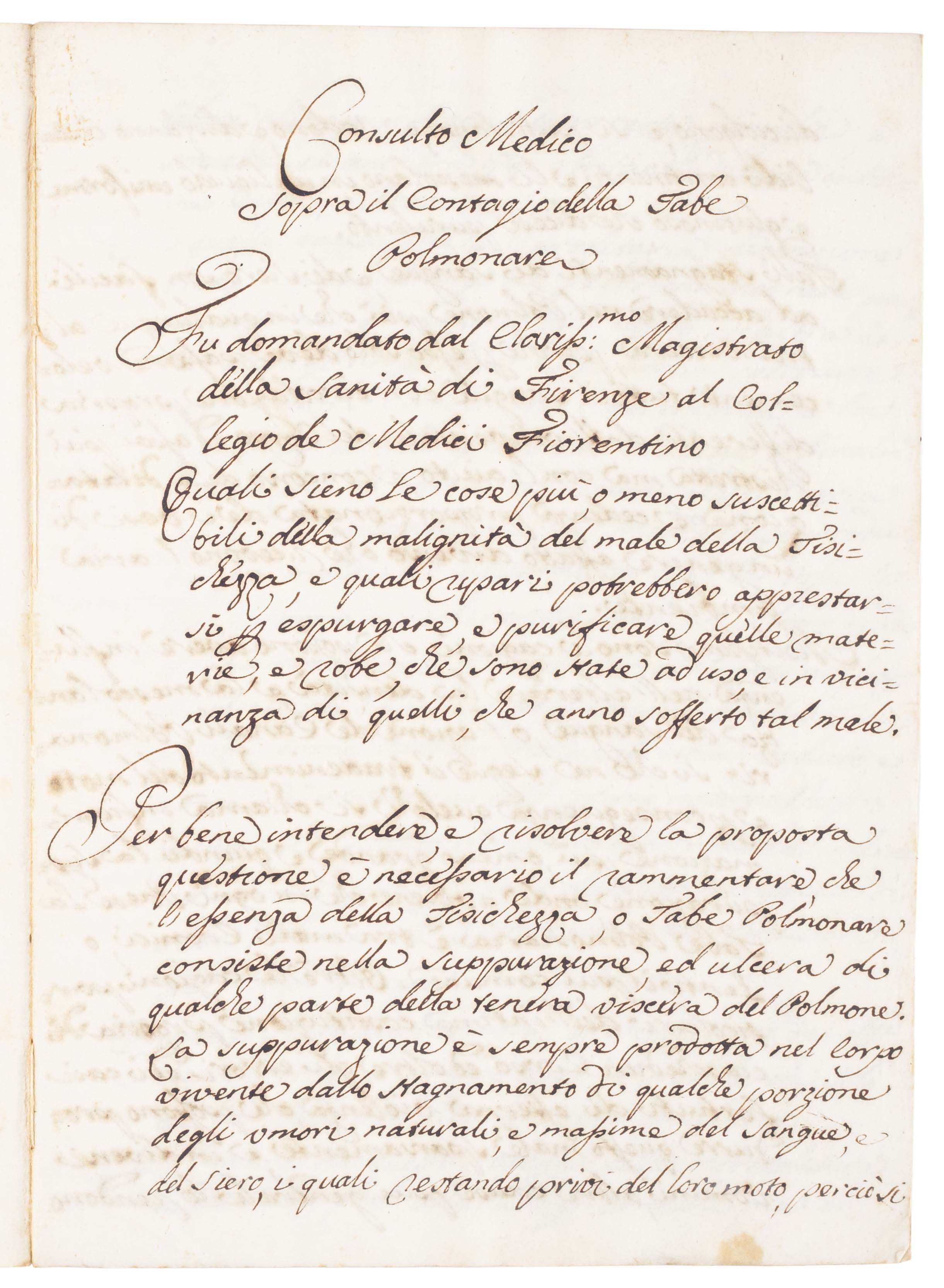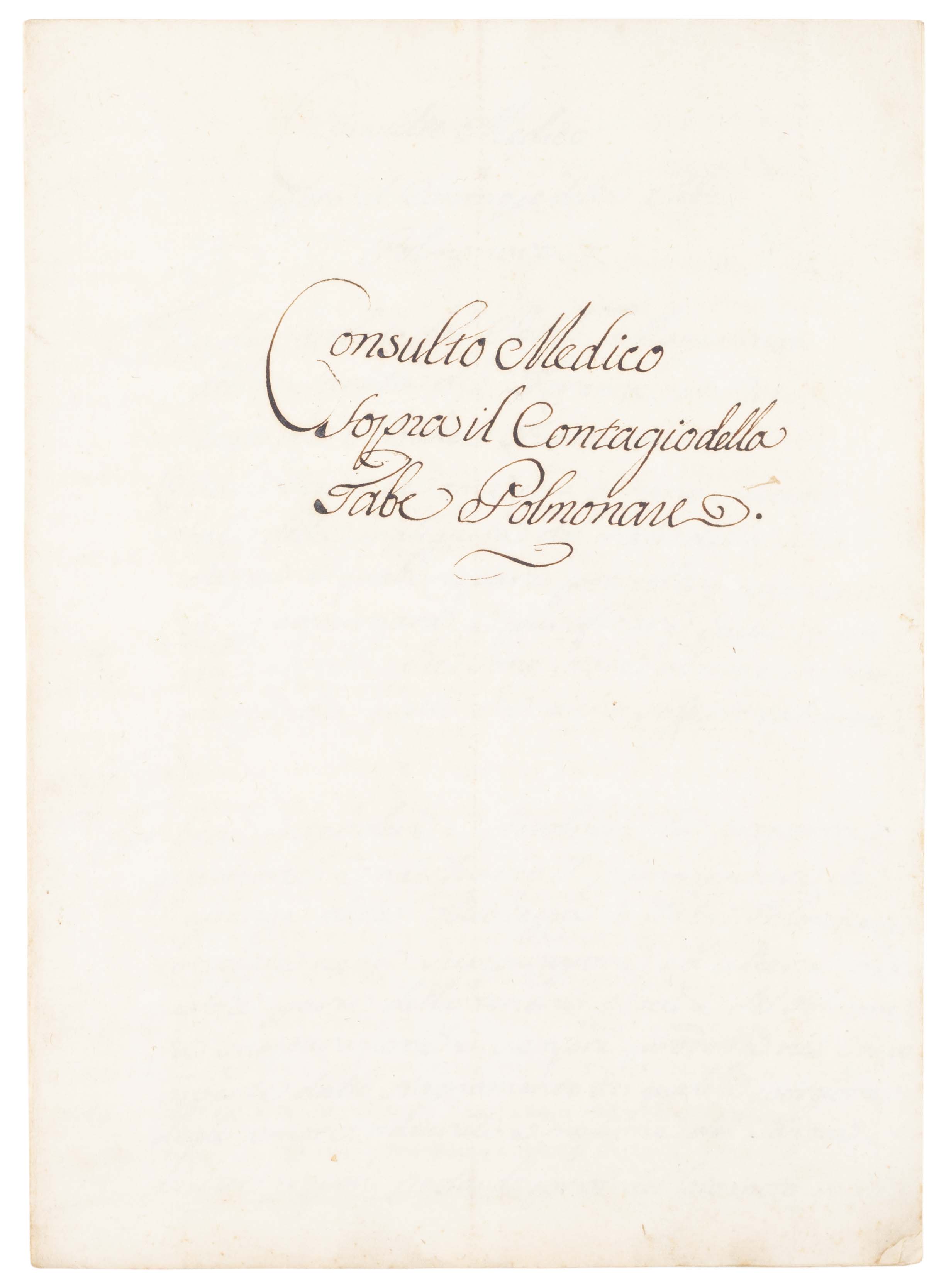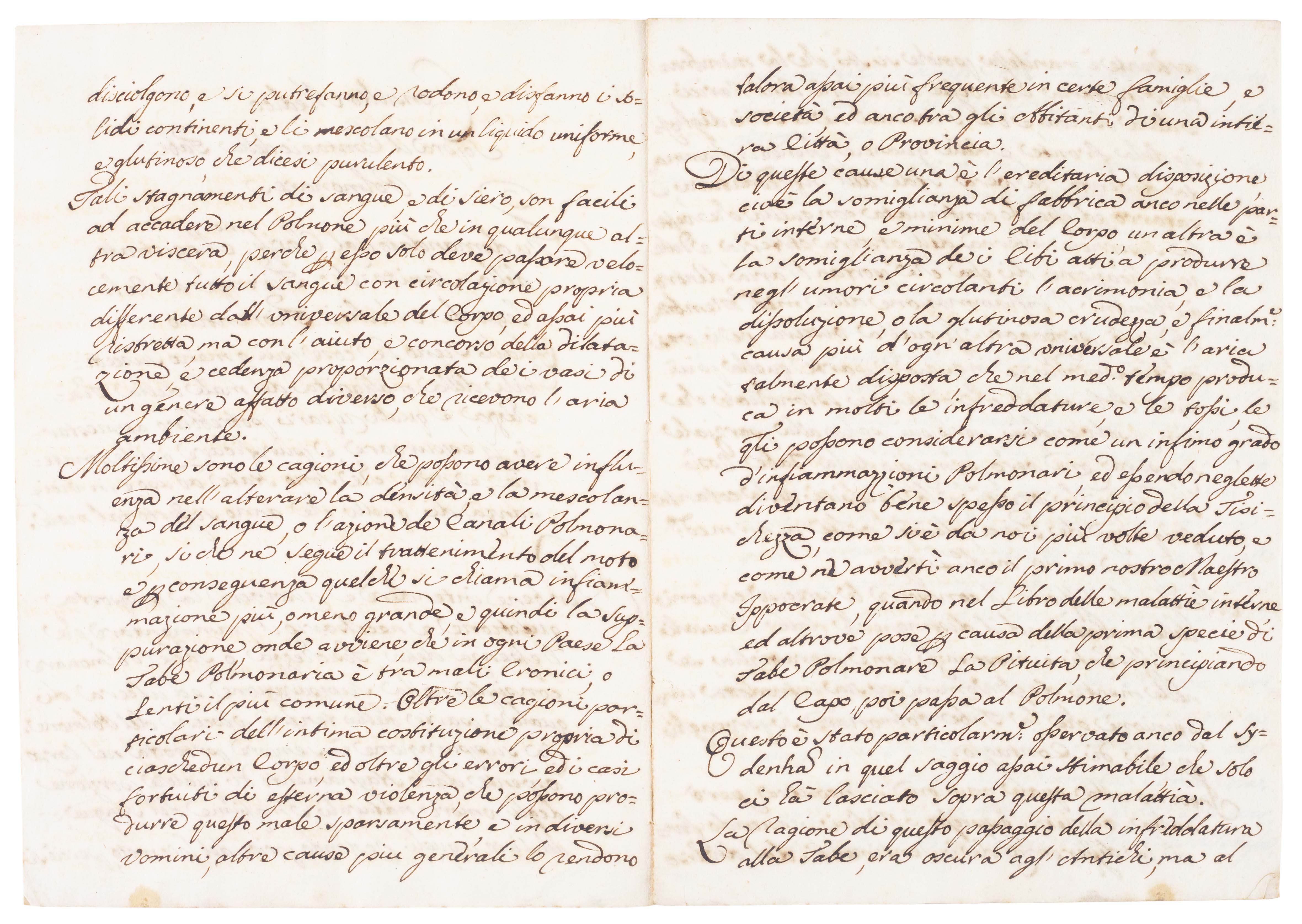 TIPS ON TACKLING TUBERCULOSIS
COCCHI, Antonio.
'Consulto medico sopra il contagio della tabe polmonare'.
'Florence, 1753'.
Folio (27.5 x 20 cm), pp. [2, title], [17, text], [1, blank]; manuscript on paper, in Italian, neatly written in black ink in a single hand, up to 26 lines per page, dated at end 'In Firenze dalla Residenza del Collegio de Medici a di 29 Xbre 1753'; a few light marks, small marginal paper flaw to last leaf; very good; unbound.
£450

Approximately:
US $555
€518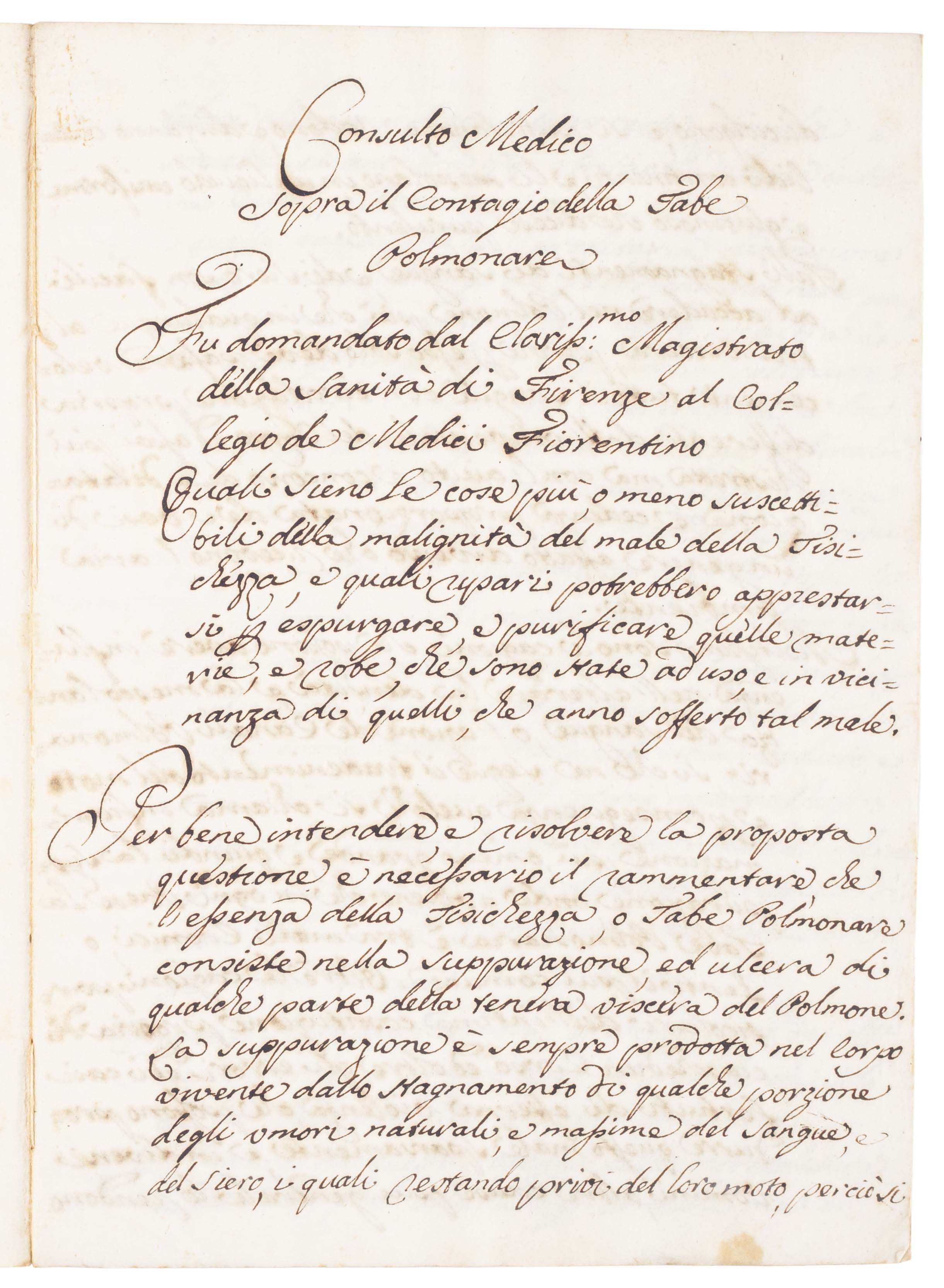 Added to your basket:
'Consulto medico sopra il contagio della tabe polmonare'.
An attractively written manuscript copy of this important medical report on pulmonary tuberculosis composed for the health authorities in the city of Florence by the eminent physician Antonio Cocchi (1695–1758) on behalf of the city's medical college.

After considering whether tuberculosis is contagious, noting the various opinions of ancient and modern writers, Cocchi here makes several recommendations regarding hygiene: that those suffering from consumption should be kept in clean, well-aired rooms, with whitewashed walls; that their beds should be washed and changed regularly, their clothes and bed linen thoroughly cleaned and dried, and their mattresses beaten and brushed; and that they should only spit into spittoons of glass or glazed earthenware, which should be frequently scrubbed and replaced. Cocchi also identifies several causes of tuberculosis, including chest strains, unhealthy food, and coughs and colds left untreated. Cocchi's recommendations prompted the Florentine authorities to pass several measures to tackle tuberculosis in November 1754.

The Consulto was printed in the Magazzino Toscano d'Instruzione e di Piacere at Livorno in 1754, and subsequently appeared in Dei Discorsi Toscani del Dottore Antonio Cocchi (Florence, 1762). It clearly circulated in manuscript too, as this copy, and another dated 1791 recorded on OPAC SBN as preserved at the Biblioteca Moreniana in Florence, demonstrate.
You may also be interested in...
SKETCHES IN THE SOUTH OF FRANCE [SOUTH OF FRANCE.]
'Routes de Privas à Nîmes 1892'.
A nice sketchbook, by an anonymous artist, recording a trip to the South of France in 1892, capturing the beauty of the landscape, as well as some of the historic monuments in the départements of Ardèche, Gard, and Vaucluse.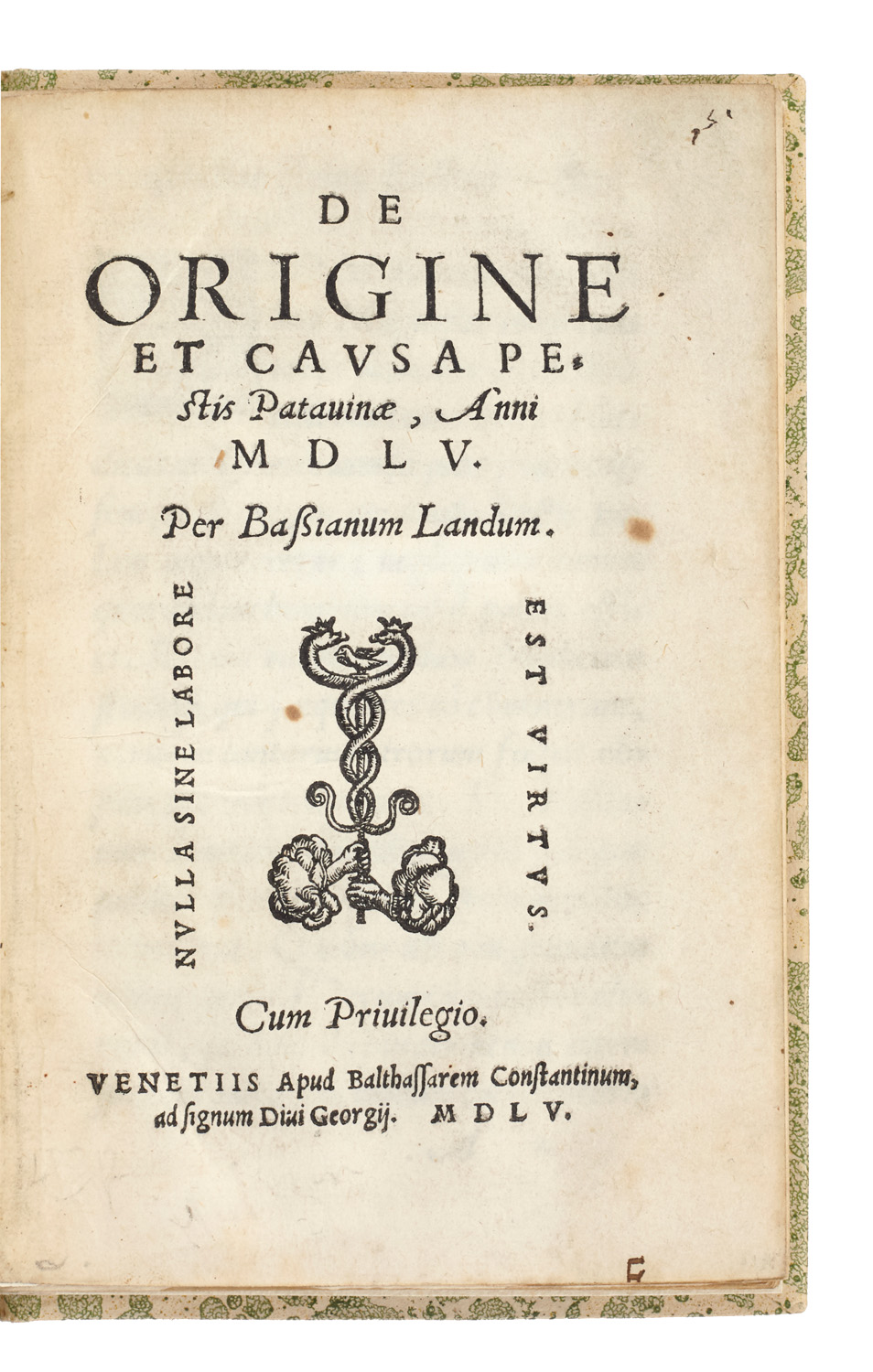 PLAGUE BLAMED ON WAR AND FAMINE LANDI, Bassiano.
De origine et causa pestis Patauinae, anni MDLV ...
First edition of this important work investigating the causes of the plague which struck Padua in 1555, by the eminent, and controversial, professor of medicine Bassiano Landi (d. 1562). In his De origine Landi argues against the then popular belief that the plague had been caused by putrid air (noting that, for one thing, this theory did not explain why mortality among the poor was higher than among the nobility), or that it arose from the water supply or from the land. Instead Landi finds the origins of the disease in the destruction caused by the war waged in the region by Francis I, which had prompted famine and forced people to eat corrupted food. Landi also identifies two groups particularly affected by the plague: those wearing infected garments, and the poor. The De origine ends with discussion of medicinal remedies against the disease, considering those suggested by ancient writers, and, more practically, recipes using common garden plants.