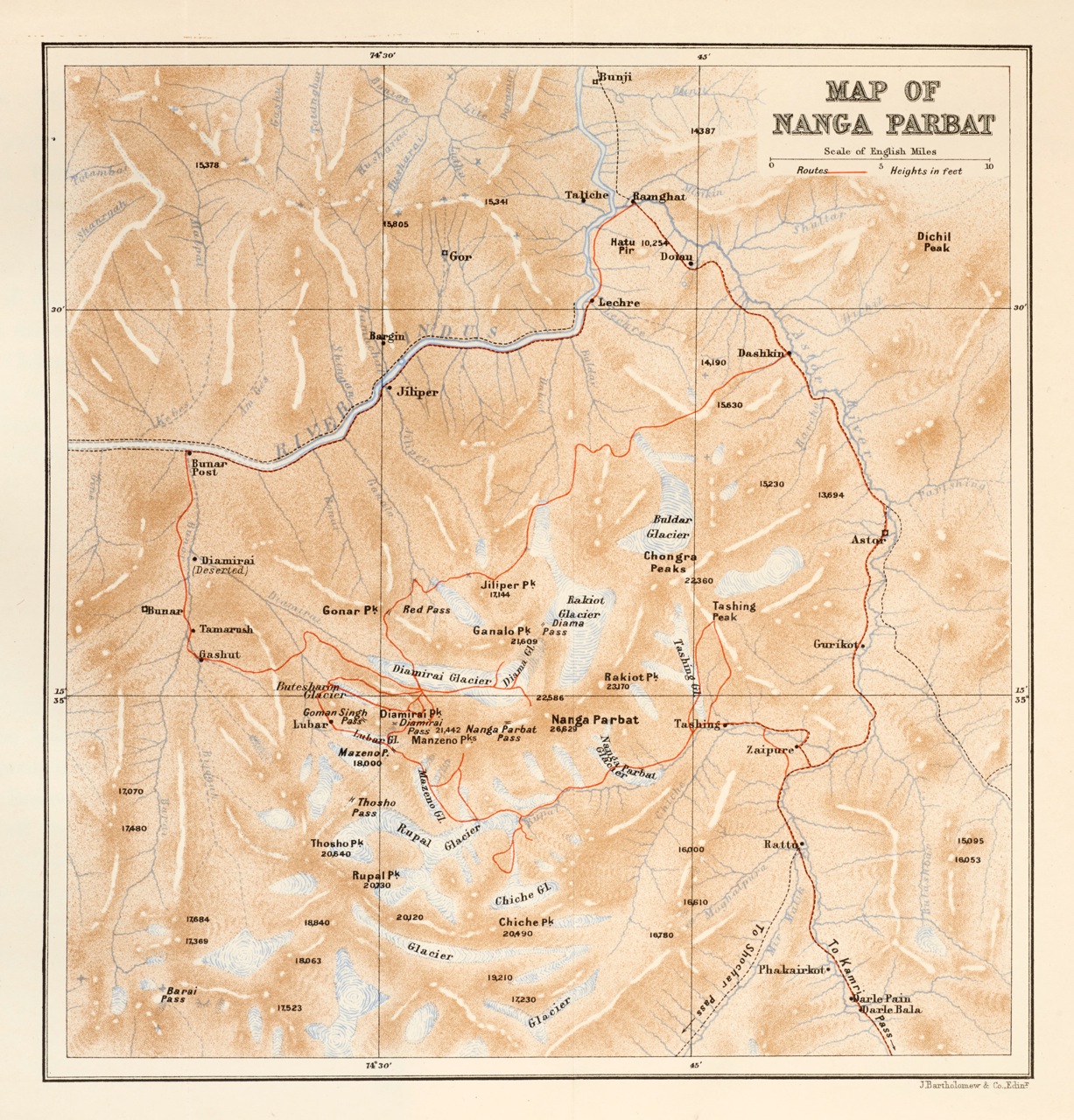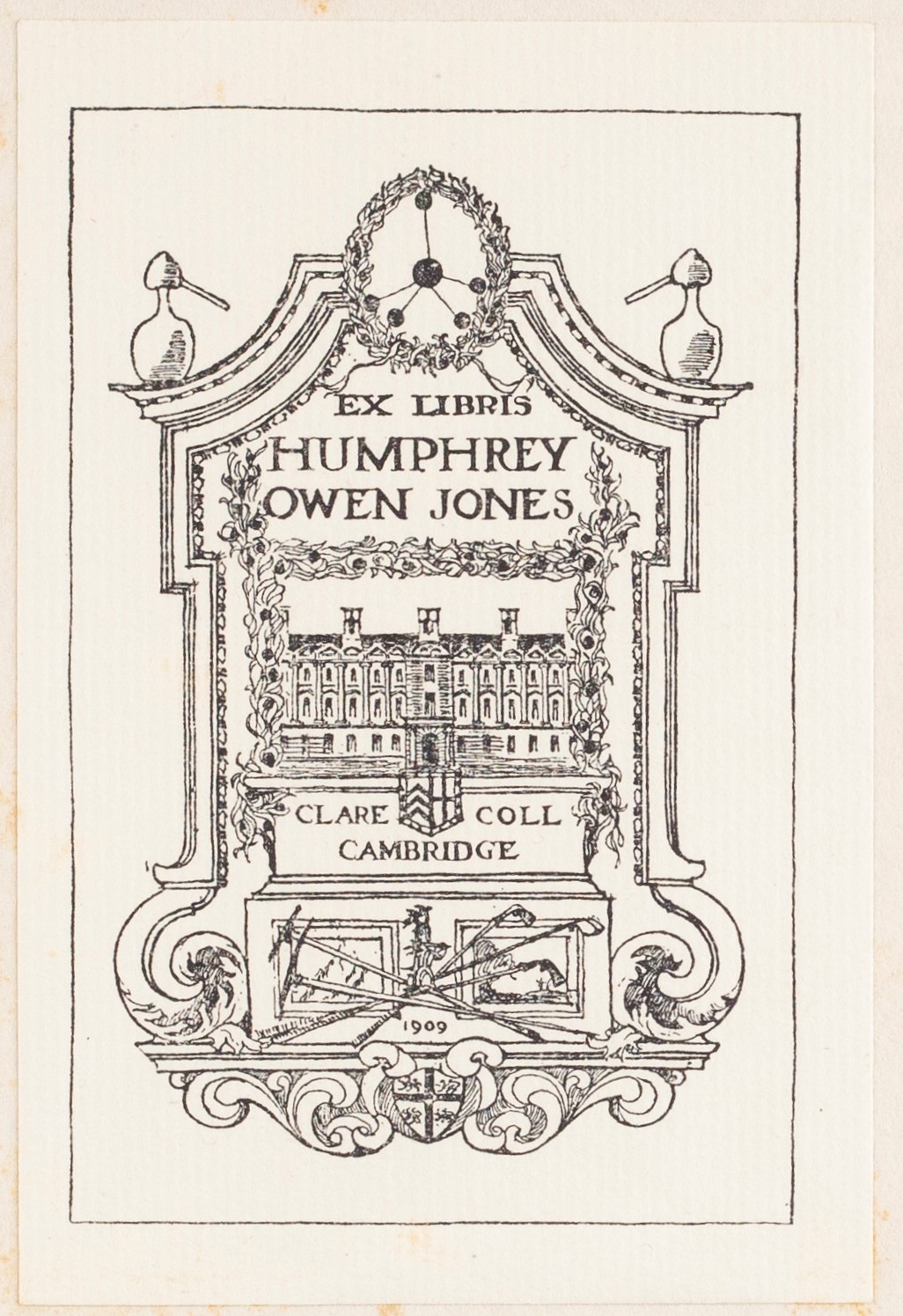 FROM THE LIBRARY OF CHEMIST AND MOUNTAINEERHUMPHREY OWEN JONES
COLLIE, John Norman.
Climbing on the Himalaya and other Mountain Ranges.
Edinburgh, T. and A. Constable for David Douglas, 1902.
8vo, pp. vii, [5], 315, [1 (publisher's advertisement)]; photogravure frontispiece and 14 photogravure plates, all retaining tissue guards, after Collie and Colin B. Phillip, 3 Swantype plates after Phillip, one double-page, and 3 folding lithographic maps by J. Bartholomew & Co.; loosely-inserted flyer advertising the work, 8vo, 4pp; some light spotting on early leaves and flyer; original green cloth, spine lettered in gilt, top edges gilt, others uncut; endpapers slightly spotted, extremities lightly rubbed and bumped, nonetheless a very good copy in the original cloth; provenance: 'M. Holzmann' (signature on front free endpaper, most probably that of Sir Maurice Holzmann, 1835-1909, Secretary and Keeper of the Records of the Duchy of Cornwall, Clerk of the Council of the Prince of Wales, and Extra Groom-in-Waiting to King Edward VII; alpine mountaineer and member of the Alpine and Climbers Clubs) – Humphrey Owen Jones, Clare College, Cambridge (1878-1912, bookplate dated 1909 on upper pastedown).
£850

Approximately:
US $1031
€982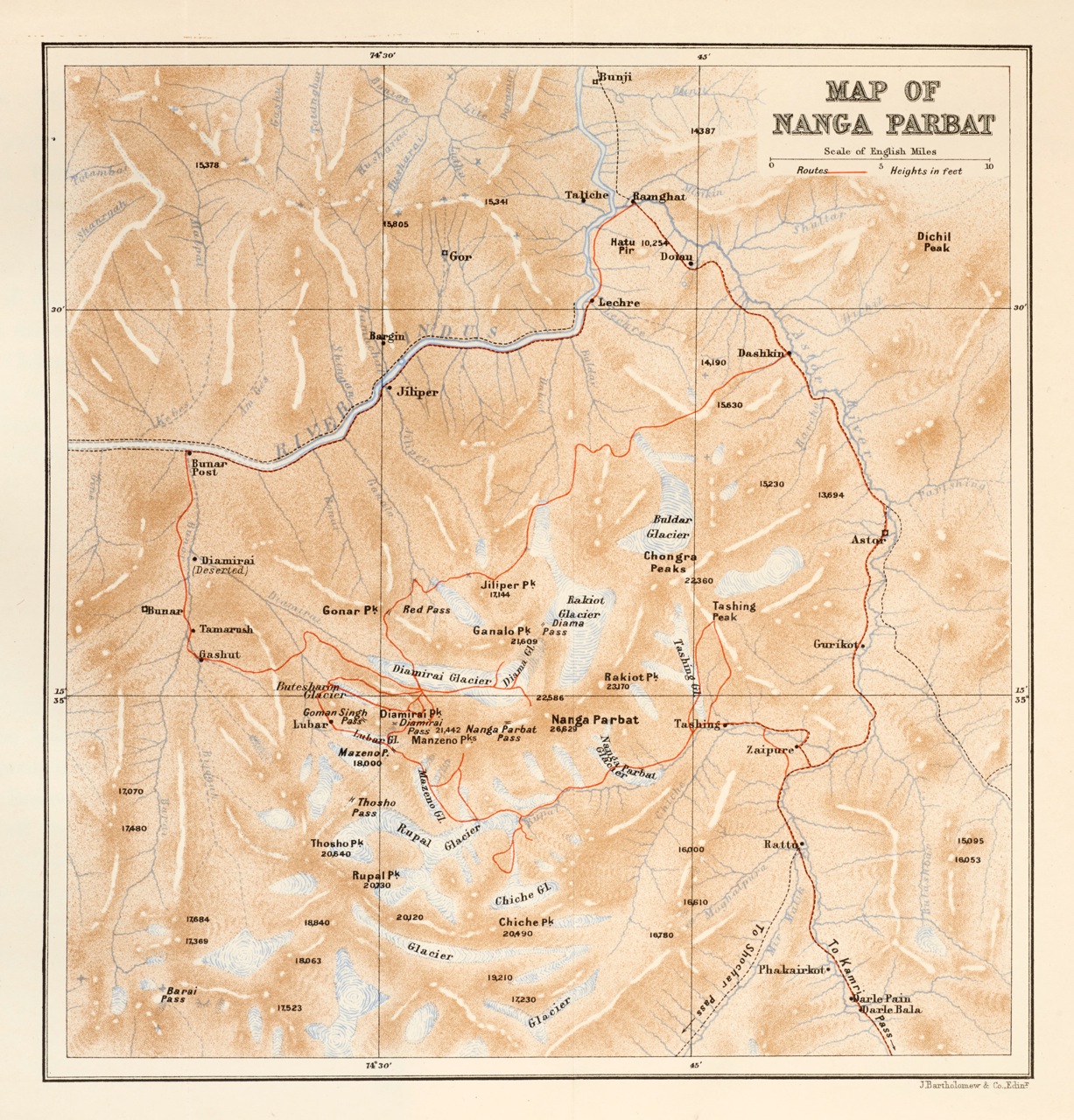 Added to your basket:
Climbing on the Himalaya and other Mountain Ranges.
First edition, published in the year that Collie (1859-1942) became professor of organic chemistry at University College London. 'Besides his eminence as a scientist, [Collie] acquired great fame as a climber and explorer of mountains. Beginning with the Cuillin peaks in Skye, where he discovered many new climbs, he climbed with notable success in the Alps, and went in 1895 with A. F. Mummery to the Himalayas, where they attempted the ascent of Nanga Parbat; during this expedition Mummery was killed, an episode which deeply affected Collie ... His books, Climbing on the Himalaya and other Mountain Ranges (1902) and (with Hugh E. M. Stutfield) Climbs and Exploration in the Canadian Rockies (1903), are famous records ... He was elected president of the Alpine Club in 1920 and was an honorary member of many other climbing clubs' (ODNB).

This copy was formerly in the library of the Welsh chemist Humphrey Owen Jones, Fellow of Clare College, Cambridge, and of the Royal Society. Jones was also an enthusiastic mountaineer, who climbed regularly in Snowdonia from 1907: '[he] proved to be a born rock climber, and he brought to mountaineering the same vigour and enthusiasm which he showed in his scientific work' (J. Shorter, 'Humphrey Owen Jones, F.R.S.', Notes and Records of the Royal Society of London vol. 33 (1979), p. 272). Together with his student and (later) wife Muriel Gwendolen Edwards, he visited the Alps regularly. This interest would have doubtless made Collie's work particularly interesting to Jones, since the chapter on the Alps discusses Mont Blanc in some detail. Following their marriage on 1 August 1912, the Joneses honeymooned in the Alps, where they embarked upon an ascent of Mont Rouge de Peuteret (a peak on the south side of Mont Blanc) with their guide Julius Truffer on 15 August. During the ascent, Truffer slipped and pulled the other two, roped climbers with him to their deaths on the Fresnay Glacier, some 300 metres below.

NLS, Mountaineering, c259; Neate C94; Perret 1059; Yakushi (3rd ed.) C315.
You may also be interested in...
AULD ALLIANCE [MONCRIEFF, Thomas].
Memoirs concerning the ancient Alliance between the French and Scots, and the Privileges of the Scots in France. Together with the original French, faithfully extracted several Records of that Kingdom. Edinburgh, Printed by W. Cheyne, and sold by W. Gordon, and other Booksellers in Town. 1751.
First edition. The ancient alliance between Scotland and France, forged in the Middle Ages, some historians say as early as the reign of Charlemagne, was frequently invoked in the fifteenth, sixteenth and seventeenth centuries. Memoirs begins with an excerpt from the treaty of 1326 between Charles IV and Robert I, apparently the earliest actual text that the author could find.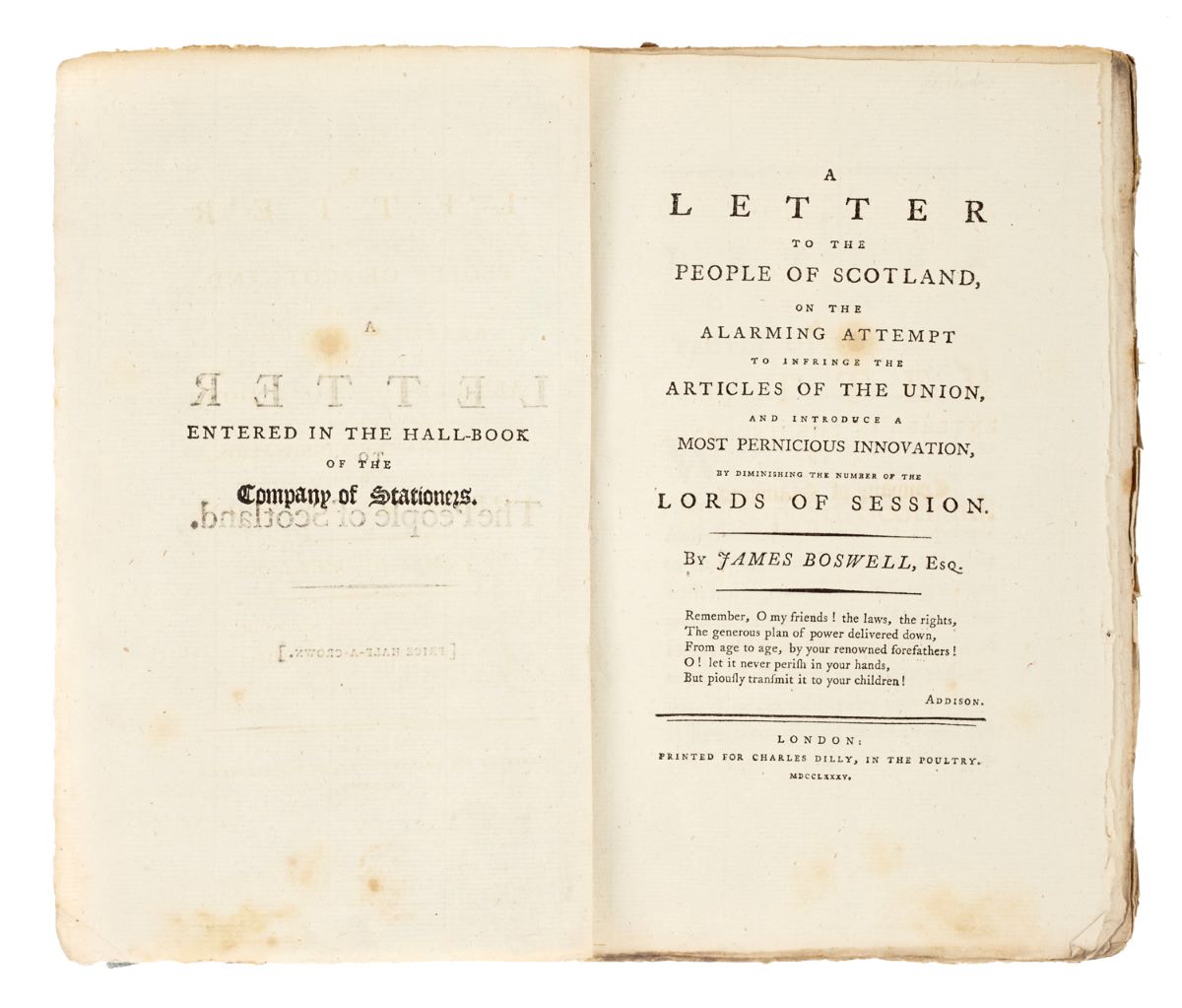 STITCHED AS ISSUED BOSWELL, James.
A Letter to the People of Scotland, on the alarming Attempt to infringe the Articles of Union, and introduce a most pernicious Innovation by diminishing the Number of the Lords of Session … London: Printed for Charles Dilly … 1785.
First edition of Boswell's second Letter to the People of Scotland, written to oppose a bill in Parliament for reducing the number of the Lords of Session from fifteen to ten. Boswell, who believed that this attack on the highest court in Scotland for civil causes was a direct infringement of the Articles of Union and a move designed to tighten the grip of Henry Dundas over Scottish affairs, wrote with great urgency, one sheet ahead of the printer. The result is a tract notable for 'its exuberance of tone and the wealth of personal allusion', although in later years Boswell felt that it was perhaps too extravagant (Pottle). But it helped to carry the day, and the bill was quietly dropped.