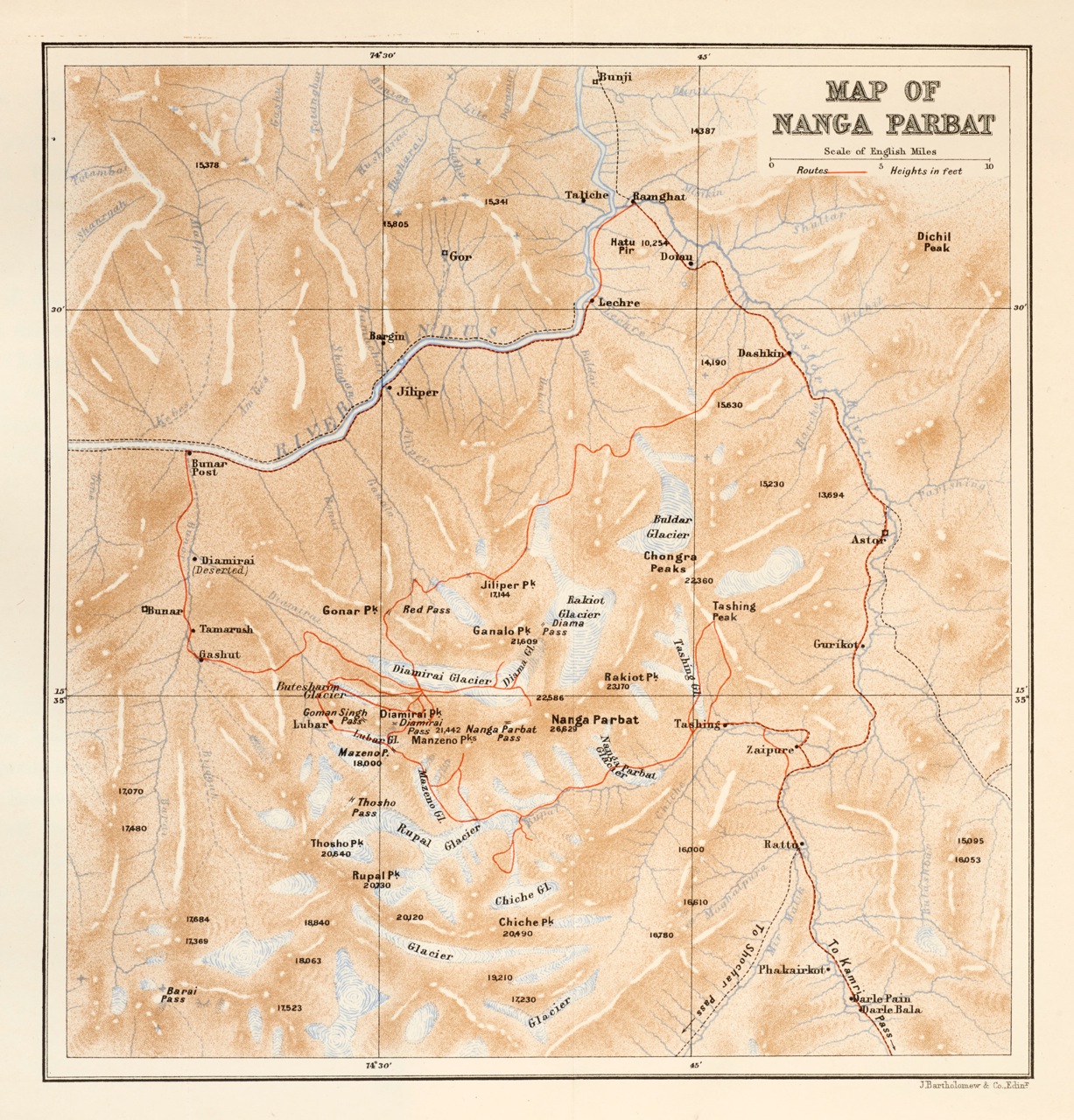 FIRST EDITION OF COLLIE'S IMPORTANT WORK, FROM THE LIBRARY OF HIS FELLOW CHEMIST AND MOUNTAINEER,
COLLIE, John Norman.
Climbing on the Himalaya and other Mountain Ranges.
Edinburgh: T. and A. Constable for David Douglas, 1902.
8vo (221 x 141mm), pp. vii, [1 (note)], [2 (contents, verso blank)], [2 (illustrations, verso blank)], 315, [1 (publisher's advertisement)]; photogravure frontispiece and 14 photogravure plates, all retaining tissue guards, after Collie and Colin B. Phillip, 3 Swantype plates after Phillip, one double-page, and 3 folding lithographic maps by J. Bartholomew & Co.; loosely-inserted flyer advertising the work, 8vo, 4pp; some light spotting on early ll. and flyer; original green cloth, spine lettered in gilt, top edges gilt, others uncut; endpapers slightly spotted, extremities lightly rubbed and bumped, nonetheless a very good copy in the original cloth; provenance: 'M. Holzmann' (signature on front free endpaper, most probably that of Sir Maurice Holzmann, 1835-1909, Secretary and Keeper of the Records of the Duchy of Cornwall, Clerk of the Council of the Prince of Wales, and Extra Groom-in-Waiting to King Edward VII; alpine mountaineer and member of the Alpine and Climbers Clubs; presumably acquired after the posthumous dispersal of his library by:) – Humphrey Owen Jones, Clare College, Cambridge (1878-1912, bookplate dated 1909 on upper pastedown).
£1350

Approximately:
US $1765
€1493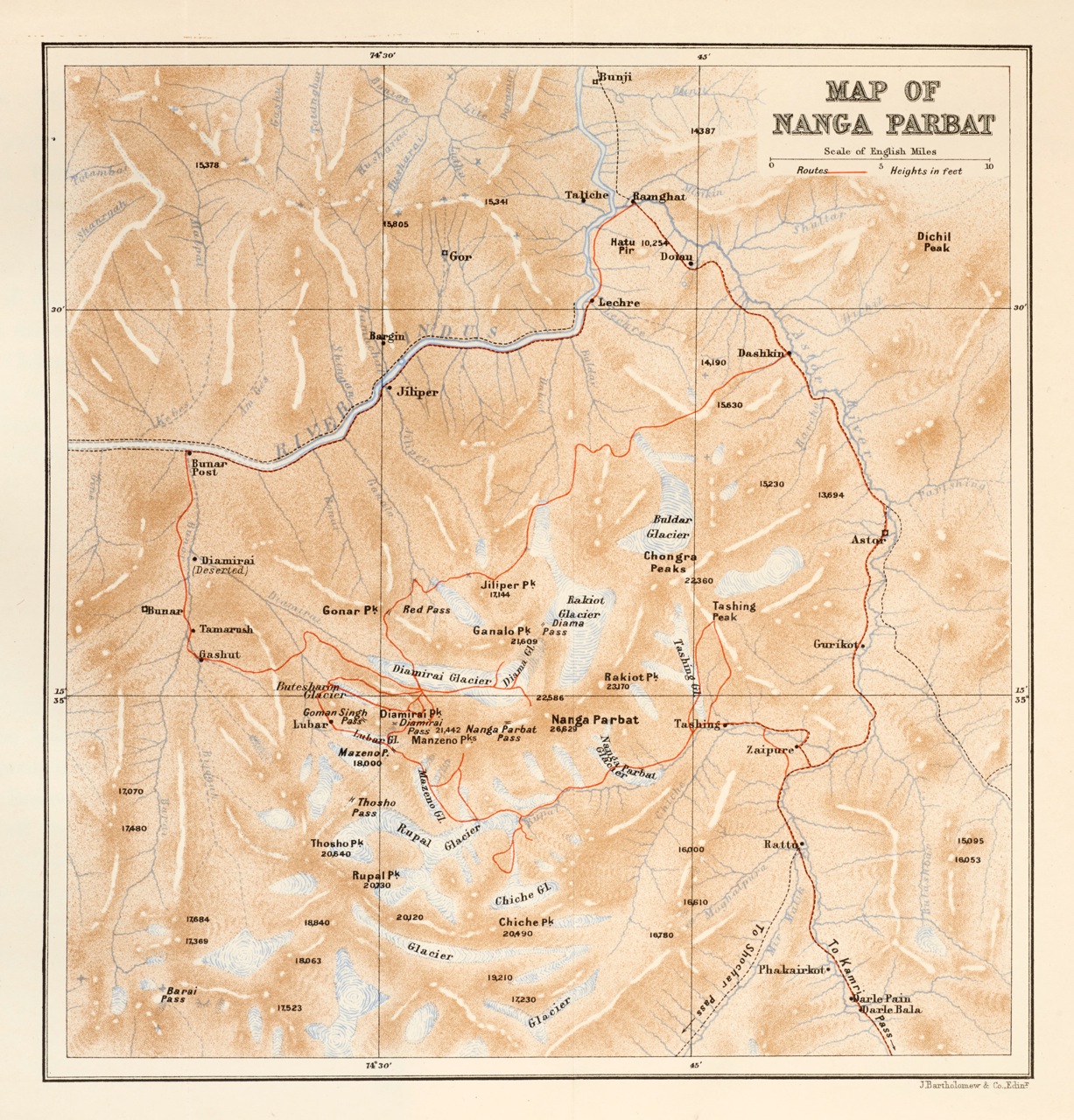 Added to your basket:
Climbing on the Himalaya and other Mountain Ranges.
First edition. The organic chemist and mountaineer Collie (1859-1942), was educated at Charterhouse and Clifton College, before studying chemistry at University College, Bristol and at Queen's College, Belfast. A series of teaching and research positions at Würzburg University, the Ladies' College, Cheltenham, and University College, London followed, which culminated in his appointment as professor of chemistry at the College of the Pharmaceutical Society, London in 1896 and then professor of organic chemistry in the University of London at University College in 1902.

'Besides his eminence as a scientist, [Collie] acquired great fame as a climber and explorer of mountains. Beginning with the Cuillin peaks in Skye, where he discovered many new climbs, he climbed with notable success in the Alps, and went in 1895 with A. F. Mummery to the Himalayas, where they attempted the ascent of Nanga Parbat; during this expedition Mummery was killed, an episode which deeply affected Collie. The latter also climbed in the Lofoten islands off the Norwegian coast, but his greatest work was done in his pioneering climbing, mapping, and surveying in the Canadian Rockies. His books, Climbing on the Himalaya and other Mountain Ranges (1902) and (with Hugh E. M. Stutfield) Climbs and Exploration in the Canadian Rockies (1903), are famous records. In Britain, Collie climbed particularly in Skye, Snowdon, and the Lake District. He was elected president of the Alpine Club in 1920 and was an honorary member of many other climbing clubs' (ODNB).

Climbing on the Himalaya and other Mountain Ranges was the first book published by this 'outstanding British climber and mountaineer' (F.V. Hartemann and R. Hauptman, The Mountain Encyclopedia (Lanham, MD: 2005), p. 54), and is described by Perret as 'Ouvrage important sur cette période de l'alpinisme, peu courant et recherché'. The substantial first part (pp. 1-134) is dedicated to the Himalayas – and includes a full account of Mummery's ill-fated 1895 expedition to Nanga Parbat – while the second part is composed of accounts of expeditions in the Canadian Rockies, the Alps, the Lofoten Islands, A Chuilionn, Ireland, and Wastdale Head. The work concludes with 'A Reverie', 'The Oromaniacal Quest', 'Fragment from a Lost MS.', and 'Notes on the Himalayan Mountains'.

This copy was previous in the library of the Welsh chemist and mountaineer Humphrey Owen Jones, who was educated at the universities of Wales and Cambridge. In 1901 he was appointed Jacksonian Demonstrator at Cambridge, becoming a Fellow of Clare College, Cambridge in 1902 and College Lecturer in Chemistry and Physics in 1903. A distinguished career as a teacher, researcher and author followed, which led to his election to the Royal Society on 2 May 1912 (Collie had been elected a Fellow of the Royal Society in 1896; the Royal Society's biographical records reveal that the chemists R. Meldola, W.H. Perkin, A.C. Brown, and H.B. Dixon were proposers for both men).

Jones was also an enthusiastic mountaineer, who climbed regularly in Snowdonia from 1907: '[he] proved to be a born rock climber, and he brought to mountaineering the same vigour and enthusiasm which he showed in his scientific work. Within a very few years he was regarded as one of the most skilful cragsmen and capable mountaineers in Britain' (J. Shorter, 'Humphrey Owen Jones, F.R.S. (1878-1912), Chemist and Mountaineer', in Notes and Records of the Royal Society of London (vol. 33 (1979), pp. 261-277, at p. 272). Together with his student and (later) wife Muriel Gwendolen Edwards, he visited the Alps regularly, and 'He was particularly interested in the south side of Mont Blanc, with its great Brouillard and Peuteret Ridges. Jones was present on several notable first ascents including the Aiguille Blanche de Peuteret from the west, the Brouillard Ridge from the Col Emile Rey, and La Pointe Isolee of Les Dames Anglaises' (loc. cit.). This interest would have doubtless made Collie's work particularly interesting to Jones, since the chapter on the Alps discusses Mont Blanc in some detail. Following their marriage on 1 August 1912, the Joneses honeymooned in the Alps, where they embarked upon an ascent of Mont Rouge de Peuteret (a peak on the south side of Mont Blanc) with their guide Julius Truffer on 15 August. During the ascent, Truffer slipped and pulled the other two, roped climbers with him to their deaths on the Fresnay Glacier, some 300 metres below.

NLS, Mountaineering, c259; Neate C94; Perret 1059; Yakushi (3rd ed.) C315.
You may also be interested in...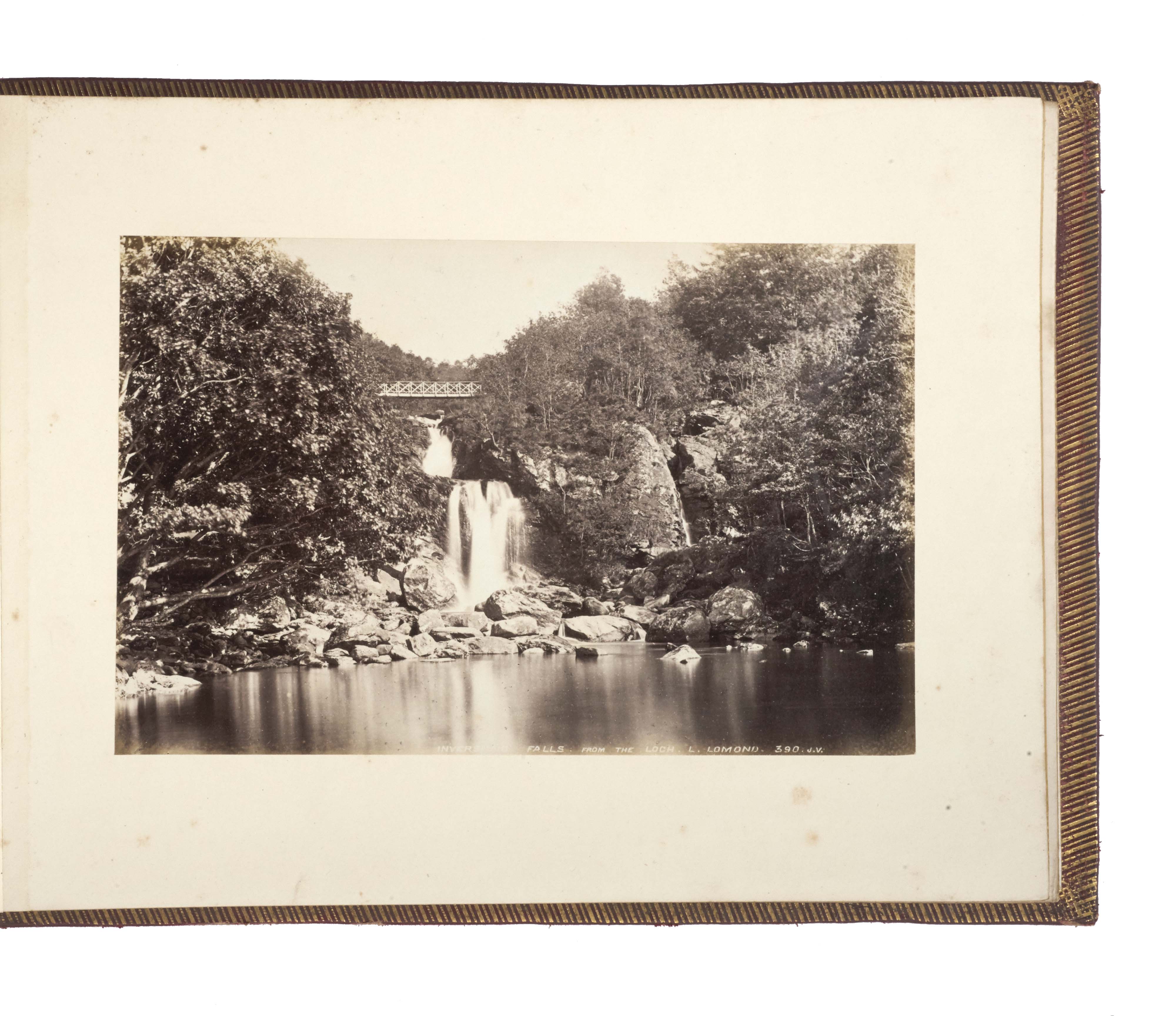 VALENTINE, James (photographer).
Album of Scottish views, mainly of Stirling and surroundings.
A handsome example of a topographical view album by the Scottish photographer James Valentine, focusing on Stirling and the surrounding areas.
The images include 'Stirling Castle from King's Knott' and several other views of Stirling Castle, 'Vale of Monteith from Stirling'; 'Bruce statue looking to Wallace'; 'Windings of the Forth and Abbey Craig, Stirling'; 'King Street, Stirling'; 'Cambuskenneth Abbey and tomb of James III'; 'Field of Bannockburn from Gillies Hill'; 'On the Allan Water'; 'Kier House'; 'Dunblane Cathedral from river'; 'Doune Castle'; 'Callander from west'; 'Silver Strand, Loch Katrine'; 'Ellen's Isle and Ben Venue, Loch Katrine'; 'Luss Pier, Loch Lomond'; 'Camstradden Bay, Loch Lomond'; and 'Inversnaid Falls'.
James Valentine (1815–1879) was an engraver and photographer from Dundee who was one of the original members of the Edinburgh Photographic Society, founded in 1861. By the end of the 1850s he had established himself as a portrait photographer and then, after instruction under Francis Frith in Reigate, Surrey, he began to photograph landscapes as well.
He converted a barouche into a mobile dark-room and travelled around Scotland building a portfolio of topographical views which brought him to Queen Victoria's attention in 1864 and eventually led to him being granted a royal warrant in late 1867. As 'photographer to the Queen' he sold individual albums, such as the present one, for prices ranging from half a guinea to 12 guineas aimed at upper and middle class tourists. James Valentine had two sons who followed him into the business and were constantly experimenting with new techniques; the firm became the longest-running photographic publishers in Britain.
[CHINESE ARTS DEALER.]
ISKANDRIAN-HUPEDEN, A. [Cover title:] 'My Treasure Box' [Title-page:] 'Some selected objects of Chinese Arts at present on Sale. We solicit enquiries…'.
A charming and insightful trade catalogue compiled by a female Chinese arts dealer, covering porcelains, cast bronzes and irons, stone and wood sculpture, lacquered figures, furniture and screens, pottery and embroidery. The colours and dimensions are often described in the text, and the final page lists the dates of Chinese dynasties from 1122 B.C. and the reigns within the final Ching (Qing) dynasty.