COLLUTHUS, of Lycopolis.
The Rape of Helen. Translated from the Greek ... And illustrated with the Notes of Michael Nicander. To which is prefix'd a Fragment of the Author's Life, from Suidas.
London: Printed for and sold by J. Roberts … and by the Booksellers and Pamphletsellers of London, 1731.
4to., pp. [4], viii, 34, [2], with an engraved frontispiece by Bickham Jr after Jett; title-page printed in red and black; the errata corrected in manuscript; a very good copy, lower edge uncut, disbound.
£1200

Approximately:
US $1547
€1388
Added to your basket:
The Rape of Helen. Translated from the Greek ... And illustrated with the Notes of Michael Nicander. To which is prefix'd a Fragment of the Author's Life, from Suidas.
First and only edition, rare, of this translation of Collothus's Rape of Helen (Αρπαγη Ελενης), 'a short and charming miniature epic' (Cambridge Companion to the Epic) written in the late fifth century in Egypt in 392 hexameters.

In a long and interesting Preface, the anonymous translator seeks to introduce (and defend) an unfamiliar work, lamenting that it never received Pope's attention, and apologising for its form, which may confuse readers who already know the story or are hoping for 'a prolix repetition of melting gallantry and amorous dalliance'. The translation was 'written and performed before the full age of seventeen … by one who thro' a slender patrimony has been confined to a scanty library, and his life hitherto … one continual scene of trouble' – he has since improved his reading and his poetic ability, so if it meets success (it seems it did not), 'the town may shortly expect a much better poem, full of finer Incidents and more remarkable events.'

This is Colluthus's only surviving work, re-discovered by Cardinal Bessarion in Calabria in the fifteenth century and first printed by Aldus in c. 1505. A very rare Latin paraphrase by Thomas Watson was published in London in 1586 and a translation by Edward Sherburne appeared in his Salmacis, Lyrian & Sylvia (1651). Here it is accompanied by detailed notes, 'The Speech of Paris to Helen' translated from the possibly apocryphal Dictys the Cretan, and a short biography taken from Suidas.

For an elaborate production, with a title-page in red and black, and an engraved frontispiece, The Rape of Helen is surprisingly rare. ESTC records five copies only: BL (wanting frontis), Cambridge, Oxford; Duke, and Harvard (listed twice in error).

Foxon R 118.
You may also be interested in...
MILTON, John. Paolo ROLLI, translator.
Del Paradiso perduto Poema inglese.
First edition of the first complete Italian translation of Milton's Paradise Lost, the second issue, with a cancel title-page dated 1736 and further enumerating Rolli's academic titles. Rolli started to work on this translation in 1719, publishing the first six books in London in 1729. Still incomplete, Rolli's work was placed on the Index librorum prohibitorum in January 1732. The complete translation was finally published in 1735 by Charles Bennet ('Despite the change in imprint to Charles Bennet, Samuel Aris [who had printed the first six books] probably printed the entire poem, for his signed ornaments appear on sheets throughout the work', Coleridge, p. 207), and then often reprinted throughout the eighteenth century.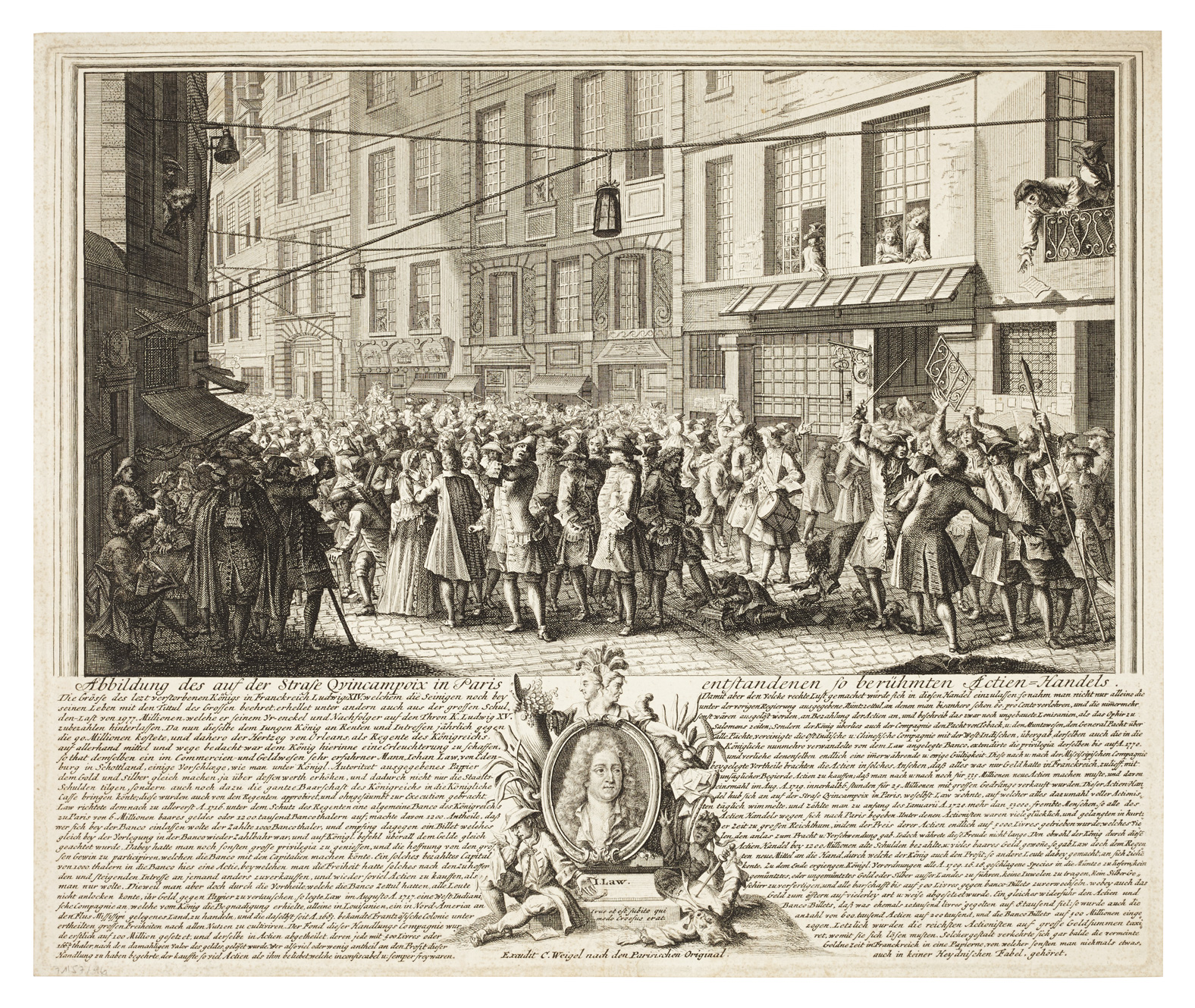 [LAW, John.]
Abbildung des auf der Strasse Quincampoix in Paris entstandenen so berühmten Actien-Handel. Excudit C. Weigel nach den Parisischen Original...
This engraving is a German version of 'Rue Quinquempoix en l'Année 1720'(BM Catalogue 1655). It gives a view, in angular perspective, of the Rue Quinquempoix, Paris, with crowds of persons assembled there during the share mania of the Mississippi, South Sea, and other schemes which bubbled in the financial atmosphere created by John Law of Lauriston.