TURKISH GRAMMAR WITH DIALOGUES AND FABLES
COMIDAS DE CARBOGNANO, Cosimo.
Primi principi della gramatica Turca ad uso dei missionari apostolici di Costantinopoli ...
Rome, stamperia della Sac. Congr. di Prop. Fide, 1794.
4to, pp. 12, 730; title in red and black with woodcut device, text in Roman and Arabic script, tail-pieces; a little light foxing; very good in near contemporary half vellum over marbled boards; some wear to corners and edges, abrasions to boards; small ink stamp to half-title and title.
£1500

Approximately:
US $2061
€1757
Added to your basket:
Primi principi della gramatica Turca ad uso dei missionari apostolici di Costantinopoli ...
The first complete Ottoman Turkish grammar published in Italian, compiled by the Catholic Armenian dragoman Cosimo Comidas de Carbognano (translator to Count de Ludolf, minister of the Two Sicilies to the Ottoman Porte in the late eighteenth century) and published by the Sacra Congregatio de Propaganda Fide. This grammar was written for the use of Franciscan missionaries in Istanbul, who sought to convert the Greek, Armenian, and Jewish residents of the city, as imperial edict banned them from proselytising Muslims.

Following the grammar come five charming dialogues presented in three columns (Turkish in Arabic script, Turkish in transliteration, and Italian). These comprise lively conversations between a husband and wife (including an argument over earrings); a father and son (the former advising the latter to be a good Catholic); a student and a teacher (who discuss an armillary sphere); two travelers (who discuss their journeys); and two friends (lamenting that only money is held in esteem). The work ends with Turkish translations of several short Latin fables 'raccolte da Marquardo Guido'.

Atabey 266.
You may also be interested in...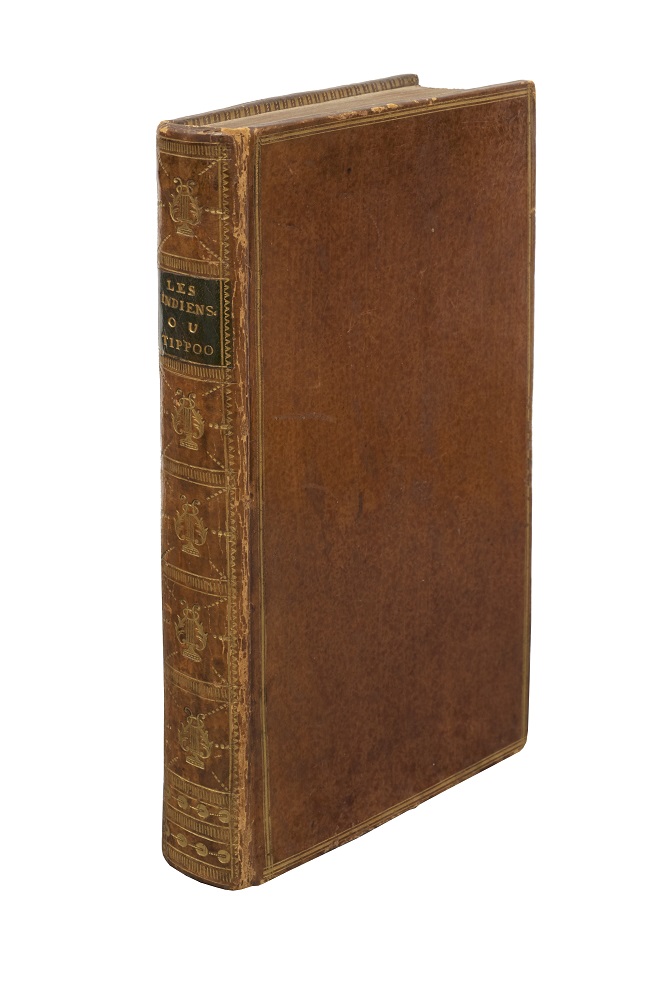 [TIPU SULTAN.]
Les Indiens, ou Tippoo-Saïb, fils d'Hyder-Ally, &c. Avec quelques particularités sur ce prince, sur ses ambassadeurs en France, sur l'audience qui leur a été donnée par sa majesté Louis XVI, à Versailles le 10 Août 1788; précedées du précis d'une partie de l'administration de M. Hastings, &c.; & suivies de quelques détails relatifs aux événemens de la guerre de 1782 dans l'Inde ...
The apparently unrecorded first issue of this work on Tipu Sultan (1750–1799), ruler of the kingdom of Mysore and implacable enemy of the British East India Company. The only copies recorded institutionally (on ESTC, COPAC, and OCLC) have the title Les indiens, ou Tipou-Sultan, fils D'Ayder-Aly and a 'note indispensable' explaining that the Sultan's true name is 'Tipou-Sultan' and not 'Tippoo-Saïb' and that of his father 'Ayder-Aly' rather than 'Hyder-Ally', but that the work was printed before these corrections could be made. The title-page was clearly updated on most copies, except this one.
[DEVOTION.]
Sagre offerte alla passione di nostro Signore Gesu Cristo con varie orazioni. Si aggiungono i Pensieri cristiani per ciascun giorno del mese.
Rare first edition of a devotional work in Italian and Latin printed in Rome. It is complemented with fine engravings, most notably the frontispiece, which shows a heroic Jesus resurrected holding the cross in a classically outlined body. A subsequent slighter edition was published twenty years later.