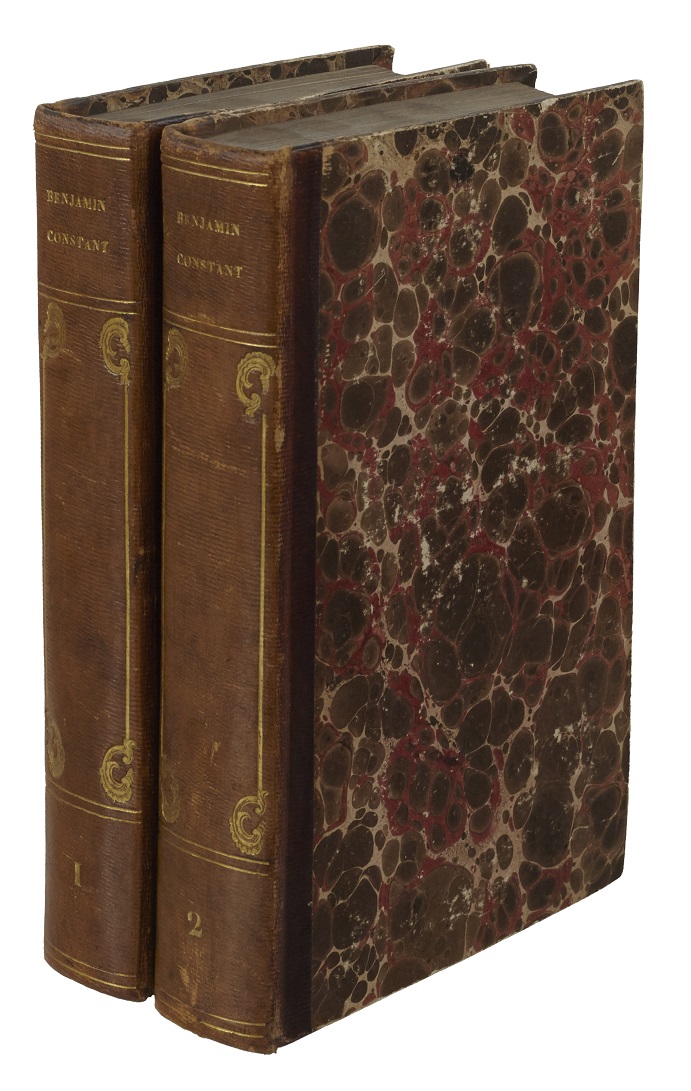 CONSTANT, Benjamin.
Discours de M. Benjamin Constant à la Chambre des Députés.
Paris, Ambroise Dupont, 1827-8.
Two vols, 8vo, pp. vi, 580; vi, 644, frontispiece portrait of Constant, folded facsimile; foxing, a few ink stains not affecting text; bound in contemporary quarter morocco over marbled boards, gilt spines; boards and spines slightly worn; a good copy.
£150

Approximately:
US $194
€165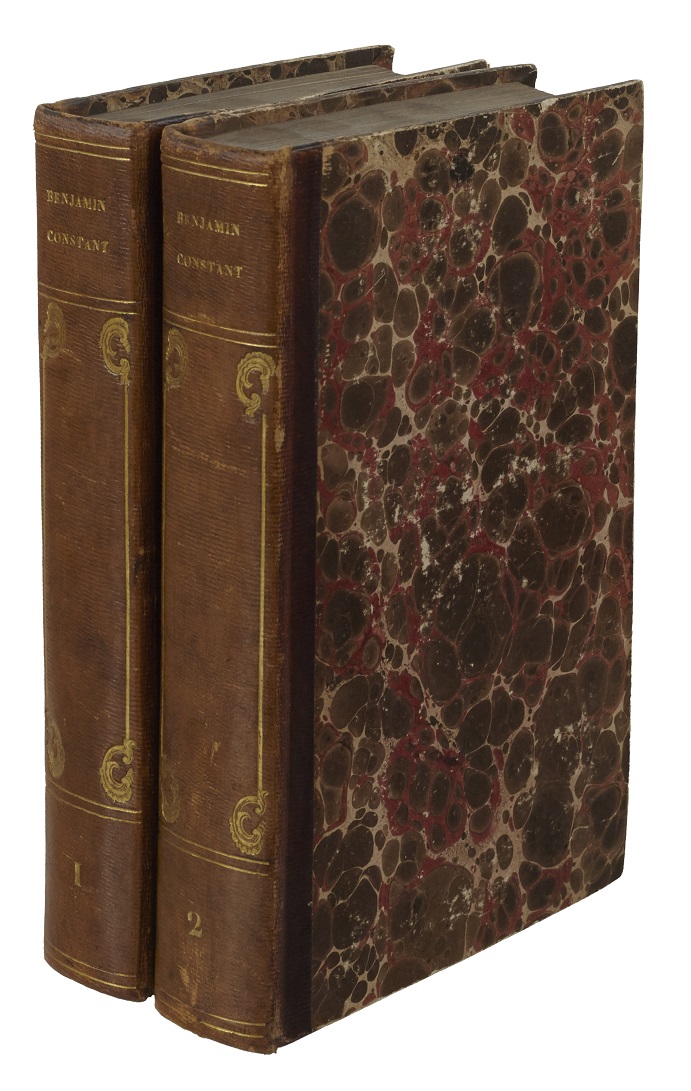 Added to your basket:
Discours de M. Benjamin Constant à la Chambre des Députés.
First edition of a collection of speeches delivered to the Chamber of Deputies by Benjamin Constant whose eloquence and oratorical skill led him to become a leader of the parliamentary block known first as the indépentants and later as libérals. One of the first liberals to go by the name, he was the outstanding champion of freedom of speech and liberty of the press in the face of the right wing radicalism of the royalist Ultras. These volumes include speeches delivered by Constant in opposition to the Ultras' attempts to instate droit d'ainesse and lois sur les sacrileges.

Courtney E2/1.
You may also be interested in...
[BROGGIA, Carlo Antonio].
Memoria ad oggetto di varie politiche ed economiche ragioni e temi di utili raccordi che in causa del monetaggio di Napoli s'espongono e propongono agli spettabili Signori, convocati di Real Ordine dall' Illustre Marchese di Vallesantoro, Segretario di Stato della Real Azienda. E incidentemente con quest' occasione si risolve la sì difficile, e strepitosa controversia sulla ricompra delle pubbliche entrate, o siano arrendamenti, alienati col Patto di non ricomprare: così detto Dazione In Solutum. Si ragiona del Censimento, o sia Catasto, proponendosi il Modo di farlo col desiato Frutto, e senza intoppi. E s'espone il Saggio, o sia l'idea di sette utili trattati, da pubblicarsi. De' quali nella quì addietro Pagina si contiene il Titolo.
Rare first and only edition of this fierce attack against the ministers of Palermo, criticising their acts. The work caused the author to be exiled from Palermo in the year of publication. Broggia, a Neapolitan merchant, is credited as being one of the true developers of a pure theory of taxation. Schumpeter describes his Trattato de' Tributi, delle Monete, e del Governo politico della Sanità (1743) as 'a digest of all that was best, not only in the public-finance literature of the eighteenth century but also in most of that of the nineteenth' (p. 205).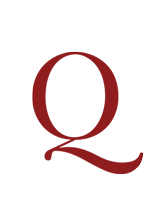 BELLEGARDE, J.
B. Morvan de. Reflexions sur ce qui peut plaire ou deplaire dans le commerce du monde ... Seconde édition, revue & corrigée ...
Second, corrected edition of this philosophical and moral treatise. Two printings of this second edition appeared in 1699, one in Paris and this one in Amsterdam.