LIFE OF HEARNE
[CURLL, Edmund, editor].
Impartial Memorials of the Life and Writings of Thomas Hearne, M.A. by several Hands.
London: Printed in the Year 1736.
8vo., pp. [2], iv, 66, with an engraved portrait vignette on the title-page, surrounded by four lines adapted from Pope's Dunciad, referring to Hearne; traces of blue wrappers stuck to the title, small hole at foot of final leaf (not touching text); a good copy, disbound.
£450

Approximately:
US $553
€518
Added to your basket:
Impartial Memorials of the Life and Writings of Thomas Hearne, M.A. by several Hands.
First separate edition (based on John Bilstone's hostile preface to Hearne's Vindication of those who take the Oath of Allegiance, 1731, and first printed in this form as part of volume III of Curll's edition of Mr. Pope's Literary Correspondence, 1735).

Amusing but in no way 'impartial', this brief biography of the age's leading antiquary Thomas Hearne (1678-1735) searches out the 'gross Errors' in Hearne's many publications, and concludes: 'Thus after wasting, not employing, a Life of Fifty odd Years, on the Tenth Day of June 1735, this Studier and Preserver of Monkish-Trumpery gave up the Ghost. He was a most sordid poor Wretch; had a universal Mistrust of the Generality of Mankind; lived in a slovenly, niggardly Manner, and died possessed of what he had not the Heart to enjoy'. Also included are several long letters from Curll to Hearne concerning the publication of the works of Walter Moyle, satires on Hearne taken from Pope's Dunciad and other Scriblerian sources, and a copy of Hearne's will.

Though Hearne was a remarkable scholar, appointed assistant at the Bodleian Library in 1701, his career was hindered by his outspoken nonjurism and Jacobitism. As an independent publisher of annals and historical collections his output was impressive, but his 'difficult personality and outspoken writings about contemporaries and contemporary issues gave him the reputation of an incorrigible, over-confident, naïve, and even cold-hearted person, someone who invited condescension, satire, and ridicule' (Oxford DNB).
You may also be interested in...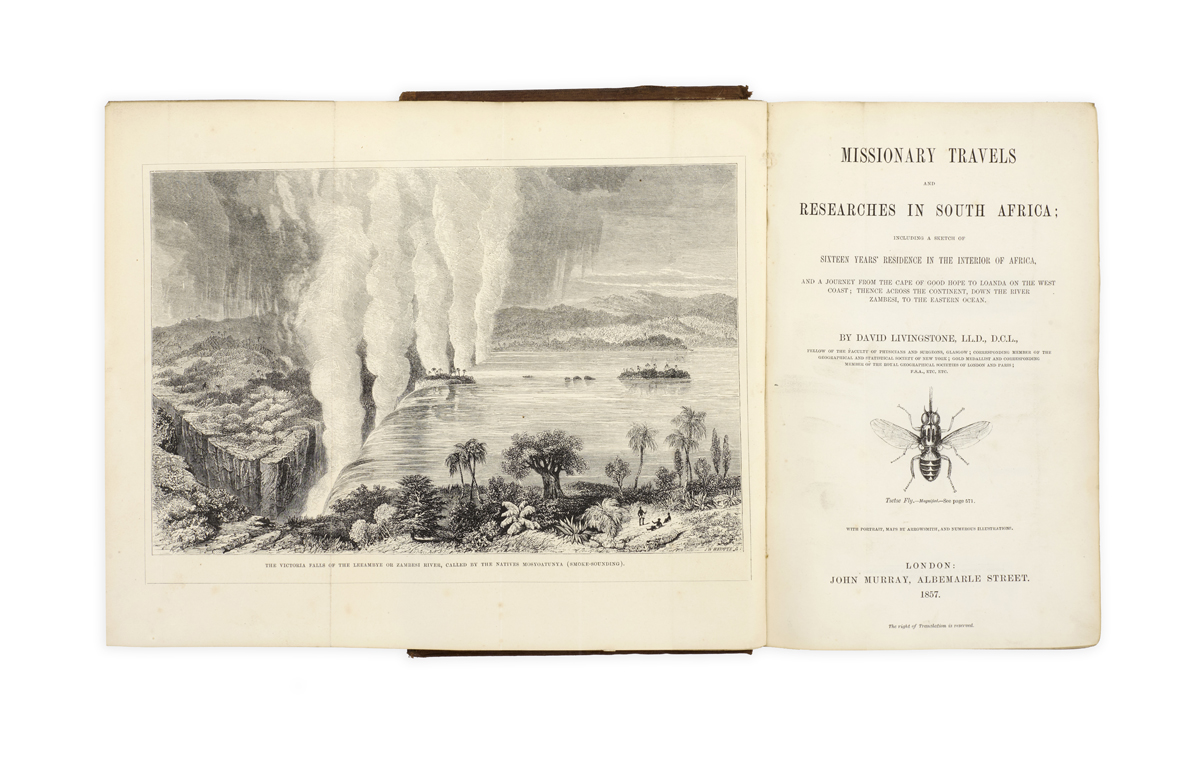 LIVINGSTONE, David. 
Missionary Travels and Researches in South Africa; including a Sketch of sixteen Years' Residence in the Interior of Africa, and a Journey from the Cape of Good Hope to Loanda on the West Coast; thence across the Continent, down the River Zambesi, to the eastern Ocean. 
First edition.  'Livingstone's services to African geography during thirty years are almost unequalled; he covered about a third of the continent from the Cape to the Equator and from the Atlantic to the Indian Ocean.  He made three great expeditions; in 1853-6 (described in this book), 1858-64 and 1865-73, of which the first and third are the most important.  During these years he explored vast regions of central Africa, many of which had never been seen by white men before' (Printing and the Mind of Man).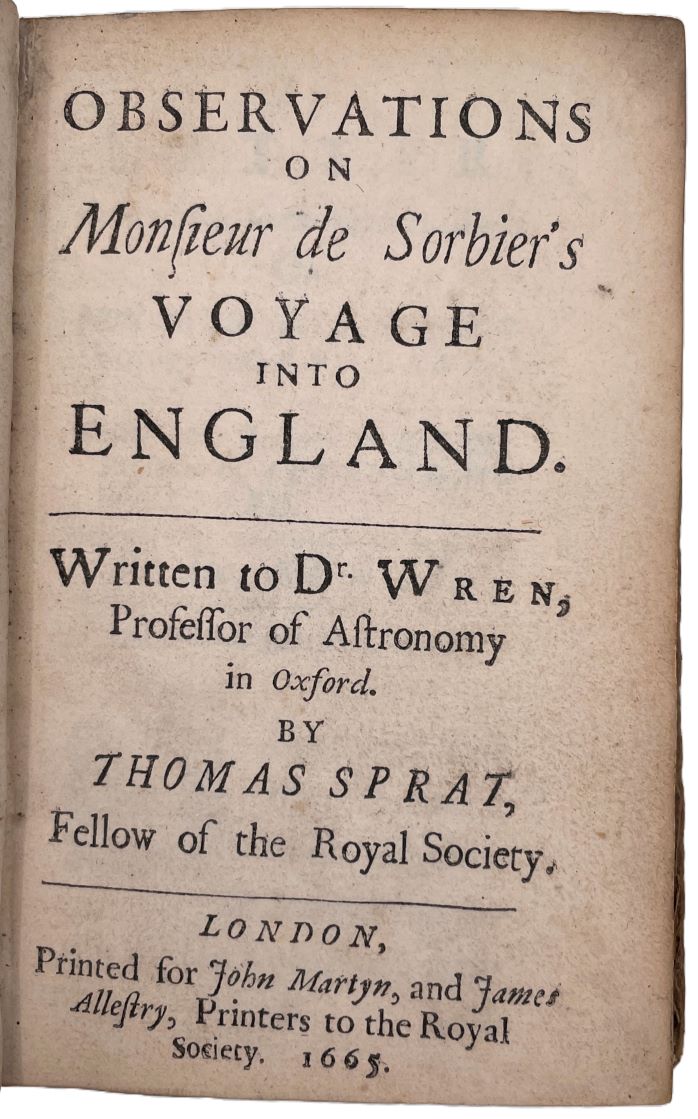 WITH ASSISTANCE FROM JOHN EVELYN SPRAT, Thomas.
Observations on Monsieur de Sorbier's Voyage into England. Written to Dr. Wren ...
First edition. When Samuel de Sorbière published his polemical Relation d'un Voyage en Angleterre (1664), touching on defects in the English nation and character, Thomas Sprat, afterwards Bishop of Rochester, composed an angry reply in the form of a letter to Christopher Wren (both were stalwarts of the Royal Society). Sprat was encouraged in this effort by John Evelyn, who described Sorbière as a schoolmaster, apostate, mountebank, and critic who owed his position as self-styled Historiograph du Roy to sycophantic flattering of Cardinal Mazarin (Evelyn to Sprat, 31 October 1664). Sprat's reply to Sorbière's 'insolent Libel on our Nation' is a wide-ranging defence of the sovereign, the church, the Royal Society, Hobbes, the English stage, the English language, and even English cookery. It was a popular vindication, twice reprinted.