AN ILLUSTRATED COURSE OF PHYSICS
[DANDELIN, Germinal Pierre.]
'Physique'.
Namur, Belgium, 4 October 1843 – 3 August 1844.
Manuscript on paper, in French, small 4to (210 x 165 mm), pp. [496] (including a few blanks), illustrated with over 650 neat diagrams and illustrations; neatly written in brown ink in a single hand, a few additions in pencil, occasional crossing through and corrections; very well preserved in contemporary half green decorated cloth over black, green and white marbled boards; a little rubbing to covers and edges; 'G P Dandelin' in pencil and bookplate of Etienne Anciaux de Faveaux to front free endpaper.
£975

Approximately:
US $1348
€1129
Added to your basket:
'Physique'.
An attractive illustrated manuscript comprising a thorough course on physics by the Belgian mathematician and military engineer Germinal Pierre Dandelin (1794-1847), produced during his professorship of physics at the Athénée in Namur, Belgium, in the academic year 1843-1844. The main text, containing numerous mathematical formulae, is enhanced with thorough marginal addenda and with over 650 neat geometrical diagrams and illustrations, including drawings of scientific apparatus and machinery.

Following discussion of the properties of bodies and the laws of motion, the extensive content covers, among other topics: pendula and centrifugal force; hydrostatics, including fountains and wells, barometers and thermometers, siphons, the compression of liquids and capillary action, and hydraulic rams; aerostats, pneumatic machinery, the elasticity and density of steam, steam engines, evaporation, and hygrometry; meteorology and temperature; electricity, conductors, electric machinery, and magnetism; and optics, including the reflection and refraction of light, rainbows, lenses, microscopes and telescopes. Dandelin refers to a number of his contemporaries, in particular to the work of his fellow physicists Claude Pouillot (1790-1868), César Despretz (1791-1863), and Jean Claude Eugène Péclet (1793-1857), and of the chemist Louis Jacques Thénard (1777-1857).

A colleague of Adolphe Quetelet, Dandelin made particularly important contributions in the fields of geometry and algebra, giving his name to the Dandelin spheres and the Dandelin–Gräffe method. During his military career he was wounded in the Napoleonic Wars at Vincennes and took part in the revolution of 1830.
You may also be interested in...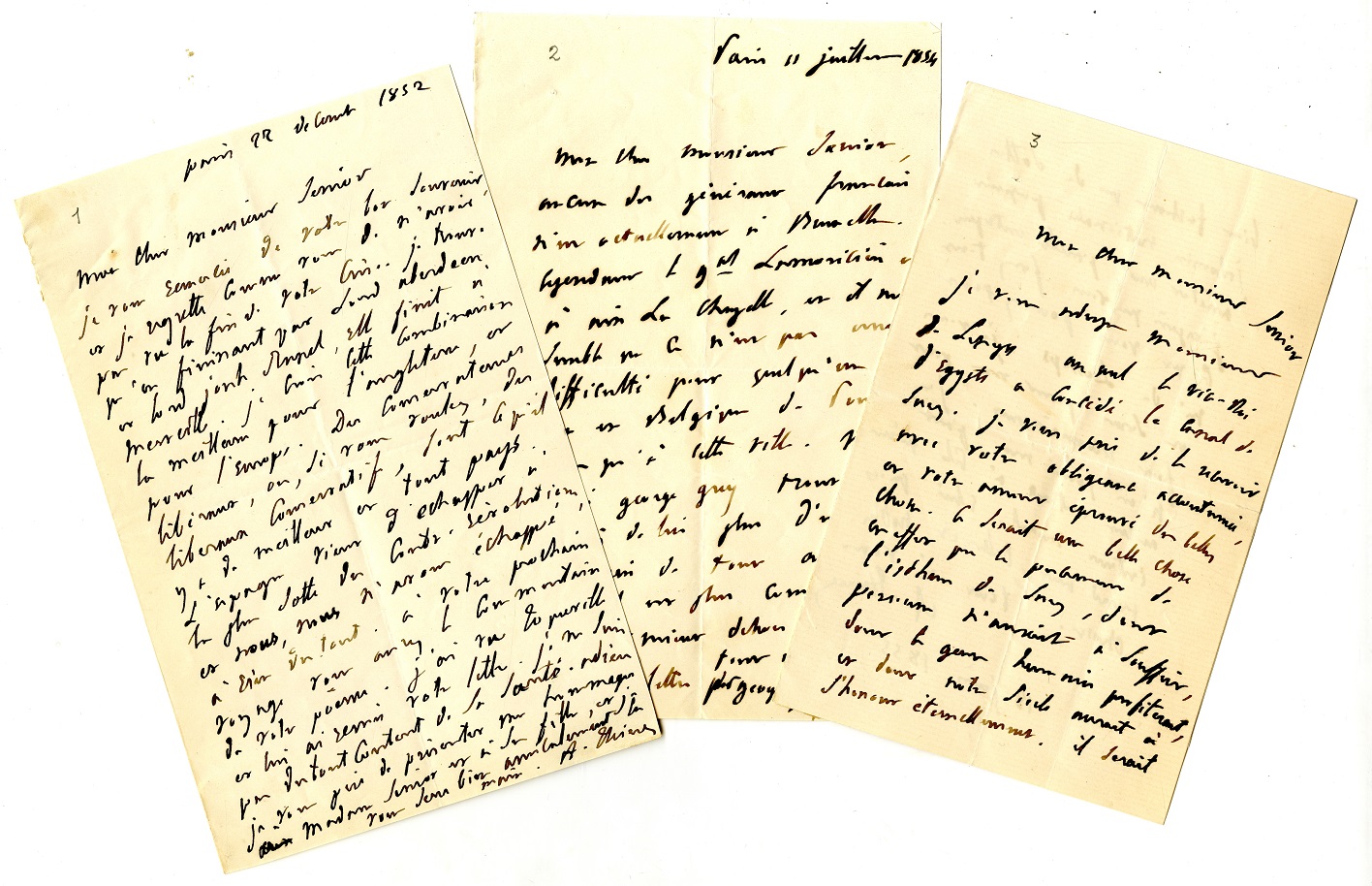 DISCUSSING EUROPEAN POLITICS AND THE SUEZ CANAL THIERS, Adolphe (1797–1877), French politician and historian.
Three autograph letters signed ('A Thiers') to Nassau Senior.
A set of interesting letters from Thiers to the English economist Nassau Senior. Thiers was a French politician and historian who served as prime minister under Louis Phillipe. Following the overthrow of the Second Empire he again came to prominence as the French leader who suppressed the revolutionary Paris Commune of 1871.
FLORIOGRAPHY [POETRY.]
Anthology of manuscript floriographic poetry.
A collection of twenty-six apparently unpublished poems in manuscript, presented as an alphabetical acrostic. The poems express the perfection and the language of flowers – that is, the meaning embodied by each variety. Examples given here include ox-eye for patience, quince blossom for temptation, and yellow xanthiums for rudeness.