DEBATING DANTE
DANTE Alighieri, and Pompeo VENTURI (commentator).

La divina commedia … col commento di P. Pompeo Venturi; edizione conforme al testo cominiano del 1727.
Bassano, Giuseppe Remondini e figli, 1815.
3 vols, 16mo, pp. I: 383, [1 (blank)], II: 360, III: 382; occasional light foxing, small marginal dampstain to lower inner corner of vol. I; a very good set in contemporary tree-sheep, spines gilt in compartments with gilt red and green morocco lettering- and numbering-pieces, edges speckled red, marbled endpapers; very lightly rubbed, corners a little bumped, nonetheless a handsome set.
£250

Approximately:
US $0
€0
Added to your basket:
La divina commedia … col commento di P. Pompeo Venturi; edizione conforme al testo cominiano del 1727.
The attractive first Remondini edition of Dante's Commedia, in three volumes, with highly controversial commentary by the Jesuit scholar Pompeo Venturi (1693–1752) reflecting the volatile relationship between language and religion in the eighteenth century.

Venturi entered the Society of Jesus in 1711, aged eighteen, and went on to teach philosophy and rhetoric in Siena, Prato, and Florence. He is best known, however, for his highly polemical commentary on Dante's Commedia, in which he deliberately targets Dante's repeated invectives against the Pope and clergy in what the Dizionario Biografico degli Italiani terms an act of 'hermeneutic simplification and ideological manipulation'. His commentary earned him the reputation as 'foremost' among Dante's critics in blaming the poet 'for mingling together things Pagan and Christian', as Dante scholar and translator Henry Wadsworth Longfellow wrote in 1867.

Despite the controversy generated by Venturi's commentary, he does include a helpful synopsis at the start of each canticle, engages with the commentary of past Dante critics (Benvenuto da Imola, Cristoforo Landino, Alessandro Vellutello, &c.), and makes a number of new contributions to the world of Dante commentary. Notably, Venturi is the first to observe that Inferno XXVI, line 9 ('Di quel, che Prato, non ch'altri, t'agogna') might refer not to the city of Prato in Tuscany, but to Cardinal Niccolò da Prato, who tried in vain to establish negotiations between the warring Guelphs and Ghibellines in Florence in 1304 (vol. I, p. 301).

Venturi's commentary is steeped in controversy not only for its substance, but also its style: the first edition (Lucca, 1732) was heavily tampered with by its editor, fellow Jesuit Giovan Battista Placidi, who inserted a number of 'counter-notes' criticising Venturi for using words not included in the Vocabolario of the Accademia della Crusca, a Florentine linguistic academy characterised by its purism. Here, Venturi raises further debate by taking liberties with the punctuation of the original text, mostly removing 'tiresome' commas at will.

Manbelli 108; Sommervogel VIII, 569.
You may also be interested in...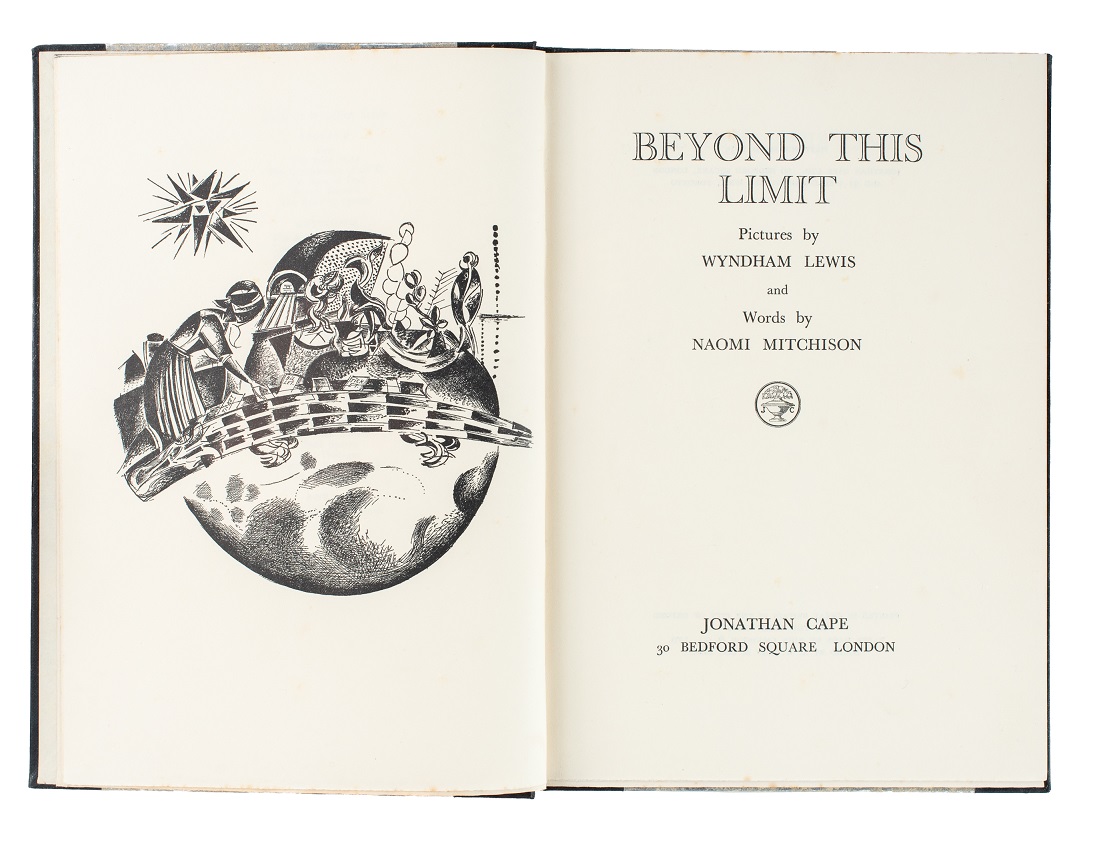 MITCHISON, Naomi; Wyndham LEWIS, illustrator.
Beyond this Limit …
First edition. This was Lewis's only collaboration with Mitchison but she arranged for the publication of his Left Wings over Europe the following year, and they remained friends until his death. 32 designs by Lewis served as the inspiration for Mitchison's narrative.
POCKET POPE POPE, Alexander.
The Poetical Works of Alexander Pope, with his last Corrections, Additions, and Improvements, in four Volumes, from the Text of Dr. Warburton, with the Life of the Author.
A good set of Pope's works, printed for inclusion in Bell's The Poets of Great Britain. Initially imported from Edinburgh and issued with new titles, Bell's Poets of Great Britain was intended to provide attractive and portable works of British poets 'from Chaucer to Churchill', sold both individually and together as a 109-volume set. Bell's first London-printed Pope appeared in 1786, followed by the present edition a year later.