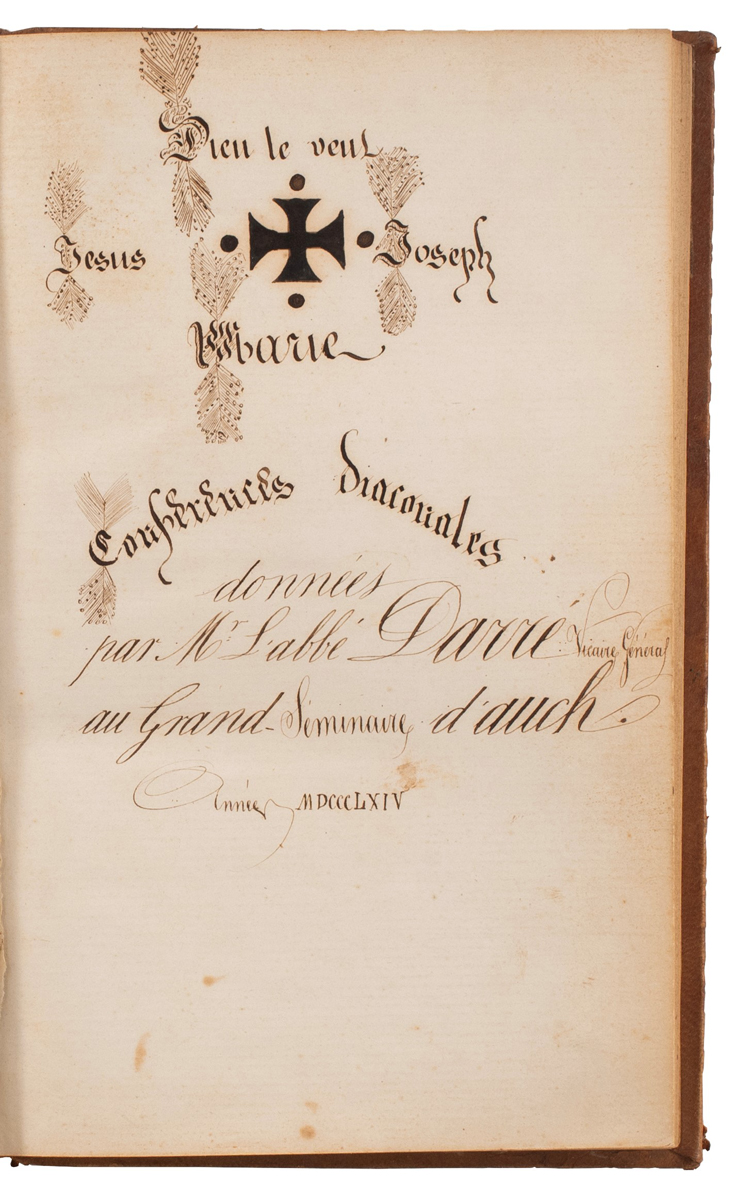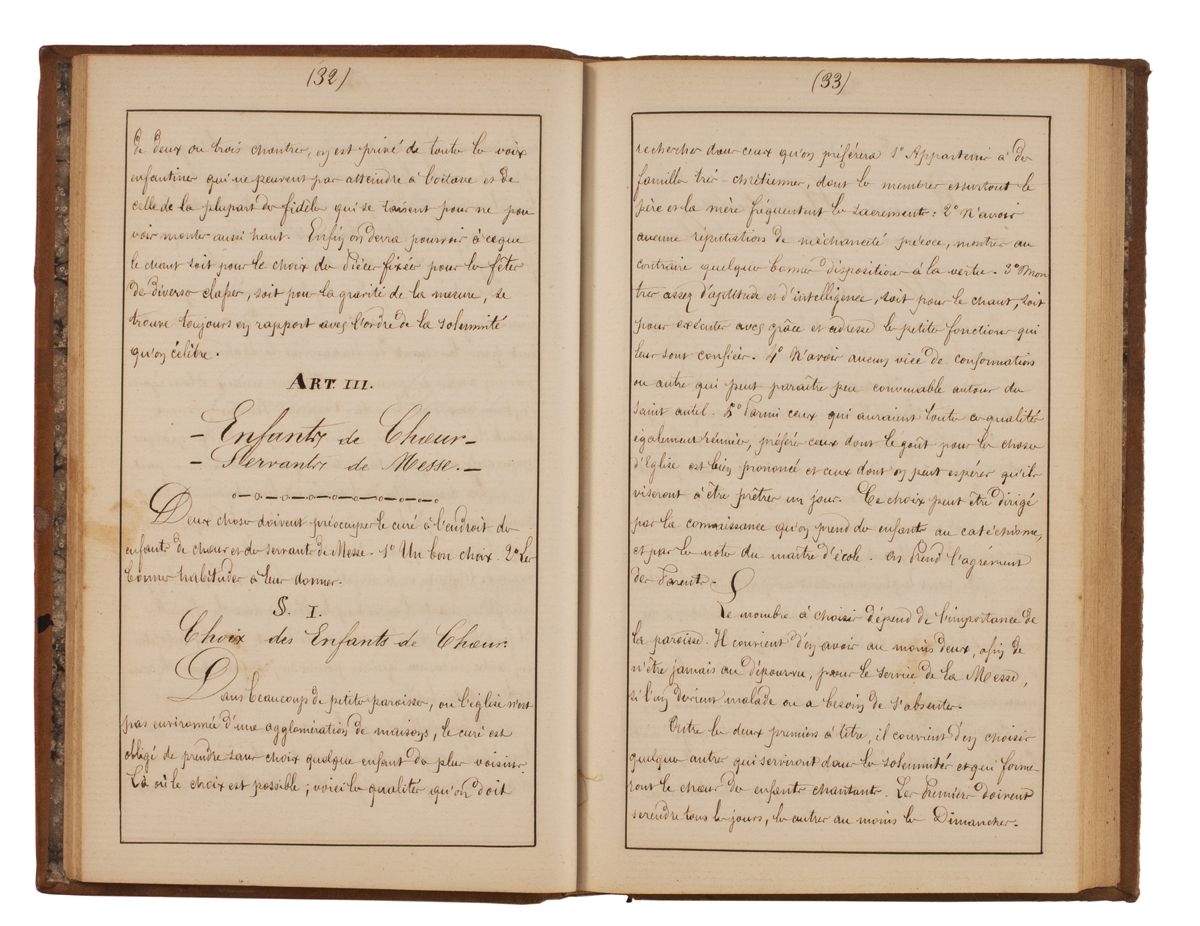 Prepping Priests: Pre-Publication
DARRÉ, G.-G.
'Conferences diaconales données par Mr l'abbé Darré, Vicaire Général au GrandSéminaire d'Auch. Année MDCCCLXIV.'
Auch, 1864.
Manuscript on paper, in French, 8vo (210 x 129 mm), pp. [2], 243 + a few blanks, neatly written in black ink in a single hand, c. 23 lines per page; some creasing to upper corners pp. 191-199, occasional light marks; very good in contemporary sheep, border and central foliate panel blocked in blind to covers, spine tooled and lettered in gilt, gilt board edges, marbled endpapers; some staining to covers, some wear at foot of spine and to corners; faint ink stamp to front free endpaper.
£200

Approximately:
US $242
€231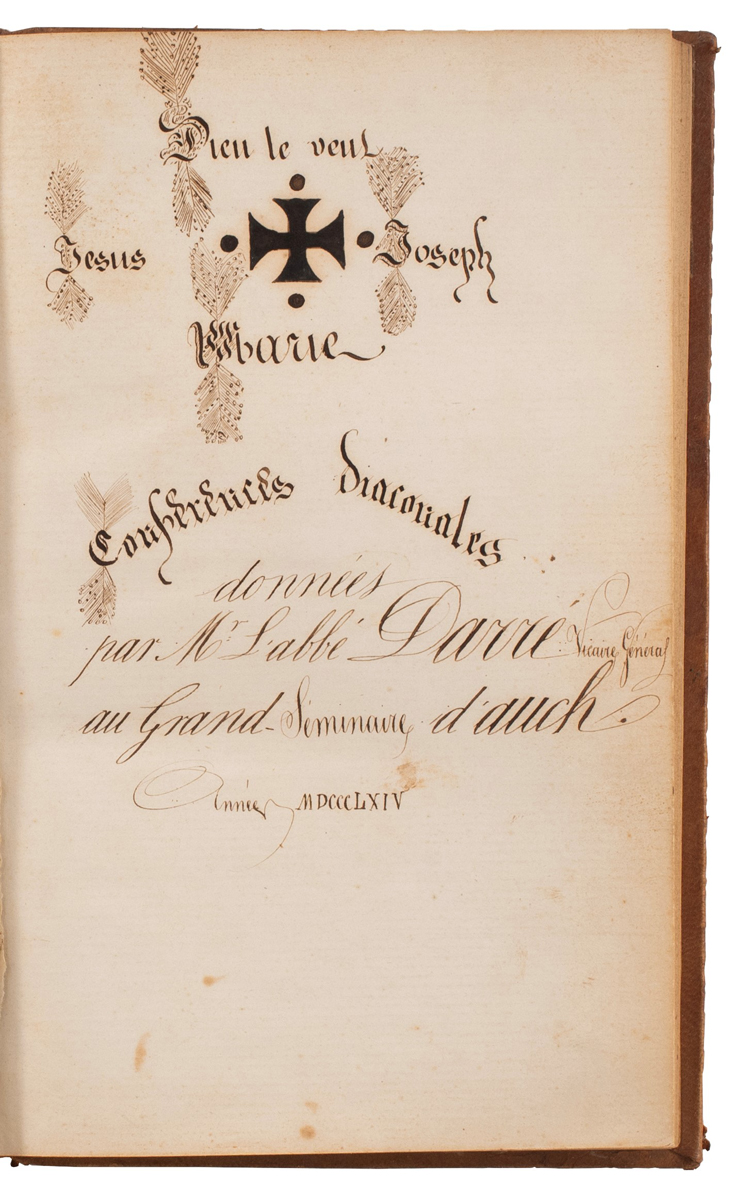 Added to your basket:
'Conferences diaconales données par Mr l'abbé Darré, Vicaire Général au GrandSéminaire d'Auch. Année MDCCCLXIV.'
An attractively written manuscript of Abbé Darré's practical manual for the use of young priests entering pastoral ministry, the text remaining unprinted, according to OCLC, until 1872.

Darré, who served as vicar general at the seminary at Auch in southwestern France, divides his work into three parts. The first advises the reader, inter alia, on the administration of a parish's goods, on organising a choir, on providing religious instruction and preaching, on ensuring that divine office is 'piously frequented', and on restoring religious observance among lapsed parishioners. Opening with a recommended reading list, the second part covers the sacraments, offering plentiful advice on confessing adolescents, couples wishing to marry, the sick, &c.

The third part, on a priest's private life, is perhaps the most interesting of all, providing the reader with the benefit of Darré's long experience. On hiring domestic help, he warns that two women might struggle to get on but that a male and female servant 'risk getting on too well'! Young clergymen are advised to furnish their bedrooms soberly, to avoid living with their parents (who are described as 'an immense bother'), not to degrade themselves by sitting by the fire in the kitchen, and to shun jokes, laughter, and card games. And recognising the possibility of disagreements between older curates and their younger vicars, Darré provides wise words for the avoidance of clerical conflict.

This manuscript was no doubt written by a pupil and friend of Darré, bearing at p. 231 the colophon 'scripsit amicus memento de 1864'.
You may also be interested in...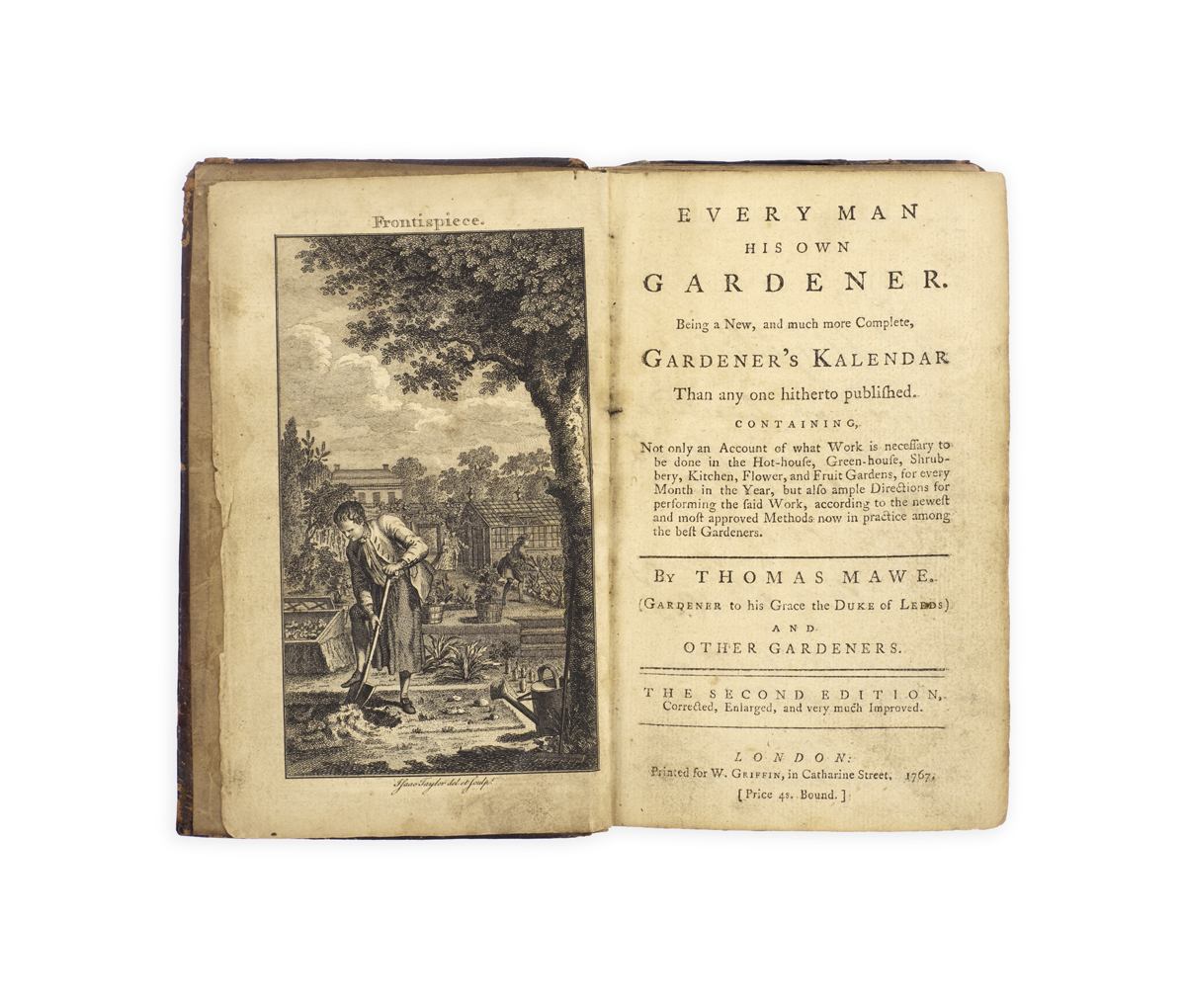 OWNED BY THE GARDENER TO THE LORD MAYOR 'MAWE, Thomas' [but John ABERCROMBIE]. 
Every Man his own Gardener.  Being a new, and much more complete Gardener's Kalendar than any one hitherto published …  The second Edition, corrected, enlarged, and very much improved. 
Second edition, published in the same year as the first, of an immensely popular work, which went through at least twenty-five editions.  'Abercrombie was the son of a market gardener near Edinburgh who went on to be a gardener at Kew and Leicester House, as well as for a number of noblemen and gentlemen.  Despite the title page, he is generally regarded as the sole author of this popular gardening manual, which originally appeared with Mawe, the gardener to the Duke of Leeds, listed as the author because of that worthy's greater reputation' (Johnston).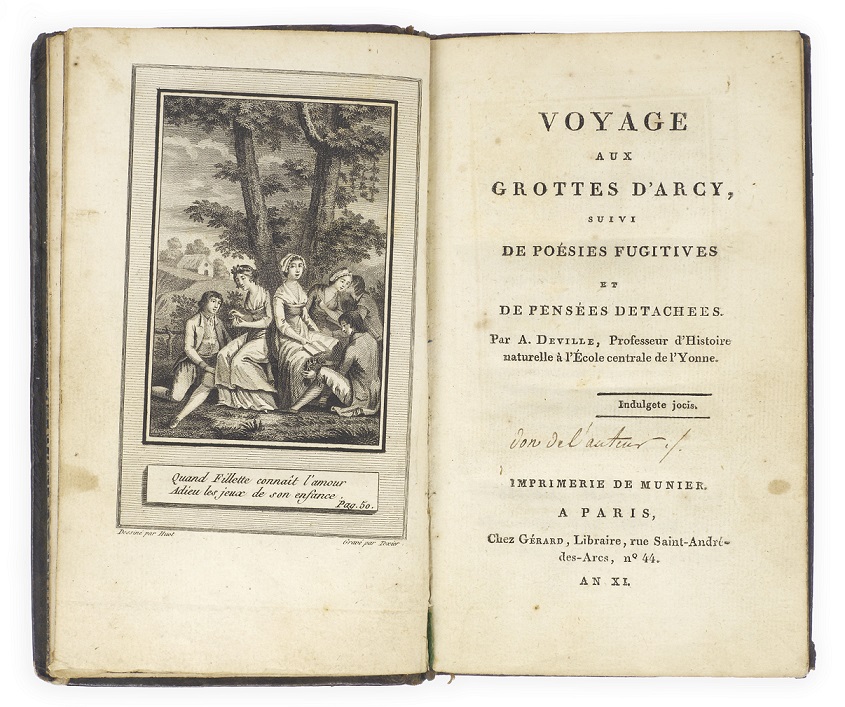 POTHOLER AND POET DEVILLE, Albéric.
Voyage aux grottes d'Arcy, suivi de poésies fugitives et de pensées détachées. Par A. Deville, professeur d'histoire naturelle à l'école centrale de l'Yonne.
Scarce first edition, presented by the author, of this curious work comprising a description of the famous caves at Arcy-sur-Cure in France, alongside various poetical fancies, by the natural history professor and versifier Albéric Deville (1774–1832).