DARROW, Clarence.
Plea of Clarence Darrow in his own Defense to the Jury that exonerated him of the Charge of Bribery at Los Angeles, August 1912.
Los Angeles and San Francisco, Goldon Press, 1912.
8vo, pp. [6], [3]-59, [1 (advertisement)], with half-tone portrait loosely inserted; partially unopened, stapled with first and final leaves as wrappers, woodcut printed in red and black; wrappers detached, a few short tears to top-edge.
£150

Approximately:
US $204
€174
Added to your basket:
Plea of Clarence Darrow in his own Defense to the Jury that exonerated him of the Charge of Bribery at Los Angeles, August 1912.
First edition of Darrow's defence, arguably his most brilliant speech. A prominent member of the American Civil Liberties Union and a lawyer for the labour movement, Clarence Darrow (1857-1938) was implicated in attempts to bribe jurors while defending the McNamara brothers on behalf of the American Federation of Labor. Though it seems he was most likely involved in the conspiracy, Darrow was acquitted of one count and, defending himself in the second trial, moved the jury with the present plea, resulting in a hung jury and no subsequent retrial.
You may also be interested in...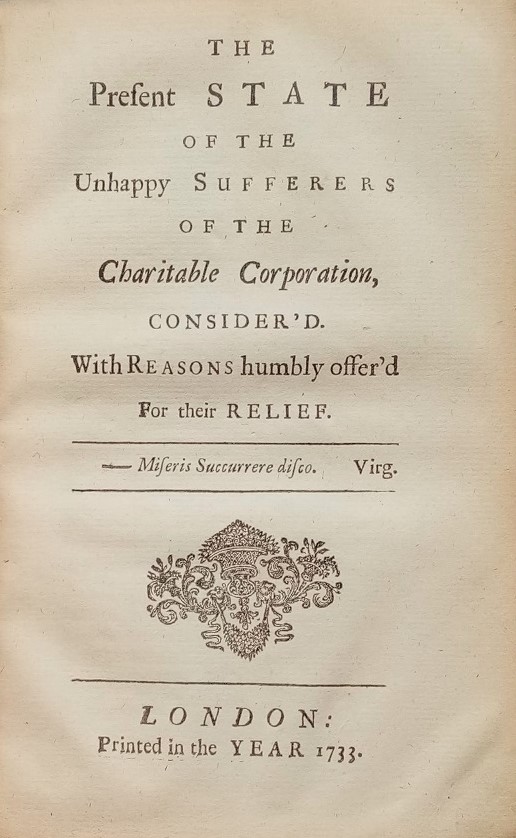 ECONOMIC CONSEQUENCES OF DAMAGED TRUST [INDUSTRIOUS POOR, Charitable Corporation for the Relief of.]
The present state of the unhappy sufferers of the Charitable Corporation consider'd. With reasons humbly offer'd for their relief.
First and only edition of an anonymous plea to Parliament for the rescue of the Charitable Corporation for the Relief of the Industrious Poor, a pawnbroker which granted credit at low interest to the 'deserving poor' who left a pledge. Founded in 1707, in the 1720s the Corporation came under scrutiny for large-scale fraud. In 1731 the City of London petitioned Parliament for relief against the interest rates, which witnesses reported to reach 30 percent, and against the sale of pledged goods at a price much lower than production cost. Four years and numerous pamphlets passed before Parliament was able to summon the evidence and the fraudsters, to deliver the act which devolved the Corporation's assets, and to grant lottery options to shareholders unconnected with the frauds.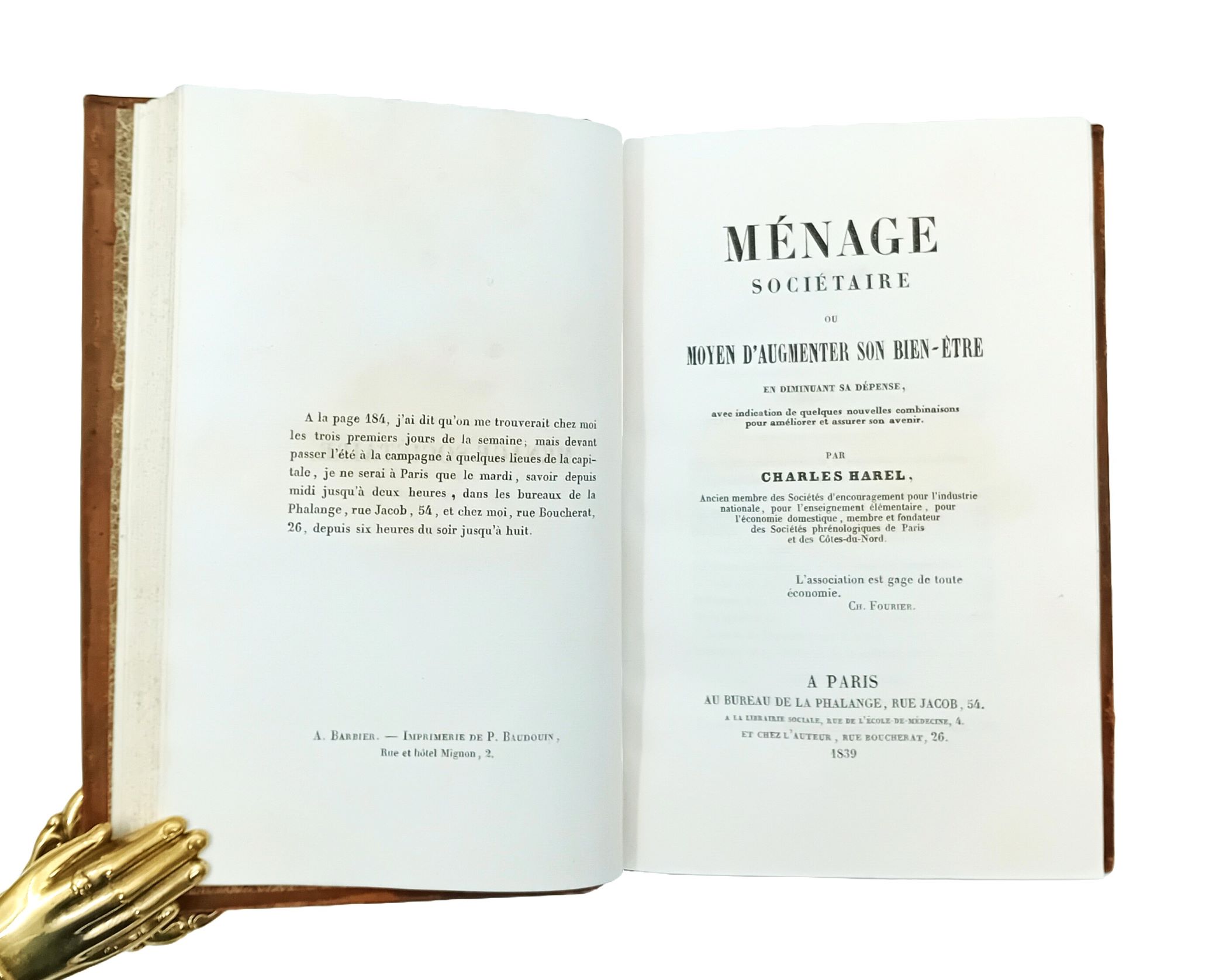 A SAMMELBAND ON PEACEINCLUDING RARE PAMPHLET ON WILLIAM PENN AND WILBERFORCEAND A RARE UTOPIA BY A HAREL, Charles.
Ménage sociétaire ou Moyen d'augmenter son bien-être en diminuant sa dépense, avec indication de quelques nouvelles combinaisons pour améliorer et assurer son avenir.
1. First edition of this work by the entrepreneur and inventor Charles Harel (1771-1852), a friend and disciple of Charles Fourier's. This plan describes Harel's project for the founding of a community of 200 celibates: a utopia of communal life detailing rules ('love', 'the library'etc.) and practical advice (the influence of specific foods, magnetism, exercise). It is accompanied by a facsimile of an autograph letter from Charles Fourier to Harel.