[DEATH OF REASON].
Oracion funebre dicha en las Exêquias del Ente de Razon.
Barc[elona], Pedro Gomita. c.1787.
8vo, pp. 16; some foxing, mainly to title, but otherwise clean and crisp; in contemporary plain wrappers, slightly foxed.
£215

Approximately:
US $239
€244
Added to your basket:
Oracion funebre dicha en las Exêquias del Ente de Razon.
Barcelona printing, in the same year as the first, of this speech given in competition at the Provincial Chapter of the Franciscans in Malaga, offering a funereal eulogy for Reason.

The author, who remains anonymous, weeps at the 'siglo de tristeza, yamargura' in which the 'venerablés Proémiales de la Logica' have disappeared: we have no more the syllogisms,we have lost Barbara Celarent. But it is not just logic that depends on reason. There had been such an inventiveness in the system-building of the likes of Spinoza, Descartes, and Newton, and in the new physics, leading to the invention of the hot air balloon; metaphysics and dialectic, poetry, politics, and law, are all dependent on 'Nuestro Ente, nuestro fecundo Ente', Reason. And so we should celebrate it, but also preserve its memory. This will be done by the Franciscans of Granada, who will give it a decent burial, and inscribe on its tomb their Nuevo Plan de Estudios, published in 1782.

First printed in Malaga, this speech, which of the several presented to the Malaga chapter 'mereció singular aplauso de los Padres Conscriptos', saw printings in several places throughout Spain in the same year; not only Malaga and this Barcelona printing, but also Cadiz and Madrid. All are rare.

OCLC records two copies of this printing outside Spain, at Texas and Wisconsin,with copies of the Malaga printing at Wisconsin, Oxford, and the BL, and a copy of the Cadiz printing at Yale.
You may also be interested in...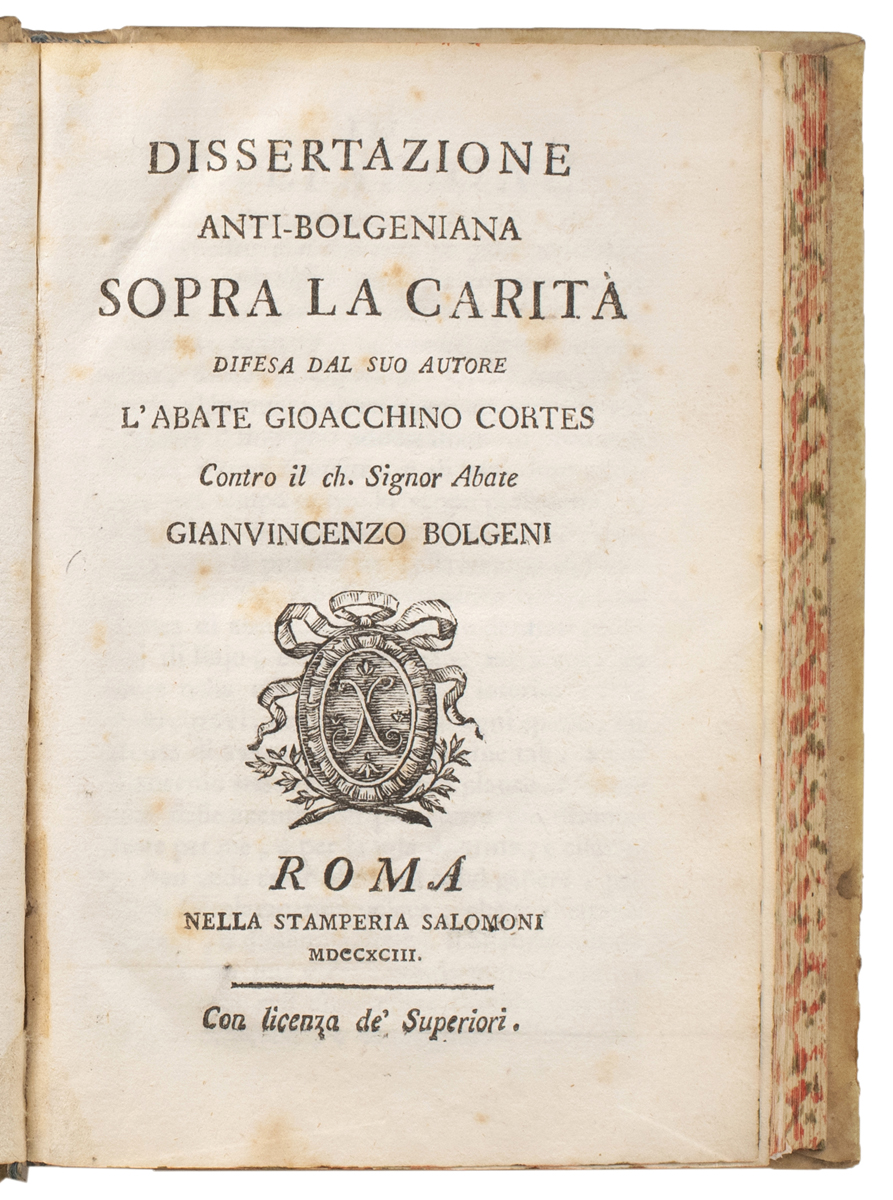 ON CHARITY CORTÈS, Gioacchino. 
Dissertazione anti-Bolgeniana sopra la carità difesa dal suo autore l'abate Gioacchino Cortes contro il ch. Signor abate Gianvincenzo Bolgeni. 
First edition of this response to and attempted refutation of Bolgeni's Della carità o amor di Dio by the Spanish Jesuit Joachim Cortès.  Della carità was the best-known work of the Jesuit theologian and controversialist Gianvincenzo Bolgeni, in which he had argued, against the Dominican de Rubeis, that the theological virtue of charity was rooted in the love of God due to God's goodness to us, rather than due to intrinsic and absolute goodness.  This approach unsurprisingly resulted in a series of responses, often from Bolgeni's former Jesuit confrères, among them Cortès, who published his Anti-Bolgeniana de Amore Dei dissertatio in 1790.  Here, Cortès responds to Bolgeni's reply, addressing Bolgeni's work in detail, quoting chapter and verse, and responding to each of Bolgeni's attacks on Cortès, in which the Italian had attempted to argue that Cortès was a defender of Jansenist doctrines.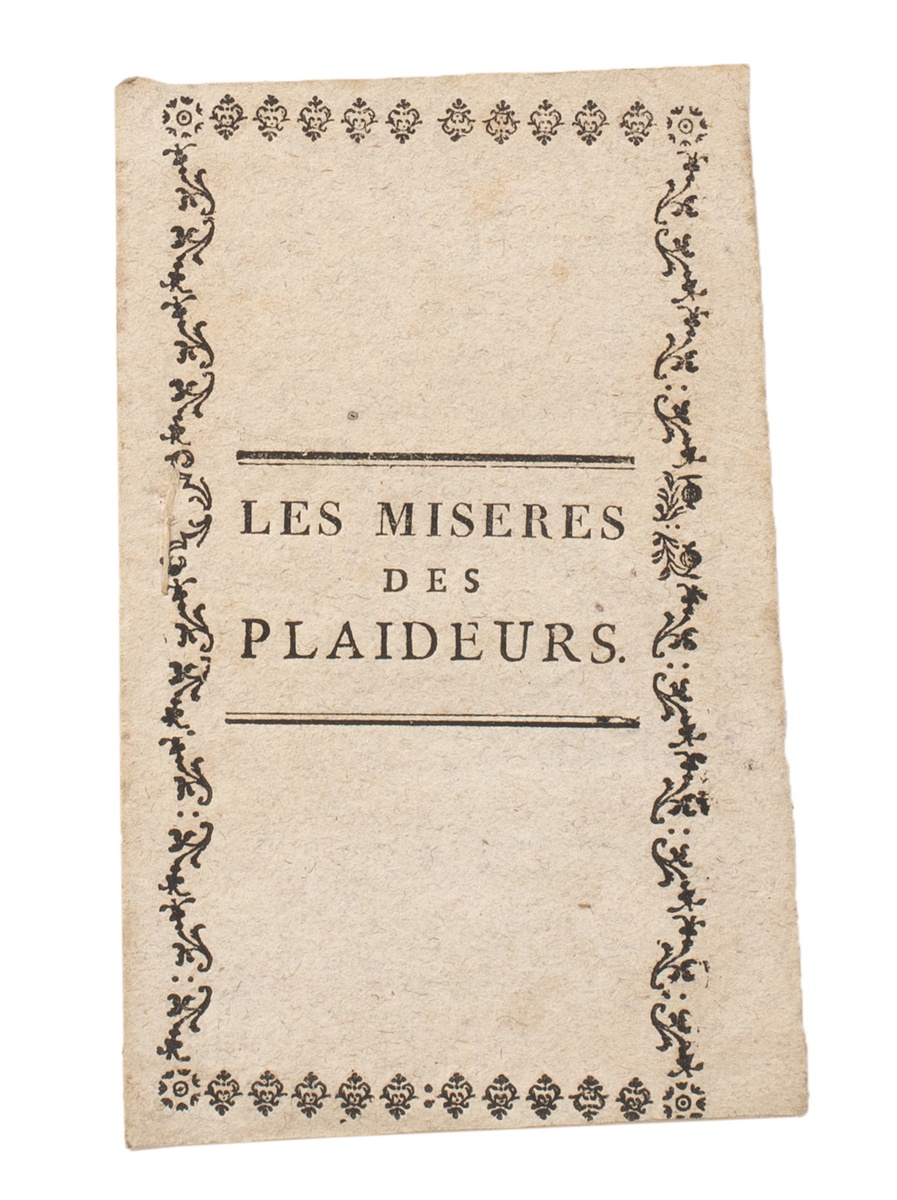 CHAPBOOK SATIRE OF ANCIEN RÉGIME LAW [DE MONCHESNAY, Losme (attr.).] 
Les misères des plaideurs. 
First separate, chapbook-form edition of this satirical verse commentary of juridical practices, exposing the intricate, defeating vagaries of trials, lawyers and a justice system not fit for purpose, which had first appeared in Satires nouvelles par le sieur D*** (Paris, Jacques Collombat, 1701).