IN MOURNING FOR THE FRENCH ROYAL FAMILY
DELILLE, Jacques.
Le malheur et la pitié, poëme en quatre chants.
London, A. Dulau & Co. and Prosper & Co., 1803.
Large 4to (283 x 225 mm), pp. [iii]–xxviii, 199, [1], bound without the half-title; with an engraved frontispiece by Audinet after Danloux and four portrait plates (Louis XVI, Marie-Antoinette, Elisabeth of France and the Dauphin); some very minor soiling and staining, but an excellent copy in a handsome contemporary English mourning binding of black straight grain morocco, border on covers of two gilt fillets enclosing a palmette roll in blind, gilt fleurons in corners, spine divided into six panels by double bands and lettered direct, black watered silk endpapers with guilloche border tooled in gold, edges gilt; lightly rubbed.
£1250

Approximately:
US $1714
€1410
Added to your basket:
Le malheur et la pitié, poëme en quatre chants.
First London edition. First published in Paris the previous year under the title La pitié; also published in octavo format in both London and Paris in 1803. According to Brunet, the London editions contain several passages relating to the French Revolution and to the king which appeared in only a very few copies of the Paris editions.

Jacques Delille (1738–1813) was professor of Latin poetry at the Collège de France, and much lauded in his time for his translation of Virgil's Georgics (1769). He fled France during the Revolution, emigrating first to Basel, then to Germany and finally to London. As a poet he rapidly fell out of fashion after his death, but his importance as a theorist is still underappreciated, perhaps partly on account of his royalist sympathies.

'In order to bring about a gradual reform in poetic style Delille sought first to break down the hierarchy of words which the classicists had established. As the first step in this process he proposed to introduce, through translations, new words and expressions from other languages . . . . [He] put this theory into practice by translating extensively from various foreign writers, chiefly English. He also adopted many new terms and expressions from these writers and used them in his own poems with the result that his style showed considerable difference from that of the other poets of his time. Moreover, Delille's originality in this respect was noted by an anonymous critic writing in the Edinburgh Review in 1803. In reviewing Delille's poem "la Pitié" (1802) this critic commented as follows:

It will probably not appear very flattering to a French writer, or to his admirers, to say, that he has extended his reputation, chiefly by abandoning his national peculiarities, and added materially to the beauty of his compositions by accommodating them to the taste of his neighbours. Yet such, it appears to us, is undoubtedly the case with M. de Lille [sic]. He has recommended his works to general perusal, by departing, in a good measure, from the common poetical style of his countrymen by adopting freely, the beauties of the surrounding countries, and forming himself upon the model of all that appeared to him to be excellent in the poetry of modern Europe.

Actually there is little difference between the vocabulary used by Delille and that of the Romantic poets' (John A. Downs, 'The poetic theories of Jacques Delille', in Studies in Philology, 37 (July 1940), pp. 524–34, at pp. 529–30).

Le malheur et la pitié is divided into four 'chants': the first concerns the pity exercised towards animals, servants, family and friends, the second the pity of governments as demonstrated in establishments of justice and charity, in prisons, hospitals and war (even civil war), the third pity in times of proscription, and the fourth pity in times of spoliation and emigration.

The striking frontispiece, by the émigré French artist Henri-Pierre Danloux, has been admirably engraved by Philip Audinet, himself descended from a family who had emigrated to England after the revocation of the edict of Nantes.

Although unsigned, the binding is of high quality and reminiscent of the work of Kalthoeber and Staggemeier & Welcher.

Brunet II 576.
You may also be interested in...
[WILKES, John.] [CRADOCK, Joseph.]
The Life of John Wilkes, Esq; in the manner of Plutarch. Being a specimen of a larger work. The second edition, revised and corrected.
Second edition of a satirical 'biography' of Wilkes, published in the same year as the first; Cradock, whose windows had been broken by a Wilkite mob earlier in the year, ironically praises Wilkes's many remarkable achievements.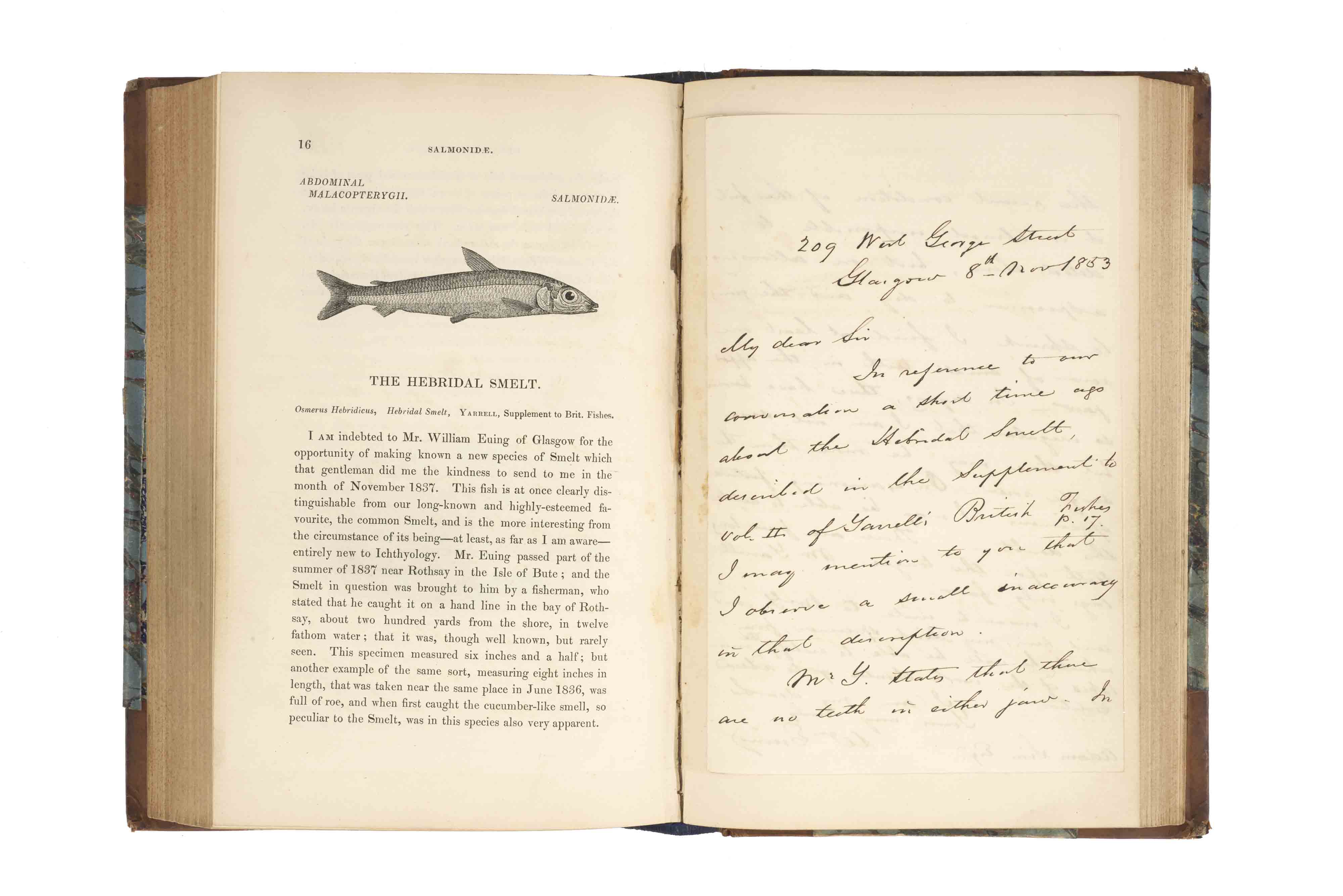 HEBRIDAL SMELT YARRELL, William.
A History of British Fishes … illustrated by nearly 400 Woodcuts.
First collected editions, with an autograph letter on the Hebridal smelt from the species' discoverer. Published serially from 1835 to 1836, Yarrell's History of British Fishes was reprinted within a year, and followed soon after by Thomas Bell's British Reptiles in 1839 and his own British Birds in 1843 published by van Voorst and together forming a comprehensive survey of British wildlife. Though noted for his careful observations, Yarrell is here corrected on several points in an autograph letter to the antiquarian Adam Sim (1805–1868) from William Euing (1788–1874), who had discovered the Hebridal smelt (first included in the Supplement) in November 1837.
Despite this contribution to Scottish ichthyology, Euing, a Fellow of the Royal Society of Edinburgh and President of the Glasgow Archaeological Society, is best remembered for his fine library, of which some twelve thousand volumes now belong to Glasgow University.