FIRST CONCEPTION OF MAN AS MACHINE DE TERRE
DESCARTES, René, and Louis de la FORGE (editor).

Tractatus de homine, et de formatione foetus.
Amsterdam, Daniel Elzevir, 1677.
4to, pp. [76], 239, [1 (blank)]; title printed in red and black with woodcut Elzevir device, woodcut illustrations throughout; marginal toning, occasional spots; a very good copy in recent mottled sheep to period style, spine gilt-ruled in compartments with gilt red morocco lettering-piece.
£1100

Approximately:
US $1358
€1268
Added to your basket:
Tractatus de homine, et de formatione foetus.
First and only Elzevir edition, and the first edition of the better Latin text of Descartes's Traité de l'homme. De homine 'is the first work in the history of science and medicine to construct a unified system of human physiology that presents man as a purely material and mechanical being: man as machine de terre. In conceptualizing man as a machine, Descartes helped emancipate the study of human physiology from religious and cultural constraints and validated a clinical and experimental approach to anatomy and physiology.' (Grolier).

Withheld from the public while Descartes was alive for fear of censure by the Catholic church, the text was first printed in 1662 from a flawed manuscript. A French translation appeared in 1664, followed by the present corrected Latin edition published by Elzevir, with diagrams after la Forge and von Gutschoven and an extensive introduction by Clerselier.

Willems 1531; Wellcome II, p. 453; cf. Grolier 31.
You may also be interested in...
AGAINST INEQUALITY ROUSSEAU, Jean-Jacques.
Discours sur l'origine et les fondemens de l'inegalité parmi les hommes.
First edition. 'Rousseau's object was to persuade people that the happier state is that in which inequality does not subsist, that there had once been such a state, and that this was the first state of nature' (Morley). Nature imposes its own inequality, namely the inequality of physical strength and weakness, while man imposes, or at least authorises political and moral inequality. Physical inequality was made apparent by the accidental coming-together of isolated individuals to subsist in joint labour and to advance a series of technological Revolutions. The very establishment of civil society, of which this coming-together was the result, was flawed because it was established on chance; this is the insecure foundation on which moral and political inequality are constructed. If Rousseau's Discours sur les sciences et les arts was aesthetic and moral, this second Discourse was 'explicitly social and economic … Rousseau's work attacked the social institutions and entrenched inequalities of a feudal society in transition which combined remnants of feudal personal dependence [the age of 'Master and Slave'] with a set of new bourgeois commercial values and individual self-serving relationships later characterised [by Tocqueville in Democracy in America] as 'the get ahead spirit'' (New Palgrave). Rousseau's conclusion is indeed economic in spirit: of all the trappings of inequality – property, laws and government included – wealth is by far the most destructive.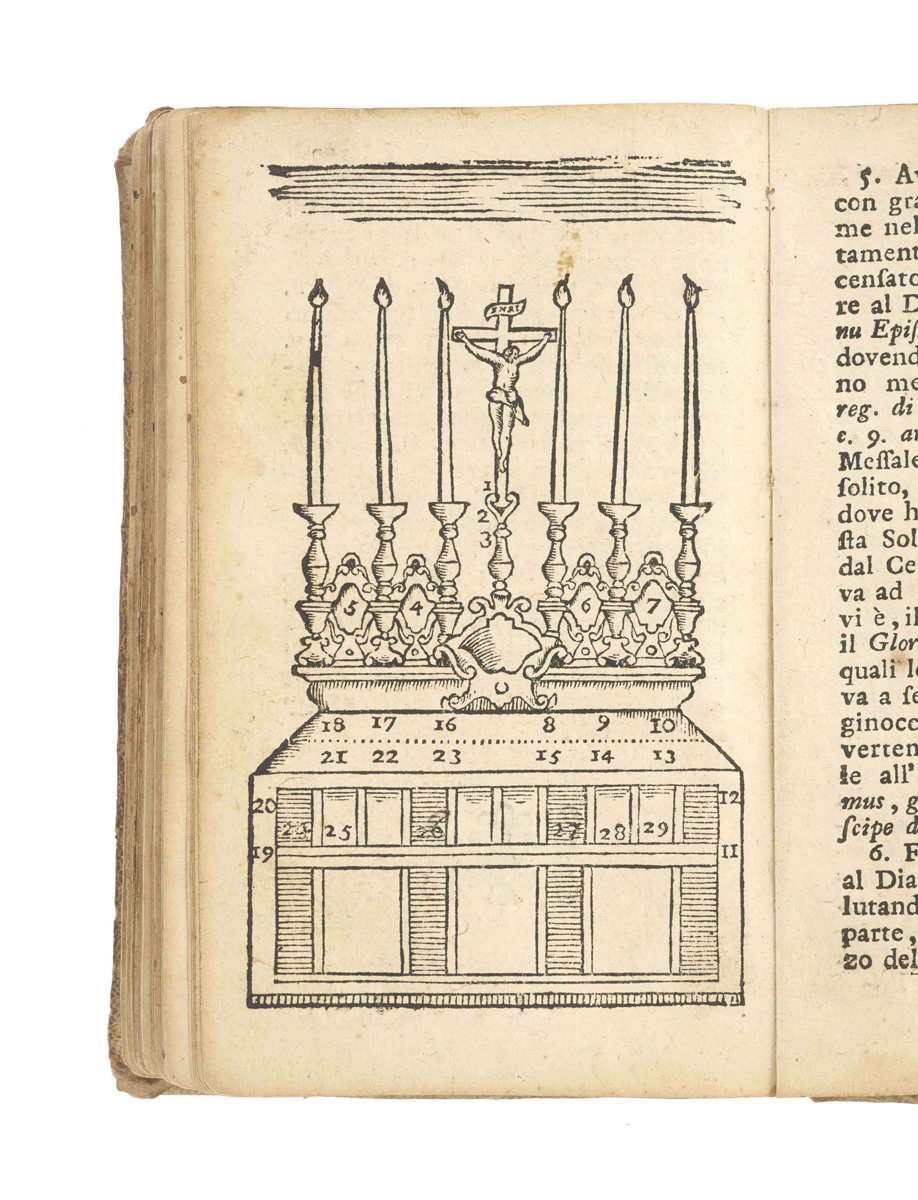 [LITURGY.]
Cerimonie piu' notabili della messa privata; Cavate dalle rubriche del Missale, ed altri autori da un Sacerdote D.C.D.M. Coll'aggiunta di quelle della messa, e vespri solenni si pei vivi, che pei defunti, col modo di servire alla messa privata. Da un'Alunno del Seminario di Torino.
As far as we are aware unrecorded edition of this uncommon treatise on the celebration of the mass and its associated rituals. Dealing both with private (low) masses and with solemn mass and solemn vespers, the work explains the meaning and performance of the non-verbal aspects of the liturgy: genuflection, the sign of the cross, the communion of the faithful, the movements of the celebrant's hands, the role of acolytes and thurifers (also during requiem masses), the office of the subdeacon and deacon, the use of incense, and instructions for serving at the missa private. The woodcut on page 200 depicts the altar, annotated with numbers referring to the relevant parts of the text.
The text itself appears first to have been published around the turn of the century; the earliest issue in SBN is a Naples printing of 1701, but that claims to be 'novamente riviste, ed accresciute', and is only of 134 pages in 12s. Other editions appeared in Pavia, Turin, and Modena, while Venetian printings were issued in 1739 and 1750. All seem very scarce.
Not in OCLC, which records only a Venice printing of the same year (in the Polish Union Catalogue); SBN does not record this edition.