PRE-WAR SINGAPORE
[DICKSON, George.
Singapore flight.
N.p., n.p., n.d.]
Small 4to, pp. [ii, blank], [ii, contents], 59, [1, blank], with photographic illustrations; a clean copy in yellow stiff paper wrappers, lettered on upper cover.
£150

Approximately:
US $208
€173
Added to your basket:
Singapore flight.
Apparently the first and only edition of a fascinating personal diary of an 18,000-mile flight from Southampton to Singapore made in 1938 (pp. 1–36). It includes accounts of stop-overs in Athens, Basra, various parts of the Indian subcontinent, Malaya, Java, Batavia (Jakarta), Bandoeng (Bandung), Alexandria and Rome. The final destination strikes Dickson as 'a lovely heavily wooded island with everything extremely clean' (p. 24). On sightseeing in the Sultanate of Johor, he comments: 'the visit was admirable and the monkeys around the place were as tame as I, but a hundred times smaller and slimmer and, I guess cooler' (p. 26). There is also a description of the 1938 Empire Exhibition in Glasgow, which attracted twelve million visitors (pp. 37–44), and of a 1939 trip to New York, with photographs of the Rockefeller Centre (pp. 55–59). Dickson incorporates a poem entitled 'The Night Ashore' (pp. 45–54). In poignant contrast to the glamour of air travel, the journal gives an insight into a world which, on the brink of war, was still feeling the effects of the 1929 crash: while in New York, Dickson 'went walking in some of the poorer streets, where 15 cents. is a lot of money. Unemployed men and women walked around sadly, hopelessly, it seemed, in droves . . . America has her own troubles. If there is a war, when will she enter it? . . . Chamberlain must declare war this time' (p. 58). There volume has no title page, seemingly as issued; and author and title are taken from the cover, which is illustrated with an evocative sketch of a sea plane.

No other copies have been traced.
You may also be interested in...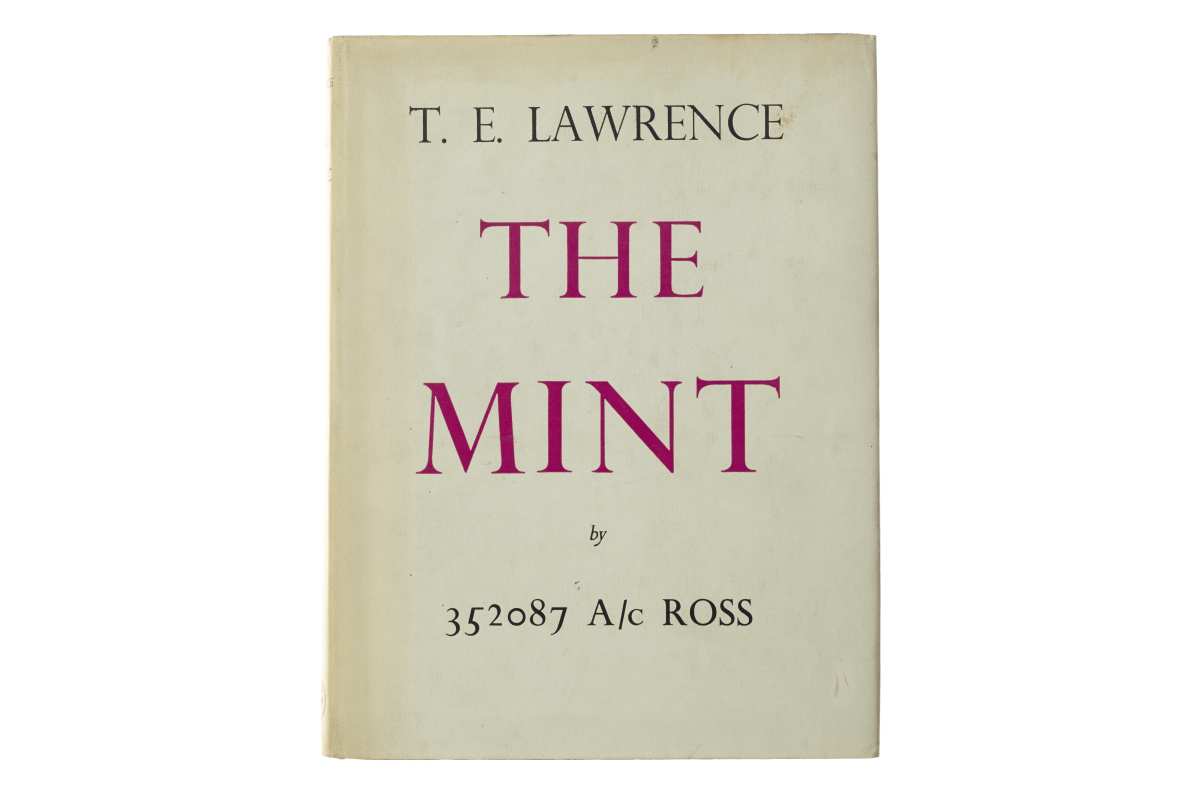 LAWRENCE, Thomas Edward.
The Mint. A Day-Book of the R.A.F. Depot between August and December 1922 with Later Notes, by 352087 A/c Ross. Edited by A.W. Lawrence.
First British edition, the trade issue. 'One of Lawrence's avowed purposes in joining the RAF, though not the only one, was to write of the ranks from the inside. He began immediately making notes when he enlisted in 1922. With his dismissal in January 1923, because of unfavourable publicity, the project was set aside, not to be taken up again until he was posted to India in 1927 [...] While in India he edited the text of his earlier notes and began revisions. In March 1928 he sent a clean copy of the revised text to Edward Garnett. Garnett had copies typed which were circulated to a small circle, among them Air Marshal Trenchard [...] Trenchard's concerned response led Lawrence to guarantee that it would not be published at least until 1950. Later revisions were made by Lawrence in the last months of his life with a possible view to publication in a private edition on a handpress' (O'Brien, pp. 119-120). Although an American edition was printed in 1936 to forestall a possible piracy, the present edition was printed from a later, revised version of the text and the type was set up by Cape in 1948. However, publication was delayed until 1955, when an officer described unfavourably by Lawrence died. The British edition appeared in two issues: the limited issue and the present trade issue 'which had all objectionable words lifted out of the text, leaving blank spaces' (loc. cit.).
WITH 50 SEPIA ILLUSTRATIONS CARDONNEL, Adam de.
Picturesque Antiquities of Scotland [I–II] …
First edition, the very rare issue with the plates in sepia, printed directly onto thick wove paper.