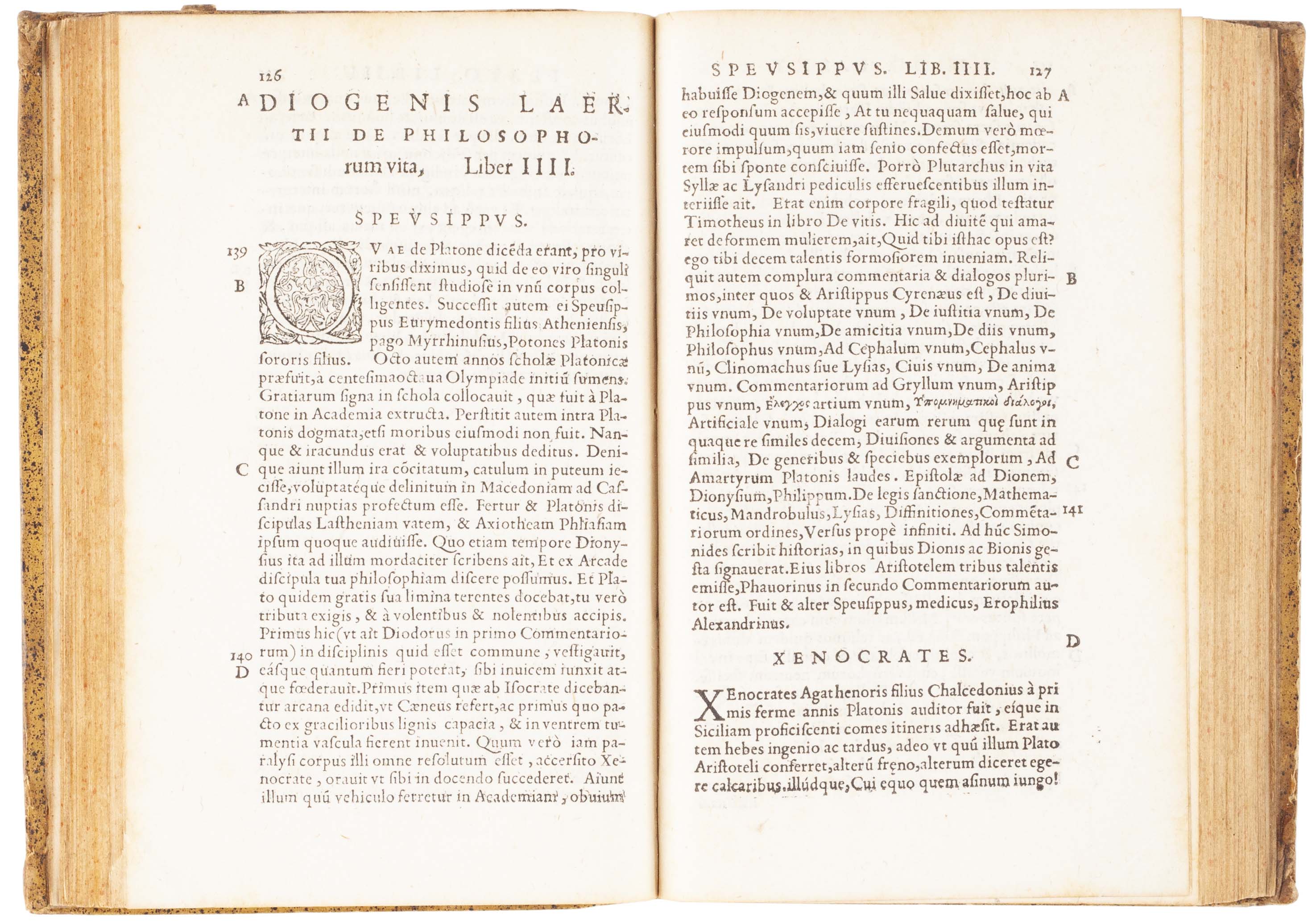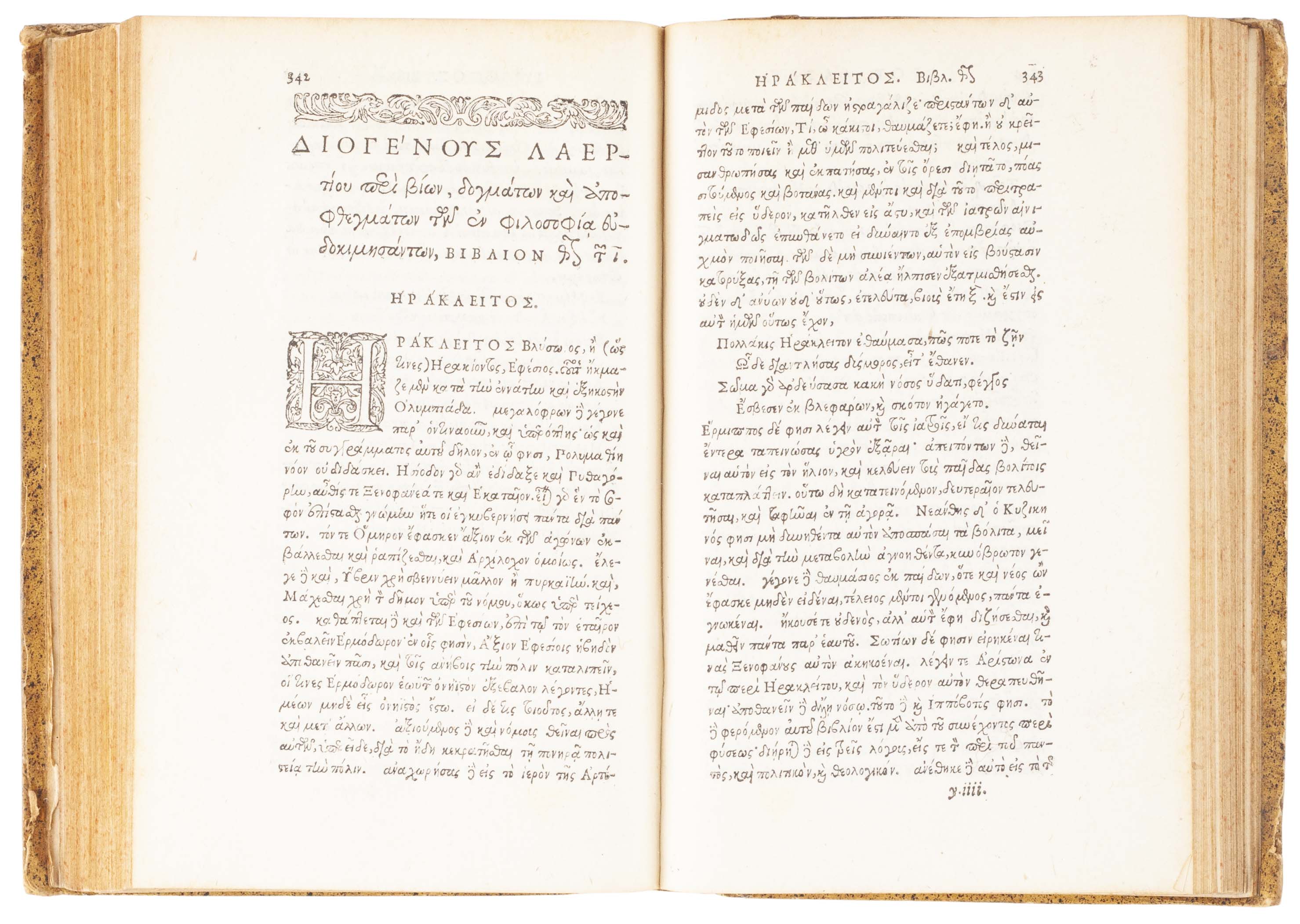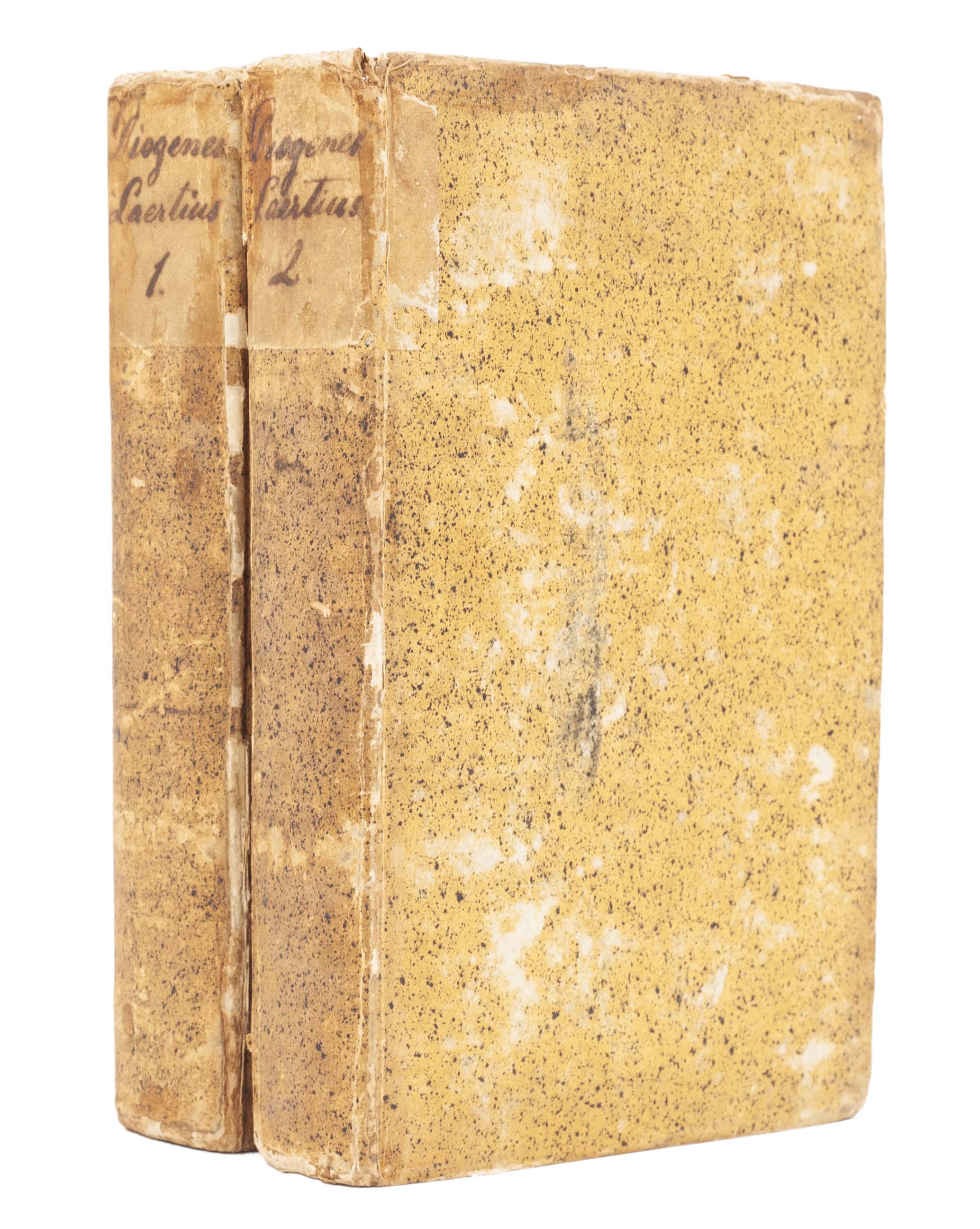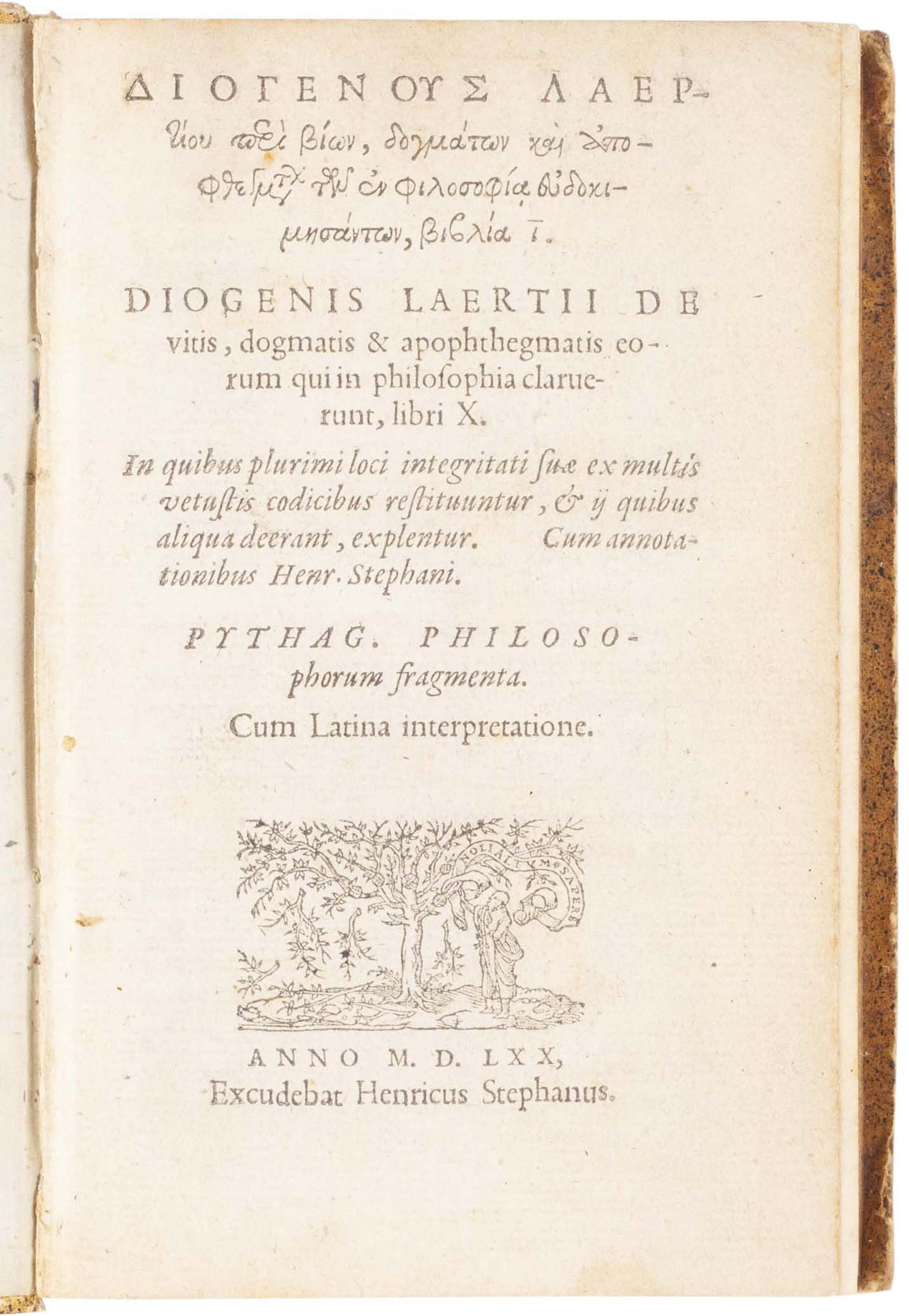 EPICUREANISM PRESERVED
DIOGENES LAERTIUS, [and Henri ESTIENNE (editor)].

Περι βίων, δογμάτων και αποφθεγμων των εν φιλοσοφία ευδοκιμησάντων βιβλία ι. De vitis, dogmatis & apophthegmatis eorum qui in philosophia claruerunt, libri X.
[Geneva,] Henri Estienne, 1570.
2 parts in 2 vols, 8vo, pp. i: 8, 494, [2 (blank)], ii: 40, 432; printed in Greek and Roman letter; woodcut printer's device on title; a very good copy in early nineteenth-century sprinkled paper over boards, manuscript labels to spines; rubbed.
£1400

Approximately:
US $1722
€1632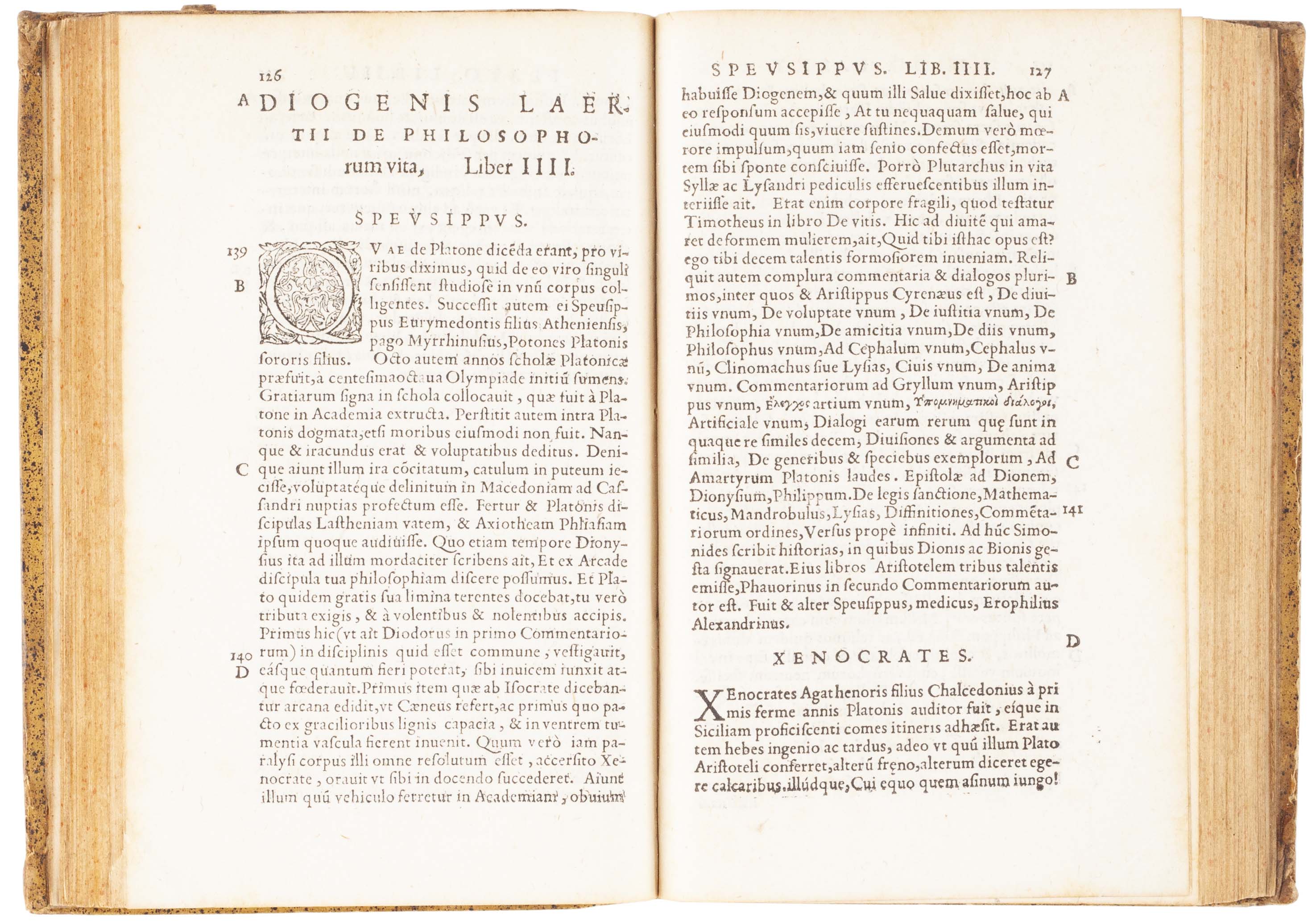 Added to your basket:
Περι βίων, δογμάτων και αποφθεγμων των εν φιλοσοφία ευδοκιμησάντων βιβλία ι. De vitis, dogmatis & apophthegmatis eorum qui in philosophia claruerunt, libri X.
First Estienne edition of The Lives of the Philosophers, a very important edition in the original Greek, 'in which appear for the first time many passages discovered in manuscripts by Estienne'. 'The volume also contains thirty-six pages of important textual annotations by Henri Estienne, and three pages of notes on the Fragments of Pythagoras by Willem Canter' (Schreiber).

The Lives, in ten books, contain a vast quantity of information and is of particular value for the quotations it includes. The whole of the last book is devoted to Epicurus and preserves his three letters and all forty of the 'Sovran Maxims', the principle articles in his doctrine. 'The account of Epicureanism, given with long direct quotations from the letters of Epicursu, is perhaps the most valuable feature of Diogenes' book, not only for modern students, but also because it gave the Quattrocento humanists a fresh and reliable body of information about a philosophical school which Cicero had ridiculed and misunderstood…' (Wilson, From Byzantium to Italy, p. 33). Diogenes also preserves the famous epitaph of Callimachus on Heraclitus, 'They told me, Heraclitus, they told me you were dead…'.

Schreiber 178.
You may also be interested in...
FROM RABBI TO ROMAN CATHOLIC GAZZOLI, Giacomo Maria.
Il Luminario de' Ciechi. Operetta diretta all'universale del Giudaismo da Giacomo M.a Gazzoli già Rabbino e Predicatore Ebreo poi Cattolico Romano.
A rare typographic marvel featuring three distinct Hebrew typefaces by Giambattista Bodoni (1740–1813), in which Rabbi-turned-Catholic-zealot Giacomo Gazzoli exhorts the Jews of Italy to 'emerge from a state of blindness into the light of Christianity'.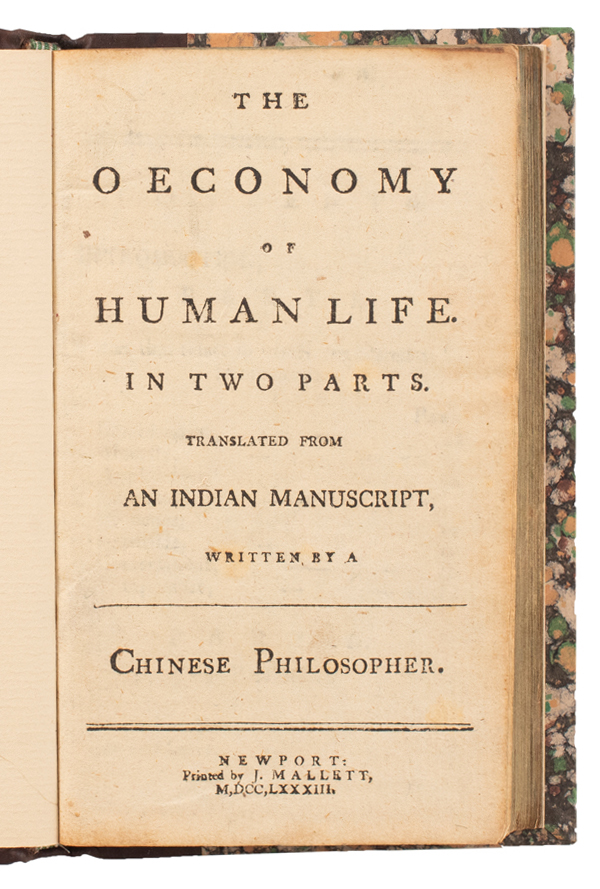 RARE ISLE OF WIGHT IMPRINT [DODSLEY, Robert, et al.] 
The Oeconomy of Human Life, in two parts, translated from an Indian manuscript, written by a Chinese philosopher. 
Rare printing, undertaken in Newport on the Isle of Wight by James Mallett.  Only nine publications are listed in ESTC as Mallett, Newport: mostly occasional endeavours, undertaken in 1767, 1770, 1782, 1783 (two publications, including ours), 1784 and 1789 (three publications), and almost all consisting of ephemeral imprints or short works of local interest. This is by far the longest, and therefore the most financially risky, of all his editions.