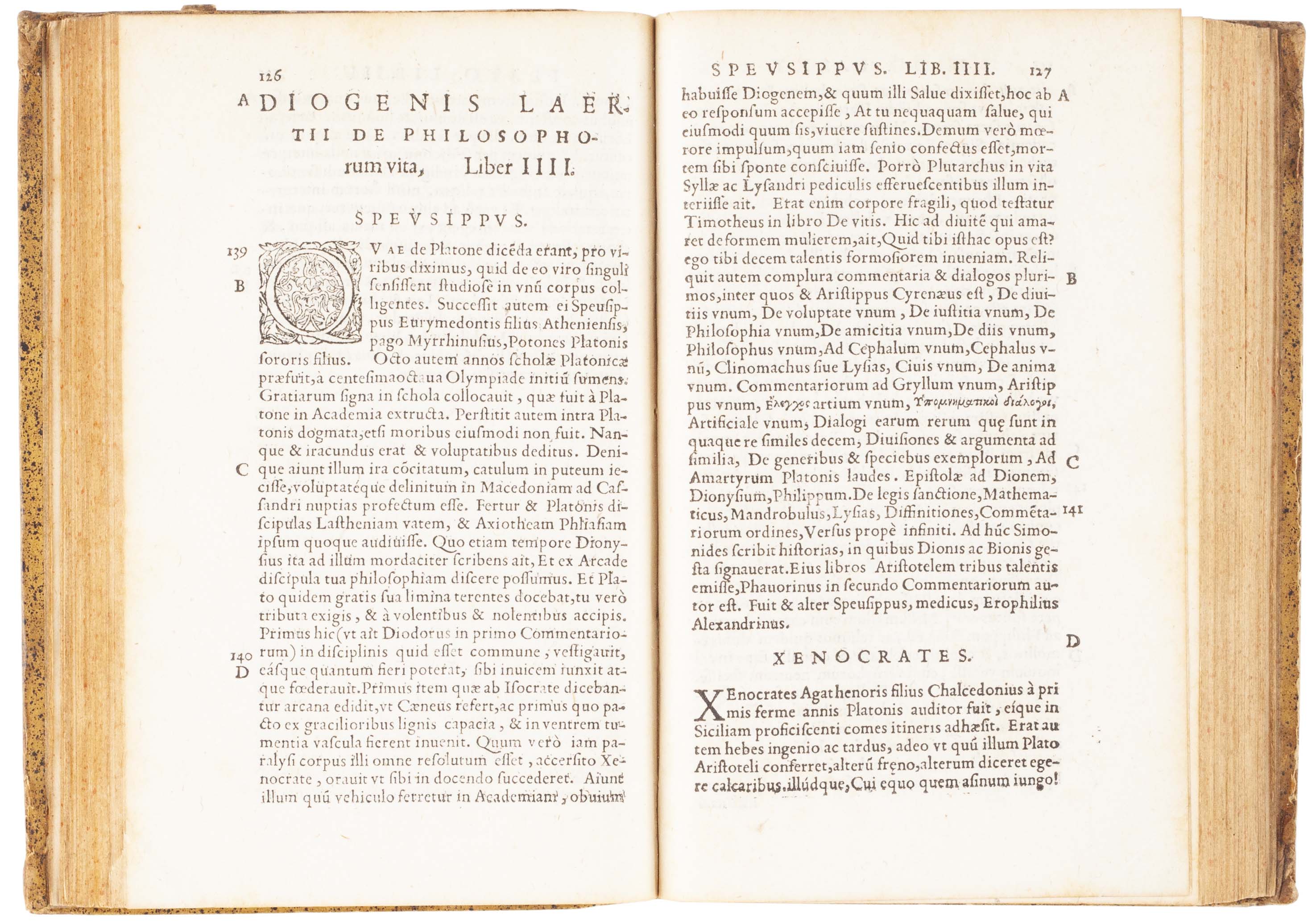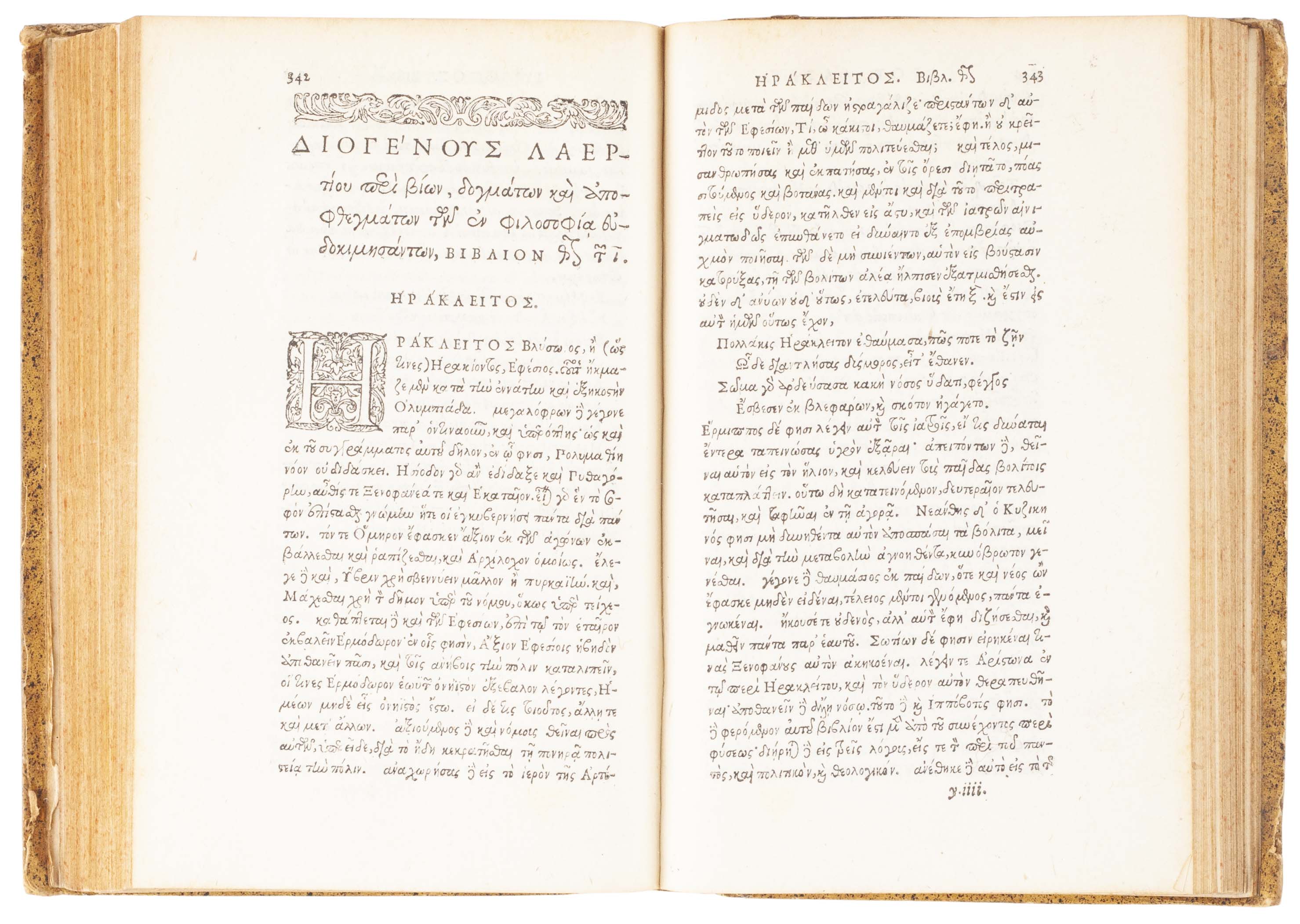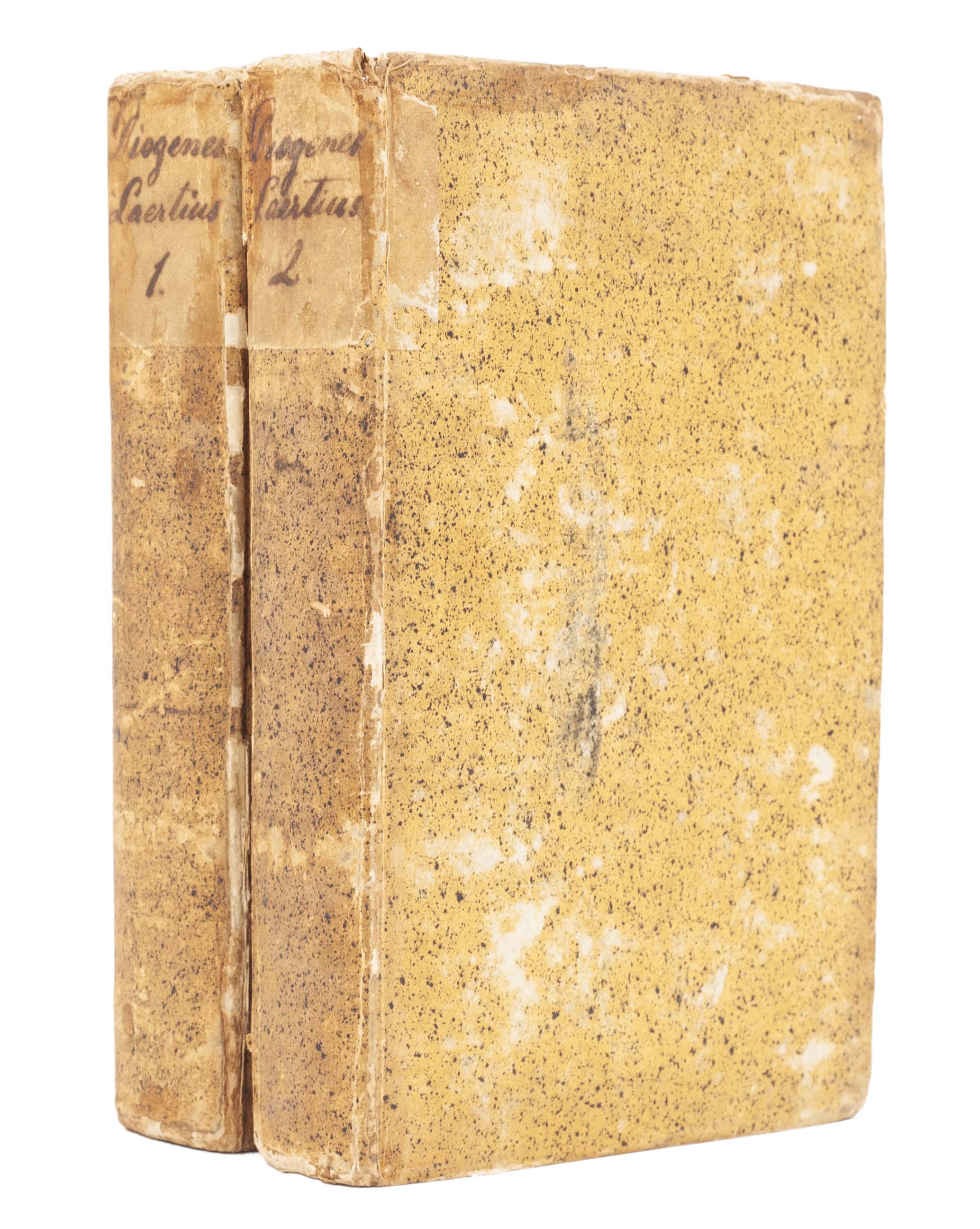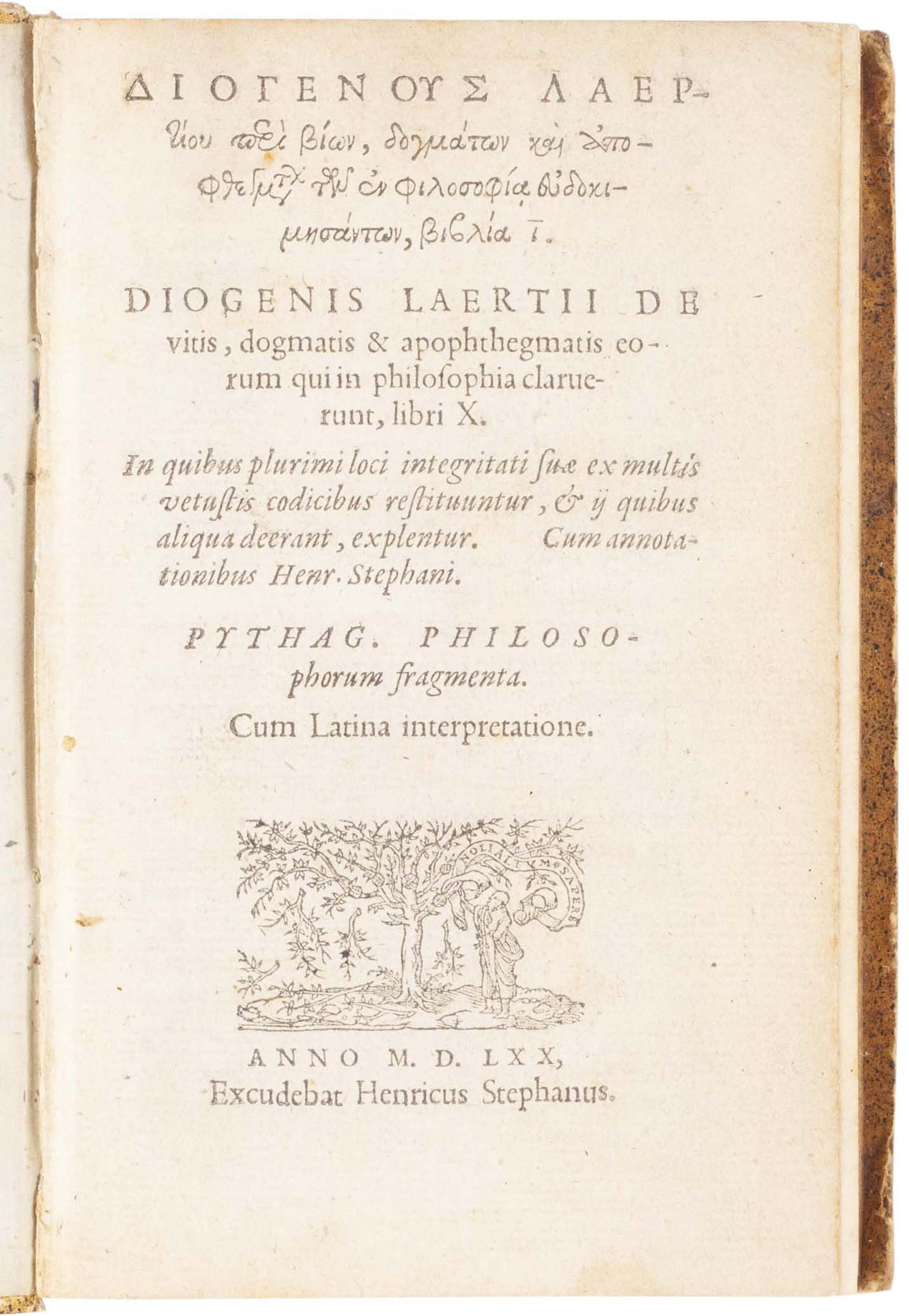 EPICUREANISM PRESERVED
DIOGENES LAERTIUS, [and Henri ESTIENNE (editor)].

Περι βίων, δογμάτων και αποφθεγμων των εν φιλοσοφία ευδοκιμησάντων βιβλία ι. De vitis, dogmatis & apophthegmatis eorum qui in philosophia claruerunt, libri X.
[Geneva,] Henri Estienne, 1570.
2 parts in 2 vols, 8vo, pp. i: 8, 494, [2 (blank)], ii: 40, 432; printed in Greek and Roman letter; woodcut printer's device on title; a very good copy in early nineteenth-century sprinkled paper over boards, manuscript labels to spines; rubbed.
£1400

Approximately:
US $1912
€1631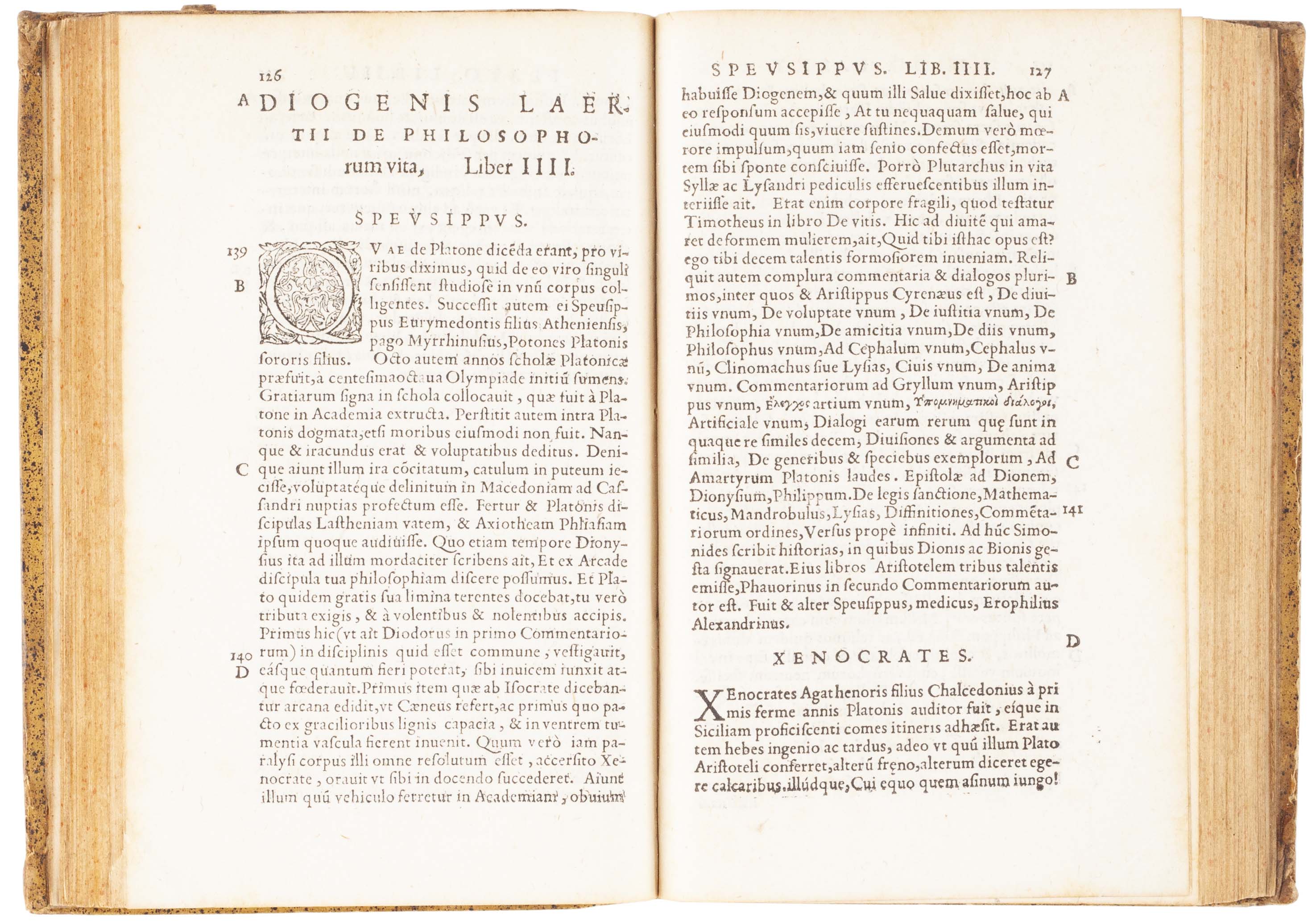 Added to your basket:
Περι βίων, δογμάτων και αποφθεγμων των εν φιλοσοφία ευδοκιμησάντων βιβλία ι. De vitis, dogmatis & apophthegmatis eorum qui in philosophia claruerunt, libri X.
First Estienne edition of The Lives of the Philosophers, a very important edition in the original Greek, 'in which appear for the first time many passages discovered in manuscripts by Estienne'. 'The volume also contains thirty-six pages of important textual annotations by Henri Estienne, and three pages of notes on the Fragments of Pythagoras by Willem Canter' (Schreiber).

The Lives, in ten books, contain a vast quantity of information and is of particular value for the quotations it includes. The whole of the last book is devoted to Epicurus and preserves his three letters and all forty of the 'Sovran Maxims', the principle articles in his doctrine. 'The account of Epicureanism, given with long direct quotations from the letters of Epicursu, is perhaps the most valuable feature of Diogenes' book, not only for modern students, but also because it gave the Quattrocento humanists a fresh and reliable body of information about a philosophical school which Cicero had ridiculed and misunderstood…' (Wilson, From Byzantium to Italy, p. 33). Diogenes also preserves the famous epitaph of Callimachus on Heraclitus, 'They told me, Heraclitus, they told me you were dead…'.

Schreiber 178.
You may also be interested in...
GAY, John.
Achilles. An Opera. As it is perform'd at the Theatre-Royal in Covent Garden ... with the Musick prefix'd to each Song.
First edition of Gay's last ballad opera; he was arranging for its production at the time of his death. The work is a farcical burlesque of classical myth, in which Achilles, dressed as a woman, is admitted to the court of Lycomedes, who falls in love with him while he in turn is trying to woo Deidamia. The sly Ulysses unravels the confusion in the end. There are fifty-four songs, and an element of political satire, reflected in the contemporary 'key', Achilles dissected.
JESUIT LOGIC AND PHYSICS [LALANDE, Fr.]
[Philosophy course.]
Fair manuscript copy of a course of philosophy for the use of clerical students offering a systematic treatment of Aristotelian Logic and Physics. The initial inscription states that this course was given by a Jesuit, Fr. Lalande, to Jacques Becheau of Périgord in 1681. The course is articulated in the disputationes dealing in depth with logics and metaphysics at first, then physics and astrology in the second part. A fair example of Jesuit Aristotelianism with significant departures from Aquinas's interpretation, this manuscripts offers an insight into the Jesuit order's agility in adapting the received 'calculations' of syllogism and deduction to early-modern challenges coming from the emergence of experimental science in the age of Galileo.