DOZY, Reinhart Pieter Anne (Francis Griffin STOKES, translator).
Spanish Islam: a history of the Moslems in Spain . . . translated with a biographical introduction and additional notes by Francis Griffin Stokes.
London, Chatto & Windus, 1913.
Large 8vo, pp. xxxvi, 769, [1, blank], [2], title printed in green and black, with a frontispiece (of the Mosque-Cathedral of Córdoba) and a folding map; some light foxing at beginning and end of volume and occasionally elsewhere; original maroon cloth, top edges gilt, others untrimmed; slightly rubbed; from the library of Ian Robertson (1928–2020).
£100

Approximately:
US $111
€113
Added to your basket:
Spanish Islam: a history of the Moslems in Spain . . . translated with a biographical introduction and additional notes by Francis Griffin Stokes.
First edition in English of Dozy's comprehensive history of Islamic Spain from AD 711 to 1110, first published in 1861 as Histoire des Musulmans d'Espagne.

'It is with extreme diffidence that I give this History to the world. In it I traverse ground hitherto untrodden, for – as I have elsewhere tried to demonstrate [in the first edition of his Recherches sur l'histoire et la littérature de l'Espagne pendant le moyen âge] – existing treatises on the subject are wholly valueless. They are all, in fact, based on the labours of [José Antonio] Conde – on the labours, that is to say, of a writer who had but scanty materials at his disposal, who was unable, from the inadequacy of his linguistic attainments, to understand the documents to which he had access, and who lacked the historic sense . . . . I believe I can justly claim to have examined nearly all the manuscripts extant in Europe which bear upon the history of the Moors, and I have wittingly neglected no aspects of the subject' (author's preface, p. xxxv).

Palau 76116 (erroneous collation).
You may also be interested in...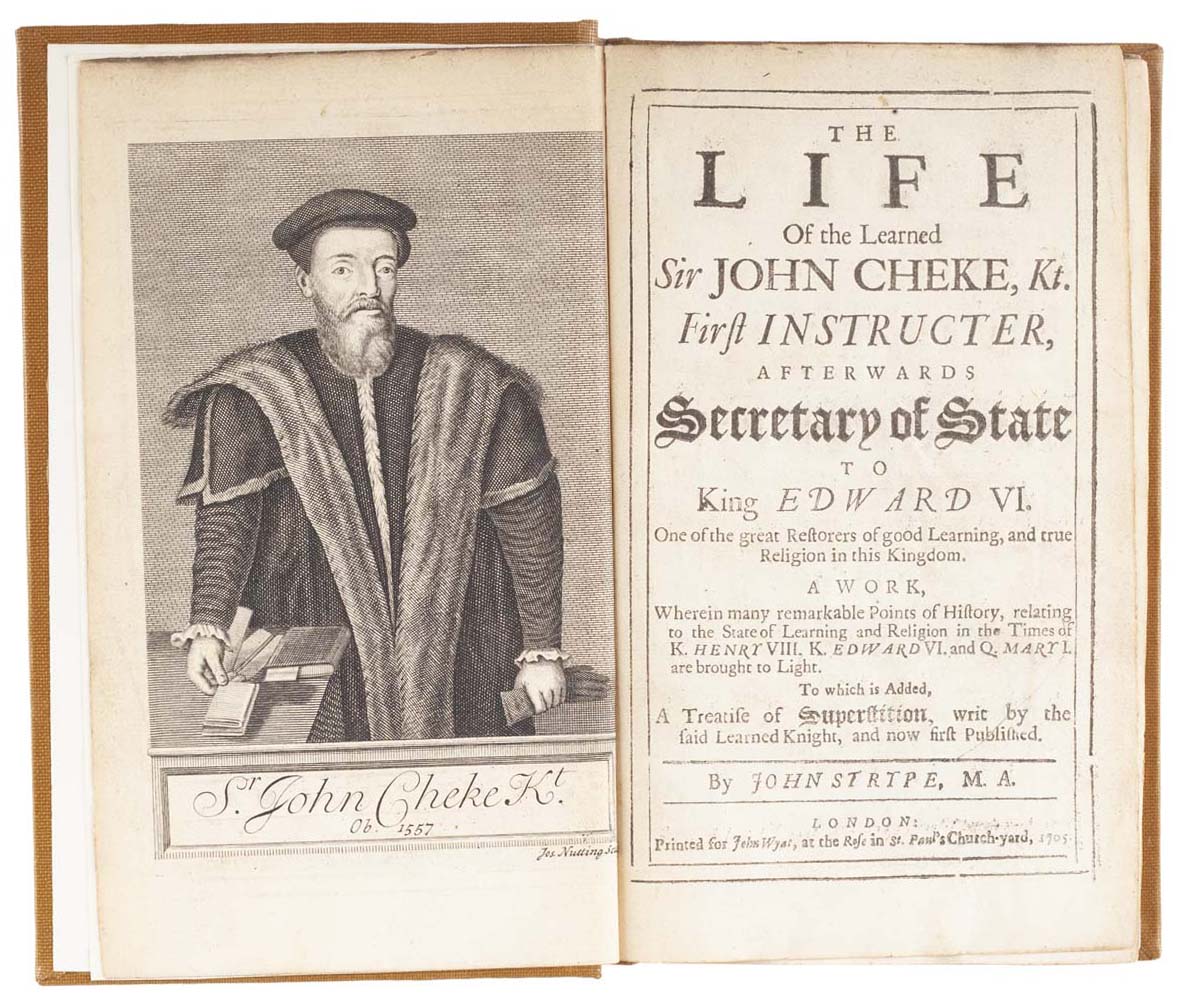 'CANTABRIGIA SEMPER IN ILLO LAETARI DEBEAT' STRYPE, John.
The Life of the learned Sir John Cheke, Kt., first Instructer, afterwards Secretary of State, to King Edward VI., one of the great Restorers of good Learning, and true Religion in this Kingdom … to which is added, a Treatise of Superstition, writ by the said learned Knight, and now first published.
First edition of Strype's biography of the courtier and classicist Sir John Cheke, inaugural Regius Professor of Greek at Cambridge.
POEM ON THE 1755 LISBON EARTHQUAKE ALMEIDA, Theodoro de.
Lisboa destruida poema, author o P. Theodoro de Almeida, da Congregaçaõ do Oratorio de Lisboa.
First edition of this poem in six cantos, with extensive notes, on the disastrous 1755 Lisbon earthquake, by the Oratorian priest and philosopher Almeida (1722-1804). One of the deadliest in history, the earthquake almost totally destroyed the Portuguese capital and accentuated political tensions within the kingdom. It was widely discussed by European Enlightenment philosophers, including Voltaire and Rousseau, and led to important debates around theodicy and philosophical optimism.