HAND-COLOURED – FROM THE LIBRARY OF ARPAD PLESCH
DREVES, [Johann Friedrich Peter,] and [Friedrich Gottlob] HAYNE [and Johann Stephan CAPIEUX (engraver)].

Choix de plantes d'Europe, décrites et dessinées d'après nature … tome I, avec 25 planches [– tome II, avec 25 planches; – tome III, avec 25 planches; – tome IV, avec 25 planches; – tome V, avec 25 planches].
Leipzig, Voss et compagnie, 1802.
5 vols, bound as one with separate atlas, 4to, pp. I: xii, 40, II: xii, 44, III: xii, 44, IV: xii, 40, V: viii, 38, [ix]-x, Atlas: pll. 125; printed on heavy blue-grey paper, copper-engraved plates signed 'Capieux' and coloured by hand, watermarks 'I G Ebart' and 'Spechthausen'; light toning and occasional spots, but a very attractive set in late nineteenth-century French green morocco-backed boards with pseudo-marble sides, spines in compartments between raised bands, lettered directly in gilt, marbled endpapers; gilt red morocco bookplate of Arpad Plesch to upper pastedown of text volume (see below).
£3500

Approximately:
US $4370
€4138
Added to your basket:
Choix de plantes d'Europe, décrites et dessinées d'après nature … tome I, avec 25 planches [– tome II, avec 25 planches; – tome III, avec 25 planches; – tome IV, avec 25 planches; – tome V, avec 25 planches].
First edition in French, the Plesch set, with 125 handsomely hand-coloured botanical plates, adapted from the German edition finished the previous year. Issued under the title Botanisches Bilderbuch für die Jugend und Freunde der Pflanzenkunde, the work had first appeared in twenty-eight fascicles (with 152 plates) from 1794 to 1801. The text comprises detailed descriptions and classifications of the plants, accompanied by notes on their locations and uses; the plates are the work of Johann Stephan Capieux (1748–1813), professor of drawing at the University of Leipzig from 1782 and among the most accomplished German natural-history illustrators of the late eighteenth and early nineteenth centuries.

Provenance: from the celebrated botanical library of Arpad Plesch (1889–1974). A Hungarian financier resident in Beaulieu-sur-Mer, Plesch collected fine copies of natural history books from incunables to the twentieth century, specialising in the great French botanical plate-books of the eighteenth and early nineteenth centuries. His collection was dispersed by Sotheby's in 1975.

Nissen 529 (see I, pp. 197-201); Pritzel 2414; for Arpad Plesch, see Cooper, Great Private Collections (1963), pp. 158-167.
You may also be interested in...
ANNOTATED BY THE AUTHOR'S COLLABORATOR PADOVANI, Giovanni.
Opus de compositione et usu multiformium horologiorum solarium pro diversis mundi regionibus, idque ubique locorum tam in superficie plana horizontali, quam murali quorsumcumque exposita sit, pertractans ... Nunc primum in lucem prodit.
Scarce first edition of Padovani's treatise on sundials, providing illustrated instruction on the use of various horizontal and vertical sundials and on calculating latitude, this copy owned and annotated by the author's friend and collaborator Johannes Andrea de Muscis. A second edition appeared in 1582. Padovani was an Italian mathematician, astronomer, and musical theorist from Verona, a student of Pietro Pitati, and the author of numerous works relating to time.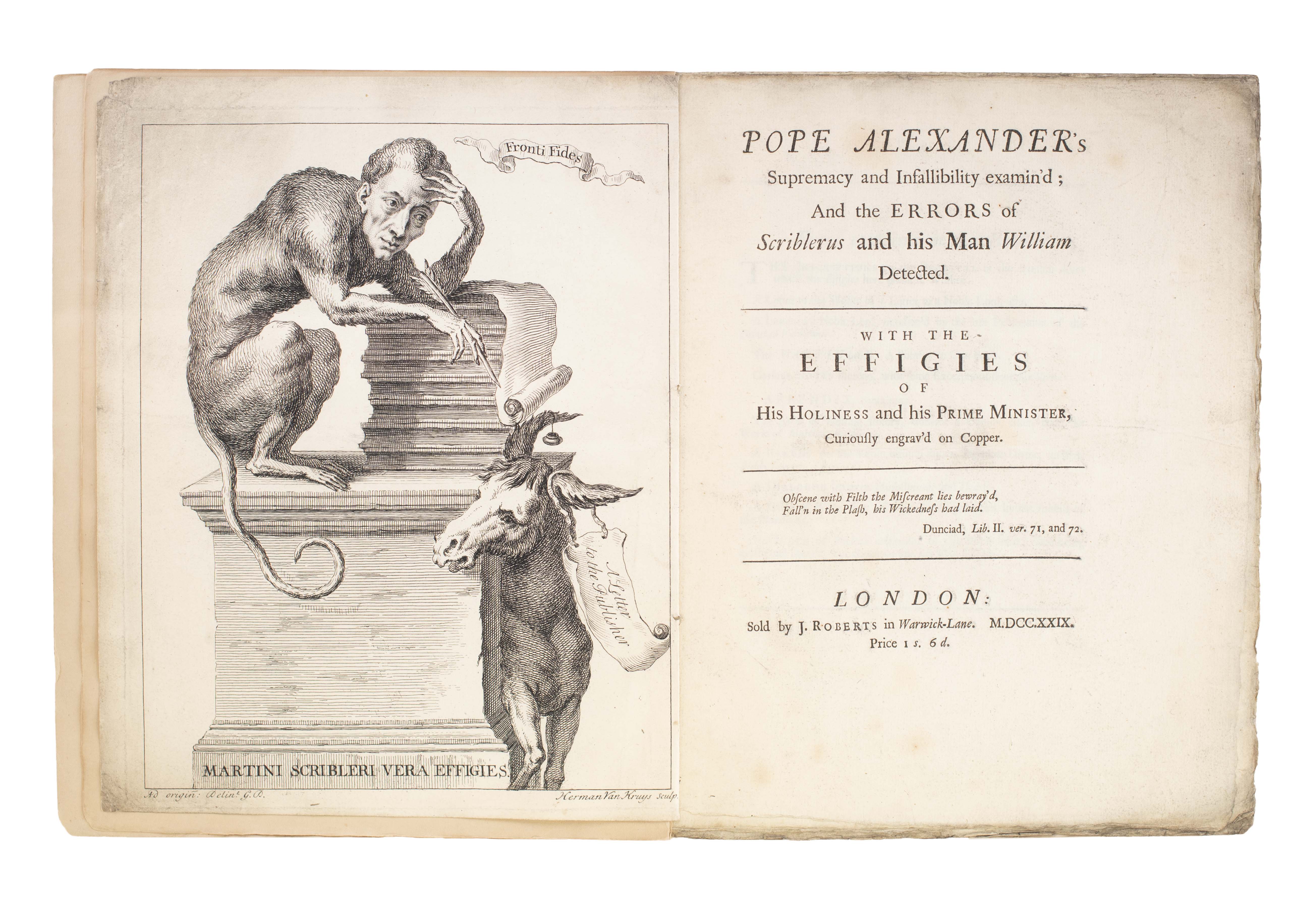 'HALF MAN, HALF MONKEY, OWN'D BY NEITHER RACE' [DENNIS, John, and George DUCKETT?]
Pope Alexander's Supremacy and Infallibility examin'd, and the Errors of Scriblerus and his Man William detected, with the Effigies of His Holiness and his Prime Minister, curiously engrav'd on Copper.
First edition, very scarce in commerce, of an exhilaratingly spiteful attack on Pope in the wake of the publication of the Dunciad variorum, comprising seven different satirical texts, three in verse, issued in quarto to match 'the least pompous Edition of the Dunciad'.